From a historical perspective, fashion has been the domain of womenswear. Menswear trends, and the menswear fashion scene overall, have moved at a much more leisurely pace than womenswear does, but major industry shifts are starting to take place. Despite the smaller market, Euromonitor expects the menswear category to grow faster than womenswear over the next four years. It is projected to expand to $547.9 billion by 2026, at an average annual growth rate of 5.8%, compared to 5.3% for womenswear, and StyleSage data indicates similar trends. Since January of 2020, menswear sold out counts are up 47%, and the gap between introduced products for men and women is starting to close. In July 2022, introduced products in the menswear category were 36% of the women's counterpart, vs. 32% two years ago.
It is clear that the future of fashion will include menswear at a greater scale than ever before. What are the key trends driving the rise of menswear? What changes is the industry facing in terms of shopping behavior? We analyzed the fall runway shows, as well as global consumer search data, in order to pinpoint how retailers and brands can most efficiently invest in this ongoing shift.
Tailoring and Officewear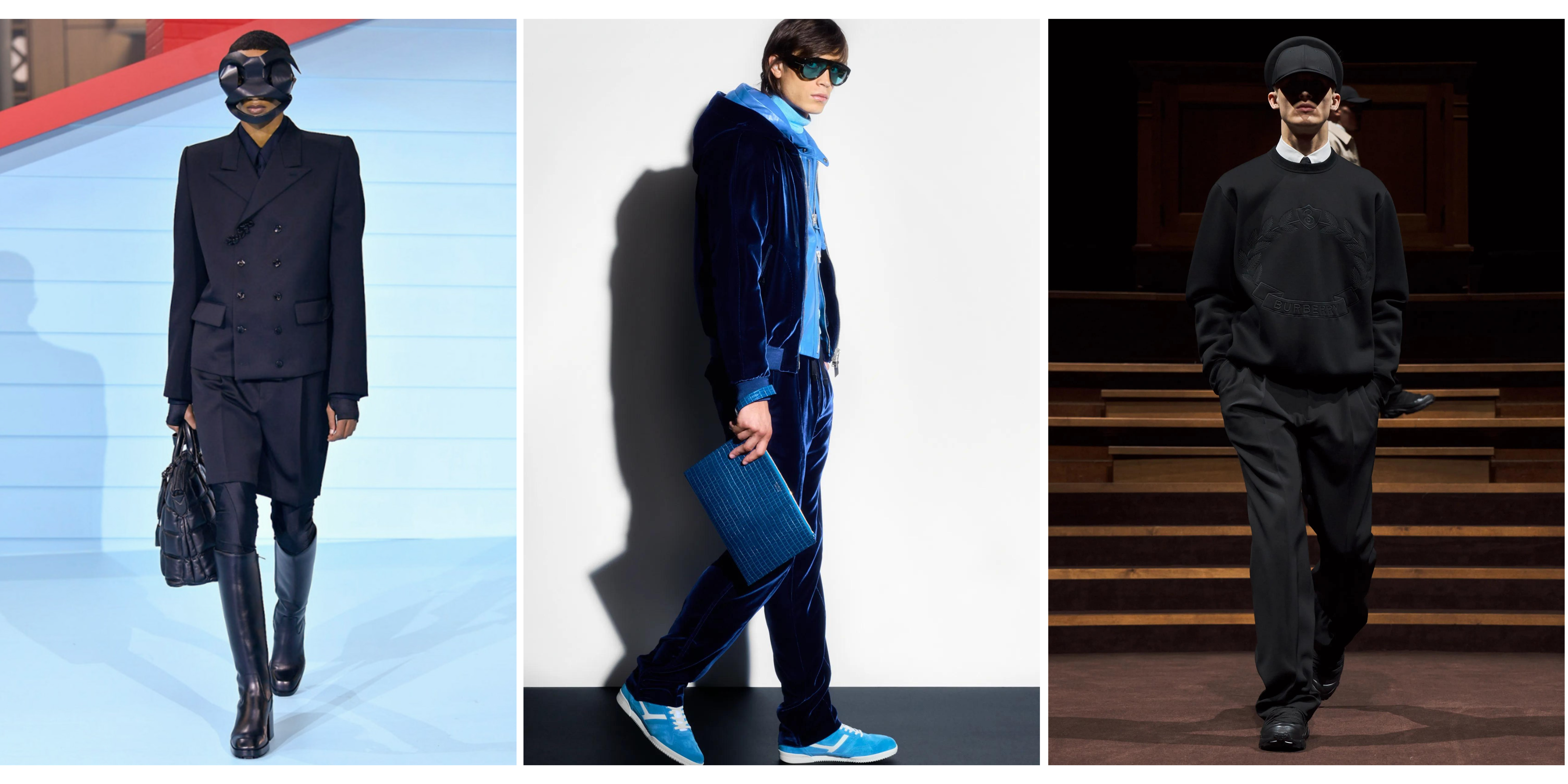 The menswear market is booming, and consumer behavior is also undergoing a change. Shoppers are now trading in their sweatpants and true athleisure garments for more versatile pieces that are suitable for both the office and gatherings on the social calendar. StyleSage data shows that searches for casual pieces like 'hoodies' and 'sweat shorts' are down 6% and 16% respectively YOY, while searches for tailored items like 'collared shirts' (+119%)  and 'blazer' (+322%) are on the rise.
In this hybridized style world, brands should bet on styles that prioritize comfort while still looking dressy and office-ready. StyleSage data reinforces this theme, when in Q2 of 2022 we saw menswear pants with keywords like 'technical' and 'commuter' reach a peak sold out rate of 32%, nearly double what it's averaged for the previous three years.
On FW22 runways, the theme manifested itself in the combination of a sharply tailored blazer styled with wide shorts and a glossy legging at Louis Vuitton, and at Burberry, where a collared shirt and suit pant-combo was paired with a branded terry sweatshirt. Tom Ford presented a sapphire velvet blazer-hoodie hybrid that truly embodied the trend, and one of Hermes' new fabrics for the season, a shiny technical satin, spoke of a reinterpreted version of officewear. Men's formal attire is far from dead - in fact, it remains highly relevant, but designers are experimenting and reinventing the very principles of it for the contemporary consumer.
Statement Shoulders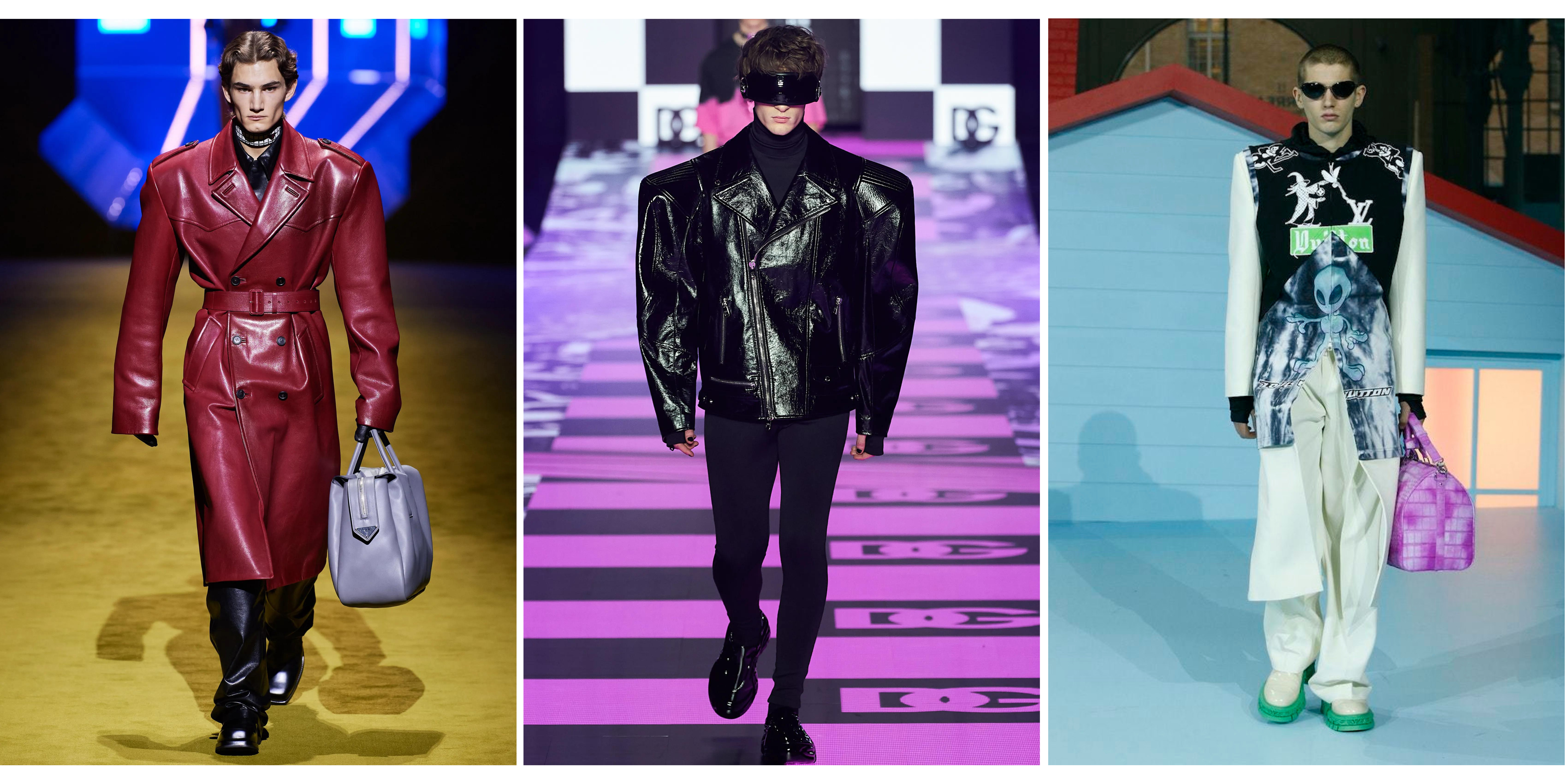 As for every fall season, a major focus lies on solid outerwear pieces, and this time around it's all about volume and the power-shoulder. The ultra-broad power shoulder dominated fall runways, and was featured on a tailored leather trench coat at Prada, that was only to be outshone in terms of volume by Dolce & Gabbana's otherworldly iteration of the trend. Louis Vuitton's take on the trend was more spiritual, where razor-sharp shoulders met sci-fi references.
To truly incorporate the statement shoulder in a competitive fall assortment, consider combining it with a double breasted blazer as done by Dries van Noten - searches for 'double breasted suit' are up 94% YOY.
Bomber Jackets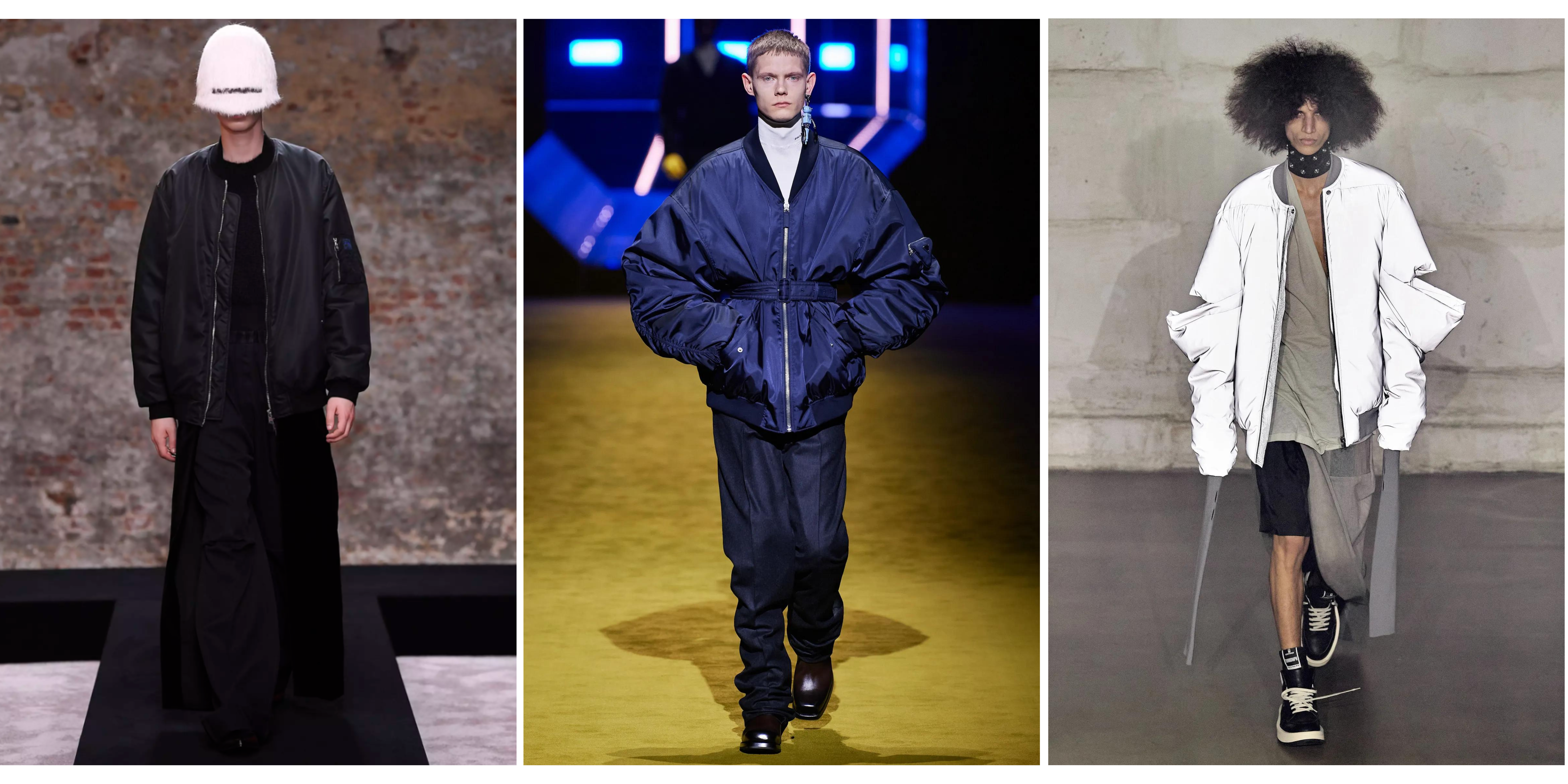 Another key trend in the outerwear category is the reinvigorated bomber jacket. The voluminous pilot-style plays on the theme of utility that has been solidly present in fashion for some time, and this season it was presented in several versions - from classic air force padded styles in solid black, to belted hybrid ones in vibrant navy that almost entered the coat category. Perhaps the most updated narrative came from designer Rick Owens and his silverly, reflective nylon one, that truly encapsulated the energy of his collection named 'STROBE'.
Evidently, the bomber jacket has taken center stage in menswear for the upcoming fall, and consumers are already planning for their new season buys. StyleSage data shows that global consumer searches for 'bomber jacket' are up a whopping 333% since last year.
Material Focus: Leather & Shearling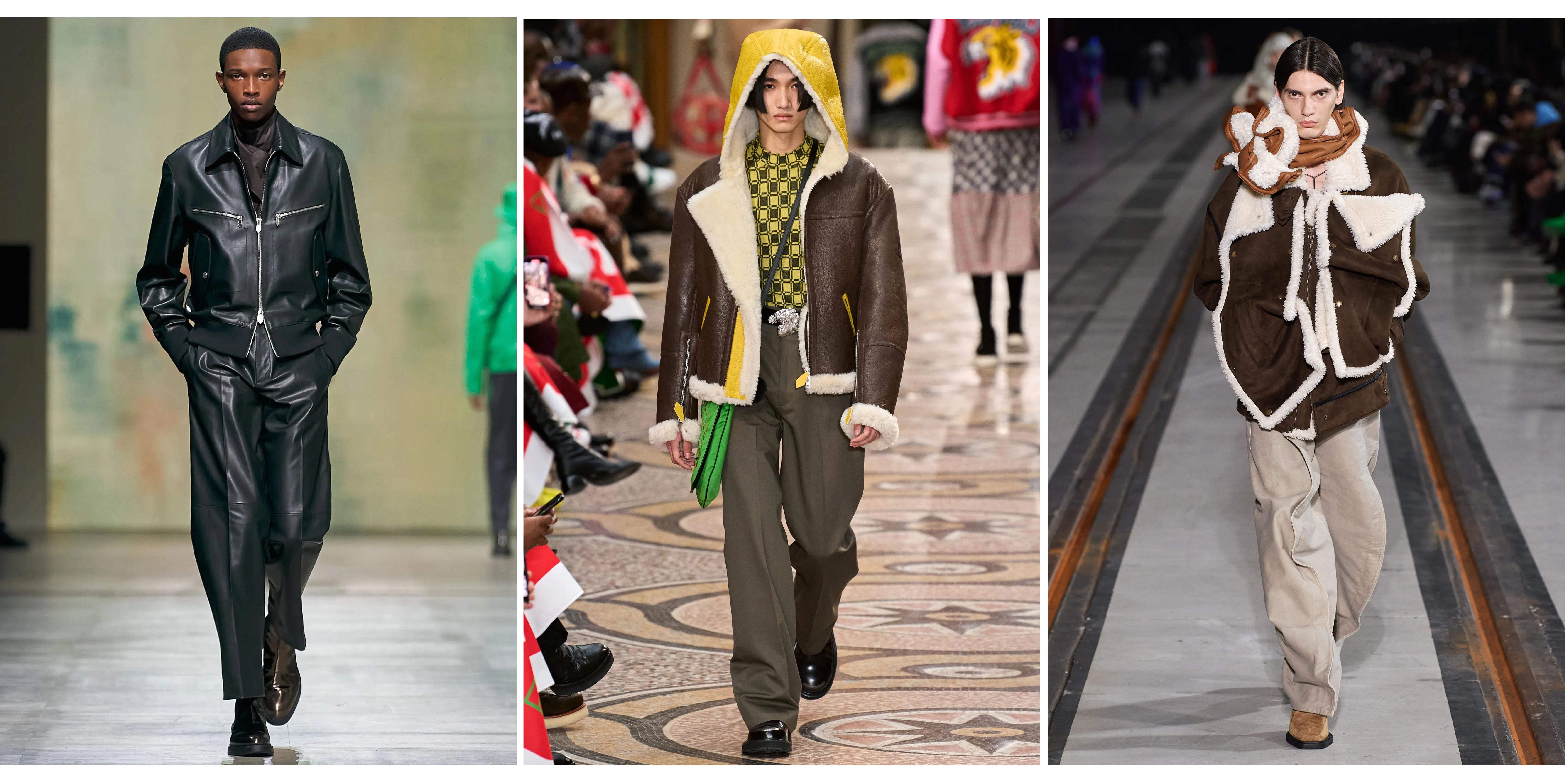 From supple draped leather trousers to sharp streamlined lambskin blazers, plush animal hides were some of the main materials featured on FW22 runways. Dion Lee added to his catalog by presenting an innovative update of a classic tailored shirt with full-length leather sleeves and cut-outs, and slightly more toned-down, yet still striking, interpretations of the trend were also seen at major fashion houses like Hermès and Coach. The former not only tapped into the leather trend, but secondarily highlighted the material of the season: shearling.
Shearling, a sheepskin with the soft wool still attached, is another material worth investing in and adding to any assortment for the upcoming fall. Few outerwear pieces are better suited for the colder months than a shearling jacket, and the fluffy coat was spotted on runways of established luxury players like Loewe and Jil Sander to truly mark its return. Kenzo presented a cocoa brown version with a bright yellow contrasting hood, and Y/Project's avant garde take on the trend that draped in floral-like shapes showed that the material can move well beyond the classic iterations.
While the men's selection at most retailers remains only a fragment of women's, menswear  is on the rise, and merchandisers and buyers alike would be wise to make note of the category's growth opportunities. Want more data-driven insights on key trends? StyleSage clients can check out our trend reports inside the platform.