When you looked at the pictures above, what was your first thought? Was it that these women looked like they were from very different countries or cultural backgrounds? Or perhaps, 'Wow, they're pretty darned fashionable.' (We certainly did.) Well, you're right on all counts. But what you should also know is that these incredibly stylish women, with a collective Instagram following exceeding 1 million, are at the forefront of the modest fashion movement. It's a movement that crosses both religious and cultural borders. They represent the Muslim, Jewish, and Christian faiths, and while their requirements on what must remain covered vary, they have much in common: a search for fashion that compromises on neither style nor their faith.
This has been a week with several strides forward for the movement, and frankly we haven't been this excited about something in fashion in a while. The Modist, a luxury e-commerce site with items specifically curated for modest fashion, launched, and Nike announced the release of their 'Pro Hijab' for female Muslim athletes. Nonetheless, we were left thinking about how fashion still has a long way to go, despite these strides, towards being more inclusive. It's perplexing, really. Why, when there remains ongoing difficulty finding growth in saturated markets, are opportunities like modest or plus-sized fashion consistently overlooked? (These markets may be different, but the size and scale of these opportunities are equally undeniable.) Prior to its launch, the Modist conducted market analysis which estimated the global market size for modest fashion will surpass $480B USD by 2019. Brands including H&M, Dolce & Gabbana, and Uniqlo are leading the way in offering up inclusivity via fashion, and we hope many others will also follow suit.

We'll get off our soapbox now because there really is so much to celebrate about the positive changes underway. So let's talk a bit about some interesting differences in what we're seeing in e-commerce sites that serve populations with significant modest fashion populations. We read this week on Business of Fashion that orders from Net-A-Porter average 50% higher in the Middle East than other markets it serves. So we were curious to see if there are differences in what sells out on their UAE and US sites, and indeed there were. Maxi and midi-length dresses dominated the sold-out SKUs in the UAE, while shorter and strappier styles were more common Stateside.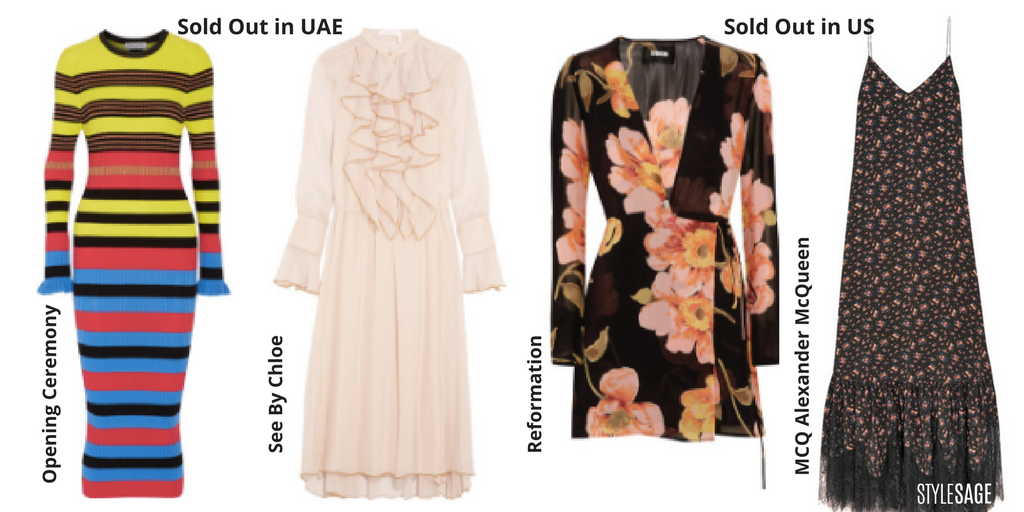 And this is quite interesting indeed: in the past two weeks, the rate of both jewelry and handbags selling out on Net-A-Porter's UAE website exceeded the US site by several percentage points.

Exciting times in the fashion world indeed, and, as always, we'll be keeping tabs on what's happening globally in this movement. Want to know more? Talk to us at hello@stylesage.co