We get that maternity apparel is a niche market. For these nine months where the body is constantly changing, getting dressed can, for many women, seem an exercise in futility. (Can I breathe in this, or will it end up around my knees??) The maternity wear market is underserved precisely because of the assumption that the state of pregnancy is much too transient to really make money on. Indeed the market hasn't done a great job of embracing the right mix of fashion, function, and price point, and you see its low priority evidenced by the small amount of SKUs on offer and where it gets hidden away on shop floors. But come on, we don't need Demi or Serena's Vanity Fair covers to be reminded that the pregnant form is one to be celebrated. And we know too, that plenty of women will do just about everything they can to wear non-maternity styles for as long as is feasible, because they just don't love the alternative. So what gives?
To be fair, there are established maternity brands out there making sure soon-to-be-mamas look good. Outside of maternity apparel chains like Destination Maternity or Pea In The Pod, pure play direct-to-consumer e-commerce brands have gotten into the mix with their own welcome point-of-view. UK-based Seraphine seeks to deliver on-trend maternity clothing, and is frequently seen on celebrities and our favorite royals. Storq promises clothing that can fit all nine months of pregnancy. Then you have Hatch, which designs clothing in silhouettes that look good before, during and after your pregnancy. All three brands are similar in that they target the expectant millennial, who's looking for maternity pieces that are an extension of her existing, pre-pregnant style. Unsurprisingly, you are also seeing fast fashion brands including Asos, H&M, and Topshop offering up affordable and trendy styles. What's more, there's been an emergence of maternity subscription and rental services, where companies like Le Tote, Borrow for Your Bump, and Mine for Nine specifically target women who are looking for a nine-month wardrobe that won't compromise on style.
Now for the Fun Part…
If you are new to this and have no idea where to start when it comes to embracing your new curves (and glow!), that's where our world of influencers comes in to lend a helping hand. Let me tell you, after seeing how active and perfectly glamorous these pregnant ladies look on Instagram, you will shortly realize that dressing your baby bump is actually a whole lot of fun.
Put Some Pants On
There's no need to accept the couch potato look until the stork arrives (unless that's what you want and you get full license to do EXACTLY what you want during these nine months). Yes, it might be a chore to actually get yourself into pants or jeans without assistance, but the final effect is tres chic.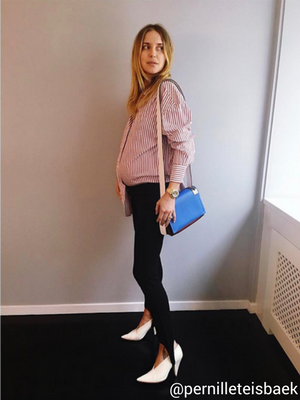 The Tighter The Better
Who said bodycon was off-limits? These ladies are simply glowing and showing off that baby bump with pride. It's a beautiful thing, these natural body changes that come with a little bun in the oven.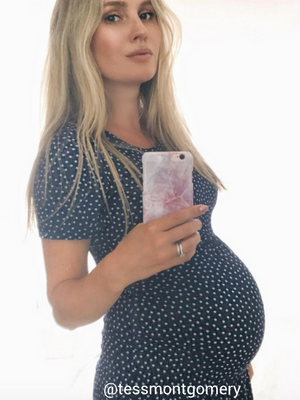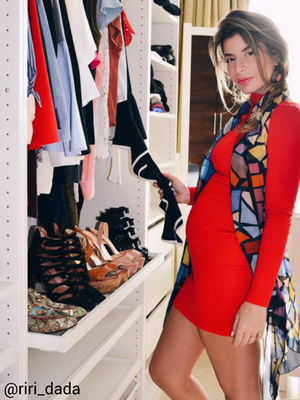 Maxi(mum) Coverage
On lazy days, a trendy maxi dress is THE solution to your style problems. Whether in florals, bold mixed prints, or vibrant solids, find a maxi dress with a good cut, and you will look like you just stepped off the runway.
All In One
Last but not least, it's okay to forget practicality once in awhile. Go for a jumpsuit, which always works its elongation wonders. So we can't help make the challenge of going to the toilet any easier...but hey, in fashion there's no gain without pain, right?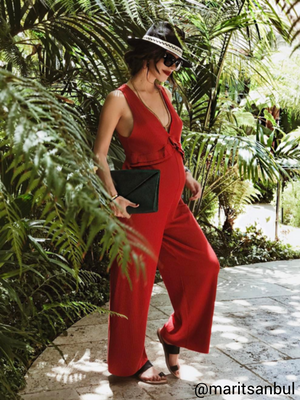 Or you can don on some armor like Gal Gadot. You do have to be superhero to deal with life and growing a baby at the same time. Thank you Mom!