Over the past year, Nike has made headlines for its strong financial performance despite a global pandemic. But it's also made waves due to its announcements that it would be dropping particular wholesale accounts, as it shifts focus towards its own D2C channels. Back in August, they announced that they would be dropping nine different wholesale accounts which included retailers like Zappos and Belk. And then next week, they further revealed their culling strategy, announcing that they would be eliminating retailers like Macy's, Urban Outfitters, and DSW as wholesale partners.
But Nike isn't the only sportswear brand who is pulling back on wholesale in efforts to control more of customer experience; both Adidas and Under Armour have outlined strategies to do the same.
Because of the significance of these brands and their retail partners, we wanted to dive into some data that might show how Nike's strategy is impacting these retail partners.
First up, we took a look at the top brands at five different retailers who were mentioned in Nike's breakup memos: Zappos, Belk, Urban Outfitters, Macy's, and DSW. We were curious to understand whether or not Nike was a significant part of their assortments, from an average product count. We also wanted to understand how Nike stacks up to two of its competitors, Adidas and Under Armour. (For purposes of our analysis, we included men's, women's, and kid's footwear.)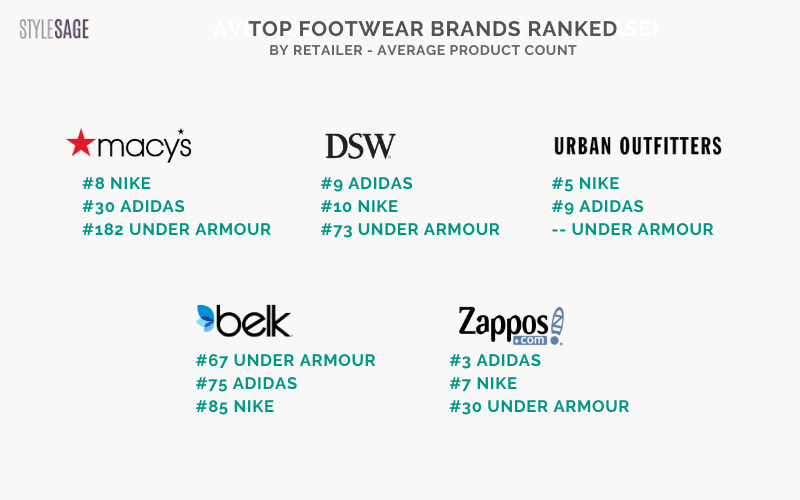 What's interesting out of the gate - and note that it was announced last August that Zappos and Belk would no longer be wholesale partners - yet Nike still remains amongst the top ten footwear brands at Zappos. Not so at Belk, where all three of the sneaker brands of note were not even in the top fifty brands by product count. Analysts have noted that it's likely the last deliveries of Nike product to these retailers would be taking place in February or March of 2021.
As for the retailers most recently broken up with, Nike is in the top ten at Macy's, DSW, and Urban Outfitters, in terms of product count. (Do keep in note that Urban Outfitters doesn't have a large footwear assortment relative to the others in this sample.) This could indicate the challenge these retailers might have finding substitute marquee brands to take Nike's place.
We also turned to our historic charts to understand Nike's representation at these wholesale partners over time. For this first chart, we looked only at footwear product count.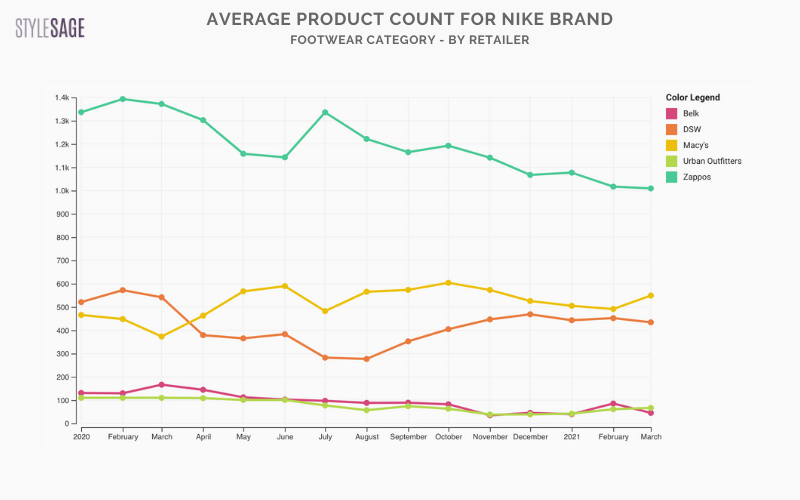 Zappos immediately stands out here, where you see a significant decrease in average product count for Nike footwear. From January 2020 to present, there's been a 23 percent decrease in the average product count for Nike shoes at Zappos. Belk and DSW have also shown decreasing product count trends. However, Macy's has actually increased the average number of Nike shoes in its assortment from January 2020 - to the tune of a 18 percent uptick.
We also wanted to look at Nike apparel at these various retailers, to understand if the trends for Nike apparel aligned with that of footwear.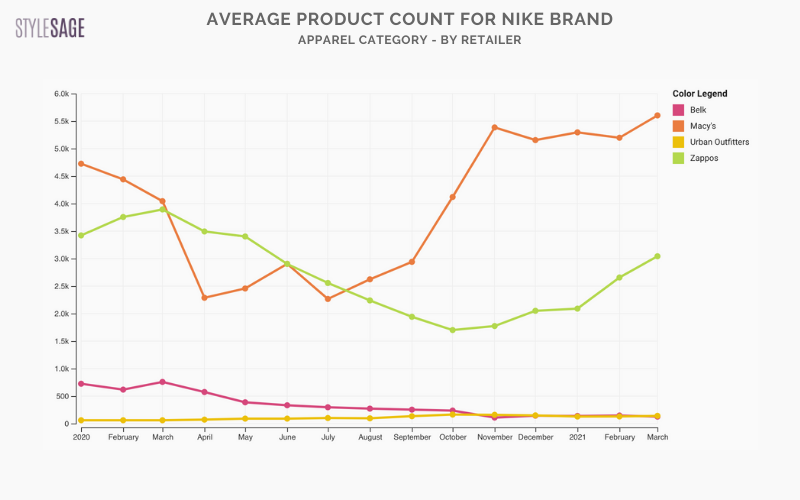 Many of the trends for the apparel category match up to footwear. Macy's has increased its Nike apparel product count by 19 percent from January 2020. And while overall Zappos has also pulled back on Nike apparel from its January 2020 levels, it started dialing up Nike's apparel footprint since October of 2020.
If anything is clear here - it's that like any other breakup - it's not a clean cut affair. It will take time to understand what this separation of brand and wholesale will mean - both for Nike and for its former wholesale partners.