When it comes to the lingerie business, less is indeed more. The most recent market research has valued the global market for underthings at more than $250B, with a projected CAGR of 7% between now and 2022, so it comes as no surprise that brands and retailers looking for growth are getting increasingly up close and personal with this category.
Underneath it all? Certainly, emerging markets represent a major opportunity; Europe and North America presently comprise two-thirds of overall spending, with the remaining markets having relatively lower penetration. However, emerging markets' increasing discretionary spending in the pockets of burgeoning youthful and urban populations does not by any means guarantee local success. This is a category that must be sensitive to varying fit requirements; a glimpse at this map illustrating the wide variance in bra size by geography illustrates the challenge inherent in this category. Not only is fit important, there are also overarching social values surrounding sexuality and modesty that must be taken into consideration in order to tow the culturally appropriate line and optimize local market strategy. So yes, the global lingerie market opportunity is very real, but those who will succeed must identify from the outset that one size does not fit all.
We'll really try not to turn this piece into a list of our collective grievances of the lingerie category, yet a balanced assessment of its current state and future opportunities does require addressing its complex and oftentimes maddening nuances. That wee bit of fabric? It's a very involved design and fit process in order to align with the most critical consumer purchase considerations of comfort, support, durability, and ability to pair seamlessly with specific garments. Yet in the bra category, for example, more than 80% of women are still not wearing the right size. What gives? Let's see what the latest movements in the market tell us.
Peek-A-Boo
What's been the most important lingerie market shift of late? The bralette. Our check of major lingerie brands and retailers shows that currently 23% of their bra assortment are bralette styles. (And this includes major department stores catering to a wide range of age groups.) We'll preface the first reason for its emergence by saying this is most prevalent in Western cultures, where there are generally fewer society-wide restrictions on dress codes. What are we talking about? Well, it's become more acceptable to let what's traditionally been hidden underneath clothes see the light of day. One look at Instagram shows you this is a common influencer styling trick. Bralettes are commonly made of lace, come in a rainbow of shades, and are pretty and feminine. Why not let it peek out?
The second, and equally, if not more important, reason for their popularity is that bralettes are constructed sans that uncomfortable underwire. (Men, imagine someone poking you in your sensitive regions with a mostly dull but sometimes sharp object for 15 hours a day, and you can get a sense of why women are drawn to wire-free styles.)
We see the DNA of the bralette trend sharing similarities to that of athleisure.
If it's more comfortable and as functional as its category counterparts, what's not to like? We should point out, however, in an effort to be fair and balanced in our assessment, that the bralette is not a style that favors larger busts, which is why this style dominates brands that favor younger (perkier) consumers. Take Aerie, American Eagle's massively successful lingerie line; their bra assortment is made up of 46% bralette styles.
The primary reasons for bralettes' emergence and success remain intact, but as e-commerce experts, we are beholden to mention that the market has all the signs of pending saturation. More brands, even those not previously in the lingerie space, are getting in on the action, and the pressure on prices is downward. We're seeing both the average price decrease and more bralette styles on discount from one year ago. The bralette, in its basic form and lacking many of the technical characteristics of more traditional styles, will likely face more downward price pressures until the market reaches its saturation point. The opportunity for brands is to marry the benefits of style, comfort, and performance in an uncompromising, wire-free profile in order to stand out from the crowd.
Thong Song
At this point my browser history is looking questionable at best, so before HR calls, let's quickly shift to talking about thongs. Its history in brief? Skipping past the prehistoric segment that involves fur, feathers and other suspect materials, it emerged in full force in the 1990's. While the style still maintained some air of suggestiveness due its provocative history (please don't make me explain here), it was popular for practical purposes because it didn't show up under your clothes...no matter how tight those pants were. However, around 2010, you started to see styles with more coverage including boyshorts and high-waisters, and data from NPD showed that thong sales were down while full-coverage styles were up. Based on this sales data which was bolstered by increasing consumer sentiments prioritizing comfort over sex appeal, many would say that today the style has majorly faded in relevance. But is that what the e-commerce data tells us? Glad you asked. Our scan of today's marketplace shows that one-third of bottoms in retailers' assortments are thongs, while bikinis and fuller coverage styles make up the balance. And believe it or not, we're actually seeing more thong styles entering the market since the beginning of the year. (This may very well be evidence of what we like to call 'mini-cyclical fashion trends,' where categories show short bursts of recurring popularity.) And what's more, the average price of a thong is higher and the average discount amount is lower than fuller-coverage styles. You heard that right: less fabric, higher price. It's also worth noting that we are seeing influencers pushing the boundaries by letting their thongs show through their clothes. We'll plead the fifth on that one, but, well, it's literally all out there.
One Shade Does Not Fit All
What's that sound you hear? It's someone smacking the product design and marketing teams upside the head. The reason? Until recently, there were only one or two 'nude' shades available for lingerie. As you well know, this shade is a very important part of lingerie assortments, and in fact, it makes up roughly one-quarter of all bra offerings in the market. And functionally speaking, it's a critical part of any woman's lingerie drawer because it's designed to blend with the skin tone and not show underneath clothes that are sheer or form-fitting in nature. That is all grand, if you have a lighter skin tone, but the market offerings have historically not reflected the reality of the beautiful and colorful world we live in. So brands like Nubian and Naja have stepped in to set the record straight on what 'nude' actually is by including shades that actually match a broader swath of women's skin tones. A step in the right direction, that's for certain, yet our market data shows that there is still much room for improvement in the offerings, as darker shades of nude comprise less than 3% of all SKUs. So what are you waiting for?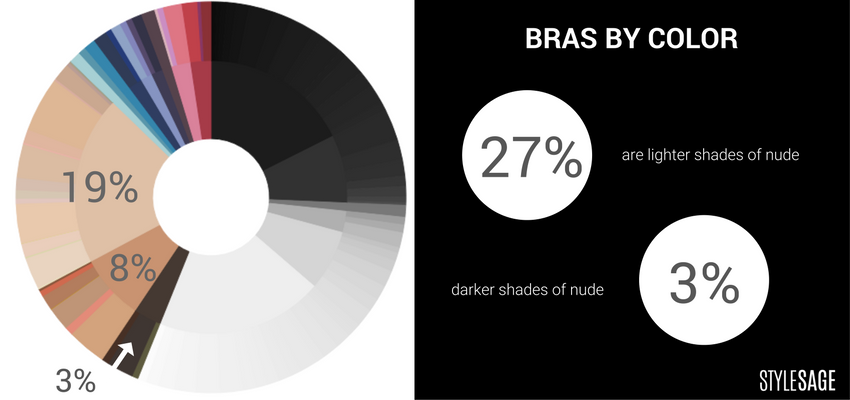 That's our lingerie market analysis, from top-to-bottom. (We'll hope you'll forgive all the puns.) Find out more about how we can assess the health of your lingerie assortment here.