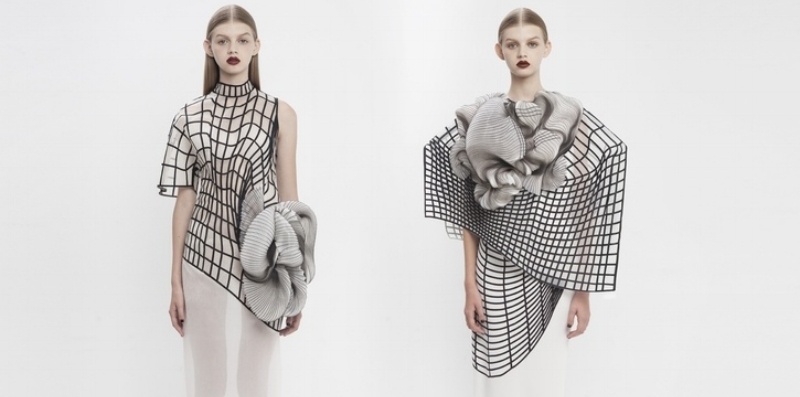 Header Photo Credit: Noa Raviv
Robots are coming for you. Whether you think that they make life easier or destroy livelihoods, the inexorable encroachment of technology into manufacturing and service industries typically dominated by humans is a phenomenon that leaves us waiting with bated breath: Are we the next to be replaced?
In the traditional fashion industry, marrying technology to fashion is not a novel concept. Let's talk about something that had high promise to disrupt the industry: 3D printing.
Let's first start from the basics. 3D printing is the process using a three-dimensional digital model to make a physical object. Typically, a printer makes the object by laying down many thin layers of plastic materials in quick succession.
When the 3D printing wave hit in the early 2010s, people were quick to imagine a future where you can print clothes on-demand at home. Two-day delivery from e-commerce sites would be nothing compared to seeing your desired clothing printed right in front of your eyes, #instantgratification. Access to 3D printers would also lower the barrier to entry for fashion designers by making manufacturing cheaper and faster. As with any new technology, naysayers are quick to raise the risks of such advancements. The industry would suffer a huge blow if digital design files were leaked or the mass market figured out how to design and print clothes for themselves. On a societal level, it also raised the question of the consequences such a technology overhaul might have on the millions of seamtresses in the industry. Since a skills retraining en-masse is quite unlikely, it would mean a huge loss of traditional, low-wage livelihoods. Unsurprisingly, nobody has a satisfactory answer.
Brands started forming a niche of cutting-edge 3D printed fashion, often in both abstract and architectural forms that skipped "ready-to-wear" and went straight to art. Enter the Internet's gallery of 3D clothing wonders:
As gorgeous and fantastical as these pieces are, I'm not sure how you're going to sit on or in one of these pieces of art. And the common folk agree with me. Other than celebrities making a futuristic/avant-garde statement on the red carpet (think Dita Von Teese and Lady Gaga), 3D printed clothing didn't do so hot with the average consumer. For one, the layering method utilised in 3D printers could not match up to the weaving methods utilised in traditional clothing manufacture. It was difficult to replicate the flexibility of fabrics with the standard 3D materials, making these printed constructions fragile, unwieldy, and uncomfortable, and more often than not, they cost as much as human labor. While it seems likely that 3D printing may evolve into more widespread use as the technology to print and materials evolve, including the newer elastic FilaFlex, for the immediate future, 3D printing for the masses doesn't seem likely.
Still there have been small wins for 3D fashion. It turns out that shoes are not as difficult to modifty for 3D printing, as evidenced by Adidas's plan to mass produce their Futurecraft 4D sneakers and UnderArmour's introduction of their ArchiTech Futurist sneaker.

Jewelry has also had an easier time adopting 3D printing since the industry works with metals and solid product structures. One particular brand that has made a name for itself with 3D printed materials is LACE by Jenny Wu, made with sterling silver, gold, rose gold, steel and nylon. Marketplaces like Shapeway.com help small designers to bring their jewelry designs to life with 3D printing services as well as provide a platform for product sales.
Getting out of the 3D printing segment, there are many other notable advances in the garment manufacturing technology space. Already companies are exploring computerised knitting, robotic sewing and cutting, and textile printing to make the fashion supply chain leaner and faster. Just think about Amazon's recent patent for their automated, on-demand clothing manufacturing factory. The future that we dreamed of will probably come sooner than we think. Maybe an actual functioning Star Trek Replicator will be invented in the next 20 years. Hey, a girl can dream!