Images courtesy of Vogue Runway and Getty Images
We'd be honest when we say we thought twice about putting together a New York Fashion Week summary. Fewer of the designers we've come to expect at New York Fashion Week either opted to skip altogether or show elsewhere. While there was a sprinkle of festivity by way of color and sparkle in a few cases, much of what we saw was relatively restrained and subdued.
Nonetheless, there's some macro- and micro-themes which surfaced that we'll be seeing more of this fall, all of which we've summarized and visualized for you below. Read on, our fashionable friends!
Pleated Perfection

From left to right: Michael Kors, Gabriela Hearst, Rodarte, Tory Burch
The midi-length pleated skirt was present on runways including Michael Kors, Gabriela Hearst, and Rodarte. Many we saw had top-stitched profiles, while Tory Burch featured the accordion pleat version. The pleated skirt makes for a fashion-forward alternative to the pant.
Culottes + Shorts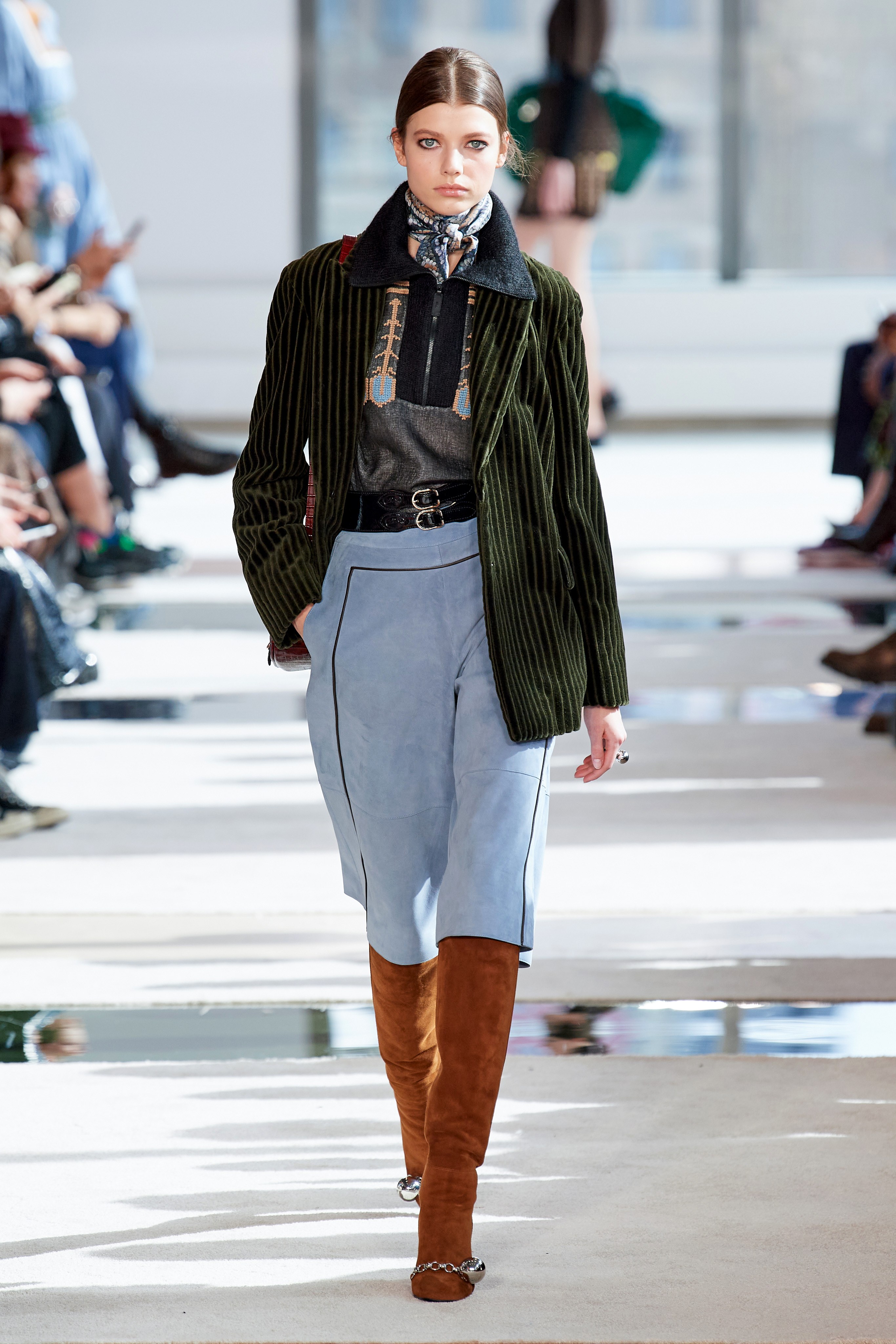 From left to right: Longchamp, Coach, Marc Jacobs, Marc Jacobs
Culotte and short profiles continue their march from summer into the fall months, at least according to New York's designers. Coach and Longchamp opted for the looser-fitting culotte style, while Marc Jacobs opted for more tailored Bermuda styles. Add a loafer or an oxford, topped off with a suit jacket or sweater, and you're ready to roll.
Dropped Waists

From left to right: Dion Lee, Khaite, Self Portrait, Khaite
A dropped waist is a waist which sits lower, instead of at the waist, it sits at the hips. The style often reminds us of the "Roaring Twenties," where women married style with comfort wearing flapper dresses with this design detail. Fast forward to the present, and you'll see some of New York's finest reinventing it for a different Twenties. An up-and-coming runway favorite, Khaite featured dropped waist dresses that showed and drew particular attention to tailored drop-waists.
Monochromatic Rules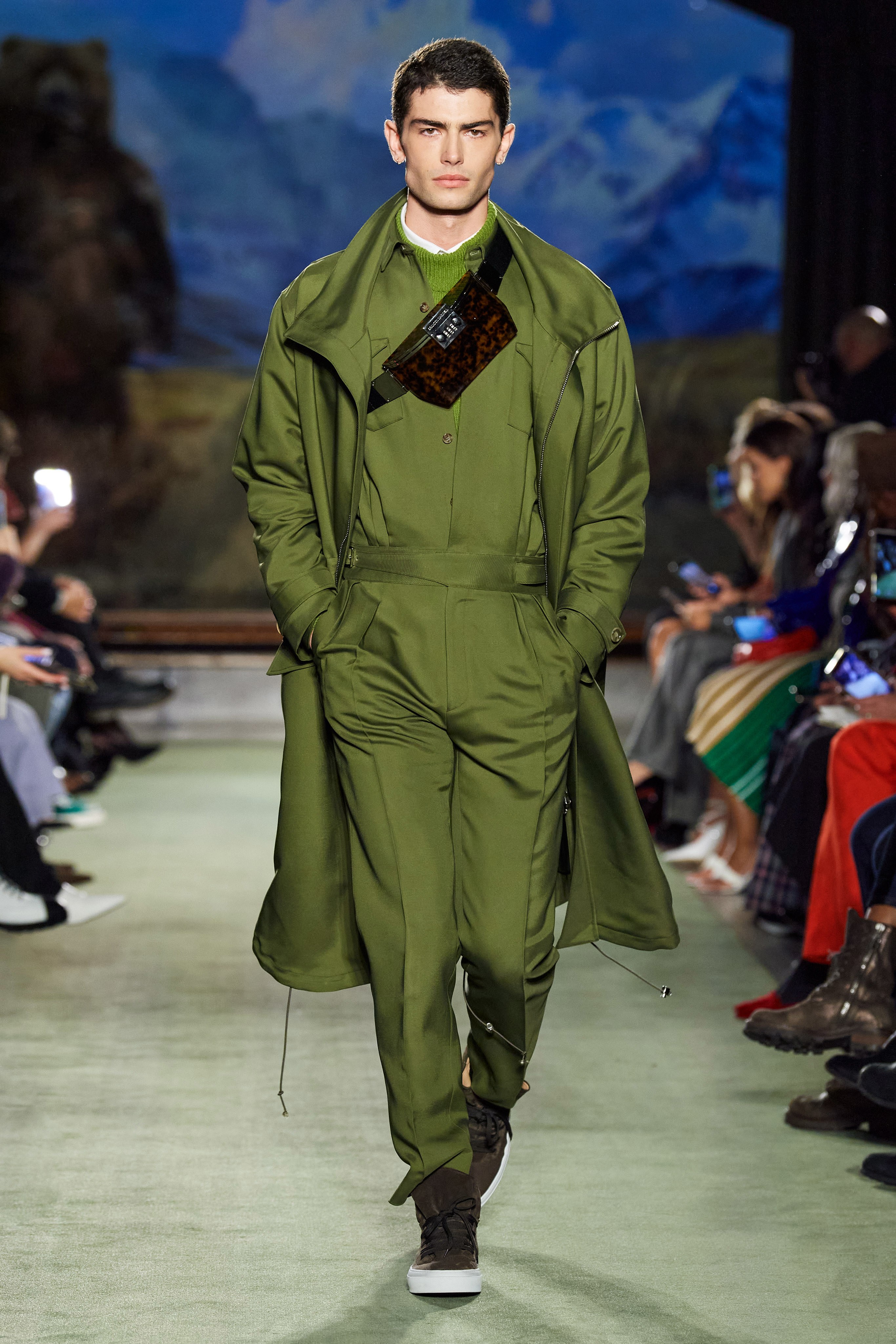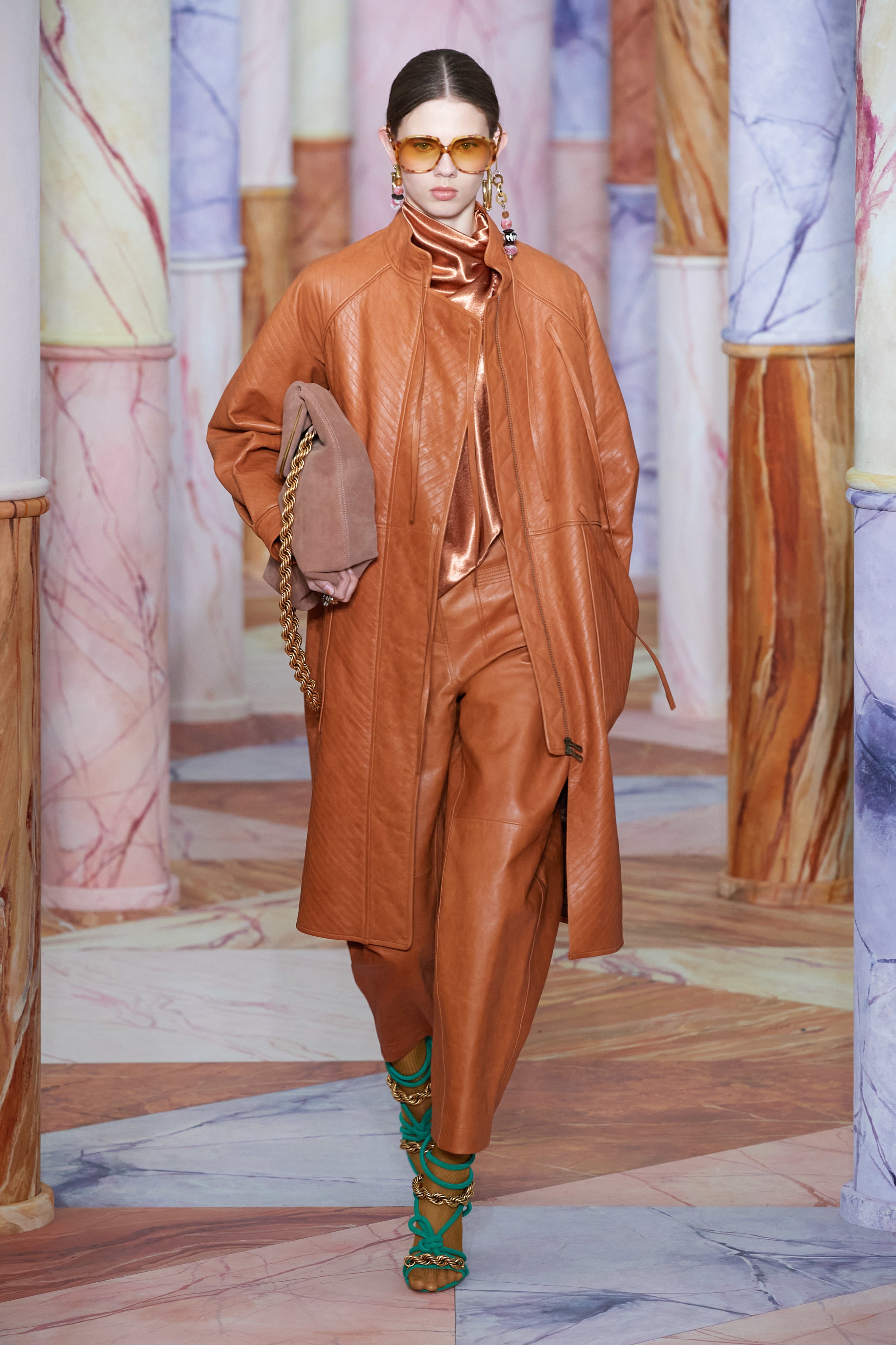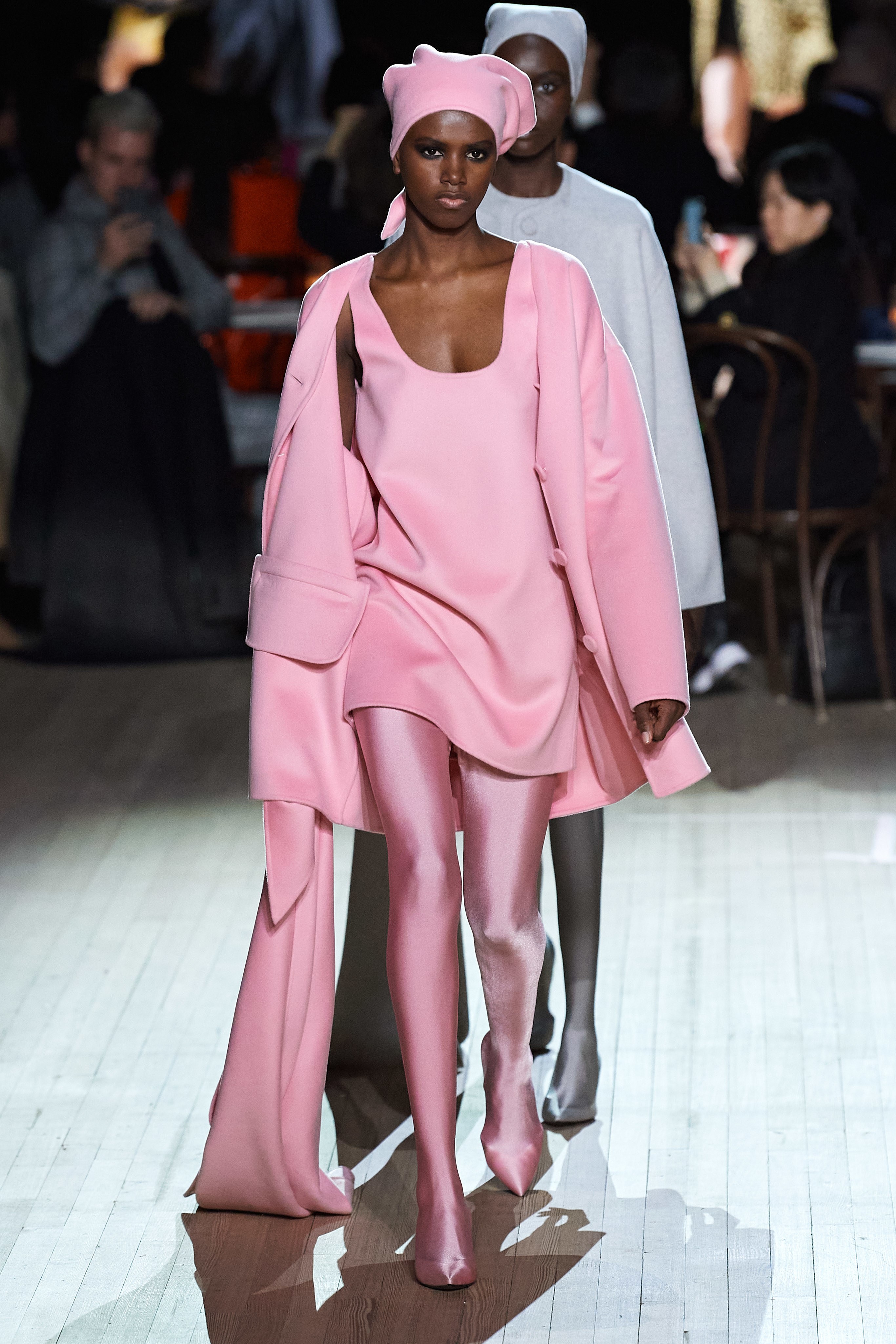 From left to right: Brandon Maxwell, Ulla Johnson, Marc Jacobs, Eckhaus Latta, Sies Marjan
We go back and forth on whether or not we love or hate the monochromatic look. Is it lazy or genius?
While the monochromatic train rolls on, we noticed a few things different about it for fall 2020. One is varying material throughout the outfit, while keeping a similar color story, a la Eckhaus Latta. You break up the sameness that monochrome often induces. Other monochrome themes we noticed were designers like Tom Ford, who were unafraid of utilizing bold color choices from head-to-toe.
Cape Topper

From left to right: Rag and Bone, Michael Kors, Carolina Herrera, Michael Kors
While you expect an abundance of coats during the fall shows, this year we saw more capes than previous seasons. The cape is a smart layering piece because you're not restricted by what's underneath, rather it gets a showcase opportunity. Michael Kors, Caroline Herrera, and Rag and Bone all gave us arm-free layers for the cooler season.
Shades of Grey

From left to right: Oscar de la Renta, Monse, Michael Kors, Tory Burch
We think the color of this fall and winter season will be a lovely charcoal grey. Present all over the runways, it makes the perfect complement to knits, suiting, and coats alike.
Put It In The Bag

From left to right: Oscar de la Renta, Coach, Adam, Brandon Maxwell, Jonathan Simkhai, Brandon Maxwell, Michael Kors
We'd be remiss if we didn't highlight some of the bags slung over arms, hips, and shoulders during New York Fashion Week. Some of our favorite styles were the boxy, like Coach and Adeam. We also saw that the hip bag, styled cross-body or at the waist, continues to be on-trend. In fact, at Michael Kors, they strapped their bag around both the waist and shoulder. Why choose if you don't have to, right?
Well-Heeled

From left to right: Khaite, Zimmermann, Tory Burch, Brandon Maxwell, Ulla Johnson
While many of the New York designers may not be known for footwear, there were still some new takes we hadn't seen before. Both Longchamp and Ulla Johnson embellished their footwear with chains, and we think this will be a major design element in fall and winter shoe assortments. We also appreciated Brandon Maxwell's tortoise knee-high boots which have the makings of a new fall neutral print. Last but not least, Tory Burch's floral printed leather boots (which also coordinated with another floral print up top) deserve an honorable mention for best in class.
Finishings and Such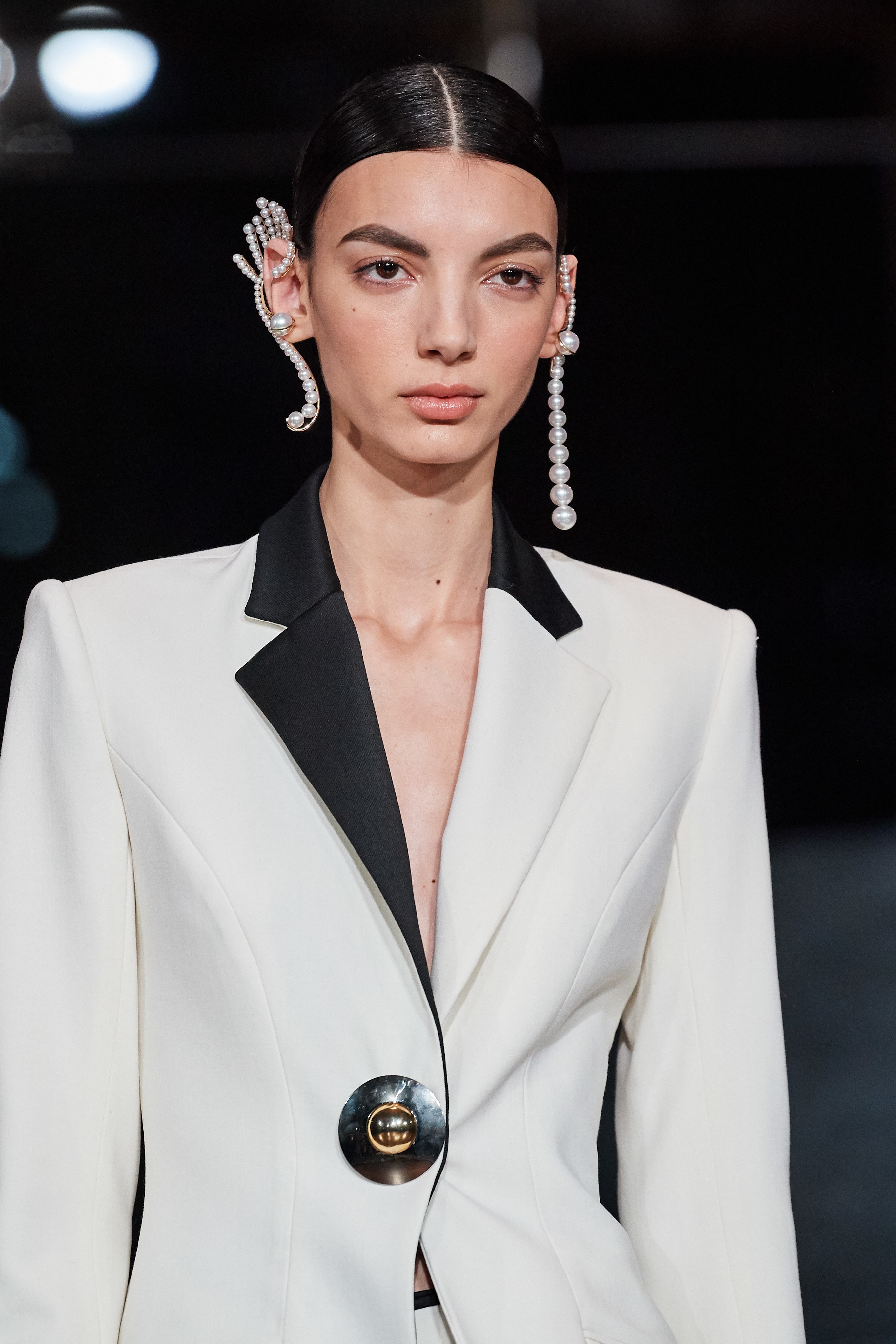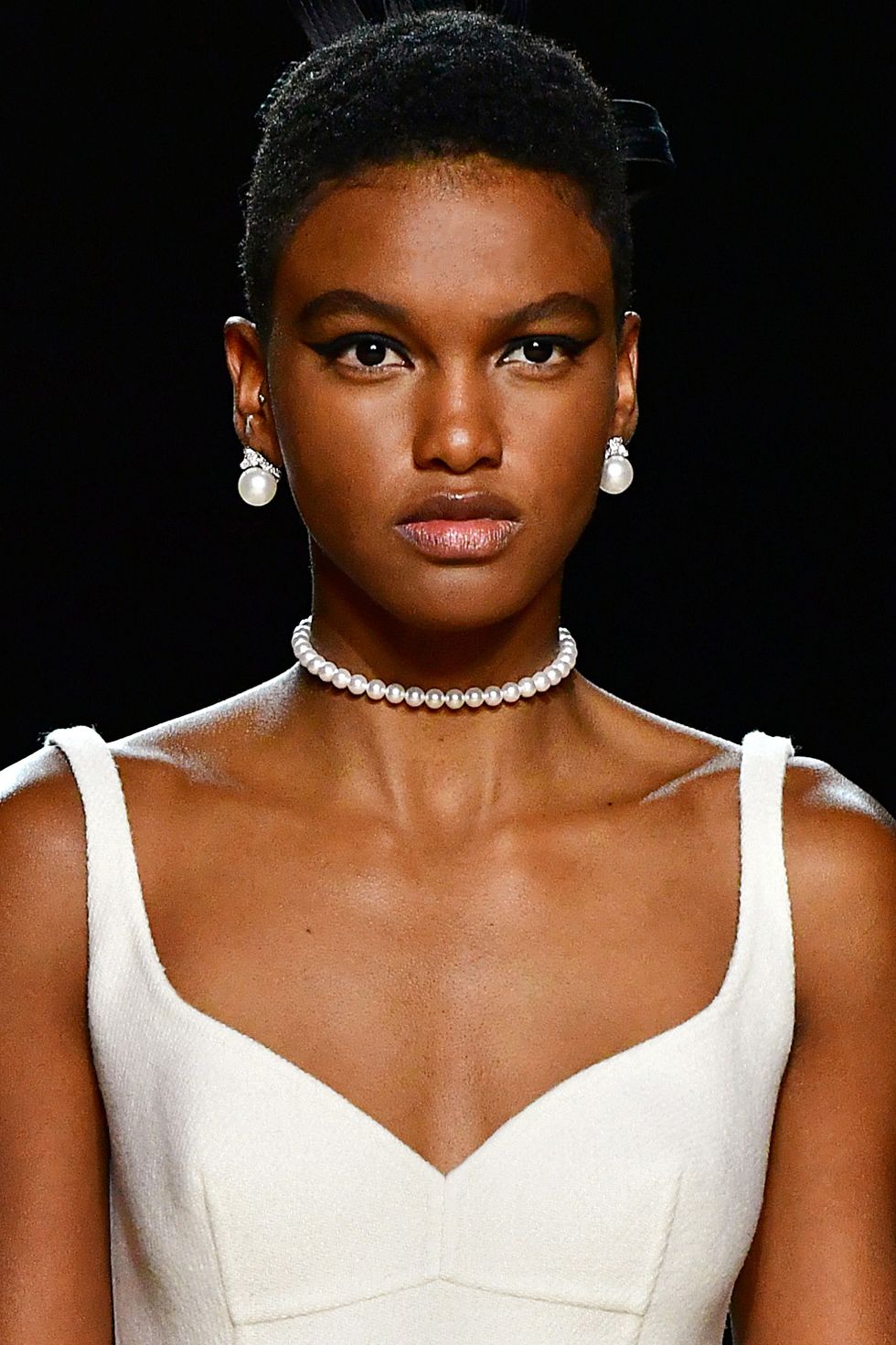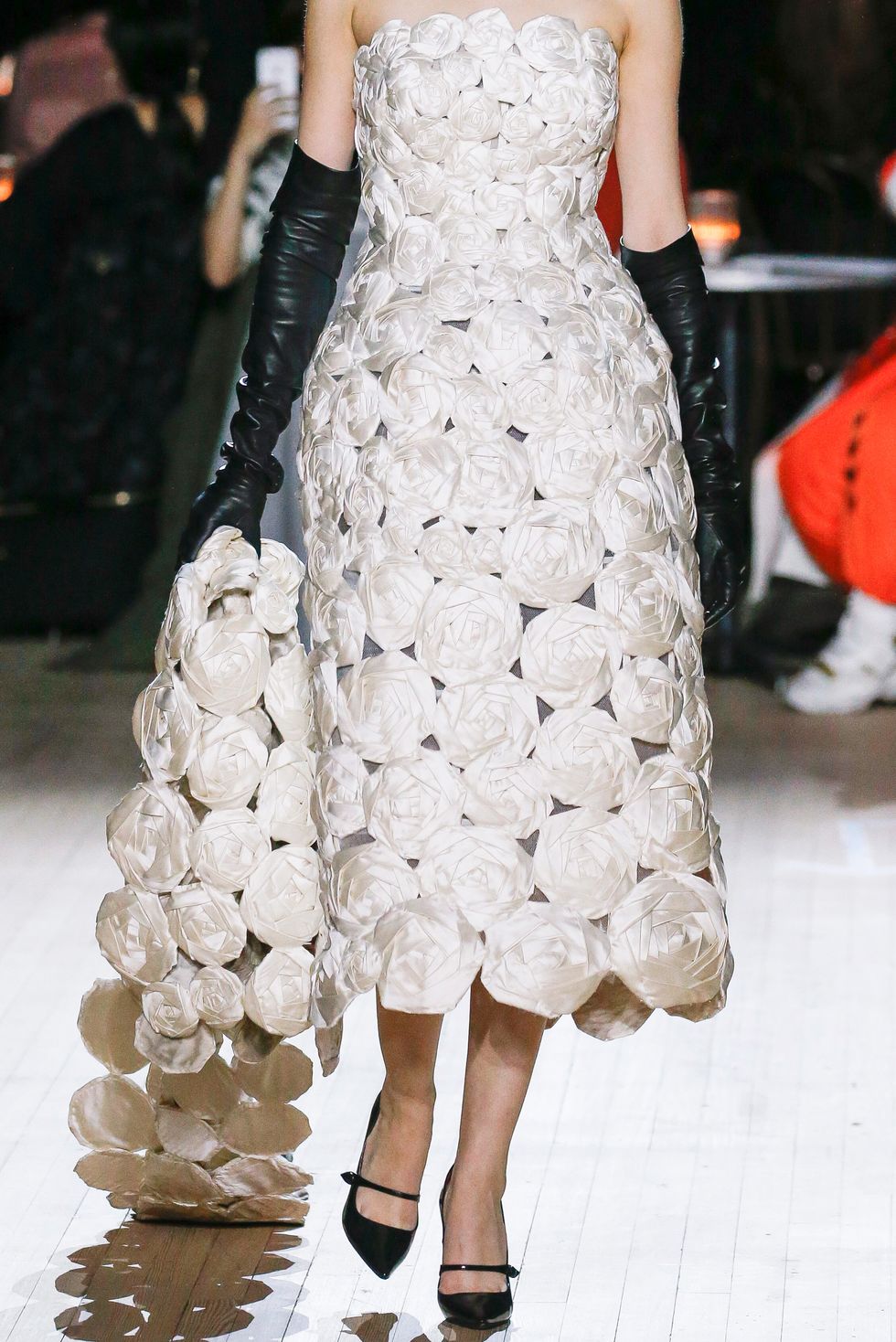 From left to right: Prabal Gurung, Marc Jacobs, Marc Jacobs, Laquan Smith, Oscar de la Renta, Michael Kors, Gabriela Hearst, Marc Jacobs
A few accessory themes to note from the runways of New York included pearls. Prabal Gurung made his pearls statement ear climbers, while Marc Jacobs made dainty chokers and ear studs from them.
Another idea we're loving for fall is ladylike elbow-length gloves. While we're not entirely sure the practicality of them, there's something eminently lovely and retro about the glove as a finishing touch.
Last but not least, belts and harnesses. The harness was seen at Michael Kors and Vera Wang, while double-belting was on show at Gabriela Hearst and Marc Jacobs.
We hope this helps to summarize the key themes of NYFW, and stay tuned as we report back on the upcoming shows in London, Milan, and Paris!