Image courtesy of American Eagle
Last week, retailer American Eagle unveiled their latest brand, Offline, which is apparel for the shopper looking for "do anything" kind of gear. It's the stuff you can work out in, but you can also sit on your couch watching Netflix in. Offline is a spinoff of its massively successful Aerie intimates and loungewear line, and it focuses on leggings, bike shorts, tops, and more leggings.
The announcement got us thinking about the number of options consumers have when it comes to purchasing active and loungewear, specifically, "Have we reached peak leggings yet?" And while we know bottoms like leggings and sweat pants have been bright spots in otherwise bleak retail conditions during the pandemic, what else can we learn about consumers' interest in the category, marketplace competition, and ultimately, the long-term, global prospects for the leggings category?
This one has lots of data - so get yourself ready!
What are shoppers looking for?
Leggings remain a top searched category within both the activewear and the pants categories. But we see a shift in the types of leggings shoppers are going after.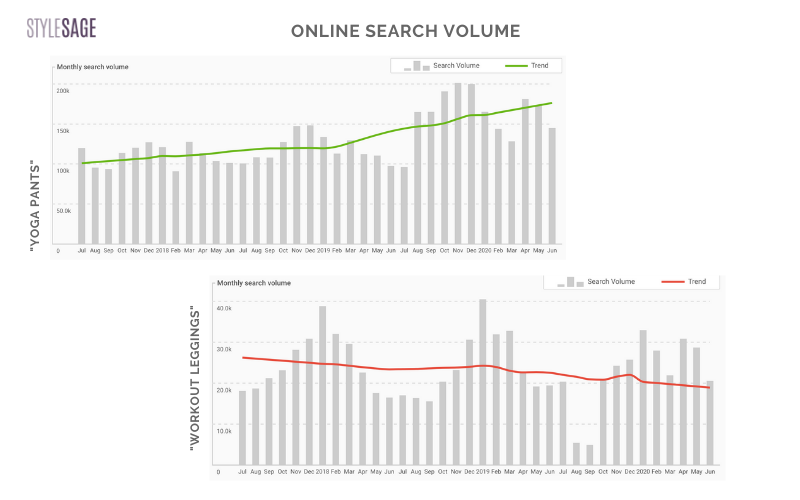 Exhibit A is that "workout legging" is showing decreasing search interest (red), while "yoga pant" is increasing in search volume (green). A subtle difference, you might say, but one indicative of the mindsets of consumers looking for approachable, low-impact gear for staying active and fit.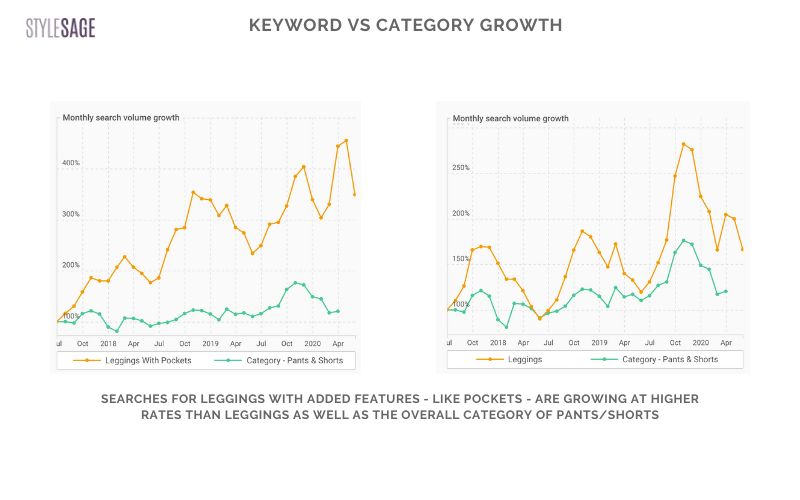 Another notable finding here is in the nuance of the category. While leggings come in all shapes and sizes, consumers are increasingly looking for functional features like pockets, as the data above illustrates, as searches for "leggings with pockets" are growing faster than not only "leggings," but also the pants category as a whole.
It's worth pointing out that these search trends aren't just evident during the timeframe of the lockdown, rather this was the direction the category was moving before.
The point? As this category matures and gets more crowded, features like these will be table stakes.
How much is out there?
When it comes to leggings, the line is a blurry one between the ones you wear for yoga, the ones you wear biking, and the ones you wear while on a conference call. This is a reflection of how work-play-self-care have all jumbled up, especially during a pandemic.
Our point here is this, you can buy leggings at a sports specialized retailer like Nike, and you can also buy them from a store like H&M which sells lots of non-sportswear categories. Just as American Eagle launched Offline, so have other non-sportswear brands have been dipping their toes into the activewear space to catch their share of the market. So our question was, "Are there differences in the leggings category, between the sportswear specialized and more generalized apparel retailer, that are notable?"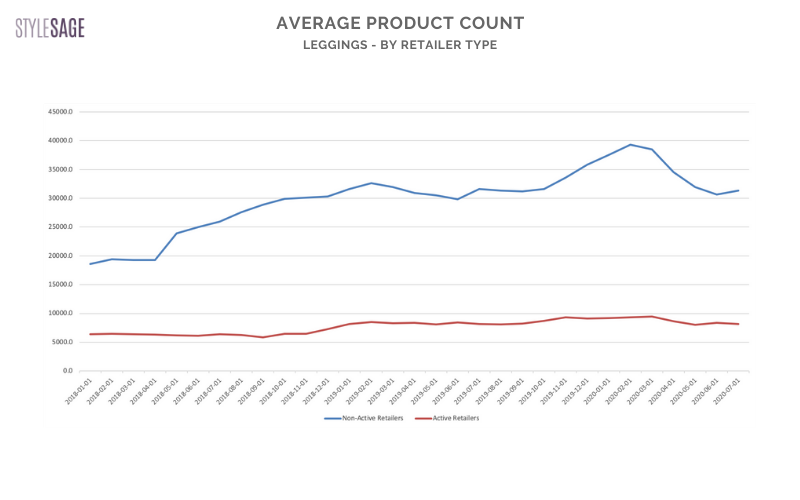 Our analysis shows that, across five countries, including the US, UK, France, Germany, and Italy, non-sportswear retailers have been adding leggings to their assortment consistently from the beginning of 2018 through March of this year. In fact the number of products essentially doubled during this timeframe. However, after lockdowns took place, this product count began to diminish, as retailers pulled back on new merchandise. Compared with that, the number of leggings in sportswear retailers assortments has remained fairly stable during the time of observation.
We also wanted to see if there were notable geographic differences in retailers' attention to this category.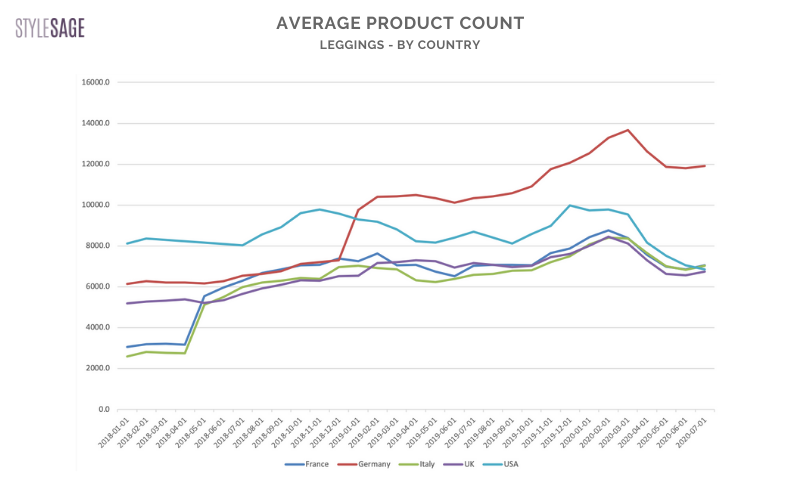 What was remarkable was that by country, France, UK, and Italy looked remarkably similar, growing their legging product counts consistently from 2018 to March of this year. (There is some seasonality in play, with inventory peaking annually around the February-March timeframe.) In the US, product counts have decreased below the point they were at the beginning of 2018, while in Germany average product counts have nearly doubled during the same timeframe. Altogether this seems to indicate that room for category growth is seen in the European markets, and perhaps to a lesser degree in the US.
What do pricing trends tell us?
Generally one indicator that the market for a category is getting crowded is that prices get lower and/or discounting becomes more frequent. As we see some indicators that the US market may be slowing and we also know that, generally, discounting tends to be more rampant here, what's really going on?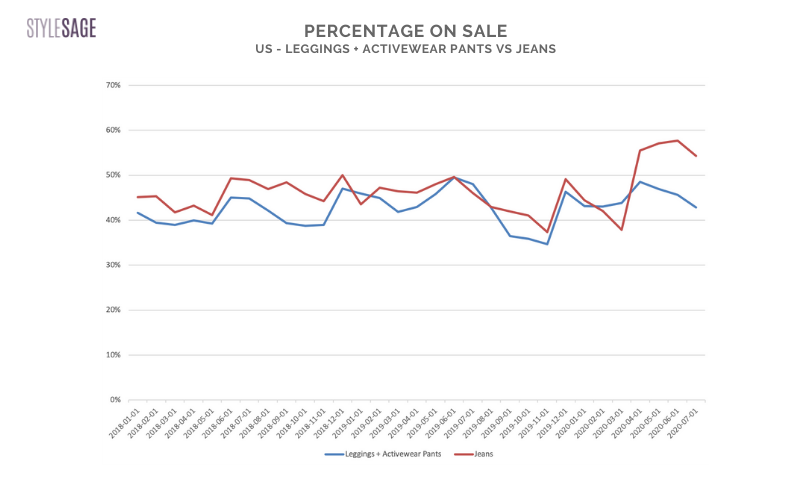 First off, let's benchmark leggings against jeans. Why? Often the two categories are often considered potential substitute items by consumers. What we see is that since the beginning of 2018, both jeans and leggings have had a similar likelihood of being on sale, with jeans slightly more so. However, between March and April of this year, the gap between the two categories widened, and jeans became much more likely to be marked down. We believe that this was a temporary effect of higher demand for leggings while at home, and that this gap will likely narrow again, as retailers reset their inventory levels post-pandemic.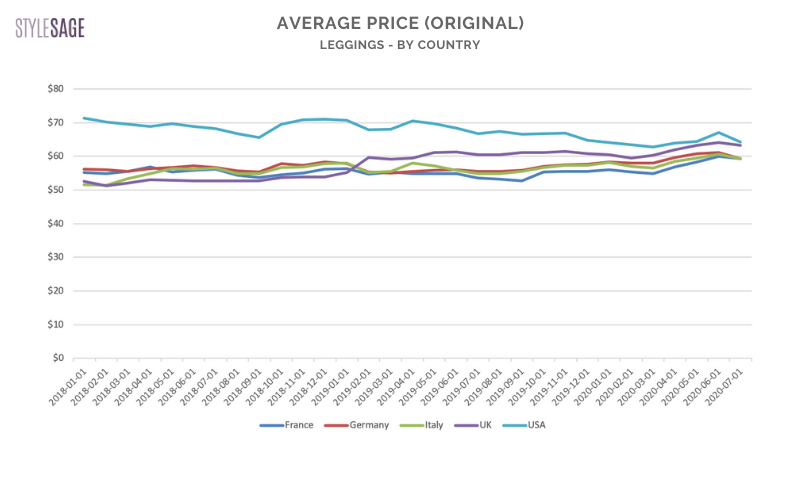 Last but not least, we wanted to take in one more big picture snapshot of pricing trends. Here we included the five different countries again, to see if there's been any statistically significant shifts in original (aka pre-discount pricing) since the beginning of 2018. We saw that there have been increases in the average price in European countries including Italy, Germany, France, and in particular, the UK. On the other hand, in the US market, there has been some downward pressure on prices. In January 2018, the average original price for a pair of leggings was $71, and it is now $64. We'd say this is a notable side effect of the US market getting increasingly crowded with both performance and crossover leisure styles of leggings.
Our takeaway? Health will continue to be a focus of consumers globally. Active garments fit that bill. However, with increasingly crowded market conditions, simply having activewear doesn't differentiate you. It will be how you market, partner, and include your target market in your story.