Back in 2018, we released an in-depth report on the state of "plus size" apparel. We wanted to understand how inclusive US brands were and whether they were actually offering sizing that reflects the reality of the market.
Well, we're back with an update. In advance of the full report releasing next week, here's a sneak peek at some of the interesting findings.
Plus' share of assortment has decreased since 2018
Our data in 2018 uncovered that 16% of products were plus-sized, however since then, we've seen plus' share of assortment decrease. Now we see that only 13% of products in the market were plus-sized.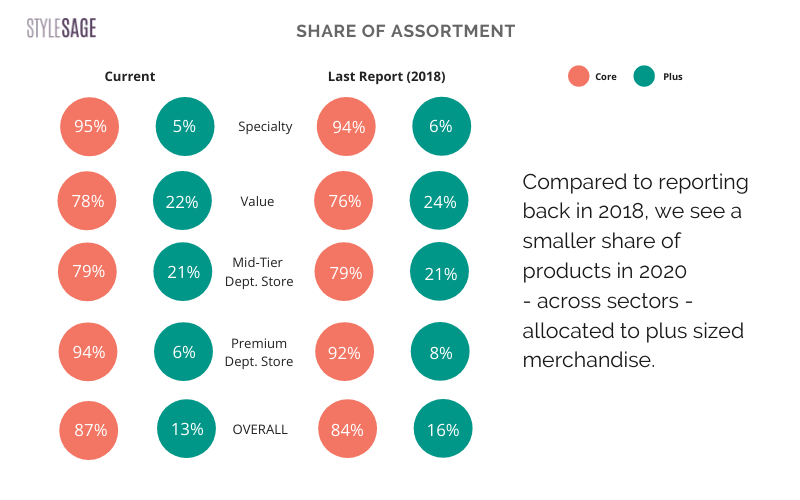 While the decrease is notable, by sector the data is even more illuminating. Premium department stores, specialty, and value retailers saw decreases in plus' share of assortment, while the mid-tier department stores held steady.
Notably, our data shows that average product counts for both plus and core sizes is down since March 2020, no doubt due to the impacts of COVID-19 inventory issues.
Larger sizes comprise a fraction of smaller sizes in both the EU and US
Sizing is a complex issue, that's for certain. While many garments go by letter sizing (XL), many others, especially in pants and dresses, go by number sizes. To complicate matters, different countries have different systems. (For reference this is the conversion chart we used.)
Starting with the US, you can see that size 2XL makes up only 7% of both available and sold-out sizes at retailers. 93% of the US retailers in our sample offered a size larger than XL. (Not charted here.) For number sizes, we see the count of sizes higher than 14 decreases markedly. In fact, the number of products in sizes 18 and 20 combined equals less than size 16.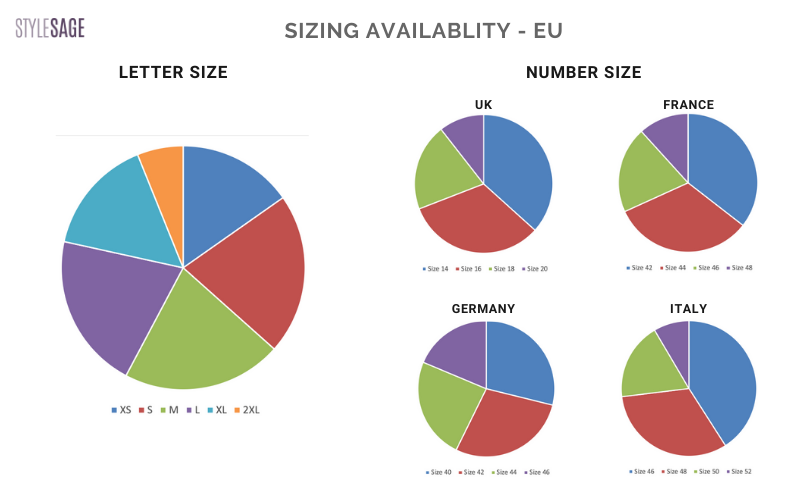 We also examined plus sizing in European markets including Germany, UK, France, and Italy for availability. 2XL makes up 6% of letter sizes in our sample, slightly less than the US. In comparison with the US market, an even smaller share of European retailers, 81%, offered a size larger than an XL.
While number sizing varies more across geographic markets in Europe, the same trend of diminished availability of larger sizes mostly held true across the markets in our sample. Except Germany, the availability of UK 20/FR 48/IT 52 was half that of the size immediately preceding it on the scale.
Discounting is more prevalent for plus sizes but the amount is decreasing
Let's be clear - it's a bad year for retail discounts. In many cases, they're at the highest levels they've been in recent memory. Despite this, we wanted to see if there were any indicators as to the performance of plus size apparel, relative to the rest of the market.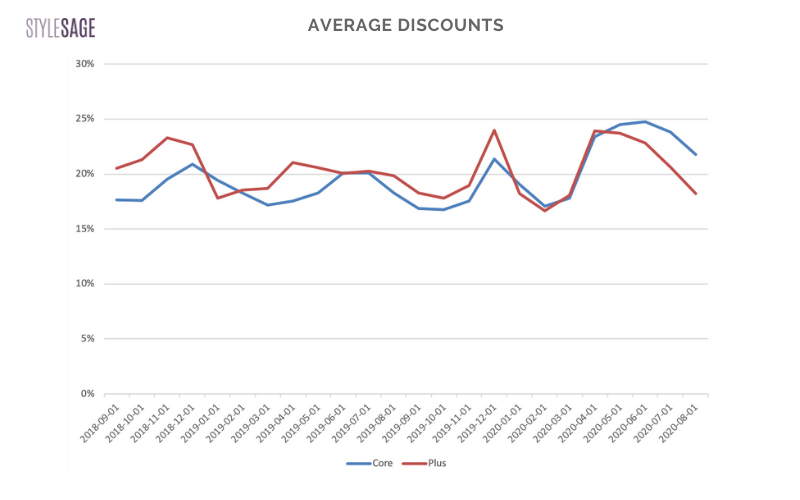 For the most part going back over the past two years, we see that plus size merchandise has been more likely to be marked down (not shown) and has borne higher discounts (shown above). However, this trend has started to reverse since January 2020, with plus size now having lower discounts than core sizes since June.
82% of activewear brands offer sizing larger than XL, but merchandising for plus takes a backseat
The intersection of activewear and sizing has long been rife with mistaken assumptions around size, weight, and health. More and more brands have realized the fallacy of this and are making strides in being more inclusive in both their marketing and merchandising. But does our data show the same progress?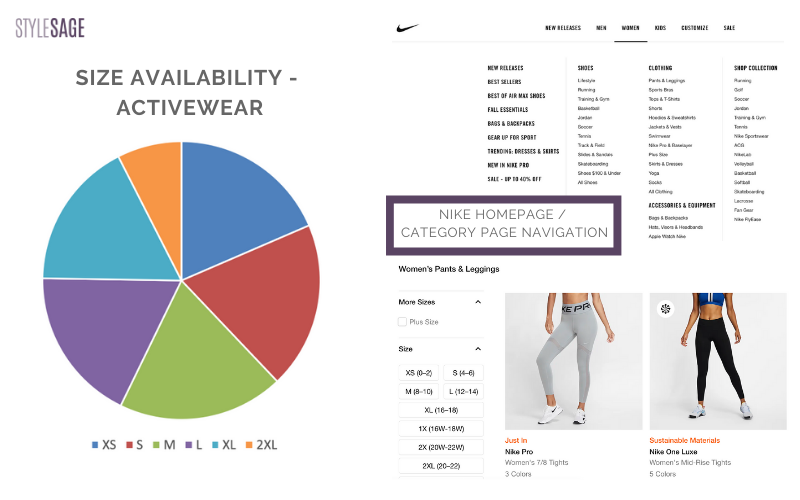 We looked at US retailers in this sample, to see what story size availability tells us. To start, we saw that 82% of the activewear retailers in our sample offered a size larger than XL, but 2XL only comprised 8% of the sample of sizes XS-2XL. (Remember, when we looked at non-activewear retailers, this number was 93%.)
To understand the issue further, we took to the retailers' websites to understand how they're presenting what plus sized assortment they do have. While Nike doesn't offer it in the main navigation (as seen above), it does enable shoppers to filter by plus sizing once on the category page. On the other hand, New Balance's pant sizing stops at XL, period. The plus and activewear opportunity is one that retailers are still not wholly embracing.
Find these insight relevant to your business? Be looking for our full plus size report, dropping next week!