Early November sees the world's (single) biggest promotional events - 11.11 or Singles' Day. By now, most folks outside of China are familiar with the event which takes place on November 11 and includes live shopping, loads of product launches, and blockbuster deals, but just in case, here's a good overview of what it entails.
Just how big is Singles' Day? Last year there were 1.9 billion products shipped and sold to the tune of $38.4 billion GMV. (GMV = Gross Merchandise Volume.) But as with everything else in 2020, is Singles' Day going to be negatively impacted by COVID-19?
Let's take a look at some of the data on the market and consumer research that can inform us as to what we can expect this Singles' Day.
Will there be "revenge saving" or "revenge spending?"
China has the distinction of being both the first country to experience the economic impacts of COVID, as well as the first country to emerge from the worst of the economic effects of the pandemic. This has meant that the Chinese economy grew 3.2 percent in the second quarter and 4.9 percent in the third, after contracting 6.8 percent in the first quarter of 2020.
But economic recoveries aren't experienced equally, which means that the Chinese consumer still has COVID-19 on its mind, especially as winter comes and cases rise around the globe. Where in the past many consumers splurged during Singles' Day on big ticket items like luxury handbags, apparel, and cosmetics, there are strong indicators that "many are choosing 'revenge saving,' opting for budget items amid concerns over an uncertain path ahead." This likely means that many people will opt to spend on practical items in the health, beauty, and food categories in 2020.
Shoppers indicate lower intent to buy apparel
Speaking of those shifting priorities, early results, from the first part of Alibaba's event which took place on November 1-3, were that seven of the top-selling ten items were beauty products.
To add color to these consumers shifts, we look to Alix Partners, a consulting firm that has done extensive research of the Chinese consumer with their annual Singles' Day survey. In their 2020 results, they saw meaningful shifts reflected in consumer intentions. Specifically, 39 percent of survey respondents said that they intended to buy clothes, fashion, and accessories, which is a sizable drop from 45 percent in 2019.
Discounting trends leading up to Singles' Day are stabilizing
Regardless of COVID or diminished interest in fashion purchases, there will certainly be plenty of fashion deals to be had on Singles' Day. However, our big question was whether or not retailers have been able to rebalance supply and demand since emerging from the worst of the pandemic.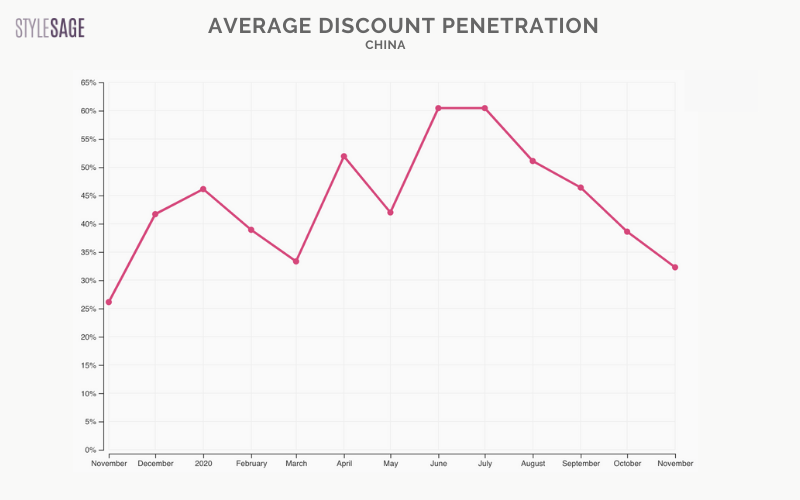 The data above shows that in the first week of November, the share of assortment marked down is higher than it was one year ago. (It was 26 percent in November 2019 versus 32 percent in November 2020.) However, it's also down significantly since its July peak at 60 percent.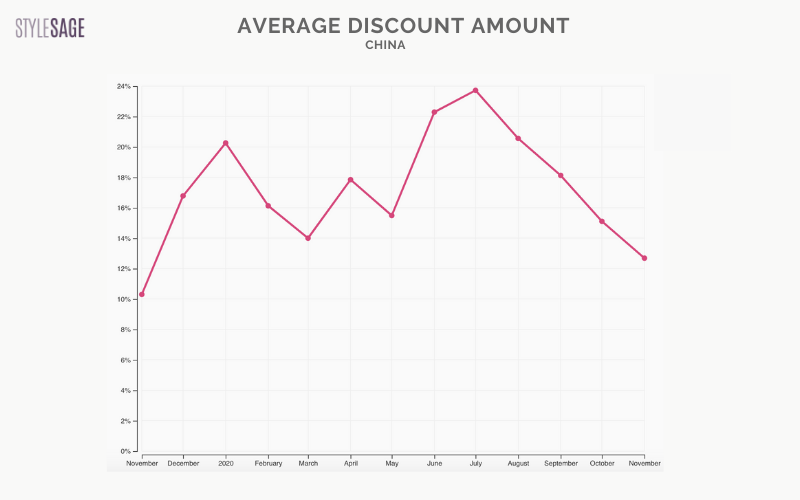 Zooming in further to see how high those discounts are, we see that those discounts are also ringing up higher in November 2020 versus November 2019 - at 13 percent versus 10 percent, respectively.
All in all, this would seem to indicate that retailers, while recovering, might not be back to normal just yet.
Livestreaming will gain bigger audiences
Another key part of the Singles' Day experience is livestream shopping. Celebrities and influencers pack the livestream digital feed, promoting various limited edition products and new releases, all the while interacting with customers who can click and buy - right then and there. (P.S. Livestream shopping is gaining renewed traction all over the globe.)
Alix Partners' research showed just how much livestreaming has taken off, with 81% of participants saying they planned to buy something via livestream during Singles' Day. In particular they noted that both the youngest audiences (age 15-20), as well as those living in smaller cities (tiers 3-5), were most likely to state livestream shopping intent.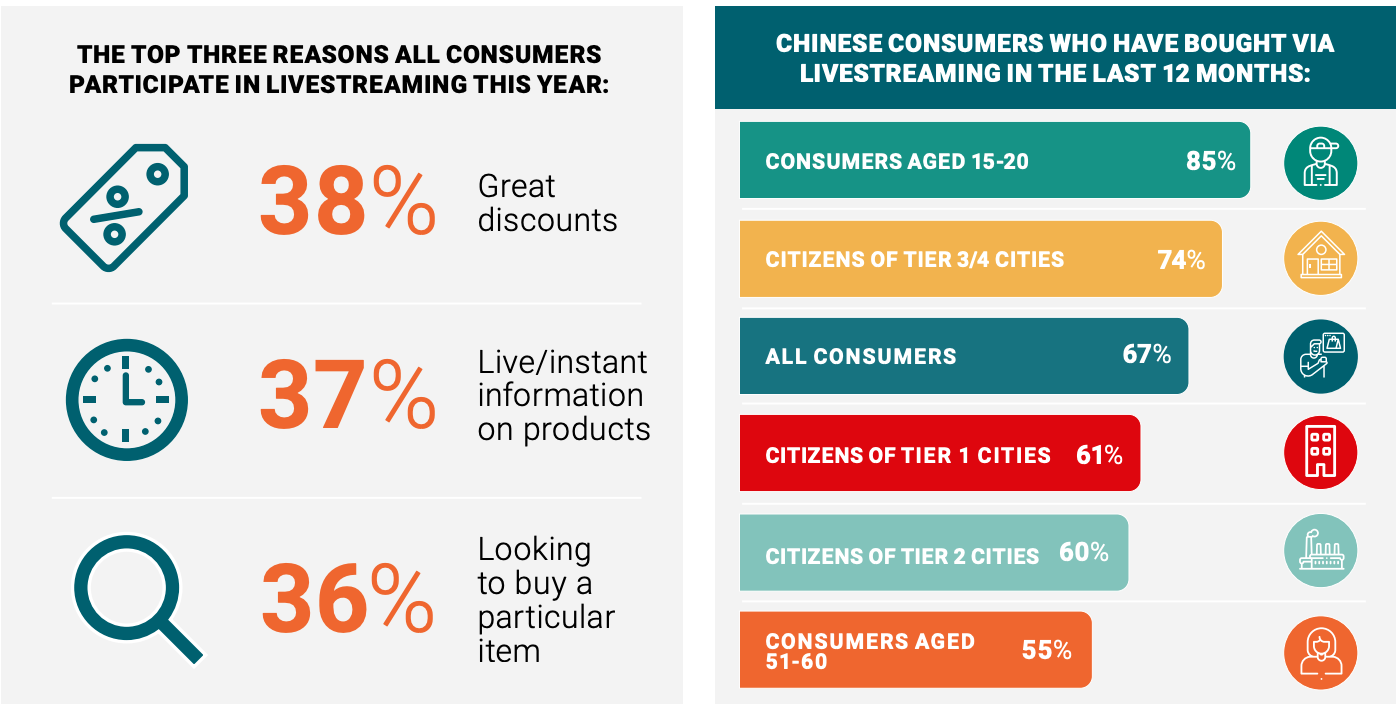 Courtesy of Alix Partners
The data above also shows the extent to which livestream shopping is and will be a massive opportunity for brands - not only during Singles' Day.
Investment in smaller cities begins to pay off
Livestreaming is just one of the opportunities that Chinese less populous (but still also massive by Western standards) cities offer up. In fact, the nation's leading e-commerce players "are also accelerating a move into China's lower-tier cities, a move that has been under way for some time amid saturation and more competition in the biggest metropolises."
In Hong Kong's South China Morning Post, they noted that in March, China's biggest e-commerce platform Taobao officially rolled out a new mobile app called Taobao Deals, offering flash sales of lower-priced items varying from groceries to daily commodities by connecting factories and small-scale producers direct to customers on the platform.
Brands from outside China would be well advised to take note of these themes and the data coming out of Singles' Day, as both a measure of the health of the Chinese consumer, as well as to spur the right investments and partnerships to reach the local consumer, no matter their age, location, or income.