Even a few years ago, Prada's future was in question. Talks of the luxury brand being acquired swirled, its merchandising strategy wasn't working, and it was falling further behind its luxury rivals. Yet untapped potential remained, as this Business of Fashion analysis aptly put it, "Prada, the brand, is bigger than Prada, the business, making it an attractive asset for prospective buyers."
In 2017, a strategy for turnaround was mapped out, which included pulling back on wholesale exposure and reducing the number of markdowns that clearly tarnished the luxury brand positioning. And just prior to COVID, this turnaround was at long last starting to take hold, and even more positive buzz was growing on the heels of Raf Simons being announced as new co-creative director alongside Miuccia Prada. In early 2020, they announced that sales had grown 2.7 percent YOY, but by then coronavirus was spreading across the globe and the company signaled that it expected 2020 to be a rocky one. And while it was indeed a rocky year for all luxury brands, in the early days of this year, Prada announced that it was indeed profitable in FY 2020. Its early reporting noted that demand was particularly robust in China, Russia, and the Middle East, as consumers unable to travel spent their dollars domestically.
So how does Prada stack up to its luxury competitors and what can StyleSage e-commerce data tell us about the current state of its turnaround? Let's take a closer look.
First up, we're comparing Prada's men's and women's assortment with key luxury rivals Gucci and Louis Vuitton. What we want to see, first, is whether or not there's a differing assortment strategy in their own direct to consumer e-commerce sites.
What we see is that while assortment counts are similar between Gucci and Prada, Louis Vuitton has fewer products in its assortment. We can also see here that Prada carries a larger proportion of bags and apparel than its rivals, while simultaneously stocking a smaller proportion of footwear and accessories.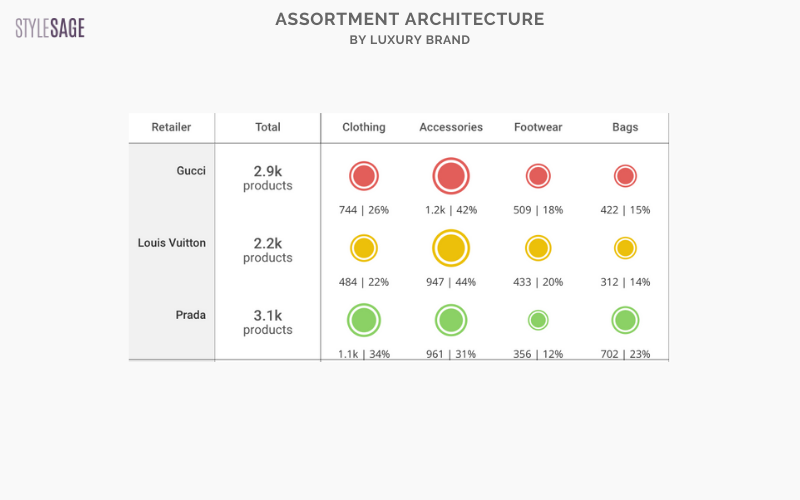 Taking another view of how Prada's assortment stacks up to its competitors, we see that Gucci takes the less premium price point in all the categories here except bags. Louis Vuitton takes the most premium price positioning of the three brands, with the exception of apparel, where, interestingly, Prada out-prices them.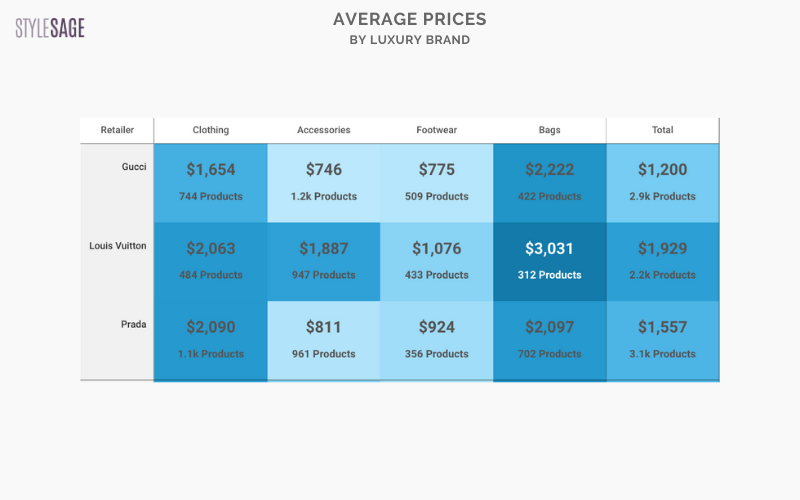 This current price positioning leads us to ask: Have these brands been increasing or decreasing prices over time? This is a question that's particularly relevant as they assess the needs and wants of younger consumers, while simultaneously navigating the disruption that COVID has forced on their respective businesses.
When we go back into our time machine, we glean some very relevant insights. We see that Louis Vuitton, since the beginning of 2020, was steadily increasing the average original prices for its women's handbags category. It peaked in December and has since decreased to approxiately $3,300. During the same timeframe, average prices for Gucci's bags have gone down by about $250. Who's that, taking the slow and steady approach to pricing? That would be Prada, where between January 2020 and now, prices for women's handbags have increased approximately $300.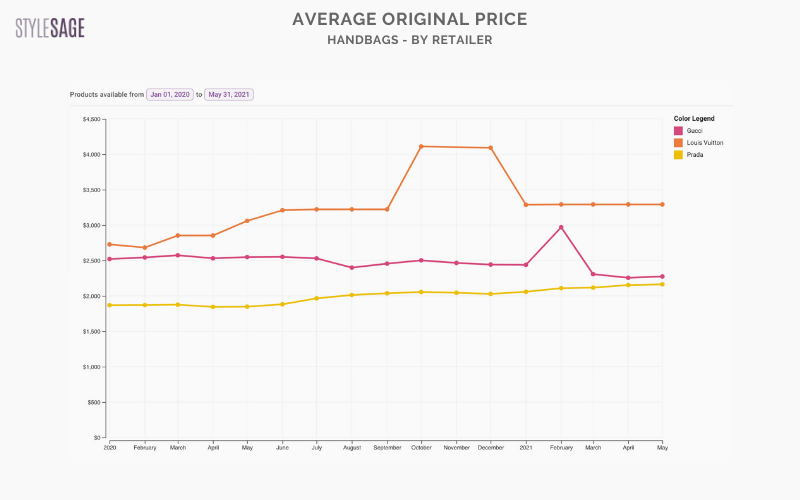 Last but not least, let's take a quick look at Prada's wholesale strategy. As mentioned previously, scaling back wholesale was a core part of its turnaround strategy. Today, 90 percent of Prada's sales are now direct. Our data on wholesale partners sheds light into what that means in the real world.
We see that Prada is select about which categories it sells to its various wholesale partners. Its department store trading partners like Nordstrom sell only accessories (like sunglasses) and footwear, while Saks sell those categories plus some bags. Farfetch (whose model is "e-concession" where the brand has a "shop-in-shop" that it controls), sells an assortment of goods that most closely mirrors the brand's own DTC site.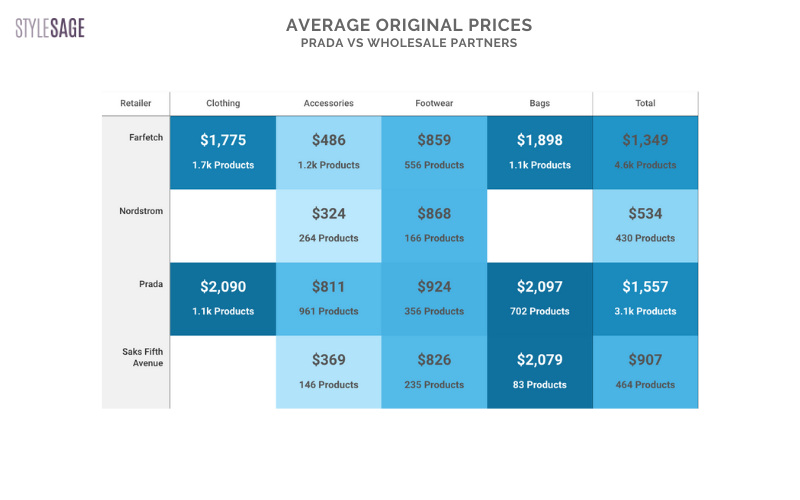 Interestingly, Net-a-Porter announced earlier this year that they would also be partnering with Prada on a new model that has similarities to Farfetch, specifically a drop-ship model where Prada sells their goods on NAP's site, but wholly controls the inventory. It seems this partnership isn't yet live, so we'll be interested to see how this type of relationship fits into the new world of retail into which we're emerging.
Interested in reading more brand case studies? Check out our full suite of them here!