In a world of instant gratification, the idea of waiting weeks, or even months, to obtain an item might seem a foreign idea. Yet as retailers have pushed to deliver more goods faster than ever to consumers, there's also a growing counter movement to slow down fashion. One way to do so? Have shoppers order in advance and the brand then produces only what's bought.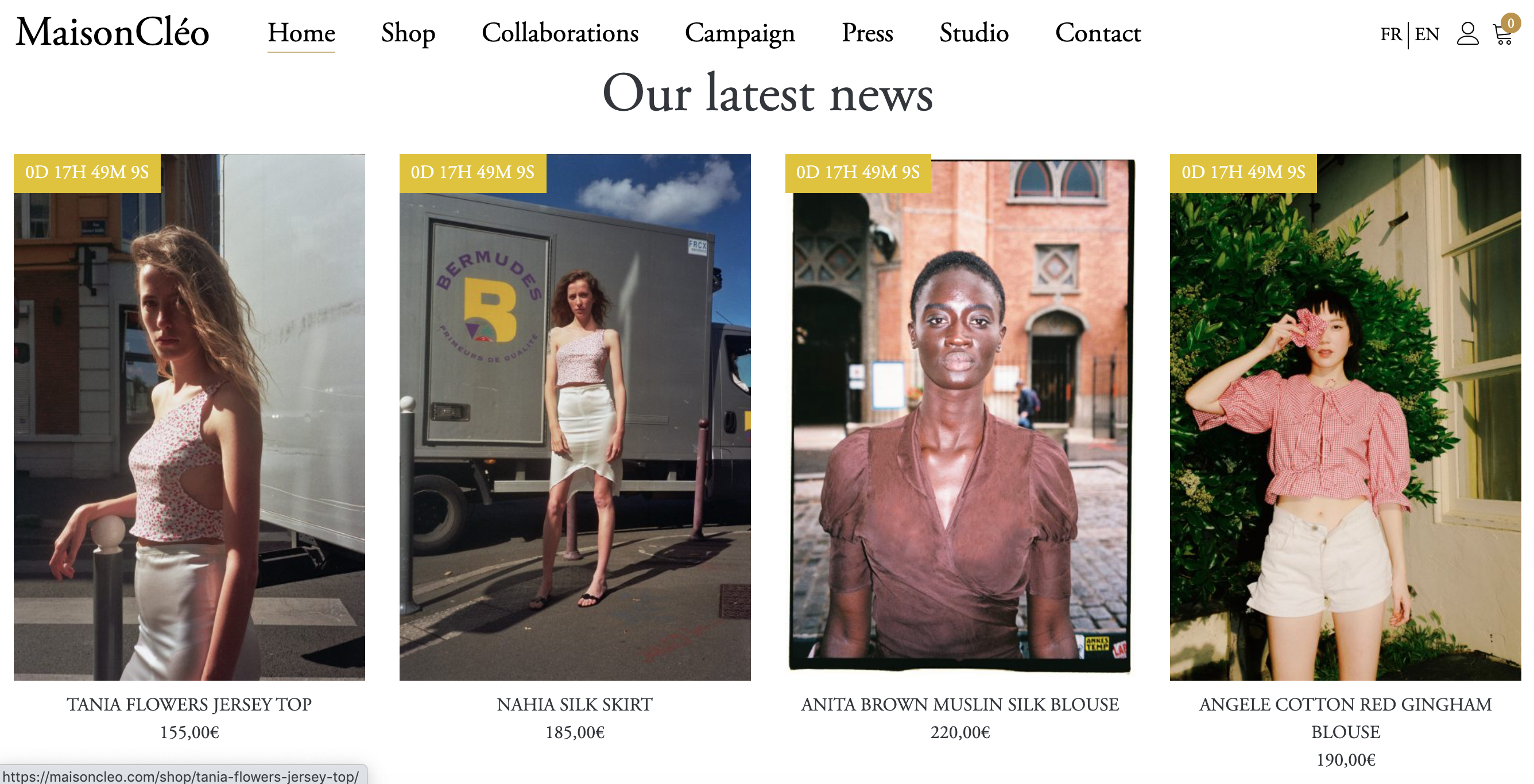 Image courtesy of Maison Cleo
Much of the pre-order movement has gained momentum not only because it's more sustainable, but it also provides upfront working capital and saves brands money on marked down goods. With more and more brands sitting on unsold merchandise during the pandemic, could it be that pre-orders will finally go mainstream? Let's explore the opportunities behind the pre-order model.
The changing price point of pre-orders
Moda Operandi upended the luxury market when it launched in 2010, allowing customers to pre-order goods straight from the runway collections or "trunkshows," bypassing the edited down assortment of the department store. By placing a 50% upfront deposit, shoppers can reserve an item before it goes live in the market and be one of the first to get their hands on an item. The brand then makes the goods the shopper orders, with anywhere between a few weeks to a few months between order and receipt.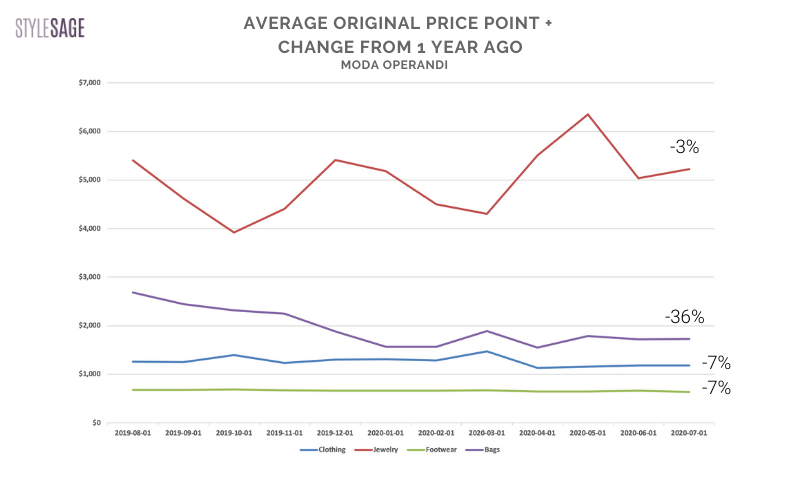 While Moda is squarely positioned in the luxury space, there is evidence even they are edging the pre-order model towards lower price points and accessible up-and-coming brands, as the chart above illustrates. Each of the four departments has seen decreases in average original price point from one year ago.
Brands like House of Sunny and Maison Cleo who operate primarily on a pre-order model prove that the model has traction at lower price points, with most their goods retailing for less than $200. The question remains, will we see this trend move to even lower price points? Only time will tell.
Being more inclusive
Many brands have historically cited cost and technical difficulty as reasons they don't offer a wider range of sizes. While it's true that there are costs involved in getting inclusive sizing right, costs that can be difficult when you're a fledgling brand, it's also becoming a pretty lame excuse.
Radical thought: what if the pre-order model helped even the smallest brands make size inclusivity a reality?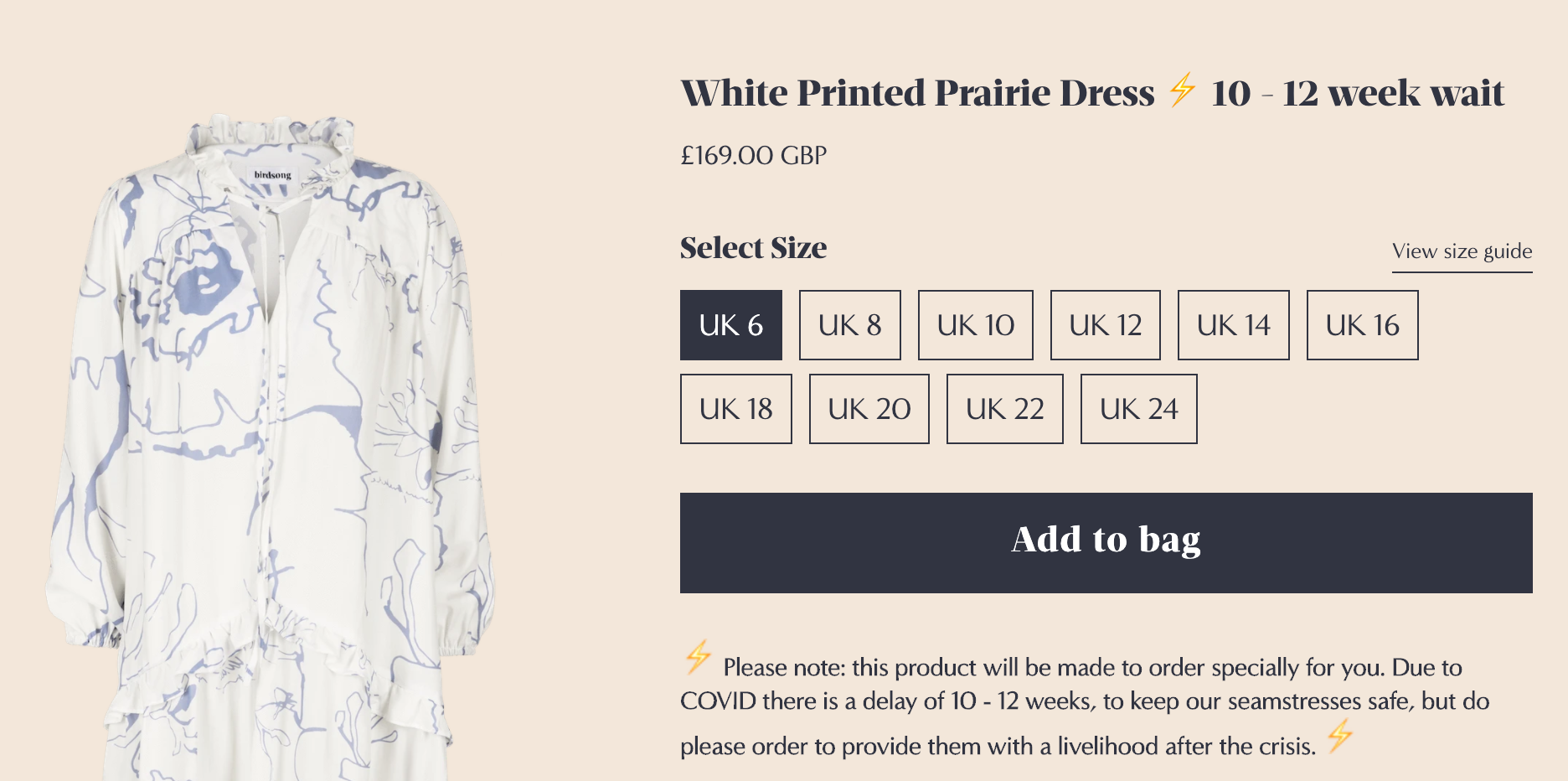 It's precisely what London-based brand Birdsong has done, dubbing its goods "clothes worth the wait." While originally not a fully pre-order model, they recently announced they would be moving exclusively to a pre-order model. Each product on the site is labeled with an estimated time to delivery, and most importantly, its sizes also go up to a UK 24 (or US 20.)
So, how many more customers would you add, and what more could you learn about corners of the market you've overlooked, if you had a pre-order model that enables a greater degree of inclusivity?
Pre-orders as an online experience
While we see retailers beginning to use pre-orders as a way to gauge early demand, which products this entails is still not easily discoverable online amongst larger assortments. Saks Fifth Avenue, for example, has about 600 items on its site labeled as "Pre-Orders," but closer examination of that reveals that many of the goods actually aren't pre-orders at all. And for most sites, typing in "Pre-Order" in the search bar yields no results.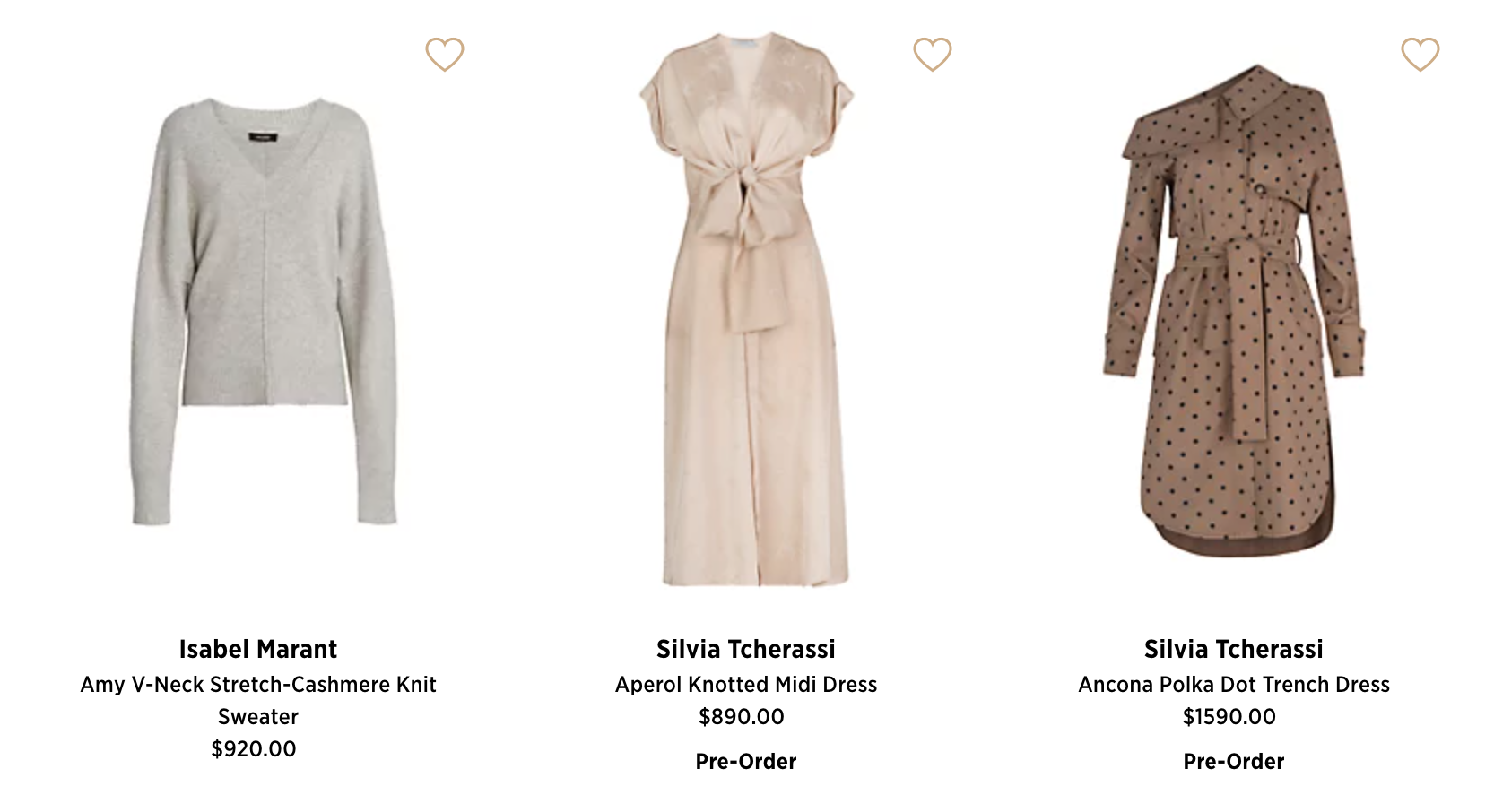 Image courtesy of Saks
The way pre-orders today are treated is something of a missed opportunity. Why's that? Generally, we think retailers big and small should talk more about why pre-orders are a positive model, from more sustainable business practices to a more responsible supply chain. Moreover, we'd argue that merchandising pre-orders together will not only help retailers effectively target shoppers who are early adopters, it might also identify those are more sustainably-minded.
An opportunity to build anticipation (and brand equity)
Before quarantine, I would have never bought a pair of sweats. I just couldn't bring myself to do it. (I'm more a get dressed up kind of gal.) But as the weeks dragged on and temperatures remained cool, I went for a purple, eco-friendly set from brand The Pangaia. Even though I knew it wouldn't arrive for two months, it was something to look forward to.
I eventually got my sweats, even though it was basically ninety degrees outside by the time I received them. But the experience got me thinking how the pre-order has this built-in opportunity to talk about the product's journey. It'd be a terrific brand-building opportunity after a customer places an order, to give them "progress updates," and tell them more about the who, what, and where of their soon-to-be-had product. It's an idea that's seconded by Songbird's co-founder Sophie Slater, "The idea that it's being made by someone they'll be able to name, and the anticipation of it arriving, adds value rather than taking away from it."
What do you think about pre-orders? Are they an option for your business? Get in touch with us here! .