Which of the following most accurately describes your Amazon shopping habits?
A. I buy literally everything from them. I'm an addict in need of an intervention.
B. I buy more than I intend to on Amazon. Aside from the price and convenience, I can usually find the product I want somewhere in the 500 pages of results.
C. I really try not to shop on Amazon. But sometimes you realize you need lavender soap and curtain rods at 2 am.
D. What's Amazon?
I most often find myself in group C, and I'll admit part of this has to do with retail being an all-consuming part of my life. I do know more than the average Joe about how things work in this business, and with that comes with a fair amount of skepticism directed towards one-stop shopping. Admittedly, I've never been someone whose retail expenditures are driven by convenience, and thus my point-of-view undoubtedly stands in stark contrast to Amazon's current stock valuation and revenues which exceed that of quite a few countries' GDPs. So despite today's Prime Day projected to hit $2B in global sales (20% over last year), I still can't help but ask myself, what's in this for me?
While much of what you read today will probably focus on the electronics, hard goods, and other product categories being promoted, I'd like to talk about its fashion offering. It's a huge push this year for them, with announcements of Prime perks like 'Try Before You Buy' and the Echo Look's new virtual wardrobe assistance features. Despite what looks like inevitable future fashion domination, today's Prime Deals perfectly illustrate why I'm still not an Amazon fashion convert, and research says I'm not alone. Let's go shopping, and I'll show you exactly what I mean.
Am I being punked?
There were fashion deals that quickly surfaced that were a little bit, uh, unusual. Hey, this is a fashion democracy here, but still, you've gotta wonder, what were they thinking? Do they really think I'm going to buy a pair of 5-inch tall pair of rhinestone-studded stilettos? Is there any previous search analytics powering what I'm seeing here or is this purely a fire sale? Okay, the discounts were no joke; when we last checked in around 3 pm EST, 64% of the women's fashion deals clocked in under $25 and 40% of the items were marked down 50% or more.
Even considering these discounts, I came away with the feeling of being at one of those yard sales where you dig for so long, your spirit is broken and you end up buying the one thing that doesn't make you completely sad. Although this giraffe onesie did make me smile, and hey, it has a 4.5 star rating! Want to have some more fun with Amazon's world of random offerings? Try this.
Where are all the brands I've heard of?
One thing that was immediately apparent was that Amazon was definitely pushing their private labels this Prime Day. Those names which sound vaguely familiar and possibly like they were generated by a machine? Those Prime exclusive labels include Lark & Ro, Paris Sunday, and Ella Moon in women's fashion, Mae for intimates, and Buttoned Down and Goodthreads for menswear. All criticisms aside, their apparel offering is extremely price competitive (most items are priced under $50), and could easily exist on the shelves of a Macy's store. Undoubtedly they will continue to expand these lines as savvy customers see how low these prices are coupled with 'try before you buy' options (and deduce that the vendors making these products are indeed the same as national brands. Cat's out of that bag.)
The other side of Amazon's big push for private label brands this Prime Day? Well-known fashion brands get a little less real estate. Top-of-page results throughout the day repeatedly showed those private labels first and foremost, with national brands most definitely playing second fiddle to their own. Here Glossy talks more about the way that Amazon is forcing many a brand's hand on doing retail their way...or else. A tricky relationship to navigate, no doubt.
But wait, what other non-Amazon deals are there to be had today?
There were plenty of reactions to Amazon's Prime Day, with retailers not wanting to be left out of the sale frenzy. That being said, across the market, we saw an average promotional value of 40%, which is actually flat compared with the previous weeks leading up to today. Essentially this is the resulting mix of some retailers saying, 'eh' and others trying to counter Amazon with their own hot deals.
The outright challengers? JCPenney and Macy's with their 'Cyber in July' and 'Black Friday in July' events, respectively. You can see the details of their subtly promotional home pages below.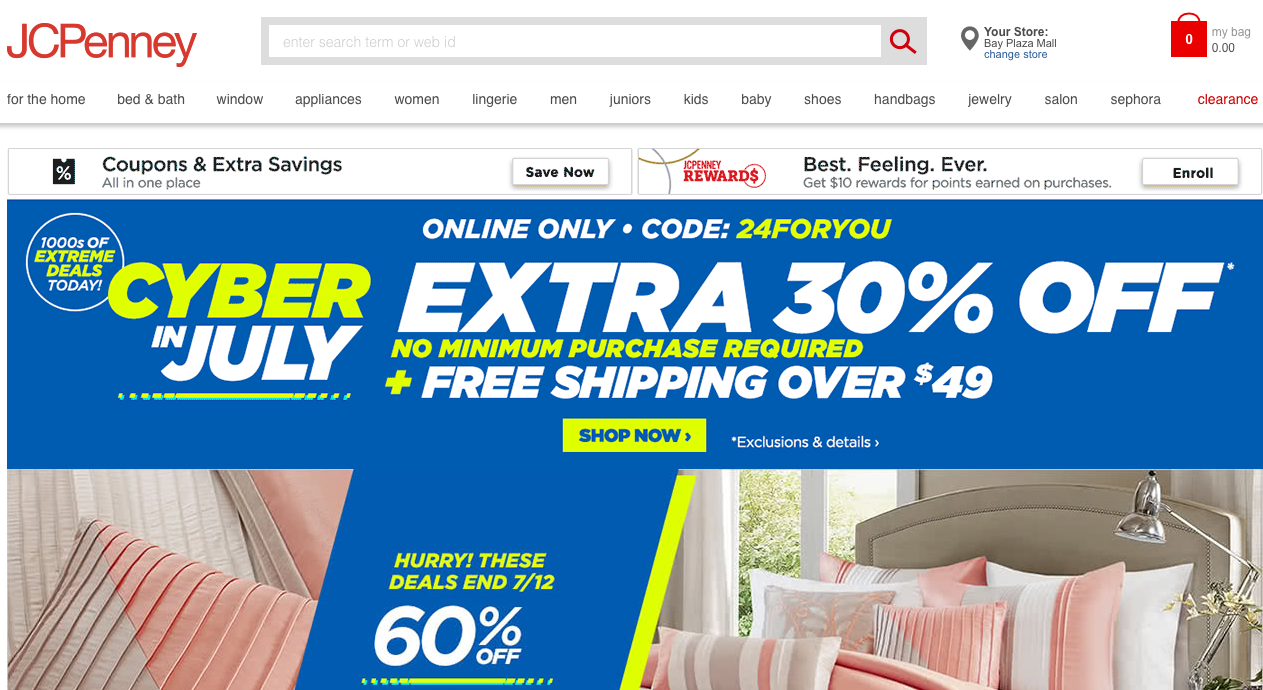 Those who did their own thing? Target and Kohl's, for starters. Target offered a $20 gift card for Baby purchases of $100, and Kohl's went for an extra 30% off the bulk of its summer hard- and soft-lines.
What about apparel-specific brands? They weren't shy on capitalizing on what many consider to be Amazon's weak spot. Take H&M and American Eagle, for example, giving shoppers 70% off summer clearance styles and 30% off plus free shipping, respectively; they weren't afraid to say, 'We've always done fashion over here, and by the way, our prices also can't be beat.'
Our takeaway? When every day is a promotional day for most US retailers, and we're in the throes of summer clearance season, July 11 starts to look like business as usual.
Where's the fun in fashion here?
Let's bring this shopping cart in for a landing. We've talked about the prices, the assortment, and promotions in play today, but what about the Amazon experience? Shopper satisfaction cuts across a number of variables including, but not limited to: convenience, selection, price, quality, and experience. Moreover, the proportional value of each of these variables depends on the item under consideration; you obviously think differently about your monthly refill of dog food than a special occasion dress. And herein lies Amazon's biggest challenge as it relates to the fashion category. Their universal environment is dictated by rules of price, convenience, and assortment, and it works for basically every category except fashion. When you want to browse a fashion category(and the operative word here is browse), and a search throws up no less than 500 results, you're now faced with the work of sorting through results, plenty of them irrelevant, to find something you might want. Not to mention once you land on something desirable, that item can oftentimes lose its luster because of what's merchandised next to it. Not to be harsh, but the reality of fashion is there's a difference between a treasure hunt and a dumpster dive.
Amazon, you can seemingly do it all. So what about a new and improved fashion experience?