The great outdoors has been a respite for us all over the long months of COVID. Of course, the established brands and retailers in this space have long known what nature gives us, and have benefitted from this increased interest in gear made for the great outdoors.
But these brands and retailers aren't like many of their peers in the apparel space. Given the nature of the products and services they sell, it should come as no surprise that they prioritize the environment and the well-being of those along each step of the supply chain. Today, let's talk about what makes REI, Patagonia, and The North Face unique as retail brands and operators.
REI
Did you know that REI is a cooperative owned by its customers? Its history goes back all the way to 1938 when a group of 23 friends who enjoyed going climbing together decided to start a business centered around their love of the outdoors. (Believe it or not, their first product was an ice axe!) Its mission was first penned by one of the founders as such, "Intent of the founders of this organization was to secure sufficient membership to make group buying possible; to distribute the goods with as little overheads expense as possible, using membership cooperation with the work as much as possible; to gradually build up a reserve for purchasing stock; to have the membership fee ($1.00) so that everyone interested will be financially able to join." Today, this ethos is very much intact, although, the price of lifetime membership has gone up modestly, to $20. Lifetime members now number 20 million, including the one million new members added in 2020.


While 2020 was tough for most retail businesses, REI came out on the other side stronger, logging $2.75 billion in sales, increasing its sales of used gear, and continuing to donate to social and environmental causes.
Patagonia
While Patagonia is not a co-op (it is privately held), its core values will strike a now-familiar chord. The outdoor company cites these values as central to its operations: "build the best product, cause no unnecessary harm, use business to protect nature, and not be bound by convention." In fact, activism is central to Patagonia's existence. In 2018, the company founded Patagonia Action Works, a platform that enables individuals to find, donate to, and participate in various environmental causes. It's been one of the industry leaders in putting social causes at the very heart of its business, and it hasn't seemed to hurt the company's business at all.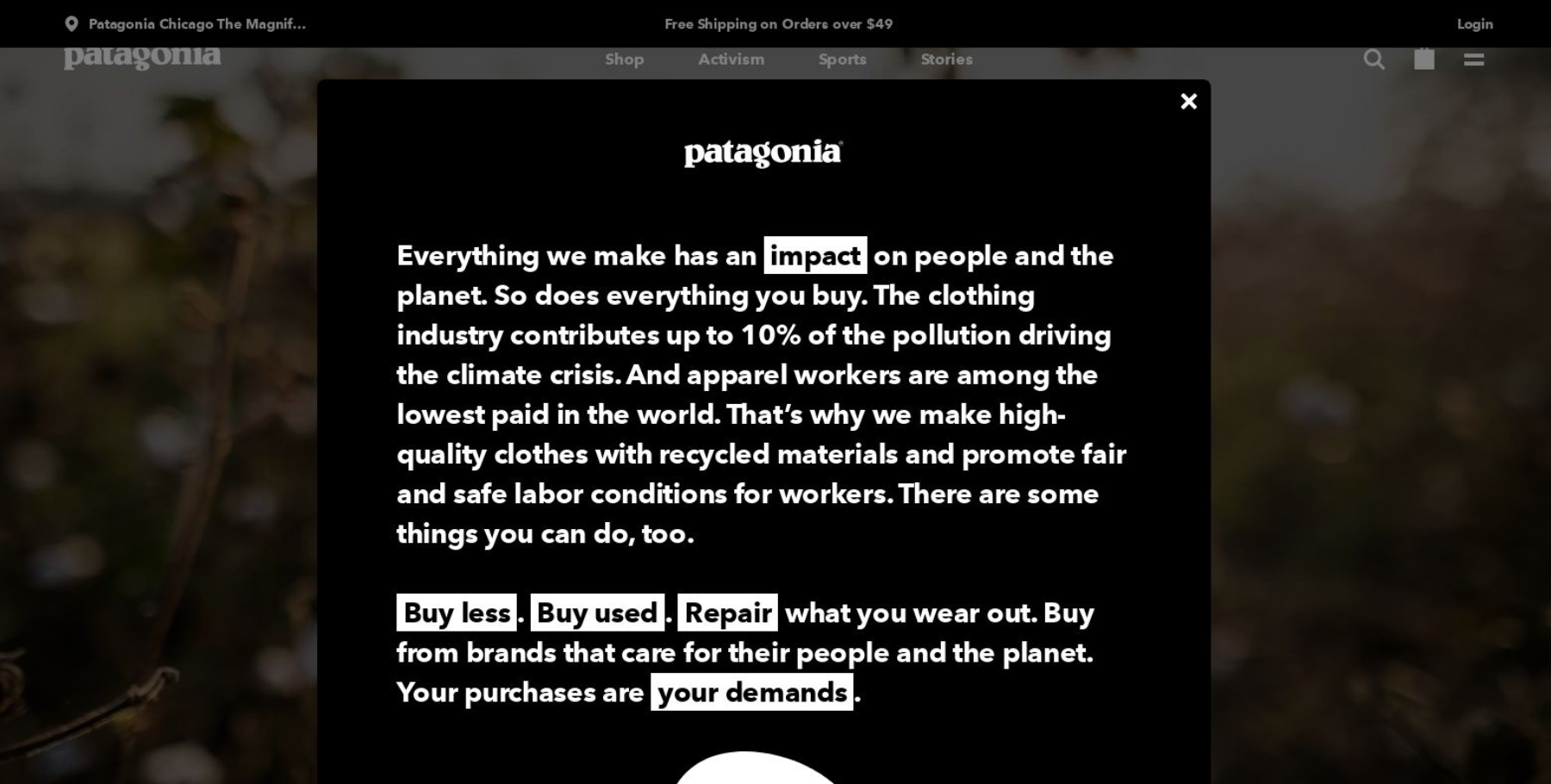 In fact, even though the company has actively told its customers to buy less, going as far as launching a campaign that says, "Don't Buy This Jacket", it's remained a favored brand sought after by both young and old. (In fact, there has been quite the run on vintage Patagonia fleeces in recent months.)
And like REI, Patagonia has placed a focus on extending the life of its products, via a platform for used products, called Worn Wear. Customers can trade in their old Patagonia gear, buy refurbished items, and find resources on how to fix items themselves.
The North Face
Another outdoor brand with a long history, The North Face is an outdoor brand whose mission is to "provide the best gear for our athletes and the modern day explorer, support the preservation of the outdoors, and inspire a global movement of exploration."
From its earliest days, the brand has put technical performance first, pioneering materials and product lines like Tekware™, Thermoball, and Fuseform. Now owned by apparel giant VF Corporation, its mission of "Never Stop Exploring" remains paramount.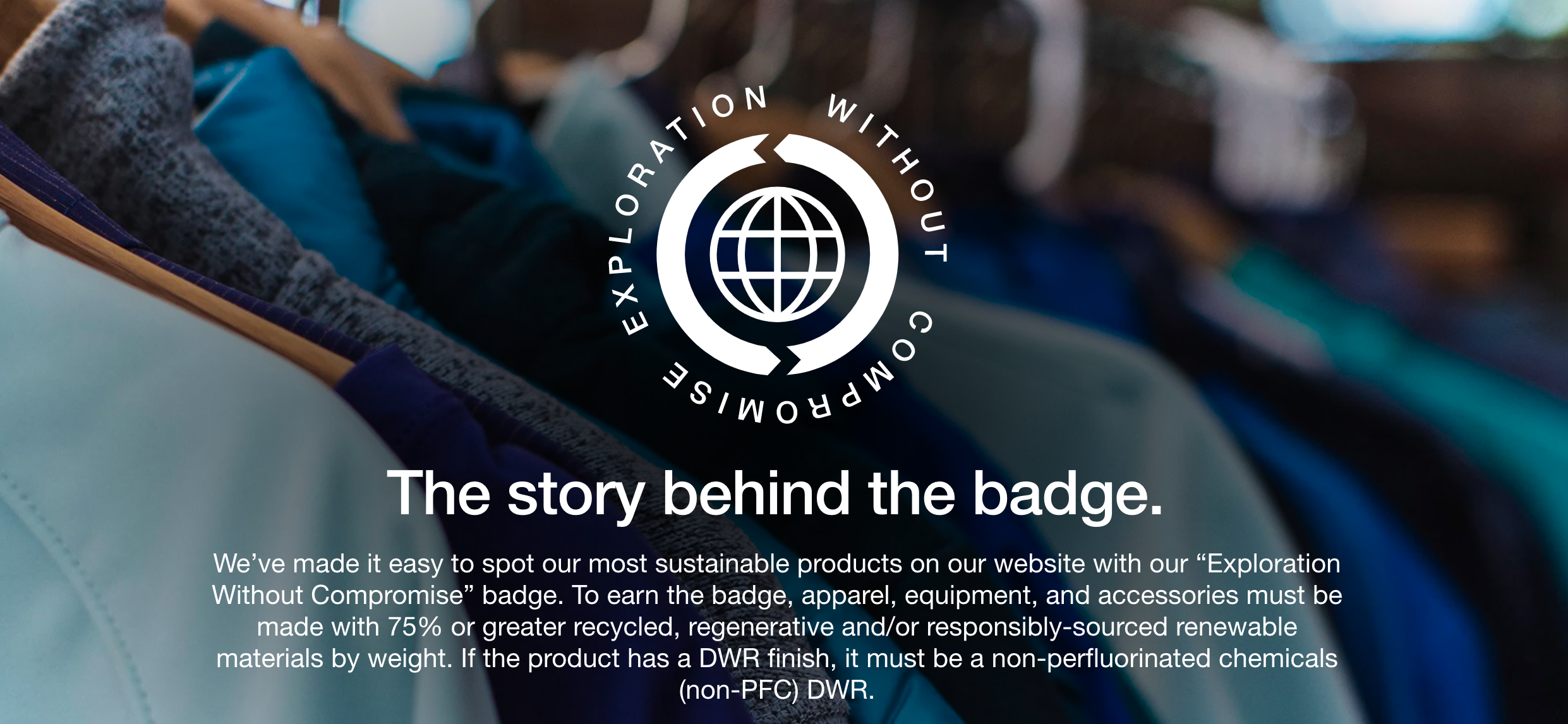 Despite being a publicly held company, sustainability remains key to the brand's operations. For example, the company has set the goal of 100% responsibly sourced materials by 2025, notes its most sustainable products with its signature "Exploration without compromise" label, and like its peers Patagonia and REI, sells used merchandise under its "Renewed" label.
Now that we know more about these outdoor brands' values and operational philosophies, how do they compare when it comes to their product assortments and pricing strategies? Let's take a quick look.
Assortment Strategies
We sought out to understand more about how each of these brands approaches their online assortment, specifically what their hero categories are, where they don't assort, and their relationship with non-owned brands.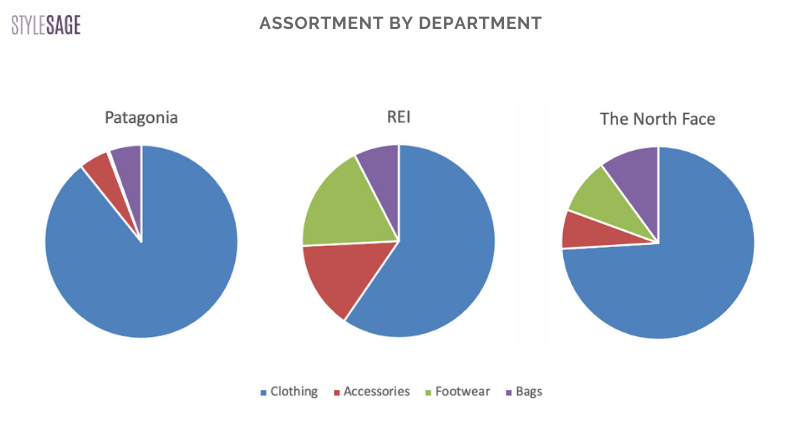 To start out, we see that, unsurprisingly, clothing is the largest share of assortment for all three retailers. What else is interesting here is that Patagonia assorts very little in terms of footwear, while REI and The North Face allocate 18% and 9% of their assortment to footwear, respectively. (Previously, Patagonia had a private label footwear range via a licensing arrangement with Wolverine Worldwide, but this relationship was discontinued in 2014.)
As far as hero categories go, for both Patagonia and The North Face, outerwear is their most important category, in terms of number of items. This is followed in product count by fleece and sweatshirts for both these retailers.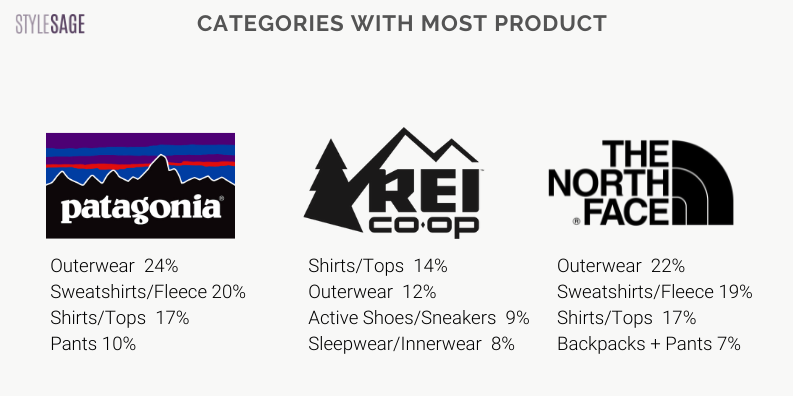 For REI, it's actually the shirts and tops category which is most populous, followed by outerwear. (An important point to note is that REI functions as a multi-brand retailer, selling both their own private label items, but a large assortment of other brands, which includes Patagonia and The North Face. Interestingly, private label comprises only 6% of the retailer's apparel, footwear, and accessories assortment.)
Pricing Strategies
A quick glance below will quickly highlight that Patagonia occupies a more premium price point across key product categories. In most categories, REI is the second more expensive, followed by The North Face.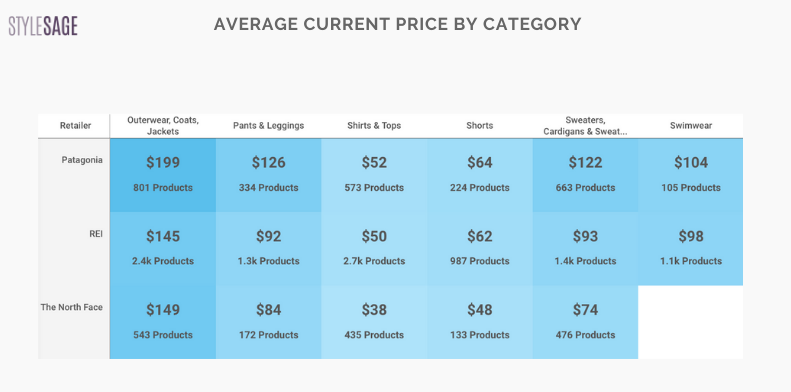 It comes as no surprise that outerwear, being a key category for all these brands, averages the highest current price, followed by fleece and pants. (One category noticeably missing at The North Face is swimwear. While the other two brands do offer some swimwear in their respective assortments, The North Face doesn't have products in this category, preferring to stay on [dry] land, so to speak.)
And one last callout on discounting and promotions. While none of these brands is immune from taking markdowns, they do it to a considerably lesser degree than their specialty and multi-brand counterparts. REI separates out much of its deeper discounts with an outlet portion of their site, and Patagonia shies away from using the word "sale," instead calling discounts "web specials."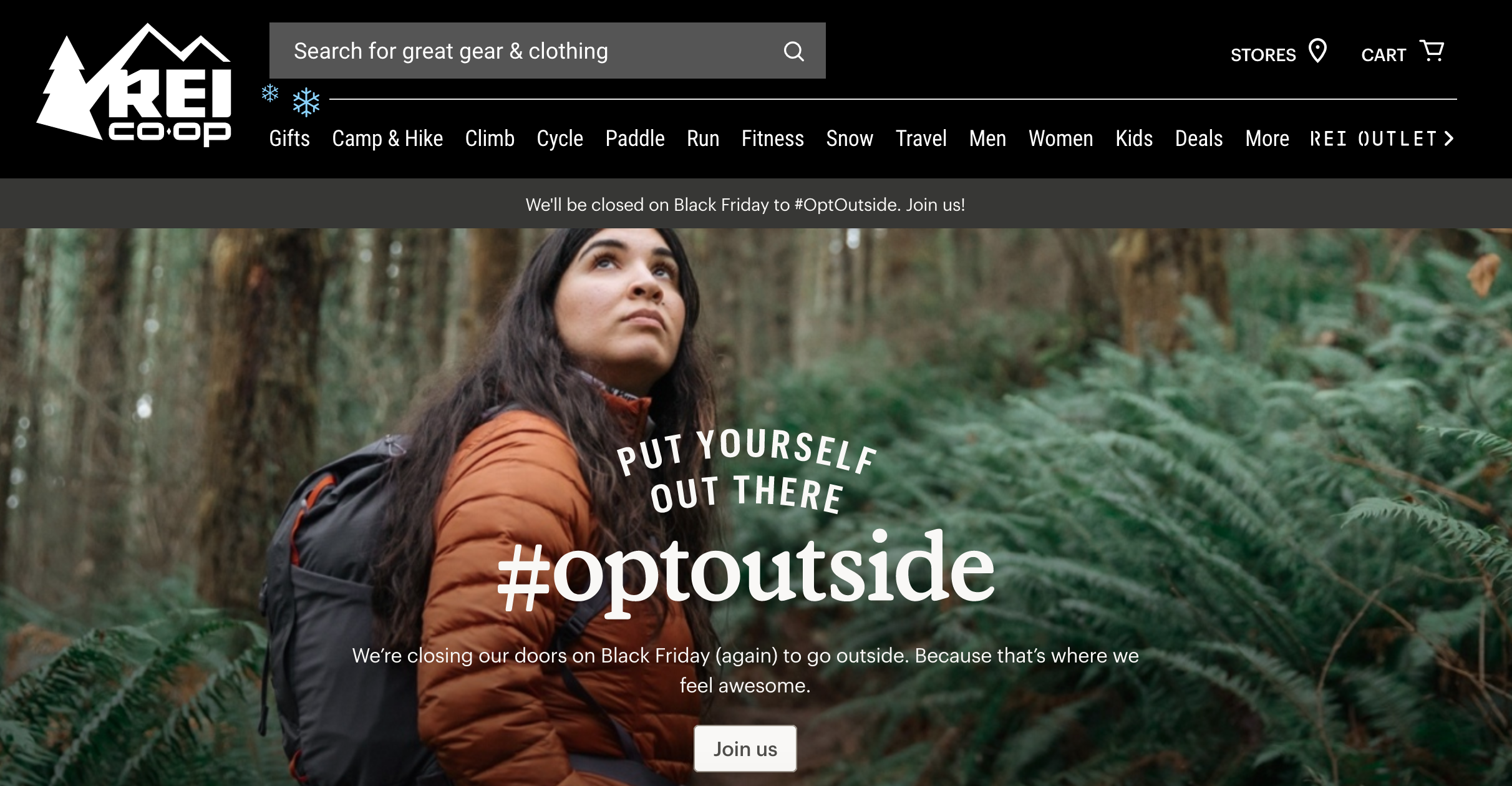 What else is interesting is when they don't do special promotions and discounts. REI closes its site on Black Friday, while Patagonia also declines to take special Black Friday deals, instead encouraging shoppers to wear used and go outdoors. On the other hand, The North Face takes a more mainstream and corporate approach, offering your typical Black Friday discount offers.
If you're interested to learn more about how sports and the outdoors are influencing fashion, you'll want to check this out.