There's something about not being a store's target customer - an outsider - that makes the observation of that very environment and its clientele all the more illuminating. So here we are, on a random Thursday in January, retail expert Paco Underhill and I, and we're sitting in the penthouse showroom of cult beauty brand Glossier. We're both definitely outside the brand's target age group, and Paco is the only man in here, at least willingly so, and we're here to talk beauty.
Despite the odd couple nature of our visit, we have a lot to discuss when it comes to beauty retailing. The last five or so years have seen an evolution in the beauty industry that, time and time again, has shown the rest of retail just how it can and should be done. Beauty's transformation and dominance has been driven by a multitude of factors including the Western embrace of K-Beauty, its increasing digitization, and the rise of the beauty influencer. And all of these shifts are underpinned with the twin themes of democratization and demystification, specifically what beauty, inside and out, is all about.
We're guessing that Glossier, beauty brand to be, needs little introduction. But as a quick refresh, Glossier was launched in 2014 by Emily Weiss, millennial wunderkind, as the organic by-product of her beauty blog Into The Gloss (ITG). ITG took an honest and unfiltered approach to discussing all things beauty, and with the feedback the blog received, Emily realized there was a very real market opportunity for products that were approachable and, most importantly, effective. Fast-forwarding to today, and you will see Glossier's streamlined product offering which includes skincare, color cosmetics, fragrance, and body care products - almost all of which retail for less than $30.
We thought there no better place to start this conversation than at the flagship of a brand that has quietly but assuredly decided to do beauty on its own terms. Consider this a crash course in beauty's past, present, and future.
Wizards and Witches
Paco and his consulting firm Envirosell have a deep history of working with beauty brands, and he reminds me that in beauty there's historically been the juxtaposition between the "wizards and witches." As he puts it, "the wizards are dealing with this ingredient hyaluronic acid you see on the label. The witches are telling you about a tree you only find in a remote country, grown on the left slope of one mountain that has magical properties." While this is a version of a story very much reflected in many of the K-beauty products you see in the market, it's a means of marketing that Glossier actually largely circumvents. If you look at their product descriptions and labels, you will see fewer scientific descriptions and more easy points of reference including:
"This solution contains a particular blend of three acid actives for maximum efficacy... Acids are your friend."
"Its cleansing power comes from the same gentle cleaning agents found in contact lens solution."
And the demystified approach makes perfect sense. Glossier has taken the approach of selling, or rather, recommending, skincare and beauty products from the angle of your "trusted best friend." What's more, they are also setting up a young consumer with the building blocks to an approachable and sustainable skincare routine. In fact, when we pulled aside one of the many knowledgeable salespeople milling about the showroom and asked her about her own routine, she said, "Honestly, I was mostly using drugstore products before this – Neutrogena, Aveeno, and then I converted because I felt like Glossier made it easier to understand ingredients." She goes on to say that while they learn about the products both through firsthand trial and education about the ingredients, it's actually less common that customers ask about these ingredients.

They've swapped out the Clinique white lab coat quite literally with...wait for it...millennial pink coveralls. It's a deft branding touch whose effect is admittedly spot-on.
Decisions Made Downstairs
As we come up in the elevator to Glossier's penthouse showroom, the anticipation and anxiety of our fellow passengers is almost palpable. What does beauty nirvana look, sound, and smell like? (Indeed, upon arrival, my first reaction is that it "smells like millennial in here.") But there's an inadvertent genius to this space being tucked away, even as there are plans underway for more permanent digs, that as Paco notes, "the process of being able to escape the street, and the fact that there's some form of presence on the street, that sign outside the windows, all of which is important." So yes, it's having to go a little out of your way, to a less tourist-filled stretch of Soho, that helps build anticipation. An additional element of this space's allure is that the brand is also headquartered in this very building, and with that, a poignant reminder that decisions about the brand are made right here. Even I have to admit, the excitement is contagious.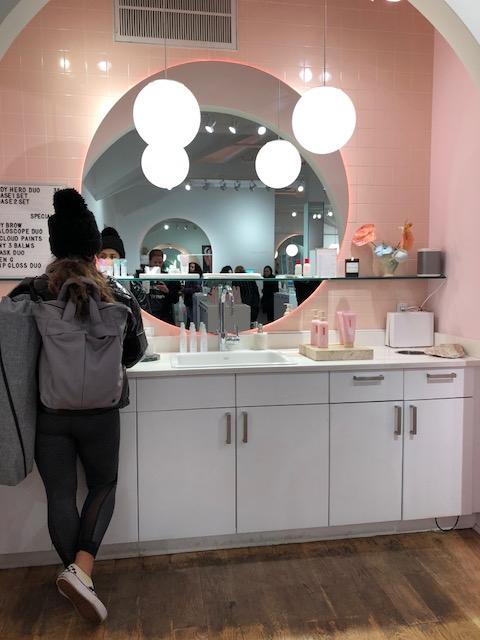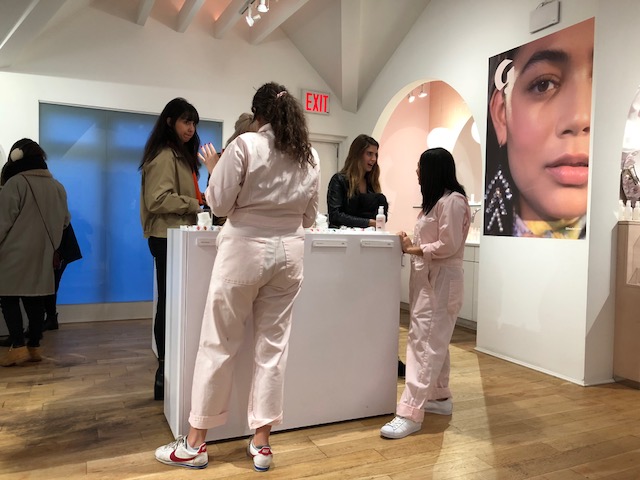 But the company being headquartered in the same building is by no means an accident. It's part of the larger theme of a brand that is created and refined by the customer. The founder, Emily Weiss, has made no secret of the fact that they are fastidious in the monitoring of the large volume of customer feedback they receive. It gives them ways to not only improve what exists, but also to come up with new product ideas. It's a dynamite approach - not only are they avoiding the margin erosion that occurs when selling through wholesale channels - they're also improving the odds of market success (and profit) because it's precisely what the customer has asked for. As Paco puts it, "here the marketing bubbles up from the street, rather than from the C-Suite. And the magic is that they are finding ways that are not about having Glossier people selling the product, but rather their customers doing that for them."
Me But Better
When I did a (very) unofficial poll of people in my office - bona fide Glossier girls - to understand what it is they love so much about the brand, I received this feedback:
"I like the idea that I could potentially look like myself - an enhanced version of myself. For some reason Glossier makes that feel attainable and sexy. I know that sounds cheesy, but I don't feel like I'm faking anything. With other makeup I joke that I'm putting my mask on."
The moment I heard that, I realized that sentiment perfectly summed up a generation's desire to find brands whose values mirror their own desire for personal authenticity. Glossier is about how you look during the day, not at night. And it's about girls looking good, not for the boys, but for themselves (and okay, for other girls too.) One profile of Glossier hit the nail on the head when they said that, "The beauty industry is all but built on telling women, even subtly, that they aren't good enough. Talking openly about using beauty products, therefore, can read as tacit admission of inadequacy, insecurity, vanity or frivolity." And this insight is where Glossier has really struck a chord with its target consumers. It's both a uniquely American (I think) and millennial craving for simplicity and straightforwardness in their beauty products, "I'll make an effort, sure, but don't make it seem like I'm making too much of one." Between Glossier's language, packaging, and the communal sales approach - this delicate balance, one that's not easily struck, is seemingly firmly intact.
In an era where women are pushing forward and redefining what their roles in society can and should be - we can certainly get behind the notion that beauty's really about being the best version of you - no mask on.
Aging Gracefully?
I'm admittedly closer to 40 than any other age these days, and after an extended stint living in Asia, I have wholeheartedly embraced the Korean skincare routine - both its very clear benefits and approachable price points. My nightly routine has no fewer than ten steps (six when I'm feeling lazy), and I've had this same routine now for years. As I explain this to Paco, he notes that, "yes, in the broader world of beauty, there is a very interesting curve. There is a degree of experimentation that goes up with age. You can look at it in terms of skincare, color cosmetics, or hair, and then there's a point, at roughly age 35, where it stops being an experiment, and it starts being who you are and what you are." And that's precisely where I'm at. And as I consider this, I have to wonder, while I personally may be a few years late to the Glossier game, what does their business look like in 5-10 years when their current customers' skincare needs change? Do they evolve with today's consumer or stick with whom they know well?
It's a question that sitting on the outside, none of us can presently answer, but nonetheless, it's a relevant one to consider, as we have seen niche brands snapped up by the beauty giants in their attempts to corner new market segments, and for the niche brands, to gain access to the extensive R+D, distribution, and marketing resources these giants hold. And while Glossier hasn't disclosed its sales figures, we know the growth is remarkable indeed.
Musings aside, there's one thing we are pretty certain of - if their focus on the consumer holds, they most certainly have a bright, shiny, and sparkly pink future ahead of them.