What exactly do today's consumers want - aside from a return to normalcy? This question can be hard to answer in a time when we know everything has changed, and so very quickly at that.
It was a pre-COVID world when we initially launched our Trend Radar. The goal with Trend Radar was to help retailers answer the question we posed above, "What do consumers want?" but with a specific focus on deciphering their online search behavior. (In a nutshell, Trend Radar provides online search trends, broken down by category and over time, so that retailers can see what's on the rise or what's on the decline.) Little did we know the hand that 2020 would deal to retailers, and that Trend Radar's insights would become all that much more relevant.
Speaking of these data insights, let's talk about some specific ones in the apparel, home, and beauty sectors, and the business opportunities they represent.
Overall Search Themes
Before we get started, let's orient you to these charts. From left to right, you will see those keywords which have the greatest increase from one year ago. As it begins to dip below the x-axis (horizontal line), those will indicate declining trends. The bubble size relates to the absolute volume of searches - so the larger the bubble the greater the search volume.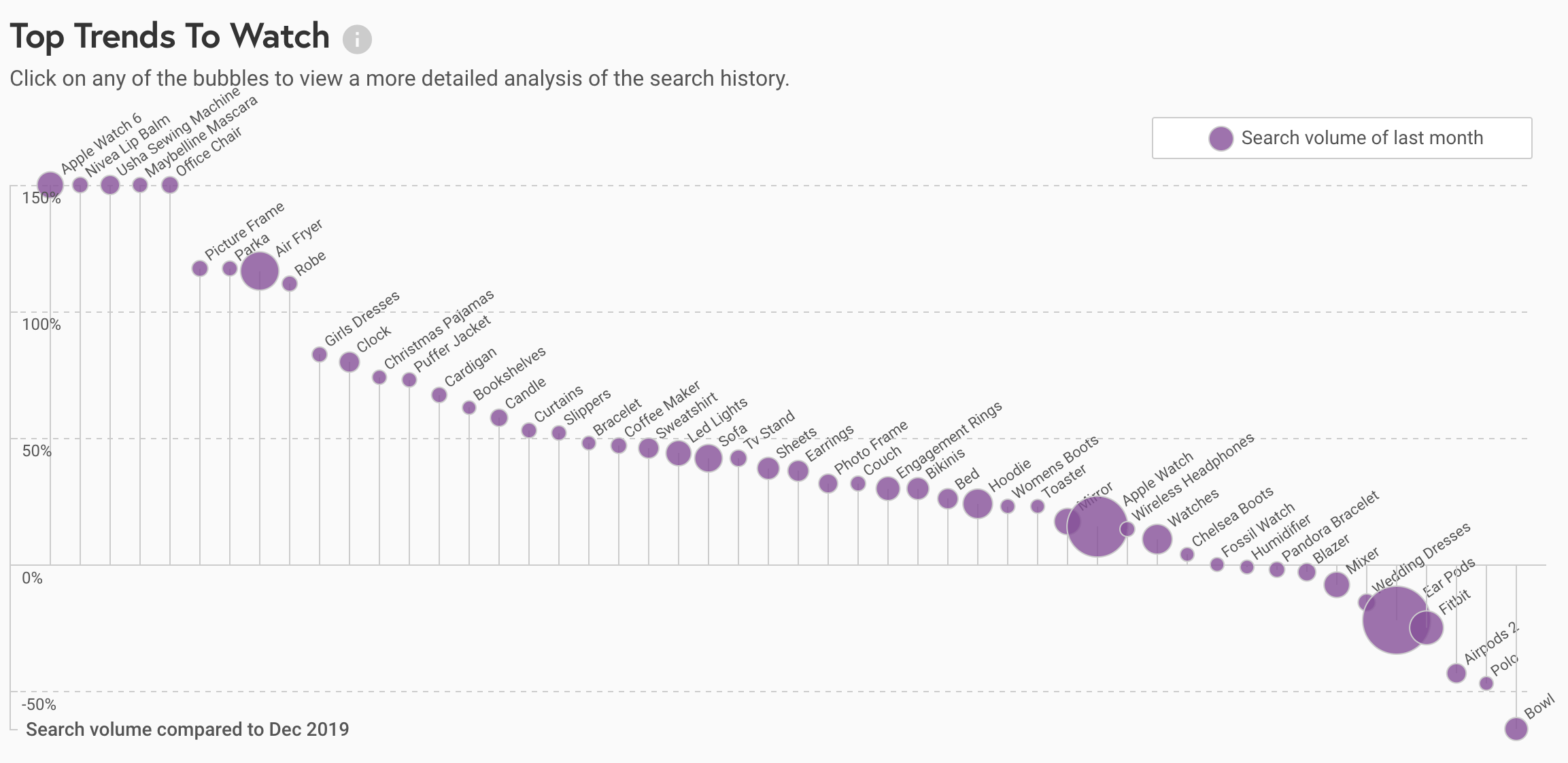 We're starting with the global top 100 keywords searched including the fashion, accessories, beauty, and home categories. Now that we're all acclimated, let's look at some sample insights. In our first chart above here we see that in December 2020, "Apple Watch 6" and "Nivea lip balm" were two of the searches that saw the greatest growth from one year ago. On the other hand "Ear Pods" had a greater overall search volume than most other keywords, yet that term saw shrinking search volume compared to one year ago.
Apparel Search Trends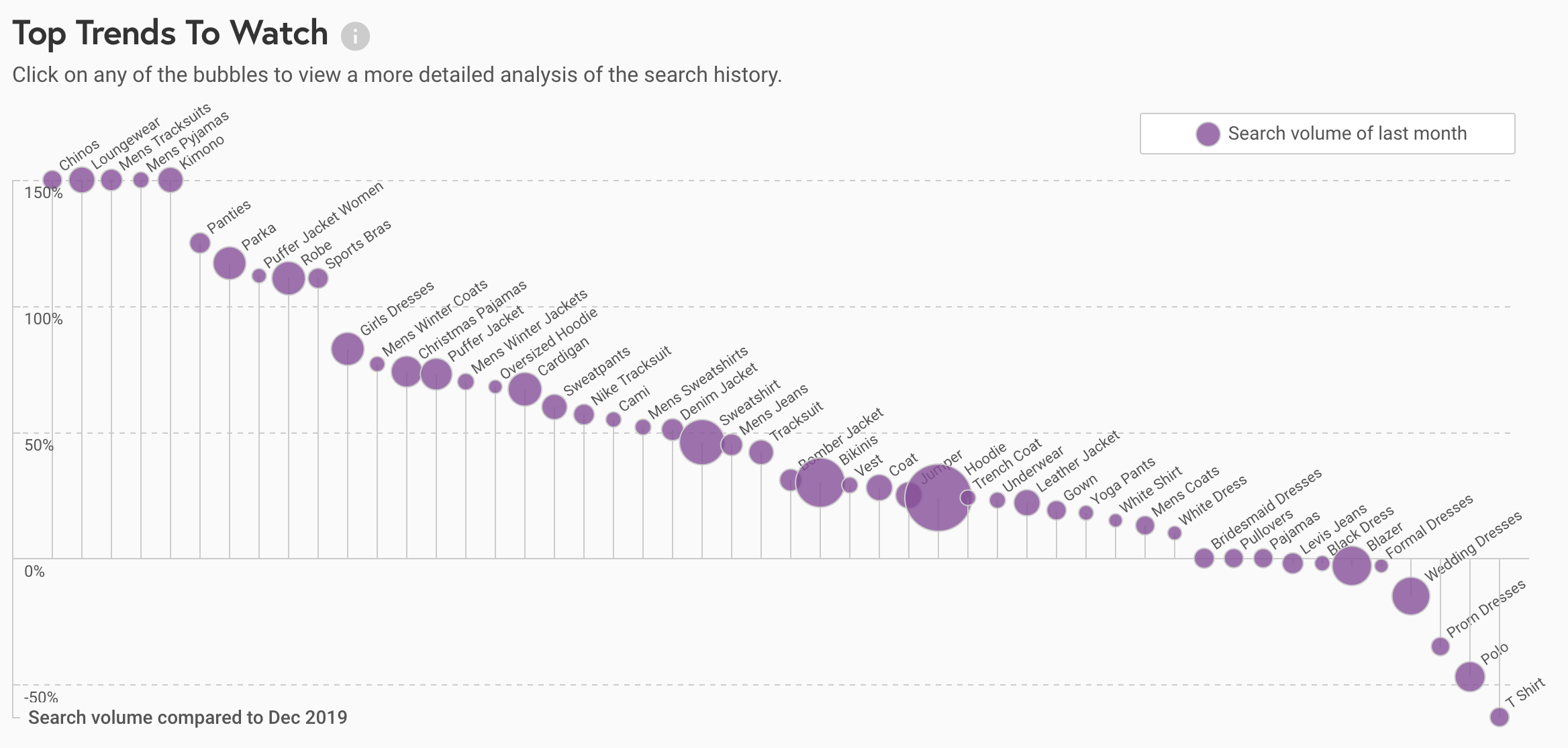 So let's move on to what's being searched in apparel. In this chart, we see strong homebody themes. "Loungewear" (+179%), "men's tracksuits" (+174%), and "men's pyjamas" (+170%) have seen the greatest increase in consumer searches from one year ago. Interesting, however, is that the officewear classic "chino" actually saw the greatest growth rate from one year ago, indicating that some consumers are looking for more "going outside" bottoms for the new year ahead.
It's also worth noting what's declining in interest. We have seen keywords in the occasion wear category including "wedding dress" (-15%) and "prom dress" (-35%) searched significantly less this year than 2019.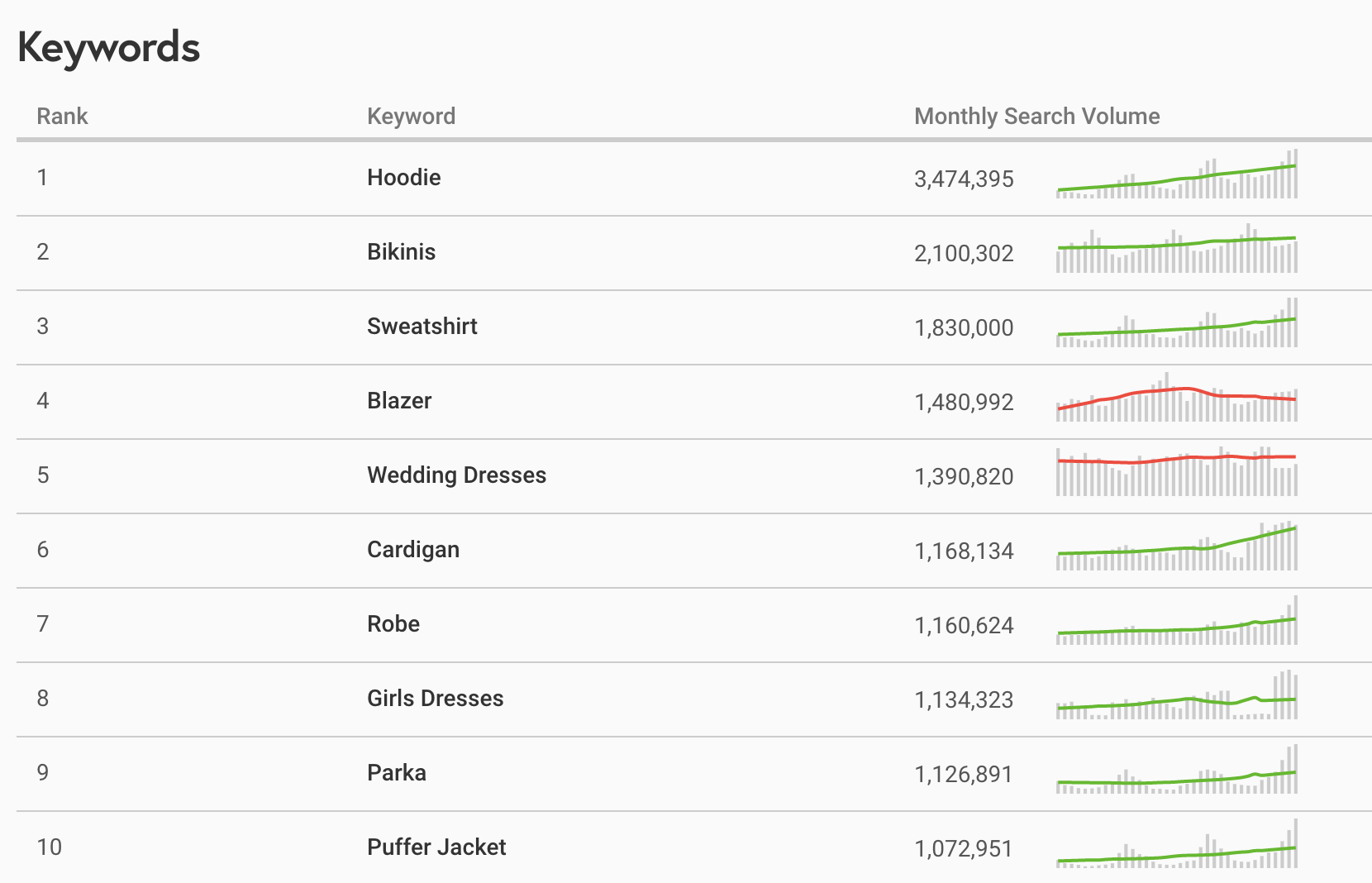 Above is another way to look at the search data, which is by overall volume of searches. In this instance, "hoodie," "bikinis," and "sweatshirt" are the top-most searched keywords in the clothing category. Interestingly, while "wedding dresses" are still one of the most commonly searched apparel items, we know that it has shown declining trends.
Beauty Search Trends
Let's also take a look at some non-apparel categories. First up here is skincare. Was weakened consumer demand in apparel categories an opportunity for beauty brands?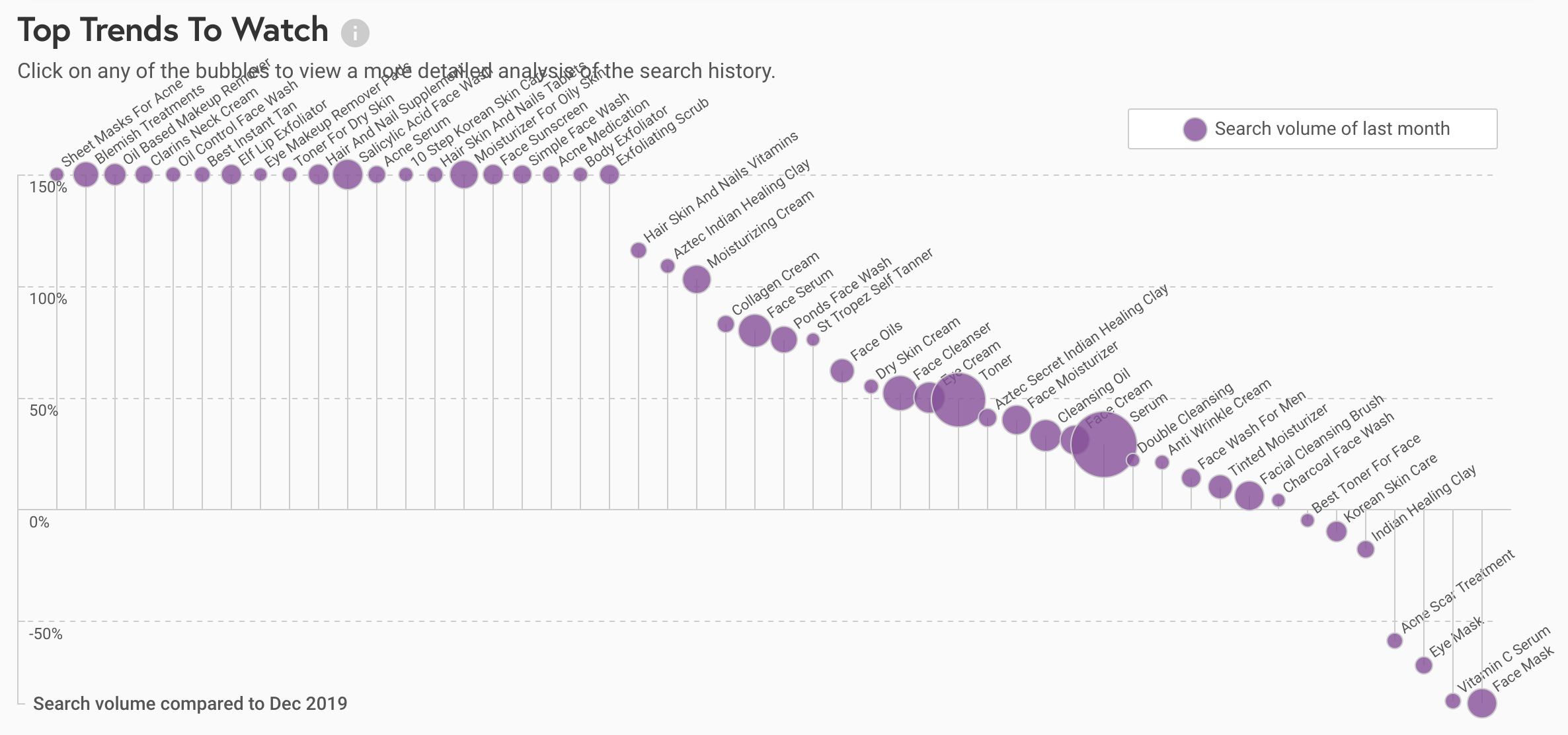 The keywords in the skincare category that saw the greatest search increases were "sheet mask for acne" (+14,700%), "blemish treatments" (+8,100%), and "oil based makeup remover" (+3,238%). What has declined from last year? For starters, "vitamin C serum" saw searches decrease by 86 percent from the same period in 2019. "Eye mask" also decreased significantly, by 70 percent.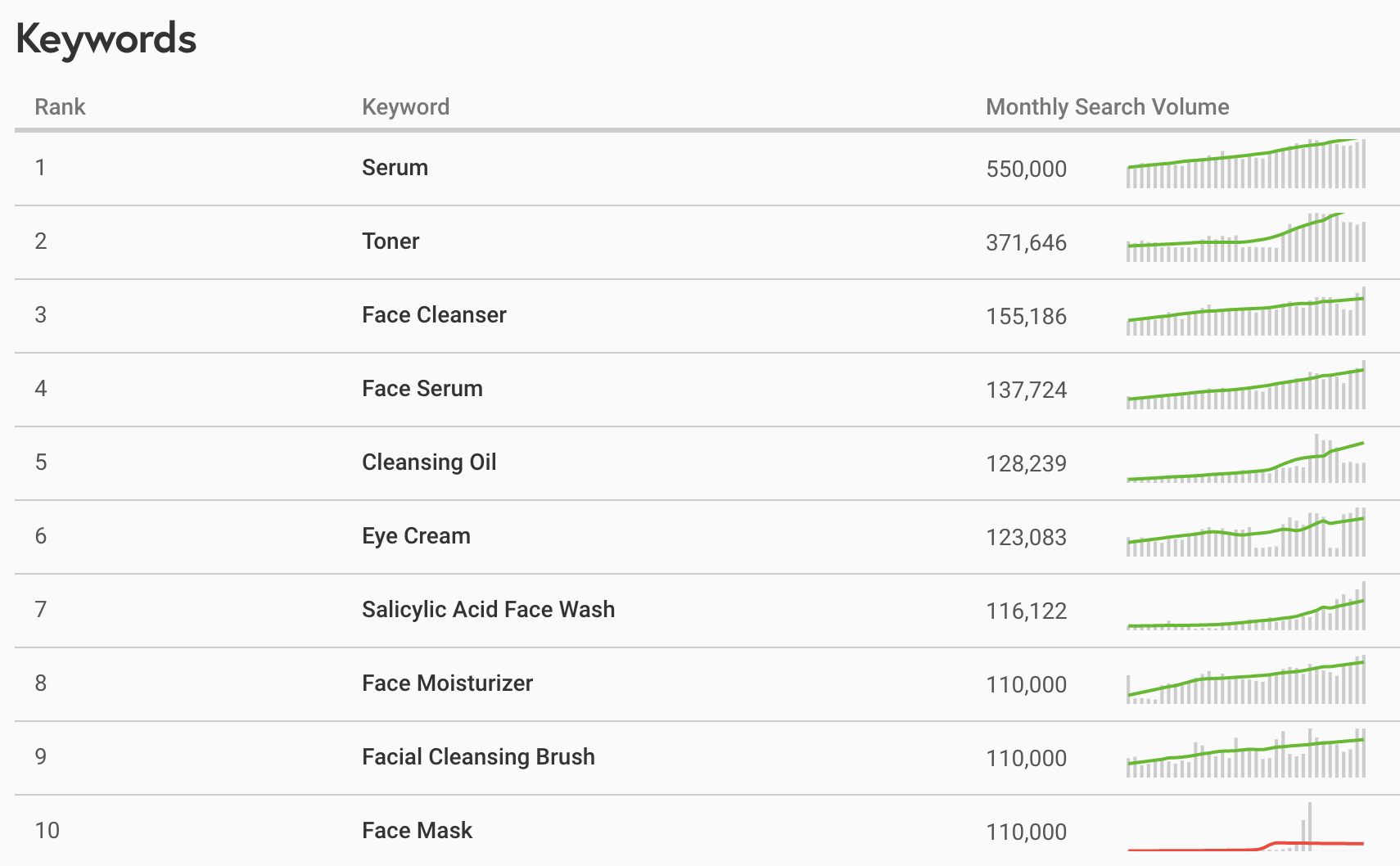 The top most searched skincare keywords overall included "serum," "toner," and "face cleanser," "face serum," and "cleansing oil."
Let's take a look at makeup trends and how they fit with skincare's dominant themes.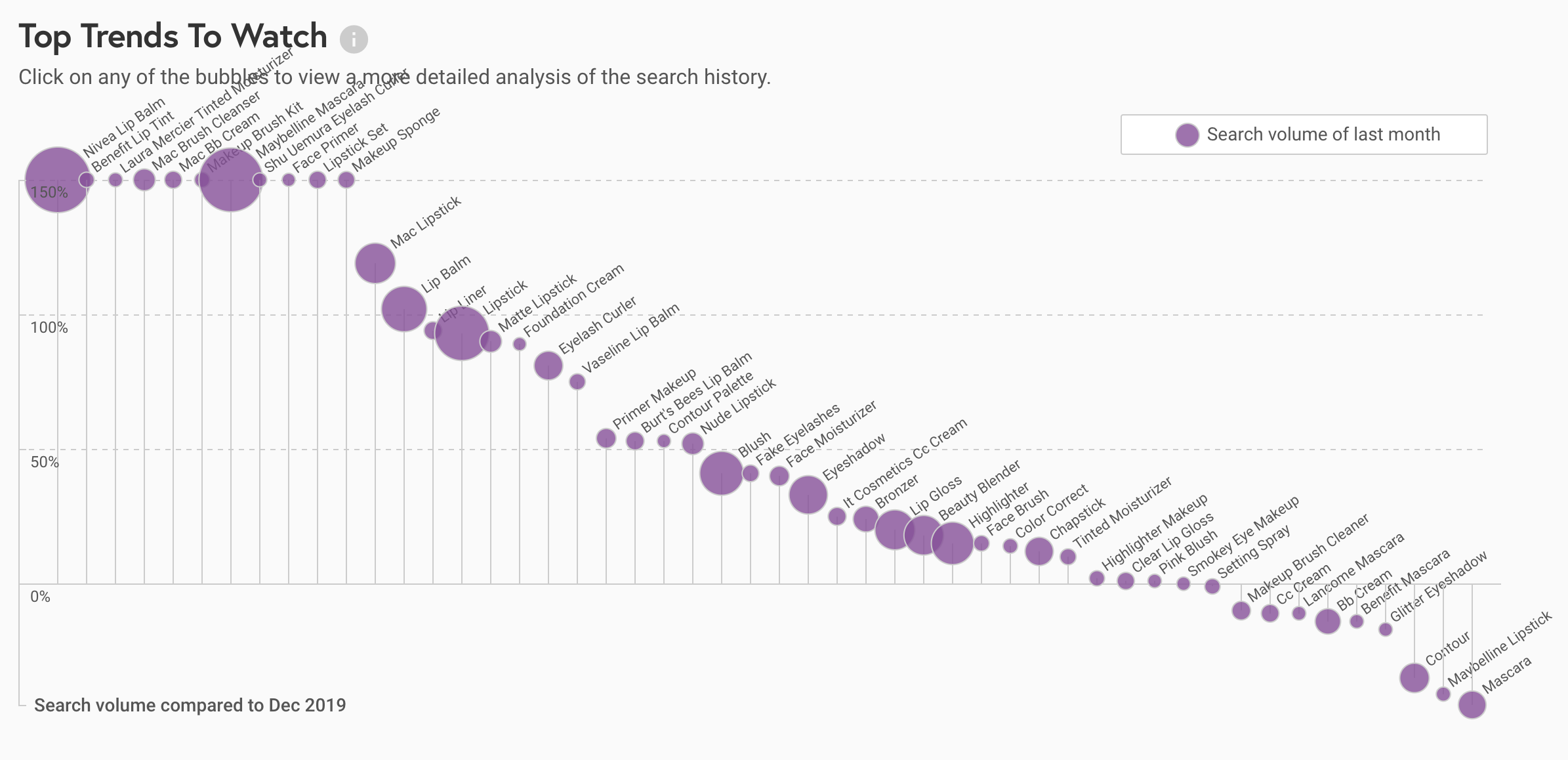 As we shift our focus to color cosmetics, we saw that "Nivea lip balm" (+1,682%), "Benefit lip tint" (+834%), and "Laura Mercier Tinted Moisturizer" (+756%) saw the biggest percentage increase in searches from one year ago. All of these products, searched by brand, fit with the "less is more" beauty trends of quarantine. Following this same story line, "glitter eyeshadow" (-17%) and "contour" (-35%) saw significant decreases in searches from one year prior.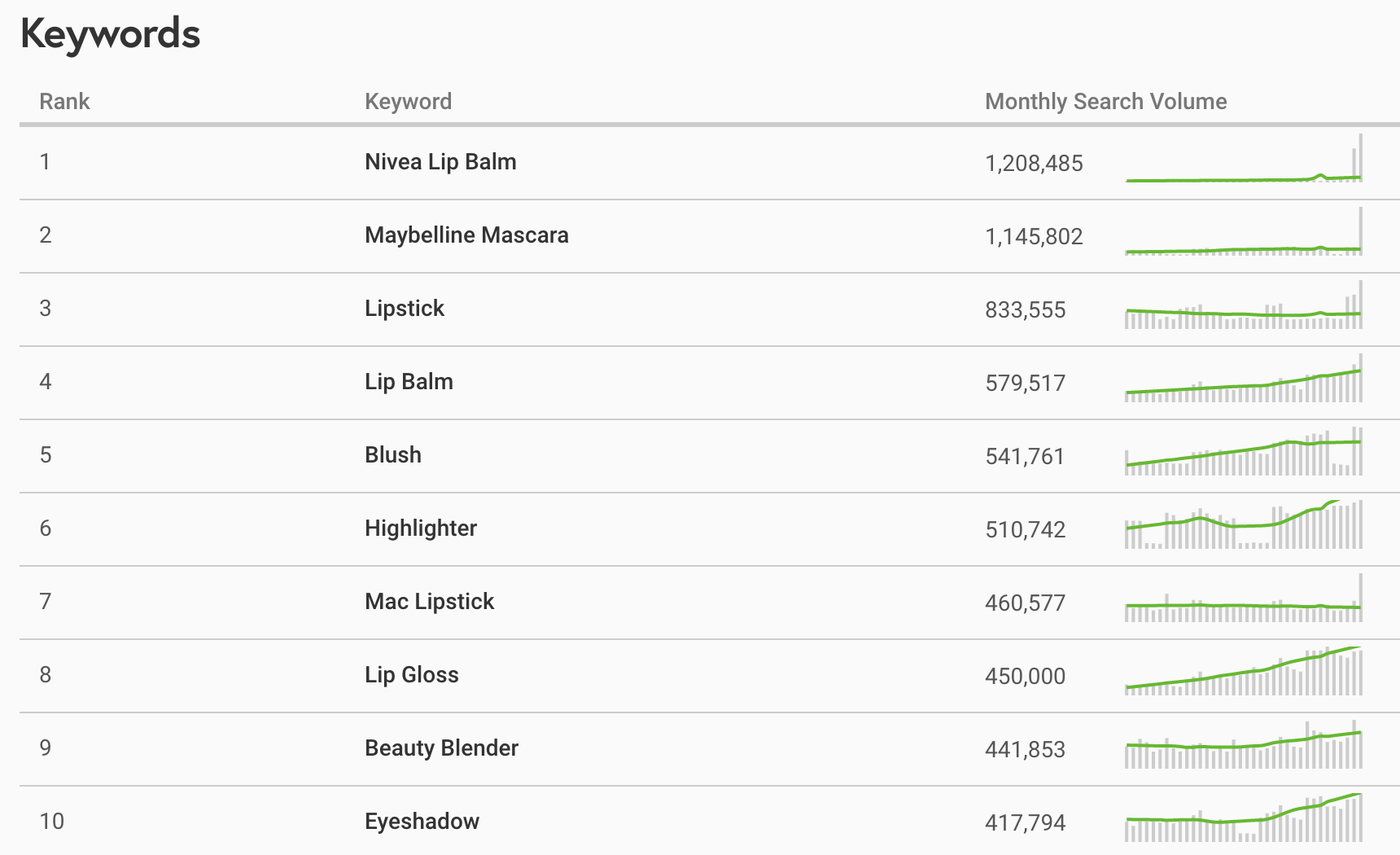 While we've talked about the trends with the highest growth rate, the greatest overall search interest belonged to beauty items like "Nivea lip balm," "Maybelline mascara," "lipstick," "lip balm," and "blush".
Home Goods Search Trends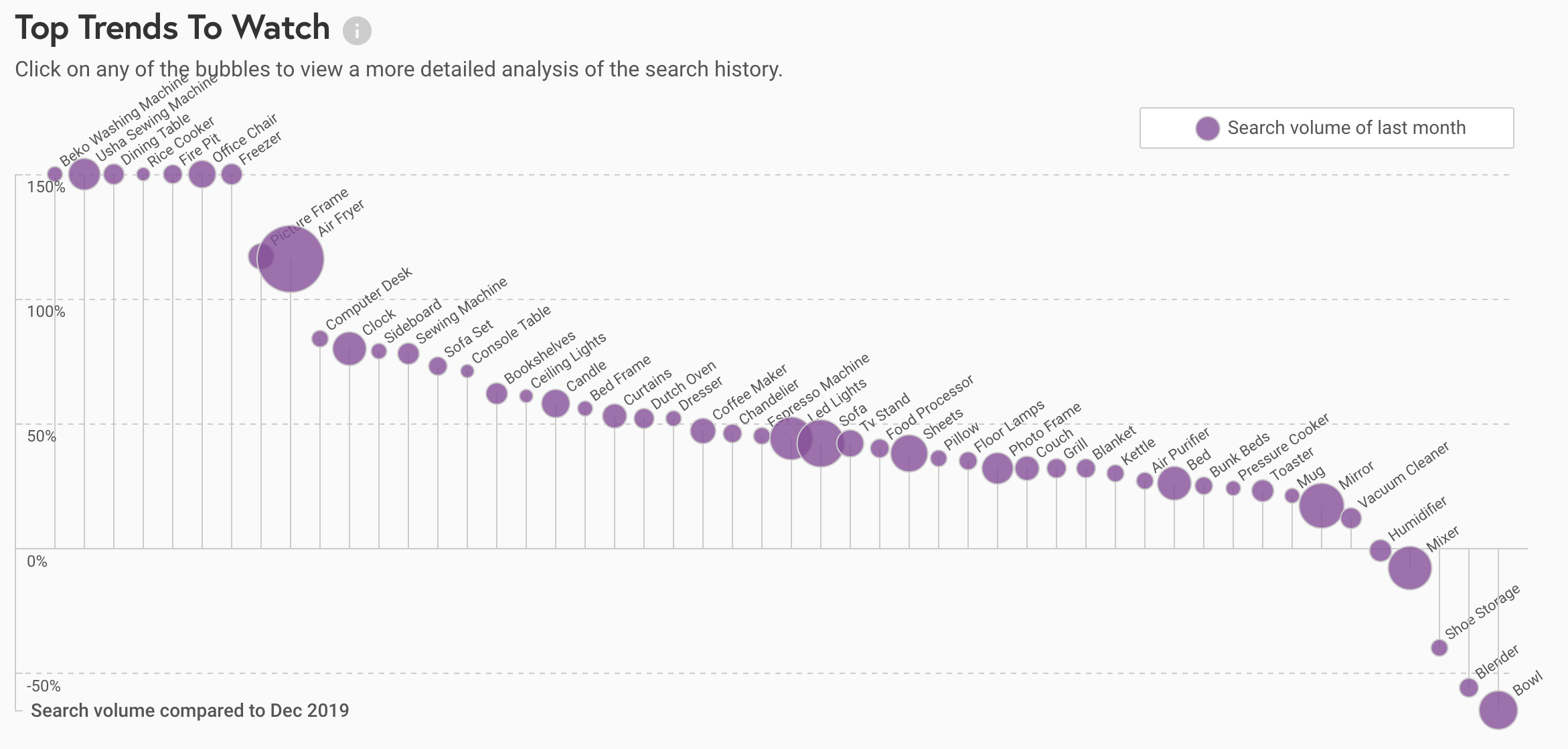 So we know that most folks are giving their home a second look since they've been spending a lot of time there. And as you might expect, many of the search trends clearly illustrate these at-home trends.
Would you be surprised to know that "Beko Washing Machine" (3,606%), "Usha sewing machine" (+819%), "dining table" (+357%), and "rice cooker" (+268%) saw the great percentage increase in consumer searches compared to the same time in 2019? Notably two of the fastest growing search trends were named brands. It's also worth noting that searches for "fire pit" have increased by 182 percent, driven by folks dining outside more in the cooler months. On the declining side, we see that "mixer" decreased by 8 percent, "shoe storage" by 40 percent, and "blender" by 56 percent in searches.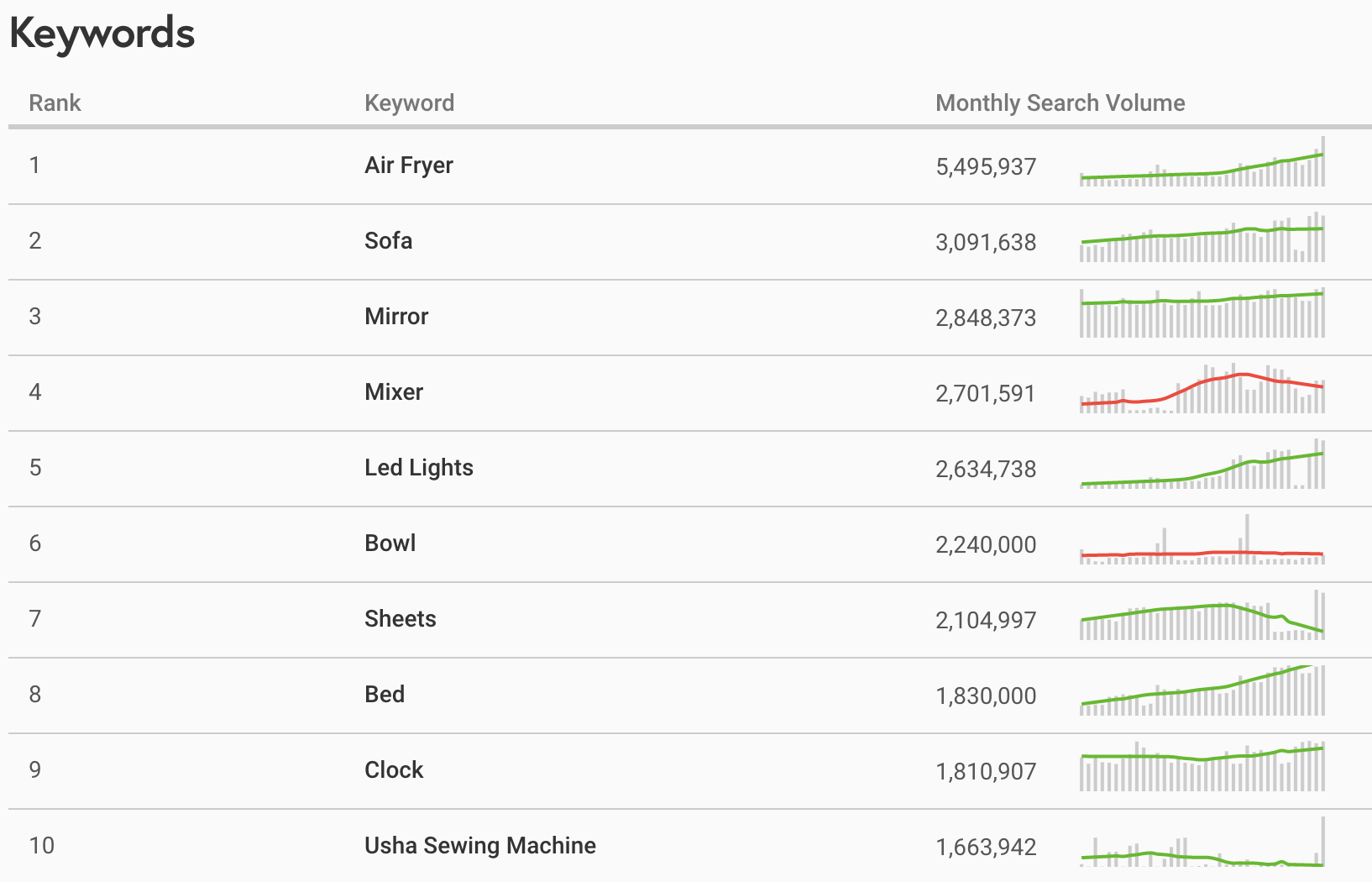 Last but not least, we can see the top home goods keywords by overall search volume. "Air fryer" snagged the top spot, followed by "sofa" and "mirror."
So which search trends outlined here surprised you? We'd love to hear your feedback and follow-up questions on the different insights we've covered today. Just shoot us a line here!