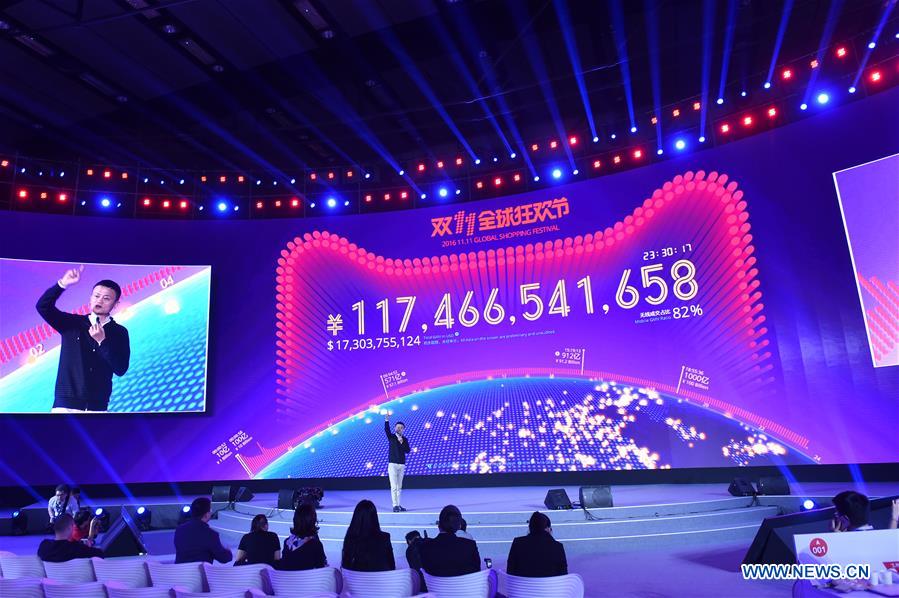 If you've been living in a retail bubble in the United States anxiously waiting for the Holiday shopping season, then I hate to break the news to you - there's something bigger and better out there, but you've already missed it. While we have Black Friday and Cyber Monday here in America, China has the king of retail events - Single's Day. Not familiar with it? You should be. Even with Black Friday and Cyber Monday sales combined, Single's Day sales are nearly four times as much - and that is just from the top Chinese retailer. So, to make sure you're staying in the retail loop not just here, but also abroad, we've got the lowdown for you.
What is Single's Day?
It really is what it sounds like - a day for singles, sort of. Held on 11/11 (get it? All the single 1's?), the shopping holiday was introduced by Chinese retail giant Alibaba in 2009 as a day for all the singles out there to shop just for themselves. Fast-forward 8 years and this day has turned into the 11.11 Global Shopping Festival that breaks e-commerce records year after year. While the event was first pioneered by Alibaba (with Tmall and Taobao) other competitors have gotten on board, including JD.com.
What happened this year?
Single's Day has turned into a giant shopping festival, one that kicked off with a see-now, buy-now fashion show on 10/31. The festival culminated with a giant gala headlined by musician Pharrell Williams and actress Nicole Kidman that displays real-time sales during the 24-hour event. The final totals? $23.5 billion dollars in sales from the 11/11 24-hour period of Alibaba alone, an increase of 39% year-over year. This translated into 812 million packages. Interestingly, Alibaba also reported mobile penetration of 90%, up from 82% in 2016. Even Alibaba's competitor JD.com reported sales of nearly $19 billion from 11/1-11/12, up 50% year-over-year.

Much of this year's Single's Day's astronomical growth can be attributed to a change in retail tactics by CEO Jack Ma and the rest of Alibaba, according to Fung Global Retail. For one, the event has grown from one day, to a multi-day festival which allows for extended sale periods and increased brand participation. Another change from 2016 to this year included offline experiences. Faced with the massive geographical scale of China, Alibaba brought in "smart stores" to mom-and-pop and rural retail centers, allowing for the Single's Day experience in some of the more remote parts of the country. The outcome? Well, the numbers speak for themselves.
Comparison to Black Friday and Cyber Monday
In speaking about Single's Day, we can't help but compare it to the post-Thanksgiving shopping holidays we have here in the United States. It is hard to imagine a shopping event larger than Black Friday and Cyber Monday, but again we just have to turn to the numbers. In 2016, Single's Day accounted for just under $18 billion in online sales. Black Friday and Cyber Monday online in the US? A little less than $7 billion combined.


If Single's Day is dwarfing our big shopping holidays here in the States, does that mean that there is a place for an 11.11 Global Festival here, too? Possibly, but it depends on what sector of the market you look at. Across major, mid-market retailers in the US we saw that the average discount was only up slightly to last year from 18% to 19% while the total percent of the assortment that was discounted was flat at 43%. We did see some retailers across mid-market and fast-fashion that threw their hat into the ring. Urban Outfitters offered select products for $11 while HM had 11% off sitewide. Even ebates featured 11% cashback for select retailers.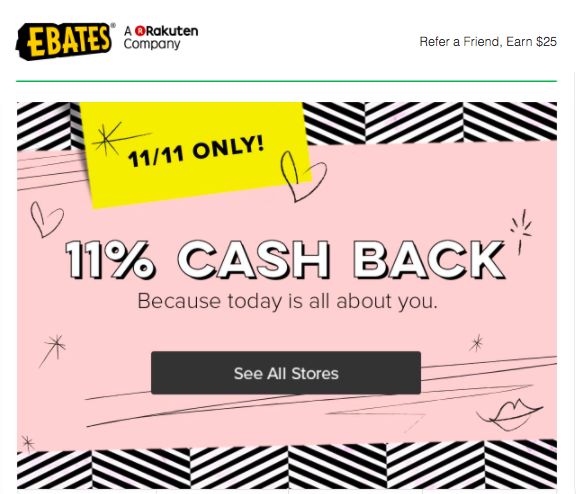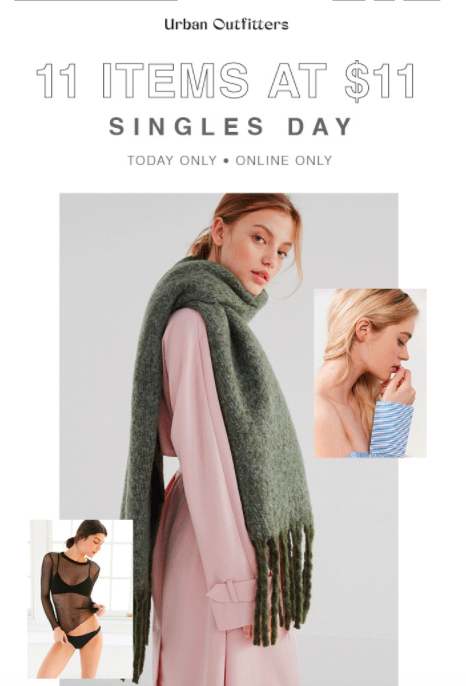 It does seem, though, that with the higher-end customer, Single's Day is striking a chord. Luxury retailers offered Single's Day promotions, something their more sophisticated clientele is not used to receiving.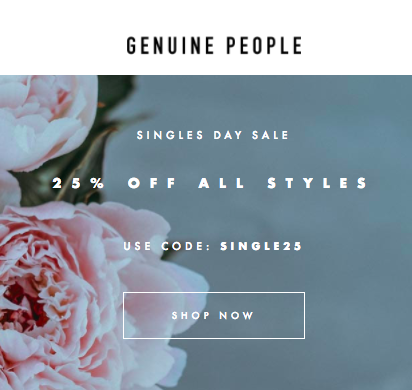 When it comes to the integration of Single's Day then, it seems that old habits die hard for some market segments. While fast fashion retailers and the (surprise) luxury segment are embracing new market opportunities, the larger, slow-moving giants of the industry are staying put.
Is there a future for the day in America?
Can Single's Day make an impact in the US? Well it's a mix. The changes year-over-year in terms of offline store experiences, expanded time periods, and the appreciation for American brands could mean it is setting up for a greater impact in the US market. But slower-moving retail behemoths will probably not be adopting the holiday anytime soon, which ultimately is a missed opportunity. Regardless, In less than two weeks we'll be able to get a gauge for holiday performance here in the United States (Black Friday is in 11 days!). But the level of performance that Single's Day has? Probably not just yet. Maybe in 2018 singles will finally have their shopping day here in America, but until then we have to wait until post-Thanksgiving for the frenzy to begin.