Overview
There's no crazy quite like that of the sports fanatic. We all know one, and hey, maybe you're one too. That's fine. You're in good company. But did you know the extent to which sports really do come before everything else? An
A.T. Kearney
study found that the growth of the sports industry, which included events, licensed goods, and the content distribution and broadcast, was outpacing GDP growth at multiples of 2-3x in countries including the US, China, Brazil, Mexico, and the UK. A study in 2015 estimated the worldwide sales of licensed sports products to exceed
$25B
, with growth fueled by emerging markets with huge fan bases in China, India, and Brazil, as well as the increasing reach of eSports.
It's a dynamic and spectator-worthy industry, as companies like Nike, Adidas, and Under Armour vie for league licensing and player endorsement deals, the outcomes of which can send stock prices soaring or falling.
Global Market Opportunities
While the United States may take the largest single piece of pie in the global market of licensed sportswear revenues, the leagues most followed outside the States are quite diverse and have deep regional and global roots.
One example of a league crossing borders is the NBA. Grown in the US and booming in China, the NBA recently signed a deal with Chinese firm Tencent, enabling the 300 million-strong and growing fan base in China to stream games on mobile devices. However markets like China are not without its complexities; in December Michael Jordan won a four-year long court battle against Chinese sportswear company Qiaodan, who had been using his name in Chinese characters as a brand.
Despite these challenges, there remains significant market opportunity. Just take a look at how brands like Adidas have built product offering tailored to the fashion-leaning preferences of the China sportswear market.




We also took a look at football (soccer for you Americans) jersey pricing in some of the largest markets using our like-for-like analysis. What this does is match the exact item across countries and show you how, within each market, the pricing is positioned. Here you can see that in Brazil, the pricing is significantly higher than in the UK and Mexico markets.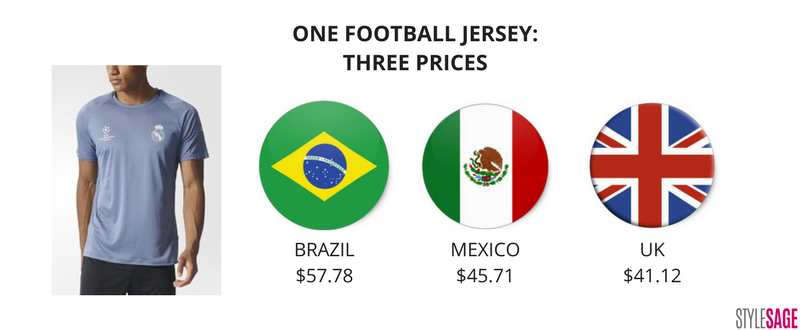 Key Events
2016's focal sporting event may have been the Summer Olympics, but there were no shortage of others that drew in record-breaking numbers of fans from around the globe. From the Super Bowl in February, to the Copa America Centenario and NBA Playoffs in June, and not-to-be-forgotten Cubs win at the MLB World Championships in October, there were plenty of opportunities for the licensed apparel business to leverage.
This weekend marks the 51st Super Bowl, where the New England Patriots and Atlanta Falcons will be going head-to-head for the championship ring. Here are what some of the key sports brands have released in anticipation of the event.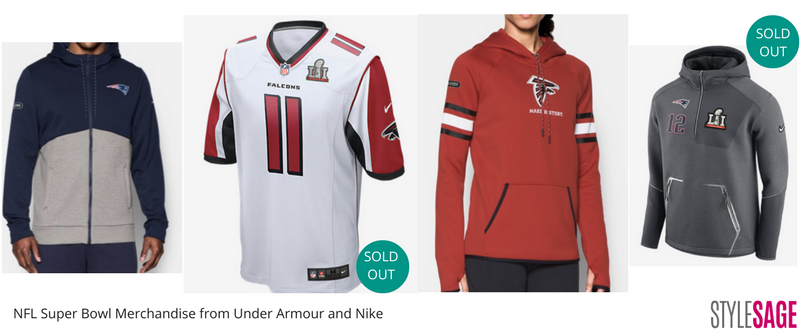 Opportunities
One of the key areas to keep tabs on in the licensed space is eSports. While we're not going to weigh in on whether sitting on your couch constitutes a sporting activity, what cannot be argued with is that the eSports industry is growing at breakneck speed. A Deloitte study estimated that in 2016, revenues would top
$500M
, a
25% increase over the previous year.
Even though products for men dominate the licensed sports category, there is opportunity to expand apparel and accessory offerings for women. Research shows that for the NFL, for example, women comprise their largest growing demographic (scandals aside, that is), and this is particularly important as adult male participation in league sports has plateaued in many developed markets.
We'll be keeping tabs on the role licensed apparel takes on in the new post-Brexit, Trump era. With more and more countries turning inwards, does this diminish or intensify the cross-border rivalries and ultimate market for licensed team products? We'd like to believe that sports can cross borders, and despite its competitive nature, can unite us all.
Contact us if you want to know more about our tool for identifying opportunity in the sportswear market at hello@stylesage.co