Oh, to be a teen today. You've probably had your prom, your summer job, and even your graduation cancelled. And you can't even hang out at the mall!
Well, at least that was the case a few months ago. If you fast forward to the present, many stores in the US have reopened, and teen retailers, including Abercrombie and American Eagle, are reporting "pent-up demand" at their reopened stores.
And as American Eagle, long one of the strongest brands in the fickle teen retailing space, reported their much anticipated Q1 earnings in June, they mentioned that digital sales were up 33%, and for its loungewear brand Aerie, digital sales were up 75%. (It's clear Aerie was and is perfectly positioned to capture homebound shoppers - more on that later.)
But what's been going on in the rest of the teen market, and how are things looking going into the back-to-school season? A virus untamed, along with recent data from Deloitte, indicate that spending this season will be flat at best, with much of it going toward digital products (rather than stuff like clothes and supplies). Let's take a closer look.
Discounting Trends
Teen retailers have dove right into heavy discounting, both in terms of how much is on sale (discount penetration) and average discounts (how high those discounts are). These both hit their peak in April when the lockdown happened in the US, and have since trended downwards.
Right now more than 70% of products are on sale, with an average discount of nearly 40%. It's also worth noting that both of these metrics are higher than they were at the same time last year, particularly average discount amounts.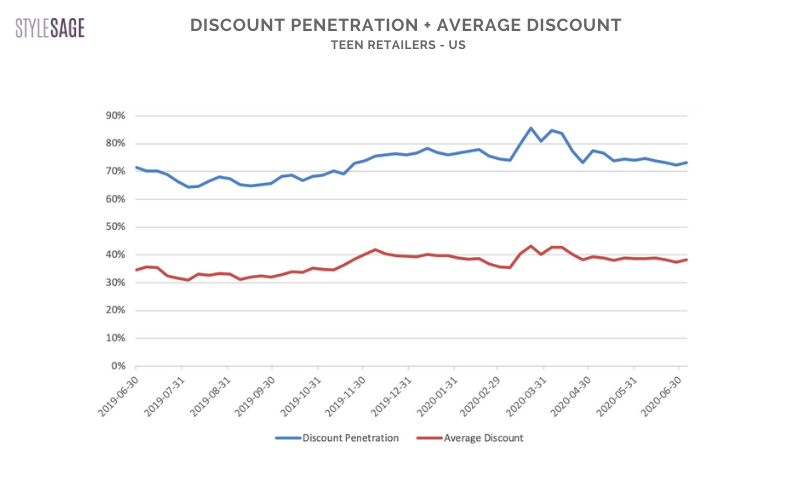 Of course not all discounts are created equal, right? We took a closer look at what was happening at the category level, to see which categories were most and least likely to be marked down. What we saw was that dresses were far and away most likely to be marked down (90% in the market are currently on sale!), and sneakers were the least likely to be marked down, averaging around 45%. Since June, it appears that across these four categories, discounting has been high - but relatively stable. Three out of the four categories are more likely to be marked down right now, than they were at the same time last year. (T-shirts were the one exception to this trend.)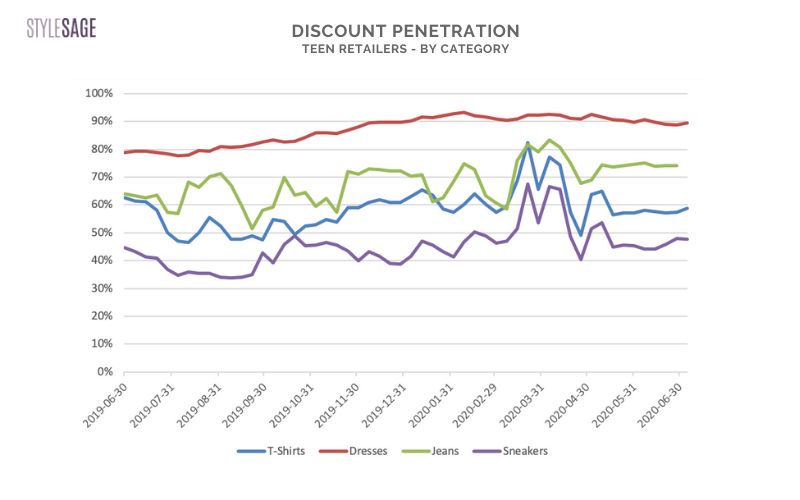 As far as to how high those discounts ran, we see similar trends playing out here. Dresses currently average 50% off (nearly 10 percentage points higher than last year), while sneakers had the lowest average discounts (20%).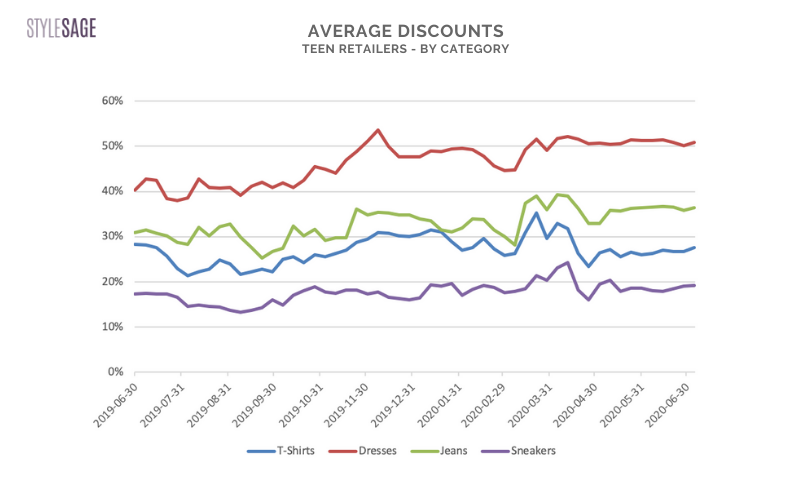 What's Selling
While discounts have been high, it hasn't always meant high sold-out numbers. For example, our data shows that despite average discounts being 50%+, dresses had a peak sold-out rate during the pandemic of 10%. Sneakers, on the other hand, enjoyed healthy peak sold out rates of 15% during the month of April, even as the category's average discount remained below 25%.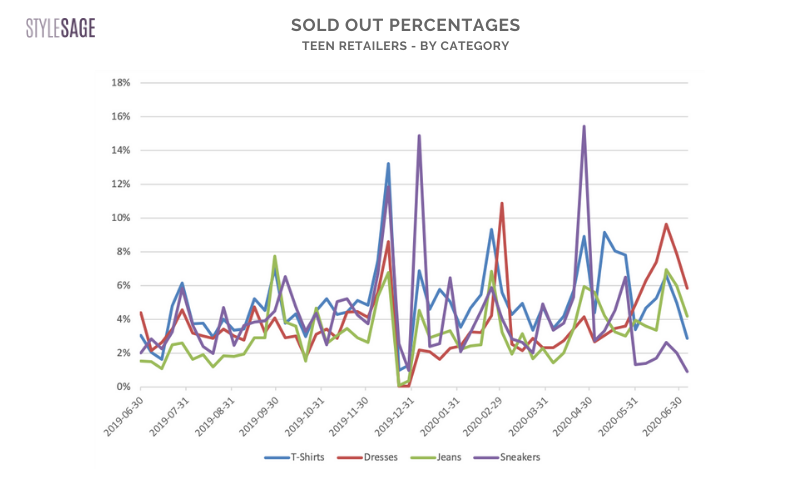 Speaking of winners, let's bring it back to Aerie, American Eagle's outperforming brand of loungewear and basics. We wanted to see which of their categories has shown the greatest strength.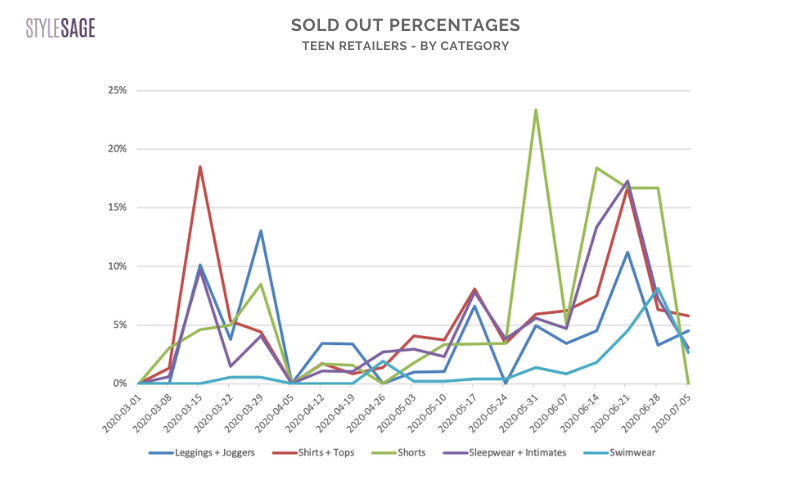 We saw that early on in March, both tees and bottoms (including joggers and leggings) had high sold-out percentages. In the early stages of quarantine, in April, we saw pretty suppressed performances across Aerie's categories, but as we moved closer to June, shorts (in particular bike shorts) have had sold out rates nearing 20%.
What do we see from today's analyses of the teen market? There's definitely a major amount of discounting, but there's margin to be won by honing in on which categories are doing well, understanding why that's the case, and trying to maintain a position of strength.
If you're interested in more data on the kidswear market, especially as we head into the back-to-school season, don't forget to check out our latest data here.