'Because.'
Chances are you've heard this response to a question you've asked the teen living in your house. (For the record, it's the appropriate answer to at least 95% of the questions you may ask him or her.) Parents aren't the only ones trying to figure out what's going on in a teenager's head; retailers who have long dominated the US teen fashion market are struggling to understand why they aren't friends any more.
Let's dive deeper into the issue: what are the causes, who is doing well in this difficult market, what is happening in the e-commerce space, and what can be done to re-engage with teens? If you're in the business of retail, you will certainly recognize this as the existential question: how do we, as brand X, keep from becoming like, totally lame?
Believe it or not, the pouty teenager sitting next to you has all the answers.
Exhibit A: Today's Teen
Are today's teens fundamentally different creatures than before, when the major US teen retailers were at their peak popularity? You can reasonably argue no, especially when you consider the whirlwind of physical and mental changes that is a constant between the ages of 12 to 18. Yet teens today do have much more information to sift through as they determine which behaviors, stuff, and people are cool enough to incorporate into their lives. And with the flattening of the world via social media and e-commerce, fashion trends are now measurable in days and weeks rather than months and years, and there's no single demographic more comfortable with that breakneck pace than today's teen market. They curate their wardrobes from an endless variety of sources so that the resulting look is uniquely theirs, increasingly veering away from the branded looks of the past.
Yesterday they were rocking bohemian festival attire, but today they want athleisure. If you want their business, you had better keep up.
Another contributing factor to this change also stems from the increased importance of and exposure to social media and television. In particular, if you are a teen girl, standards of dress have become more mature. Compare the images below, the first from currently successful teen retailer Brandy Melville, the other today's (adult) of-the-moment retailer The Reformation. You will find very little distinction between the two; the only difference is price point (and that is very important indeed).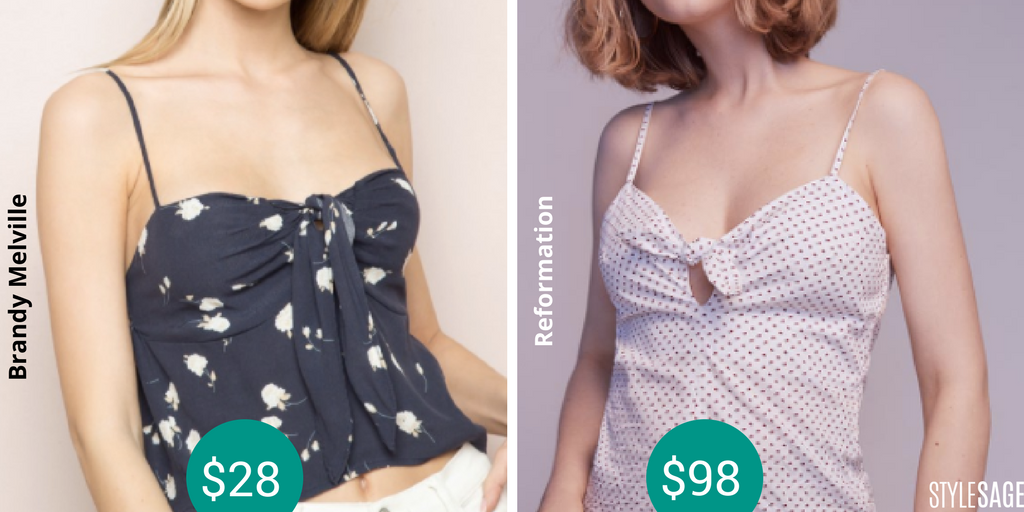 More Competition, Smarter Competition
Two of the most frequently cited reasons for the marked decline of the teen retail market are online retail and fast fashion. These have converged to democratize physical location and style. Pure play retailers like Asos, Boohoo, and Missguided have created their own platforms to buy (and share) the latest and greatest fashion and accessories. And fast fashion retailers like Zara, H&M and Forever 21 have shortened their product development cycles to anywhere from a few weeks to a month, significantly shorter than others in the market. This has allowed the aforementioned retailers to capitalize on trends for longer, while also firmly establishing their status as trend leaders.
So which fashion categories are teens most interested in and show the most activity? We checked the e-commerce data and saw that retailers are catering to teen's desire to experiment in a low-commitment way in categories like tops and dresses, and less so in staples like denim and outerwear. How do we know this? We're seeing a higher rate of new product introduction and selling out, and prices are skewing lower for these categories. With short attention spans, a pipeline of fresh product for the teen market is a must. And let's not forget that in scenarios where teens are using their own money OR parents are footing the bill, retailers win by checking out at accessible price points.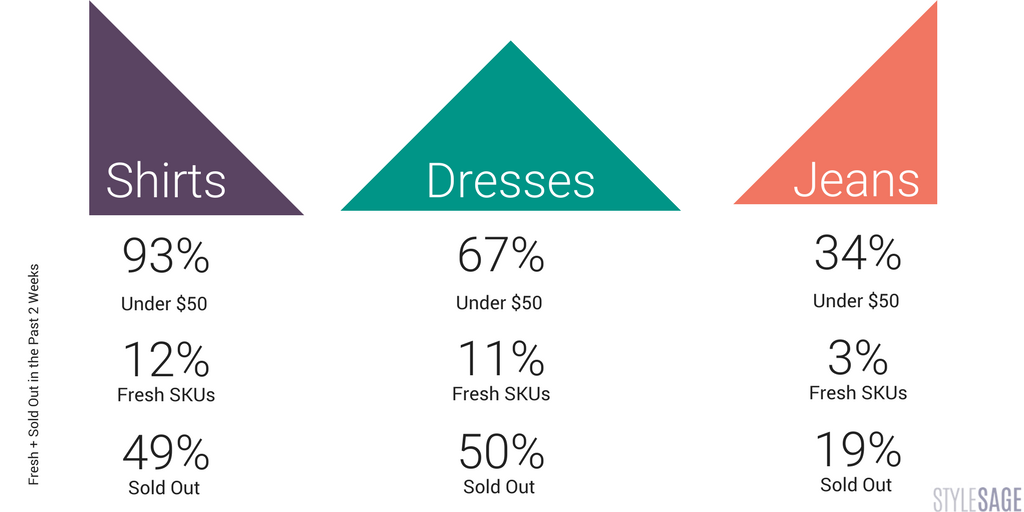 Becoming Cool Again
Look, we're not going to sit here and say that getting back in the good graces of teens is easy to pull off. And a turnaround isn't a one-off move; the process requires that the mechanisms which enable consumer engagement and rapid experimentation be sufficiently embedded in the culture to stick, else you may find yourself back at square one. But it isn't impossible--just look at what American Eagle has pulled off with their Aerie lingerie line and advertisements featuring untouched models.
So where to start?
Re-Trench and Re-Focus
Today's teen retailers need to take a moment to assess where they are and what the central issues are. Are there pockets of success where the product mix is working and is it applicable and scalable to other areas of the organization? Are they confusing the consumer they want with the consumer they have? Where do they want to be and what will it take to get them there? Soul searching with a sense of urgency is critical in any turnaround effort.
Let The Kids Drive
Today's teen retailers would be wise to hand the keys over to their target consumer; they can tell you what's leading-edge, which influencers they admire, and how they want to feel when they wear the product. One example of this is teen retailer Brandy Melville, which has grown from an unknown Italian brand to a teen cult favorite with 3.9 million Instagram followers. They have cleverly enlisted the help of a 'product research department,' which is essentially a panel of teenage girls who give feedback on products and suggestions on how to style them. You will also see some of these same girls appearing in the company's Instagram feed. The learning: put together a core user panel, constantly engage with them, and make certain they are linked to the strategic moves the business makes.
Add Some Personality to Your Brand
If the teen brands in the market today were sitting around the cafeteria lunch table, they might be described like this:
Abercrombie: At the popular kid's table
American Eagle: The class valedictorian
Nasty Gal: Sporting a skirt just shy of the fingertips
Urban Outfitters: The trendy girl who always has that one piece on you'll never be cool enough to find
Hollister: Laid back with a side of disheveled
The list could go on, but the point is that the teen brand is a living, breathing creature. What makes the teen unique and gives them the confidence to be themselves? Thriving brands have carved out a niche for themselves; they have distinct personalities and accept that they may not be for everyone. Take it from Mean Girls: it's not enough to just be pretty, you need to be pretty and smart if you want to increase your chances of survival in this competitive environment.
Be Willing to Stick Your Neck Out
It is worth mentioning again that US consumers' palates are becoming increasingly sophisticated. Brands from outside the US are moving in and taking market share from retailers based in the US who should know their own market better. The H&M's and Zara's of the world have boldly embraced that customers want to be on-trend, rather than a year behind it, and they certainly can't pay a fortune to get there. They have upended the traditional supply chain, collaborated with today's leading contemporary designers, and given consumers reason to visit their stores more frequently. US teen retailers need to stop shying away from bold and rapid experimentation; nimble, cross-functional teams can drive new initiatives that will create buzz and connect to the consumer.
So get out there, and listen to the teens around you. They have an opinion...and trust us, they're more than willing to share it with you.