Meet Bershka
Remember the days when someone asked you, "Where'd you get that?" And if you had bought that thing overseas, you had a degree of confidence that what you had gotten your hands on, couldn't be had by someone else. Well, globalization takes yet another swipe at my shopper smugness, as another brand that I had on my travel shortlist has finally arrived Stateside.
Meet Bershka, Inditex's little sister store, who has recently launched both their e-commerce site and a NYC pop-up store. What's the backstory on Bershka? It was started in 1998 under the arm of the Inditex Group (who we all know to be the mother to all fast-fashion brands, Zara). Bershka caters to a younger shopper, think teens and an early 20's target demographic and offers both womenswear and menswear styles. Fast-forwarding nearly 20 years, they have more than 1,000 stores in 75 countries, and their financials report that Bershka accounts for 9% of the Group's revenues. This little sister is very much coming into her own.
However, what is most interesting is that despite their far-reaching global presence, the US has been a late addition to their market coverage, so we thought it was the perfect opportunity to take a look at what entering a new market looks like - from both the physical store experience to their pricing and product positioning - in what remains both a very challenging and competitive US retail environment.
The Big Reveal
How does one enter a market like NYC? Well fashionably, of course. While the store, located in Soho's high-traffic (albeit recently worse-for-the-wear) Broadway corridor officially opened its doors on October 17th, they officially kicked off their opening in Insta-style on October 27th, with a big launch party attended by influencers and celebrities including Chiara Ferragni, Always Judging, and Willow Smith.
The store concept is called "Stage" and its two floors have been "inspired by the world of music concerts and what goes on behind the scenes...and epitomizes Bershka's DNA: music, fashion and youth." The layout includes areas for lounging, and the product assortment covers an ambitious set of categories across men's and women's including apparel, footwear, accessories, activewear, and beauty. Take a look at some of the snaps we captured during our recent walk-through.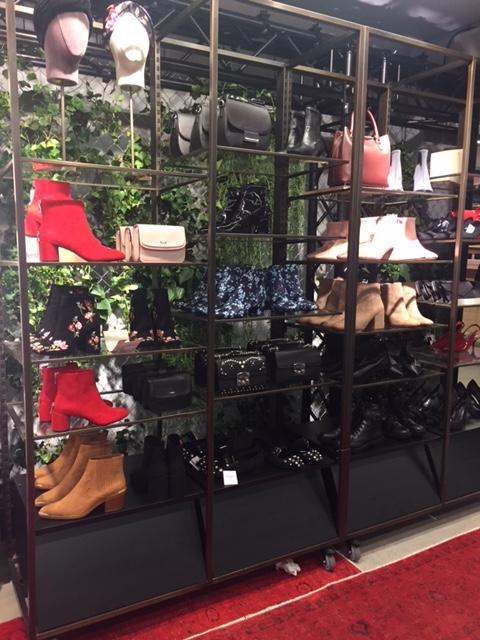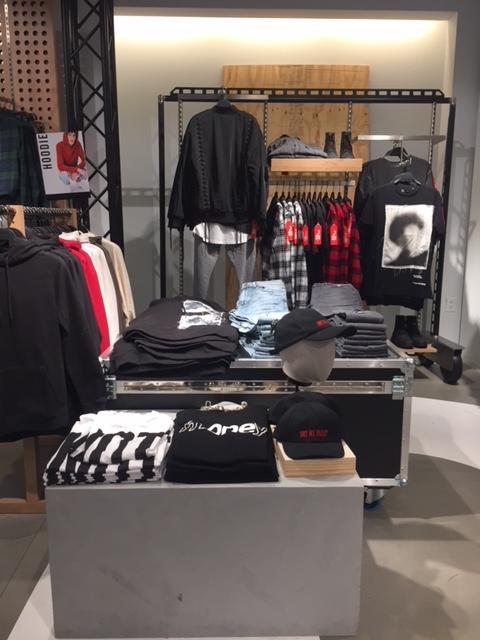 Who Are Its Closest Competitors?
But what about their website? It launched with little fanfare back in April of last year - and within the past few months started officially shipping to the States. Let's talk a little about its competitive positioning through the lens of assortment mix and pricing.
It's old news that fast fashion is getting increasingly competitive in both the online and offline spheres with players including Missguided, Boohoo, Asos, H&M, and of course, Zara. So what is Bershka's point of competitive differentiation? We mapped out their pricing relative to several other key market players who also contend for the same mind and wallet share of the fast fashion shopper.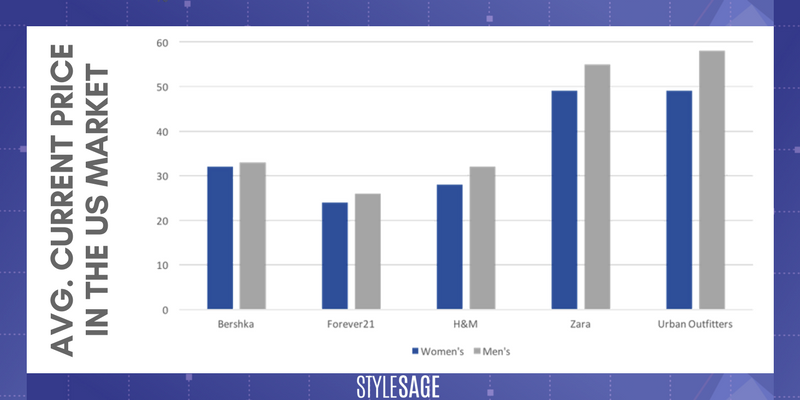 You can see that in the US, its closest benchmark is H&M, and that it is priced 35% and 43% lower than its sister brand Zara, in womenswear and menswear, respectively.
When you drill down into the category-level in womenswear, you see that the while in shirts and dresses the pricing is closely competitive with Forever 21 and H&M, there is a greater pricing differential in the jeans category, where they price at a premium. The same follows for menswear denim.
But we were also curious if the competitive set was similar in the UK, where they have had a presence since 2004. The competitive set maps differently - while they are priced significantly higher than Forever 21 and H&M - they are neck-and-neck in both menswear and womenswear with UK market native River Island. Zara is priced at a 38% premium to Bershka in the UK for both men's and women's assortments.
Available Here, But At A Price
Getting local market pricing right requires identifying and tracking the right set of benchmark competitors, which vary from country-to-country. Because Bershka operates in more than 75 markets, this is understandably a complex process. But using our pricing solution, we were able quickly pinpoint what the pricing premium is in six different markets. Take a look at what we found.
The lowest price you can find for Bershka is, unsurprisingly, in its home country of Spain, with European neighbors France and Italy close behind. For both womenswear and menswear, the highest prices were in the States, and it was interesting to note that their pricing in China closely mirrors that of the UK market for both menswear and womenswear categories.
What could be behind this higher pricing in the States, aside from the costs of doing business here? We think they've accounted for what's turning out to be a race to the bottom in fashion retailing in the US and are betting on the fact that a differentiated product offering will bring that fashion-savvy (and easily-bored) shopper a-knocking.
A Playground of Products
How do you create a compelling mix of products - one that gives you both category credibility and an ability to understand what resonates with shoppers? Both Bershka's site and store experience speak to the notion that they want to cover all of the relevant lifestyle aspects that are important to their customer, specifically beauty, activewear, the accessories that complete and personalize one's style. Let's take a look at how their assortment mix compares with competitors.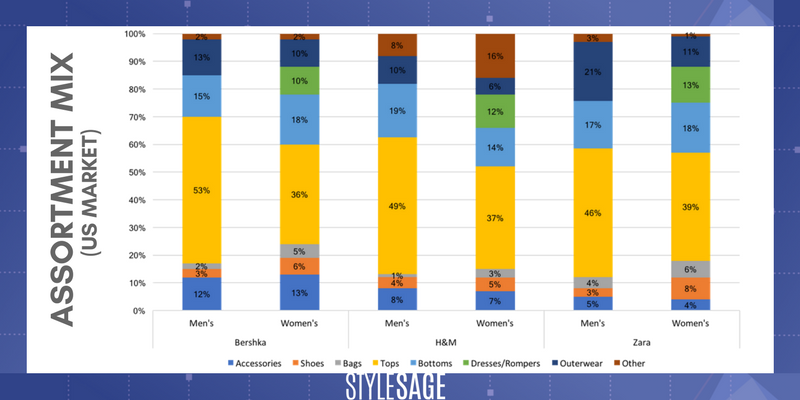 For the most part, the product mix, particularly in apparel categories, maps out very similarly to Zara, which makes sense in terms of leveraging supply chain efficiencies. The one exception is dresses, where Bershka has a smaller proportion of SKUs relative to Zara. Where you see marked differences between Bershka and its competitors is in accessories and intimates; Bershka heavily assorts in both men's and women's accessories and has little in the way of intimates product.
We also examined whether the product mix has been changed for the US market, relative to other markets in which they're already present, and were able to see that in fact, they've maintained a consistent mix across geographic markets.
So while Inditex has very publicly said in the past that the US market isn't its top growth focus (the nature of which definitely ruffled a few feathers), we think the current state of US retail provides them a very clear entry point to a market that very few other retailers have the scale and internal organizational structure to pull off successfully.
Stay tuned here; we'll be keeping close tabs as this fast fashion race heats up, and wishing Bershka a warm welcome (credit card in hand, of course.)