As adults, the unofficial end to summer means mainly one thing: the end of white denim. But for parents and kiddos, the post-Labor Day time also means the start of the school year. For the weeks (and sometimes months) leading up to this time, consumers and retailers alike participate in the back-to-school season in which everything from clothing to tech is bought is bought in preparation for the school year. And as one of the biggest shopping periods of the year, retailers invest heavily into marketing and promotions in attempts to end the summer strong before ramping up for the winter holiday season. So in a time where the retail industry as a whole could really use a lifeline, did Back-To-School 2017 provide any semblance of hope? Let's look at the data, starting with a Labor Day Weekend recap.
Labor Day Weekend
While summer doesn't technically end for a few weeks, Labor Day Weekend is an unofficial marker of the switch in mindset from beach chairs to school chairs. Families take one last vacation, as school is back in session the Tuesday after the holiday. As is typical of the American retail scene, when there is a holiday, there is a sale. For retailers, this is where you push through any deals and move inventory stocked specifically for school spending. It is also is a time to assess your sales momentum for the year and measure exactly what the gap is between your YTD sales and EOY targets. Therefore, it's important to look at the final weekend in addition to the season as a whole to understand the overall retail trends that could signal how the rest of the year will close out.
With a sale weekend, we would expect an increase in discount offers and heightened promotional and marketing messaging. What we saw in regards to this was a bit lackluster. To put it in perspective, the average promotional value for the weekend was 36% across major retailers. While this may sound impressive, this number is relatively flat to the entire month leading up to Labor Day Weekend. While we expected increased offers to entice customers, this didn't happen. While a flat promotional value may still be enticing if relative current prices are lower, this also wasn't the case. Comparing the total men's and women's assortment from top retailers from Labor Day weekend in 2016 to 2017, the average price actually increased from $46 to $49. Even the amount of the assortment marked down dropped year-over-year, from 56% of the total assortment to 49% in 2017. Going one step further, this markdown has also decreased from 45% off the original price of just the discounted products in 2016, to 43% off in 2017. Not only are customers seeing fewer products at a marked-down price, but the markdown is less and any additional promotional is flat to the rest of the summer.
If anything this past Labor Day Weekend, it was only the messaging that changed slightly most likely in a push to move through summer inventory. For example, here are some of the major campaigns that ran this past weekend:
Macys: Extra 20% off
Bloomingdale's: Big Brown Bag Sale: Save 40-60% off online and in-store
Old Navy: All jeans, dresses, and tees 50% off
JCPenney: Extra 25% off sitewide
Nordstrom: Summer Sale, up to 40% Off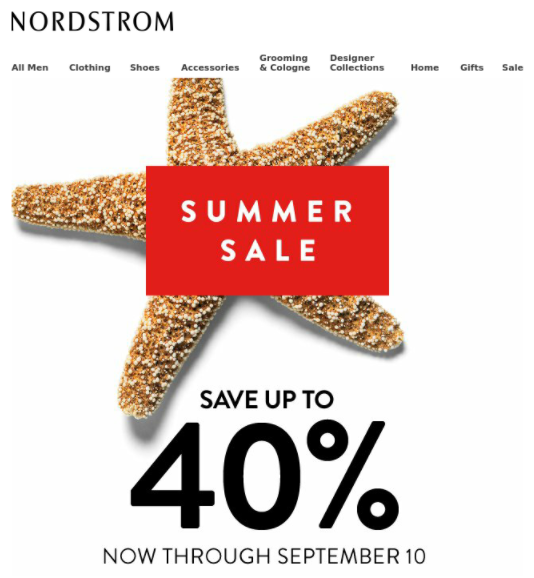 Breaking this down even further, we saw that the top categories targeted by promotions during this time included: women's, men's, kid's, and shoes. But additionally, a big push included "newness". Across the board, though, Labor Day messaging wasn't exactly the marketing of choice. But additionally, neither was "Back-to-school". If we were looking for an exciting spike in the promotional market this past weekend - we didn't really get it.
What's the takeaway here? As a consumer, you might not have been incentivized to spend this past weekend because of unbeatable prices, as it looked pretty similar to the rest of the summer. If you did get that credit card out, it was simply because the clock was ticking on your back-to-school shopping. If retailers really wanted to incentivize shoppers, they would have been smart to dial down the discounts leading up to Labor Day to be more noticeable and appealing to shoppers.
All that being said, the overall flat promotions signal to us that retailers are refocusing efforts on getting the right product onto the shelves, instead of relying on heavy discounting to move product. The retail market is in a weird moment of correction, and there are trade-offs that both the retailer and consumer will need to make as retail refocuses itself on the correct product, pricing, and promotion strategies.
The end of back-to-school season and the return to classes
So in order to gauge where the retail industry is, we did a final recap of the back-to-school to see if the anti-climactic holiday weekend was just a low point to a high-performing rest of the season. In comparing the entire 2017 season to that of 2016, there are little noticeable differences. Across major retailers in both men's and women's assortment, the average current price has remained stable between $45-$46. Additionally, the average markdown has dropped only slightly, from 24% off the original price to 23%. Even as we examine the kids assortment, the flat trend also holds true, with current prices between $20-$21, as well as markdowns, which have hovered between 43%-44% off of the original price. On top of the pricing and discounting remaining flat year-over-year, the promotional value also remained stable at 36%, with little fluctuation throughout the season.
Instead, throughout this time period we saw many retailers speaking to promotions in categories such as home and jumping ahead to new Fall assortments rather than true back-to-school messaging. So what gives? Without customers feeling the sense of urgency and retailers attempting to take back control of the promotional market, the 2017 back-to-school season looked like a game of chicken between retailers and consumers as everyone waits for someone to give first: dropping prices or buying the necessities.
What does this mean for the rest of the year?
It really may be the "slow-and-steady-wins-the-race" pace that we are going for in retail. No longer can retailers rely on large spikes in sales during holiday periods driven by heavy promotional offers. But on the other-hand, they aren't pushing the issue either. By remaining flat on markdown levels and added discount values, retailers may finally be showing control over the promotional market, and sale periods will no longer be big blips on the retail calendar. The value scale will tip away from continual events and towards other goals - such as refining the digital experience and focusing on regaining customer loyalty.
What happens next during holiday season?
As the biggest selling season of the year, will we see a mirroring of the back-to-school promotional behavior we've just observed? Outlooks may be divided at present, but one thing is clear. Retailers have some serious work cut out for themselves, as they navigate competing priorities of meeting annual sales targets, renewed product strategies, and improving consumer loyalty and engagement. We'll be keeping tabs on it right here.