When it comes to convenience, online shopping for clothes and accessories beats buying at brick-and-mortar shops much of the time; there's deals (usually), more sizes, and being able to leisurely sift through an entire inventory for your needs. However, despite us trying to convince all our friends that online shopping is indeed superior, there's a stubborn few who are unwilling to give in. Their winning argument? It's always that they're able to try a garment in physical stores.
Honestly, we've got to admit they're… a tiny bit right. We are all guilty of returning our hauls right after we tried them on. Jeans that gape at the waist, pants that give the camel toe, the list goes on. Point is, they certainly are not flattering. Time and time again, online retailers have tried to solve the problem of fit through a variety of means, because high return rates are a real drag on the bottom line.
How much so, you might ask? By 2020, the cost of return deliveries is estimated to be $550 billion. Maintaining free returns is difficult for even Amazon, who lost a whopping $3.5 billion on unrecovered shipping fees in 2014. Offering free returns is not a decision to be taken lightly, especially when customers are adopting the habit of buying several sizes to try, then returning the rest.
Retailers really want you to keep that piece of clothing – returning means they don't earn the profit margin, but they also pay out of pocket for the return shipping. The issue of free returns is a conundrum – retailers must find out if the increase in successful transactions outweighs the coin spent on deliveries. Giving hassle-free returns could also go a long way in building customer relationships and trust, which could in turn mean continuous successful transactions from a single customer.
So what are retailers doing to address the challenge of fit? Turns out technology is helping retailers make significant strides in matching consumers to the right size.
True Fit
True Fit, the first database for sizing of footwear and apparel, took this opportunity to offer brands an easy way out – reducing the number of returns caused by poor sizing information online.
If you shop at any of these websites: Old Navy, Kate Spade, Levi's, amongst many others, you'll see a button that baits you to find out your size, with a logo of a 'T' on it. That button is powered by True Fit, who has collaborated with over 200 major retailers. What True Fit does is not extraordinary; but it certainly is an elegant way of using data to recommend sizes for potential customers. The series C startup, announced in Jan 2018 that it's starting to go beyond just fit; it aspires to be a personal shopper for every consumer by suggesting specific styles and cuts when consumers are browsing online.
True Fit takes into account the sizes you wear from other retailers and recommends a size for you at that particular retailer.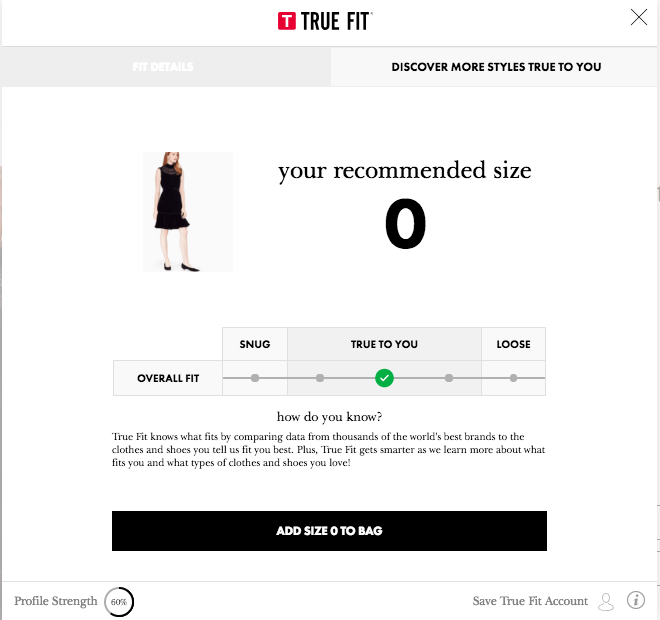 There's an easy call-to-action button for add the item into cart. You can also adjust for the kind of fit you want.
These are suggestions made by True Fit, similar to a personal shopper.
Players in the Market
Is anyone here an ASOS fan? Well, we certainly are. It houses some of the more eclectic brands we can't find in the US, and it is definitely one of the most technologically-driven online retailer. Naturally, we can expect ASOS to come out with its own version of True Fit, known as Fit Assistant. It works the same way as True Fit, which is to map other consumers' decisions and past personal successful transactions.
Below is an example of how it works. We especially like the percentage shown – it adds a nice reassuring touch.
ASOS Fit Assistant
Whomever successfully reduce the number of returns for online retail essentially wins the whole jackpot. With such a huge opportunity, it is inevitable that many other startups are tackling the same problem. Another notable one is Virtusize, used by many other big-name retailers as well, including Acne Studios and Balenciaga. Virtusize tackles the problem of bad fits as well, but they work slightly differently from True Fit. It uses the shopper's purchasing history, and shoppers also have the option of measuring their favorite garment with clear guidance provided. Virtusize's solution seems more granular; they compare these measurements with those of the online apparel.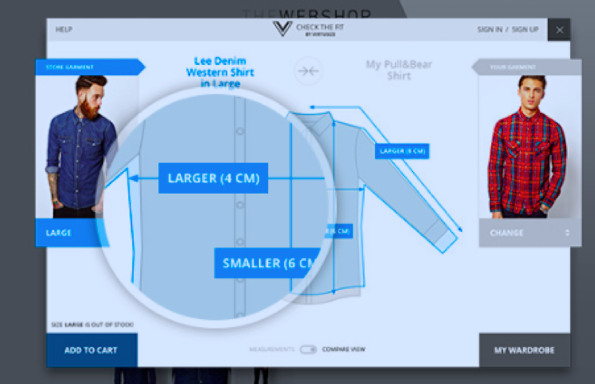 Virtusize's solution to fit
Happy Returns is another startup who wants to plug the gap, but with an entirely different solution. As suggested by its name, they tackle the issue that if consumers want to return a bad purchase, there's nothing you can do about it except reduce the cost of these returns for your company. Happy Returns has set up over 200 collection points across the U.S., and centralizes where returns are processed, which in turn reduces transportation costs of returns for brands. It also mercifully saves the consumer the hassle of dealing with the nightmare that is the post office.This method reduces processing time and increases sales, as this enables brands to quickly redirect the returned goods to another consumer.
Retail and fashion is an industry heavily influenced by current societal issues. Brands and online retailers have to adapt quickly or become obsolete. With the spotlight on embracing sizing inclusivity, retailers are moving to include more plus sizes in their catalogue. While a win with consumers, an extended size offering has inherent complexities for the brand or retailer.
Do you think all the solutions these industry disruptors have come up with are sufficient? Are return rates lowered enough so that offering free returns is profitable for even small retailers?
We'd love to hear your opinion! Please feel free to write in to StyleSage at info@stylesage.co.