Chances are, there is at least one cultist in your circle of friends. Oh I'm not talking about the prayer-making, icon-worshipping sort (though I have to say that the lines are blurrier than you would imagine). I'm talking about cults of brand consumption, and if you're thinking about Supreme right now, you get what I mean. Long lines outside stores and fanatic fervor online are the usual symptoms of this madness.
The question then, is what exactly makes a cult brand? Firstly note that there is a differentiation between a cult brand and items with a cult following. It is easy to mistake the two. The first is rooted in culture, storytelling and identity, whereas the second simply speaks of sell-out items due to social media and influencer hype. The intimate connection between the individual and the brand's identity is the fuelling force driving massive collection sell-outs for cult brands.
It comes as no surprise then that the cult brands of today are derived from streetwear. Streetwear by nature is supposed to be the authentic production of a representative subculture (e.g. skateboarding and hip hop), whereby ownership of their apparel/accessories/shoes equates to membership in what is seen as an exclusive group. Cult labels like Supreme and Palace started off in the underground, known and followed by selected circles of people. Then came the advent of social media, and everything changed.
The meteoric rise of streetwear brands due to peer-to-peer publicity via social media may seem astonishing, but it is well-deserved. Cult streetwear labels have hit a sweet spot in engaging with the millennial consumer by breaking just about every rule in the traditional fashion industry. Instead of blindly following the typical delivery cycles and seasons, cult brands paved the way for a wildly successful drop-model, releasing small collections at higher frequencies and limited quantities. The business of under supplying demand and delivering super curated collections is the antithesis of the fast fashion models of Zara and H&M. Here, the brand gives the consumer an identity, not the other way round. Imagine the amount of soft power needed to convince the ordinary consumer to lose their sense of practicality in order to buy this: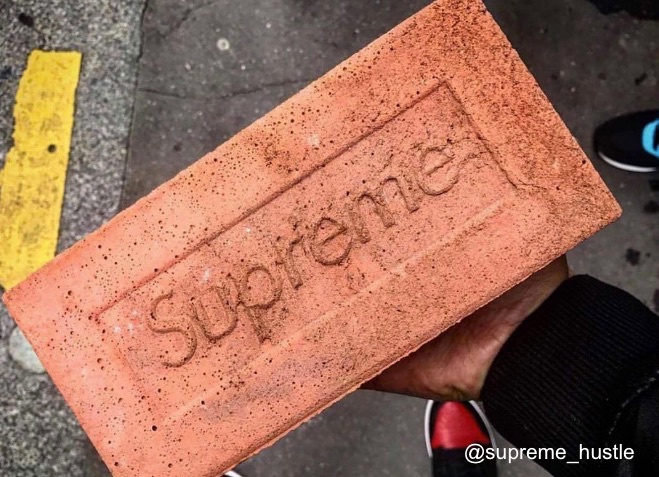 What a pretty brick to put on your mantle.
The secret ingredient is scarcity, the key in developing the avarice surrounding these cult brand drops and in creating a unique and exciting journey for the customer. Followers will go to great lengths in order to achieve that feeling of gratification.You wait for hours on end in all sorts of weather conditions in front of the store, if you're lucky enough to live near a store location. You camp out in front of your computer, mindlessly refreshing the browser in order to 'cop' the product the exact second it drops online (If you're a newbie like me and feel the need to google what cop means in this context, it simply means to get or possess something. You're welcome). When you fail to checkout what you want, it's a challenge, not unlike trying to defeat the level boss to progress in a game. And let's face it. When you see something you want get stamped with a 'sold out' sign, you feel validated that you have good taste and you covet that product even more. That's excellent behavioural economics right there.
Well, when there's a determined will, there is a way. And where there is a way, there is opportunity to make profits. The high demand for these hyped up brands and the extreme odds against actually owning them has led to the emergence of two booming businesses. The first is the rise of the super cop bot, where programmers automate the process of online checkout at lightning speeds to make up for human lag navigating the cult brand websites. While devotees pay a premium to lean the odds in their favor, this method is still significantly cheaper than the second option, which is the resale market. Scalpers resell items at over 100% to 200% markups on platforms such as Grailed and Ebay. That's a tidy profit for little effort. Don't believe me? The most expensive sneaker resold in Q1 2017 is the Air Jordan XXX1 Gold All Star at $3605. That's extortion, at least on my budget.
With such voracious appetites from consumers for cult streetwear, it's no wonder that mainstream brands are clabbering for limited edition collaborations. It has the triple-fold effect of generating media buzz, boosting their own cool factor and expanding the demographics of their customer base. In 2016, collabs like FILA x Gosha Rubchinskiy, BAPE x adidas, and SUPREME x The North Face dominated social media feeds of anti-It girls and guys.
To round off, here's the top 10 cult brands that you should know in order to start a conversation with your friendly streetwear enthusiast: