TikTok has accelerated the rise of several fashion trends, influencers and creators. The platform has turned just released songs into viral hits, birthed micro-trends, and created tight-knit communities of enthusiasts across the globe. According to data from Sensor Tower, TikTok was the top app by worldwide downloads in Q1 2022, after having surpassed 3.5 billion all-time downloads in the first quarter of 2021. They became just the fifth app ever, and the only one not owned by Meta, to achieve this milestone.
TikTok's global reach and engaged user base has turned it into a powerful marketing platform for many fashion brands. The platform is where contemporary trends start, and where innovation and creativity merge together to create viral cultural movements and aesthetics.  We analyzed five fashion trends on TikTok, or 'cores' as the platform itself prefers to dub them, that fashion brands and merchandisers need to be aware of this season and well into the next.
The Clean Girl Aesthetic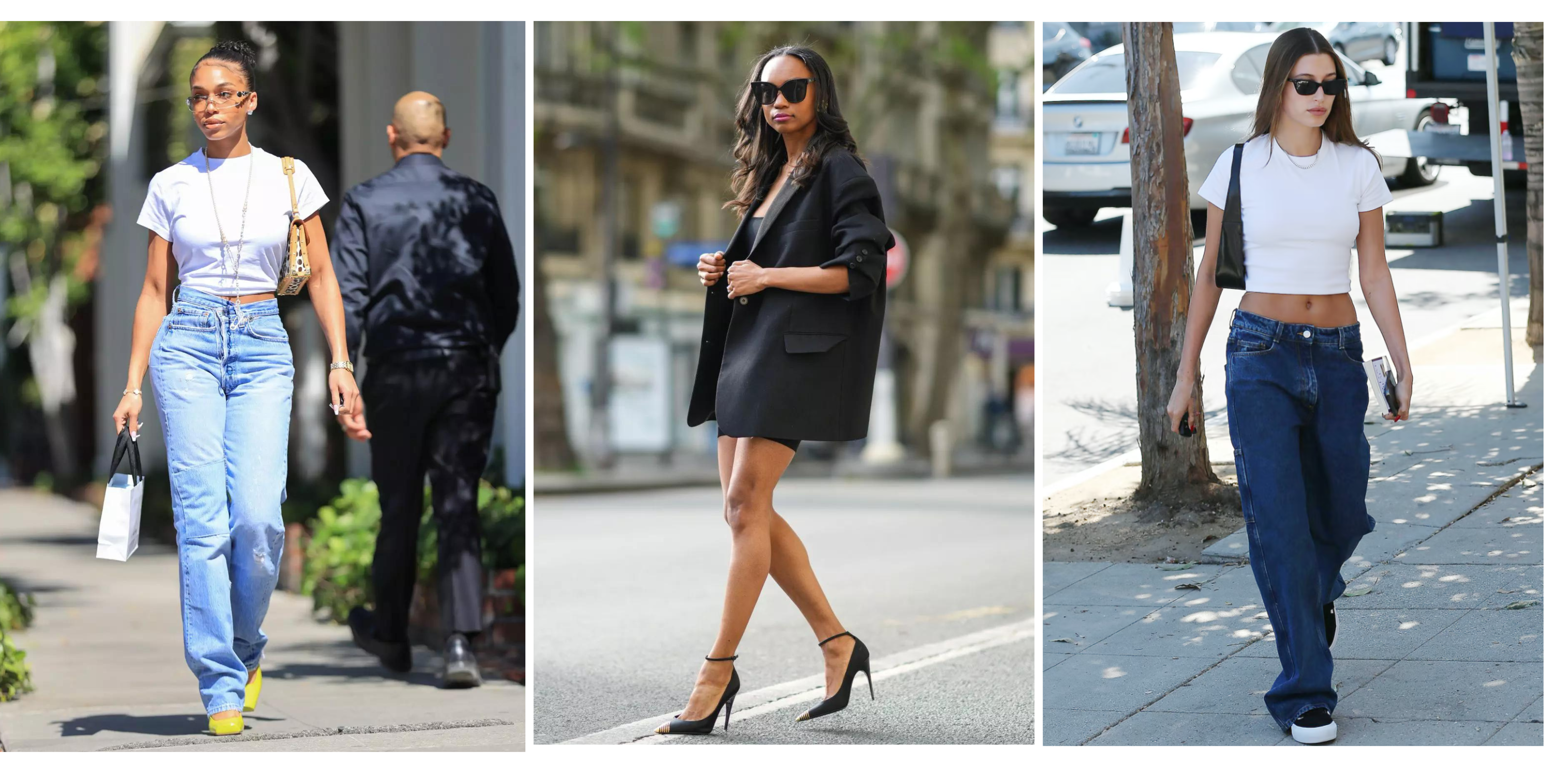 #cleangirlaesthetic - 1 billion views
Key items: white T-shirts, ribbed tanks, boyfriend jeans, button-up shirts, oversized blazers, gold hoop earrings
Where to shop: Old Navy, H&M, Aritzia, Everlane
Originally starting out as a beauty trend, the clean girl aesthetic is all about minimal, effortless chic in any shape and form, credited to the model off duty style inspired by celebs and influencers. A dewy, 'no makeup makeup look' and a simple, carefully accessorized outfit that manages to look put together and ultra-stylish without putting as much as an ounce of effort into it is key to achieve the clean girl look. Be your best, natural self, but without appearing as you spent any time whatsoever getting there. Sounds problematic? It's clear that achieving this look is highly complex and anything but effortless, and the trend has received backlash for being non-inclusive and unrealistic. However, with less focus on perfection and more so on individual expression and inclusivity, anyone really can rock the clean girl fashion aesthetic. The essence of the aesthetic is nothing more than understated simplicity, and for merchandisers and retailers, the key here is to style basic core items into inspiring capsule edits for shoppers who are eager to tap into this trend.
Consumers are eager to go back to the basics and tap into their unfiltered and real versions of the 'clean girl', and global consumer searches for 'plain white T-shirt' are up 32% vs last year.
The Weird Girl Aesthetic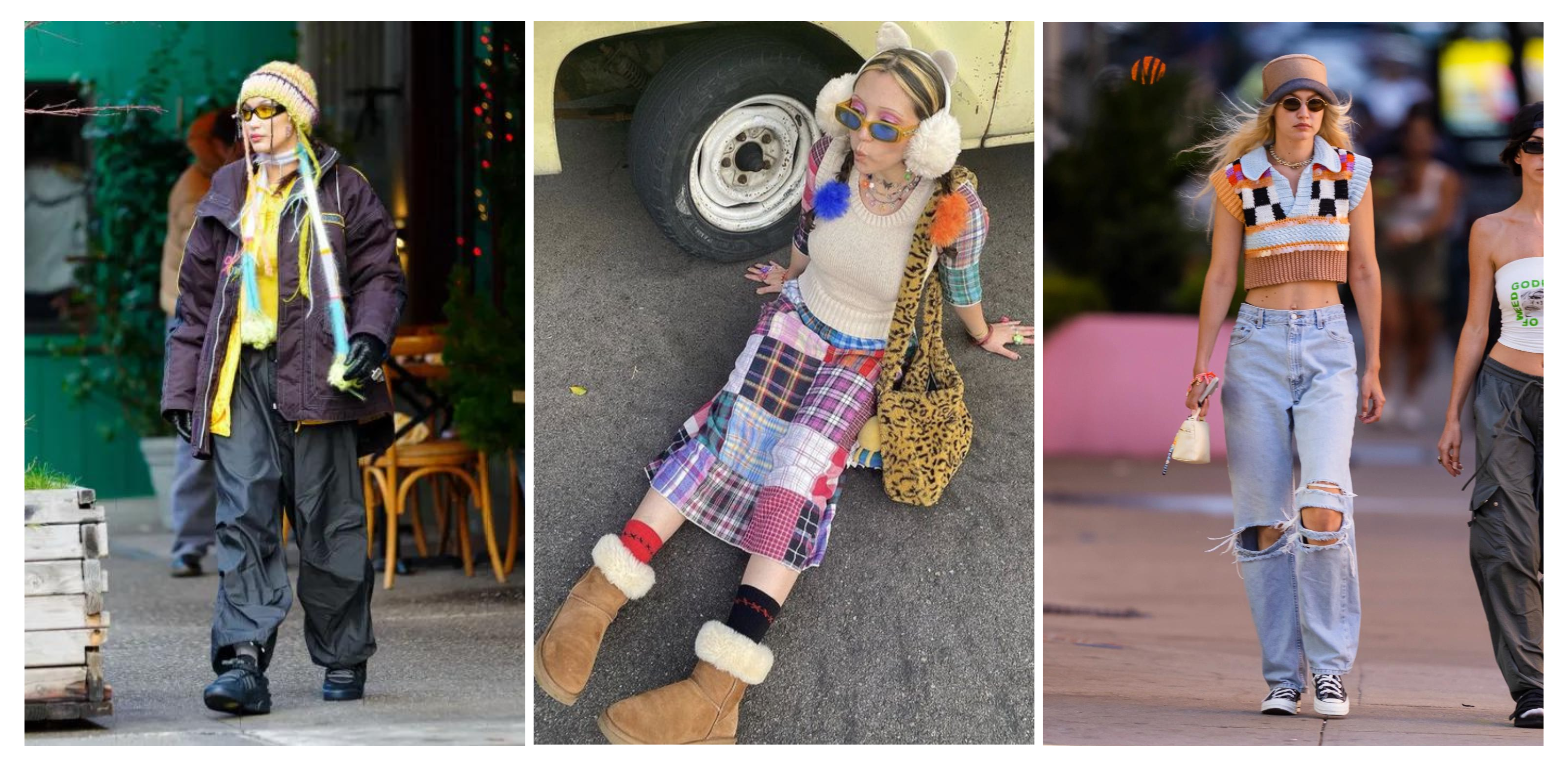 #weirdgirlaesthetic - 182.9 million views
Key items: micro-skirts, crochet tops, knitted beanies, bucket hats, rainbow colors
Where to shop: Collina Strada, Jean Paul Gaultier, AGR
The weird girl aesthetic is in many ways a mixture of all viral TikTok trends at once. This maximalist, experimental style is the complete opposite of the clean girl aesthetic, as it seemingly throws all arbitrary style codes out the window. Mismatched accessories, fluffy textures, and clashing colors and prints have become another it-look of the season, and raised the question if this is the new anti-fashion. The roots of the trend are influenced by Harajuku fashion, a style that mixes multiple sub-cultures within Japanese style, but the aesthetics of the weird girl go beyond this. The trend also throws a fashionable nod to vintage fashion and thrifting, where reusing and repurposing is encouraged. Handmade artisan apparel and DIY accessories are really at the center of this - think patchwork, all things crochet, and fuzzy knits.
The weird girl aesthetic is ruled by wearing whatever you want and challenging all forms of convention. It's a playful backlash against categorizing yourself and fitting into any type of mold, and shows us that there are no rules in fashion. Nothing weird about that.
Barbiecore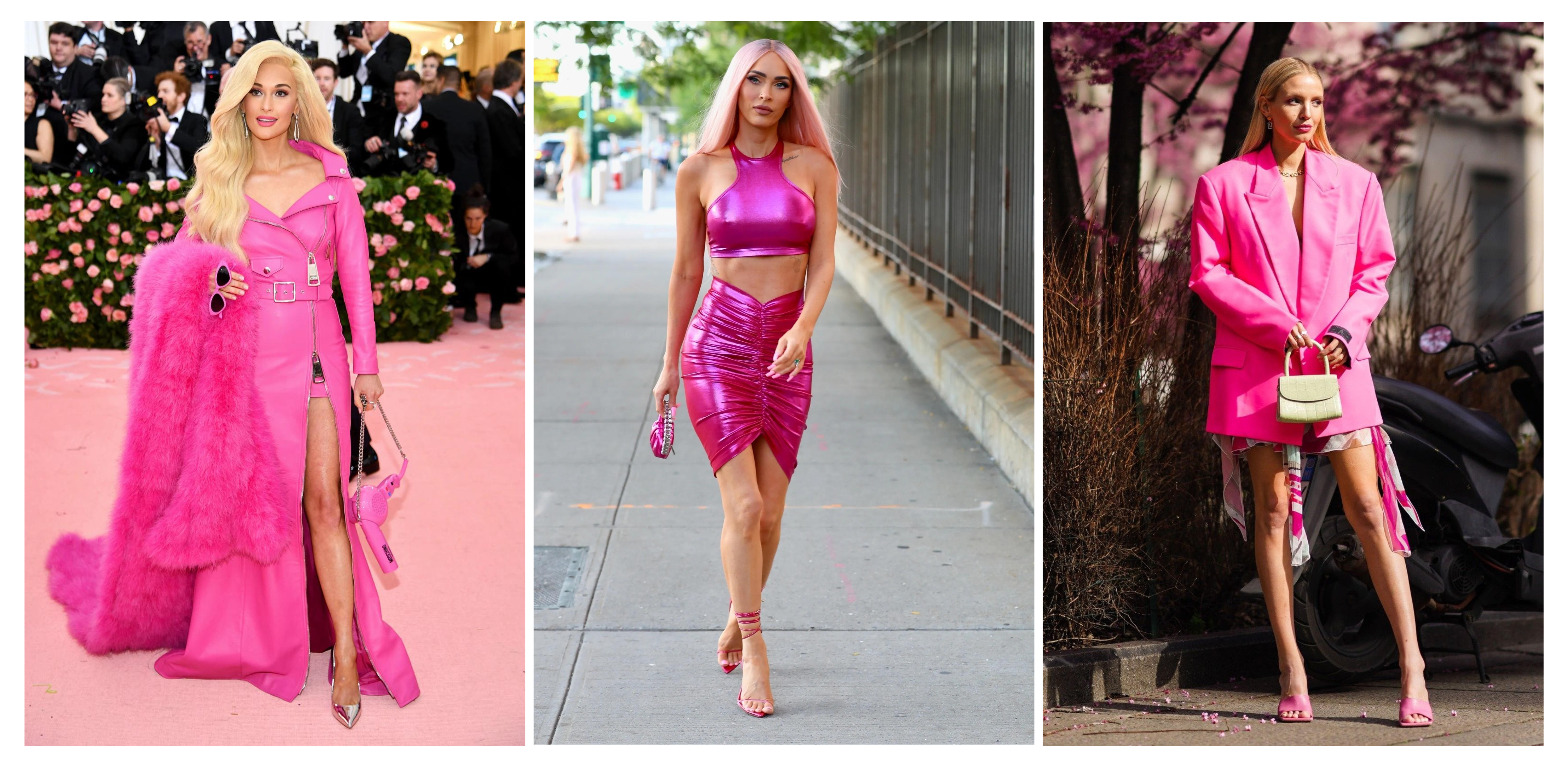 #barbiecore - 111.3 million views
Key items: everything barbie-pink; from mini dresses to blazers and platform heels
Where to shop: Versace, Zara, Valentino
Barbiecore is everything that references the fabulous world of Mattel's beloved Barbie doll. The aesthetic reached its culmination this summer, but demand for everything pink and Barbie-inspired can be expected to stick around as the Barbie movie with Margot Robbie in the leading role is releasing in 2023. While the trend certainly is influenced by the upcoming film, it also incorporates influences from Y2K fashion, featuring plastic sunglasses, crop tops and tiny handbags (all pink of course). It has been adapted by fast fashion retailers and luxury fashion houses alike, and average product counts of pink apparel is up 42% in the US versus October last year. It is most prevalent in the dress category, which makes up 23% of the total pink assortment.
Drawing on the feeling of nostalgia and becoming a real-life version of your favorite childhood toy, this super-girly, bubbly aesthetic shows that pink is anything but the color to sleep on right now. For a successful product assortment for next season in terms of color, it's essential to make sure that pink remains part of it.
Plazacore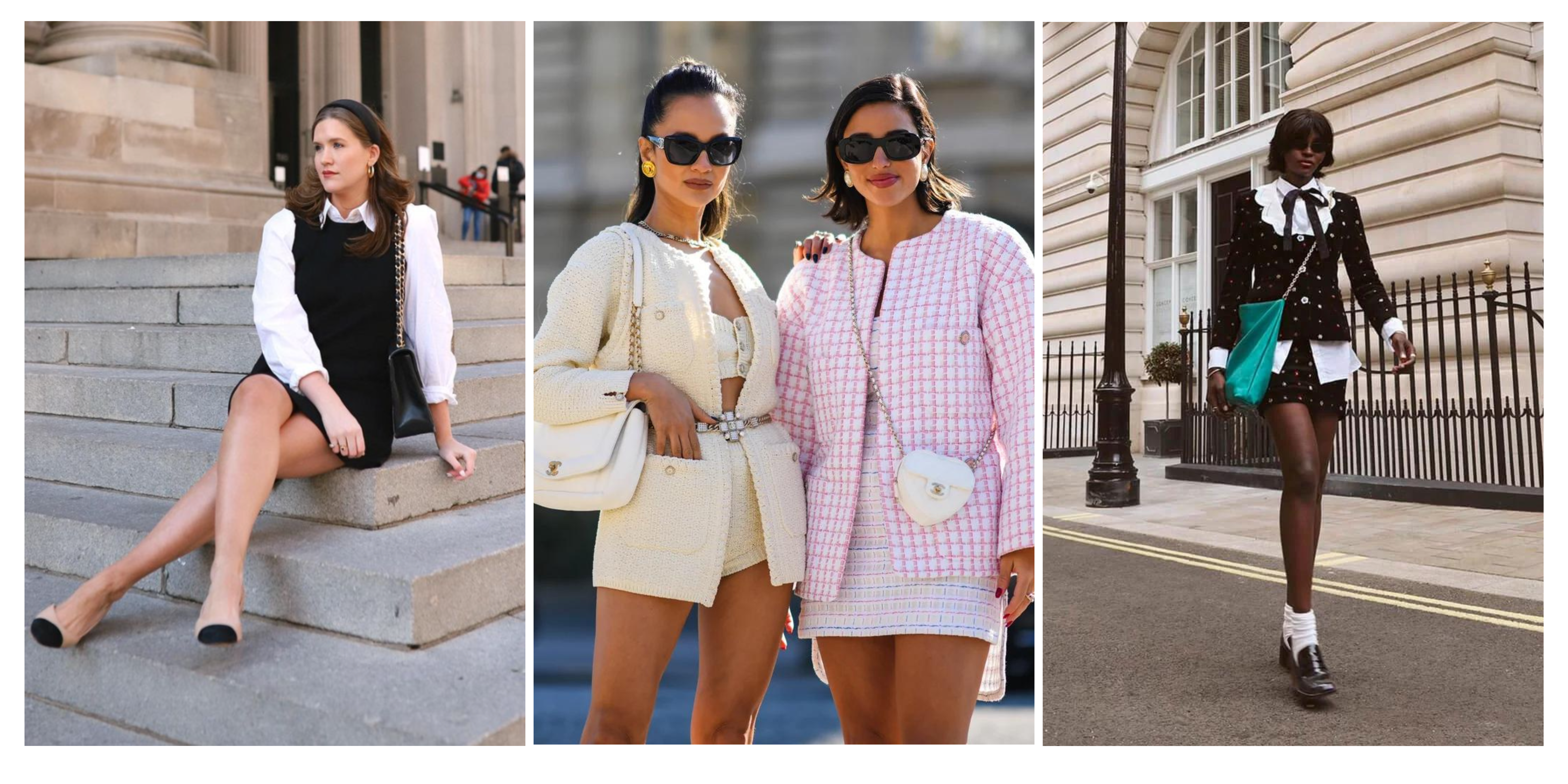 #plazacore - 402.4 thousand views
Key items: pleated skirts, tweed sets, ballet flats, bows, headbands, pearl accessories
Where to shop: Ralph Lauren, Burberry, Coach, Chanel
Plazacore, also referred to as ​Plaza Princess, is an homage to the luxurious and lavish lifestyle of New York's Upper East Side as well as the iconic luxury hotel The Plaza, known for its elegant rooms and high-profile guests. The name of the game is preppy, posh and hyper-polished, where fabrications such as tweed, plaid and boucle are the stars. In many ways, it's an urban take on escapism fashion, and the ultimate muses for the aesthetic are both fictional. Gossip Girl's Blair Waldorf and Eloise from Kay Thompson's Eloise book series both perfectly embody this aesthetic, each with their own unique spin on it.
Shoppers have embraced everything about this luxe prep trend, and key items in the aesthetics are rising in global consumer searches - searches for 'tweed blazer' and 'diamond headband' are up 50% and 81% respectively YOY.
Whimsigoth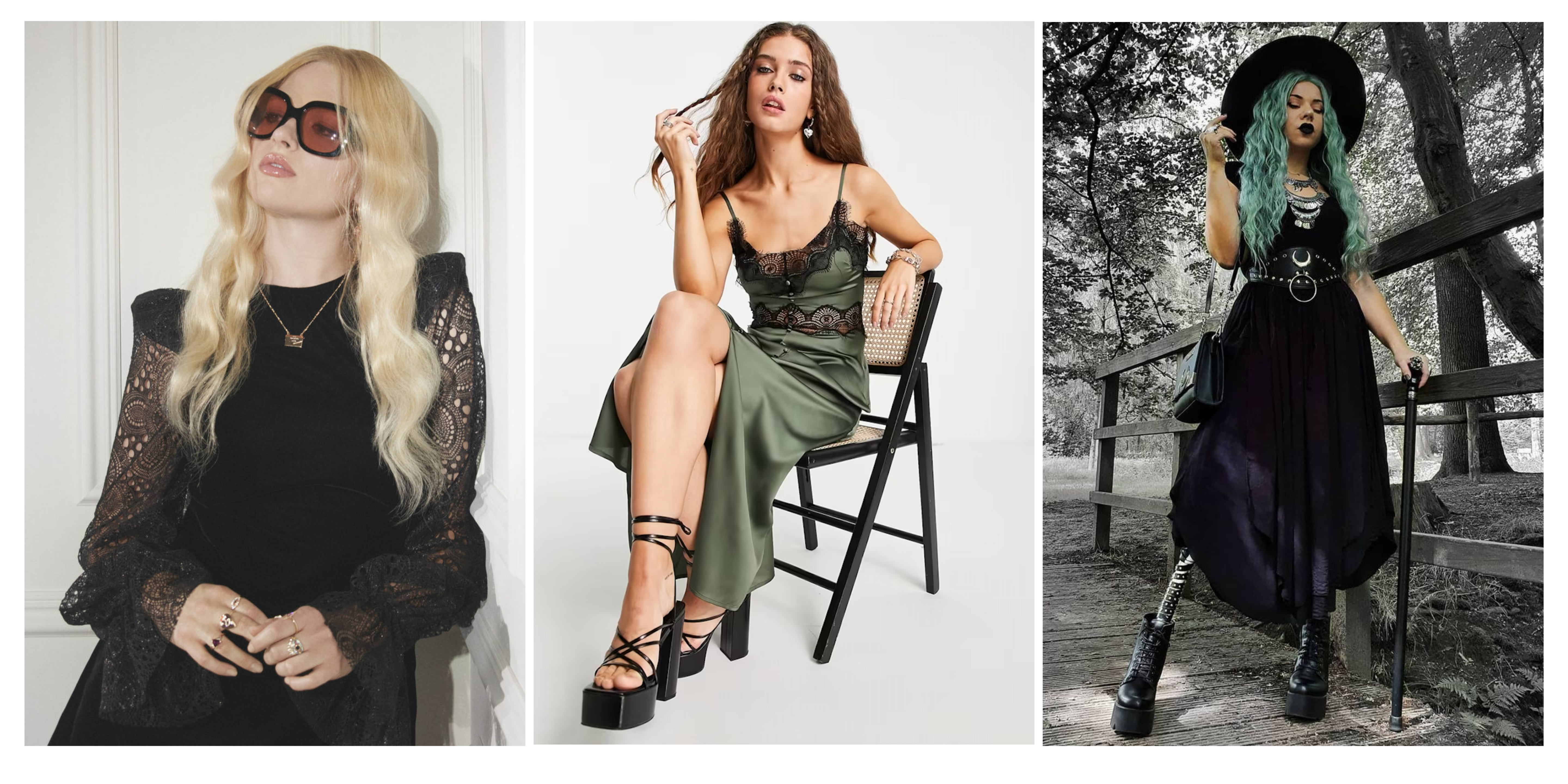 #witchcore - 92.4 million views
Key items: lace dresses, tulle skirts, wide brimmed hats, bell sleeves, celestial jewelry
Where to shop: Alexander McQueen, Rick Owens, Nensi Dojaka, All Saints
'Witchcore' or 'whimsigoth' is TikTok's latest addition to the core family, and with Halloween around the corner, in addition to the gothic glam trend all over SS23 runways, it's perfect timing. The slightly spooky aesthetic's origin predates the app, but TikTok has certainly made it re-emerge with a bang. It's a romantic yet grungy style with a color palette consisting of dark blacks and earthy tones that signal a deeper connection to the earth and the divine - think a bohemian spirit with affinity for the occult.  Like most micro-trends, the roots of this one also tap into feelings of nostalgia, as the aesthetic is centered around practices like crystal collecting and manifestation rituals that have been around for centuries.
The trend has birthed a TikTok community named WitchTok, which has gathered more than 33 billion views. After softer trends like the coastal grandma and cottagecore holding the reins for some time, this darker alternative feels fresh and captivating. For brands and retailers, this is a clear statement that shows that dark and moody ensembles officially have returned.
Rick Owens, referred to as the Godfather of Goth Glam, is a designer whose aesthetic fits right into the witchcore movement, and European consumers have especially caught on. Over the last 30 days, the gothic creator's brand saw a sold out rate of 24% in France, and 23% in Germany and Italy.
TikTok has disrupted both the social media landscape and the trend cycle with their addictive short-form videos, and while these micro-aesthetics come and go fairly quickly with varying staying power, they make a significant impact on consumers. For industry professionals, it's key to have an understanding of the latest social media buzz in order to be able to merchandise and style in a way that capitalizes on the trend.
Want more insights on how to fast-track profitability and navigate trend forecasting? Get a demo of the StyleSage platform here.