Viral trends come and go at bewildering speeds. Social media platforms like TikTok, Instagram and Youtube document them, and aggregate personalized "for you" or "discovery" pages where the latest item gets presented to a target audience at ultra-speed. In a matter of moments, a wide consumer base gets the potential to discover and turn a fashion item or brand viral.
According to the Lyst Index, which is a quarterly ranking of fashion's hottest brands and products that takes into account shoppers' behaviors, product views, social media mentions and more, viral moments reign supreme for Q3 of 2022, and the quarter's hottest brands "achieved viral buzz on social media while also stimulating urgent and global customer demand for their products on Lyst."
We put together a list of the latest items that have received social media buzz, as well as the data behind them, in order to keep you up-to-speed.
Prada Heat-Reactive Puffer
---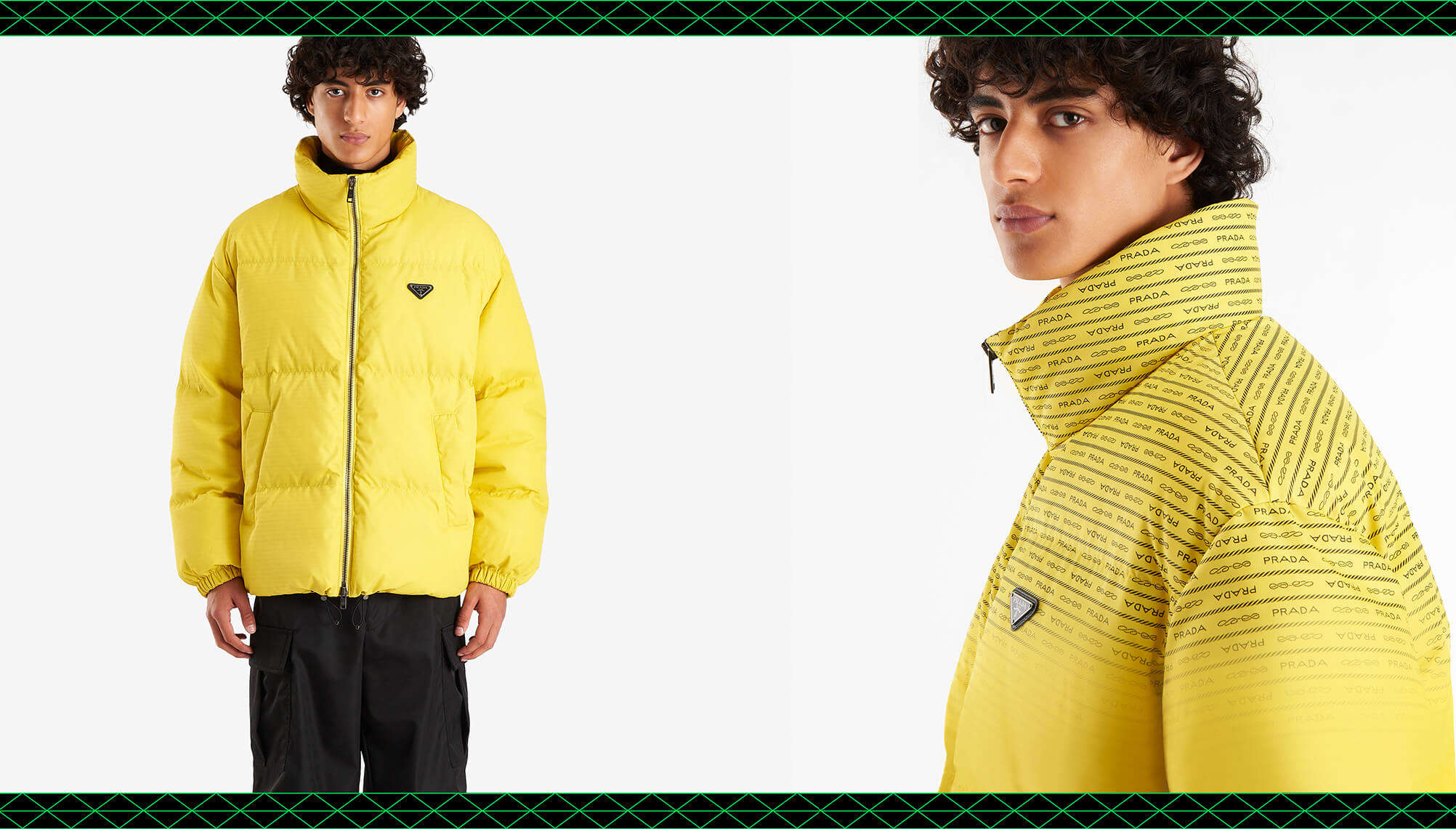 Image courtesy of Selfridges/Prada
Fresh from their latest drop is Prada's puffer jacket made out of heat-reactive recycled polyamide. It's waterproof, windproof and breathable, but the main attractions of the piece are the heat-sensitive pigments in the material. When the temperature drops below 10 degrees Celsius (50 degrees Fahrenheit), they reveal Prada logos all over the jacket. When the temperature rises above that, or when reacting to body heat, the logos submerge and become a light tone-on-tone effect.  
Users have turned to Youtube to report on the jacket, and videos relating to 'Heat Reactive Prada' have already accumulated over 19.4 million views on TikTok over the past few days.
Miu Miu Ballet Flats
---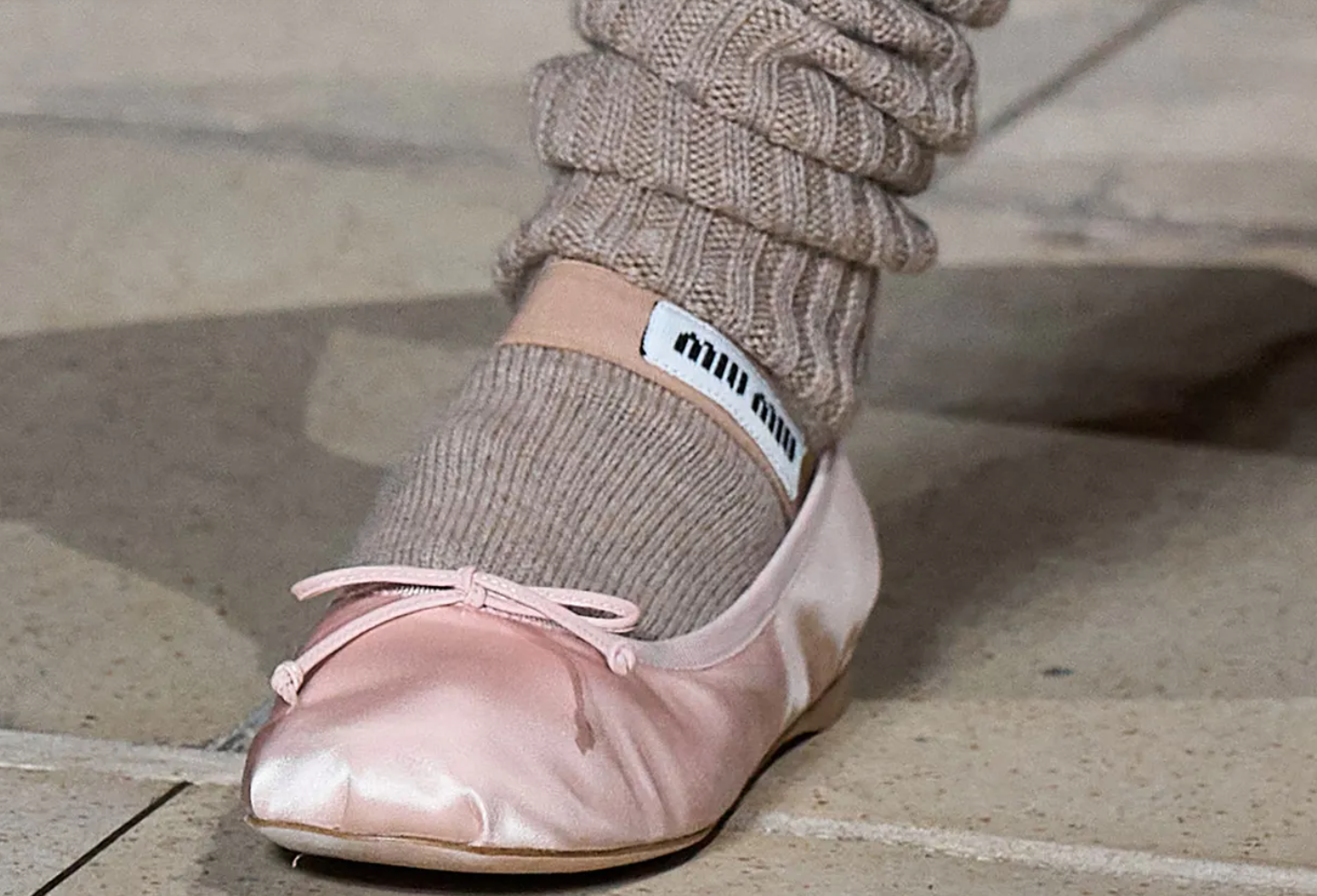 Image courtesy of Miu Miu/Glamour
Even before they were available to shop, these ballet-inspired shoes became viral as soon as they walked down the Miu Miu FW22 runway. Evoking strong feelings of nostalgia, they have been seen on countless celebrities and influencers. As if that wasn't enough, multiple social media platforms have convinced consumers that they are fall's latest IT shoe (especially since they most of the time are styled with a chunky knitted sock just like on the runway). This trend has the potential to have stronger longevity than many others, thanks to its diversity and ability to work for both spring and fall seasons.
The trend is well reflected in global consumer demand - consumer searches for 'ballet flats' are up 107% since September last year, and 140% since the same time 2020.
Balenciaga Lay's Bag
---
This accessory debuted at Balenciaga's SS23 show as a collaboration with the American chips brand. The hand-clutch purse was showcased in colors red, green, blue and yellow, which all represent an actual Lays chips flavor, and each one is made out of leather treated to resemble chip bags, with a glossy finish and crumpled effect. Creative Director Demna has been toying with references and symbols of consumerism for years, featuring collections from brands such as McDonald's and Ikea, and this viral Lays bag has become the latest one in the lineup. "It's the elevation of the mundane into a new context," the designer explained after the show.
People have taken to social media to express their mixed feelings about the creation. Reactions have ranged from calling it preposterous and dumbfounding to a social experiment, but nonetheless, the Balenciaga Lay's Bag has turned into a viral moment.
Coperni Spray-On Dress
---
Coperni is no stranger to virality. Their intricate handbags made from glass had their moment earlier this year, but this time it's their spray-on dress from their SS23 show that has caused major social media buzz and led to endless mentions and engagement for the brand. Live on the runway, the crowd watched a white slip dress being sprayed onto supermodel Bella Hadid. It was a true reflection of Coperni's roots in visual showmanship, and the dramatic flare behind the stunt broke the internet.
While the dress was only a runway performance that won't be neither sellable nor re-wearable, the creation has created plenty of buzz for Coperni and their actual wearable dresses - Coperni dresses had a sold out rate of 38% over the last 30 days.
Totême Scarf Coat
---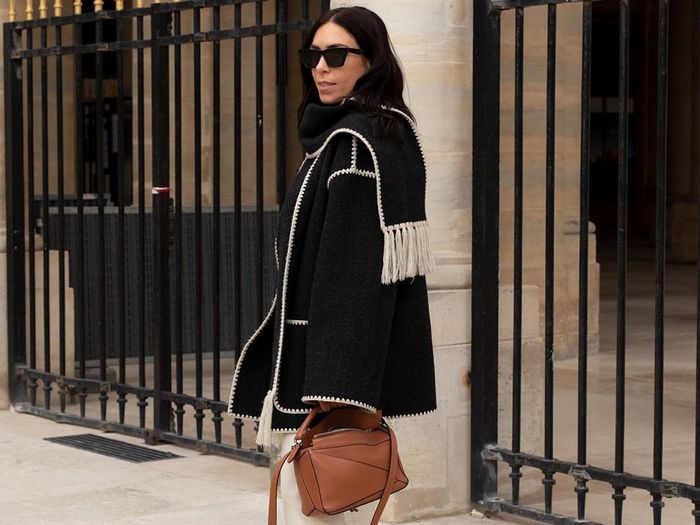 Image courtesy of Toteme/Who What Wear
A scarf and coat in one? Sign us up. This wool blend coat is embroidered along the edges, giving it an artisanal feel, and can easily be worn on top of practically anything for an effortless throw-on look. The best part about it, hands-down, is the chic built-in fringed scarf that several creators on TikTok and Youtube have shown how to wrap and style in different ways on their channels. The only question people have on social media about the viral scarf coat is: toffee beige or black?
Gap Striped Turtleneck
---
Gap's latest striped cozy knit already has over 21 million views on TikTok, and has turned into a fashion must-have. Made out of breathable cotton featuring a flattering A-line and bell sleeves, it embodies the effortless chic that the social media crowd relentlessly is looking for. Unlike many other viral items, this one is timeless, classic and easy to wear, and all that without breaking the bank. Known for high-quality basics at an attainable price point, Gap stays true to its roots here: this striped goodness retails for $79.95.
It's clear that this knitwear piece is no longer a shopping secret - global consumer searches for 'striped sweater' are up 96% YOY.
Banana Republic Vida Tote Bag
---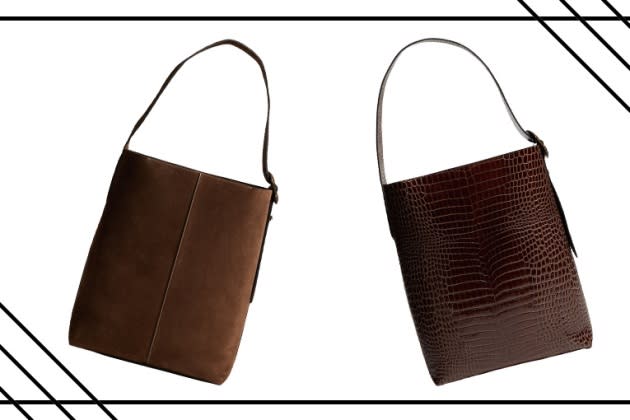 Image courtesy of Yahoo/Banana Republic
Banana Republic's new tote bag is another one of TikTok's latest obsessions. With over 26 million views, users are raving about it being the new "it bag" for fall. Many are even saying that they prefer it over similar versions from luxury brand The Row, and it's easy to see why. The Vida bag delivers the same minimalistic sense of luxury as its high-end counterpart, but at a more accessible price point. Prices range from $400 to $650 depending on size and material (it comes in everything from smooth suede to embossed crocodile leather).
As consumers are going back to on-the-go lifestyles and commuting into the office again, the return of the tote bag shouldn't be surprising. Banana Republic has managed to create the perfect combination of luxe and affordability, and in many ways this is exactly the glow-up that the brand needs.

Becoming the subject of a viral video or trend can accelerate both sales and brand awareness in a heartbeat, but it can be hard to strategize and plan for. Want to learn more about how to reach viral success? Check out this post from our blog archive.