Victoria's Secret is arguably the world's best-known  lingerie brand. The angel wings, show-stopping creations given to their top models to recognize their true 'angel status', became synonymous with the brand and were a main attraction of their annual, highly anticipated runway show. At its peak in 2001, over 10 million viewers tuned in to watch the Victoria's Secret show, which was known to be a lavish event full of glam, glitter and everything in between. Yet by 2018, viewership had dropped to 3.27 million, and in 2019 the show was canceled. What lies behind the lingerie giants' decline? And how have they pivoted their strategy in order to reposition themselves? We took a deep dive into the data and numbers behind the brand.
Marketing Strategy
Many of Victoria's Secret's challenges  can be attributed to their struggle and inability to adapt to current consumer demand. The unattainable and sexualized bombshell look, enhanced with lots of padding and push up, is no longer what consumers look for when shopping for underwear.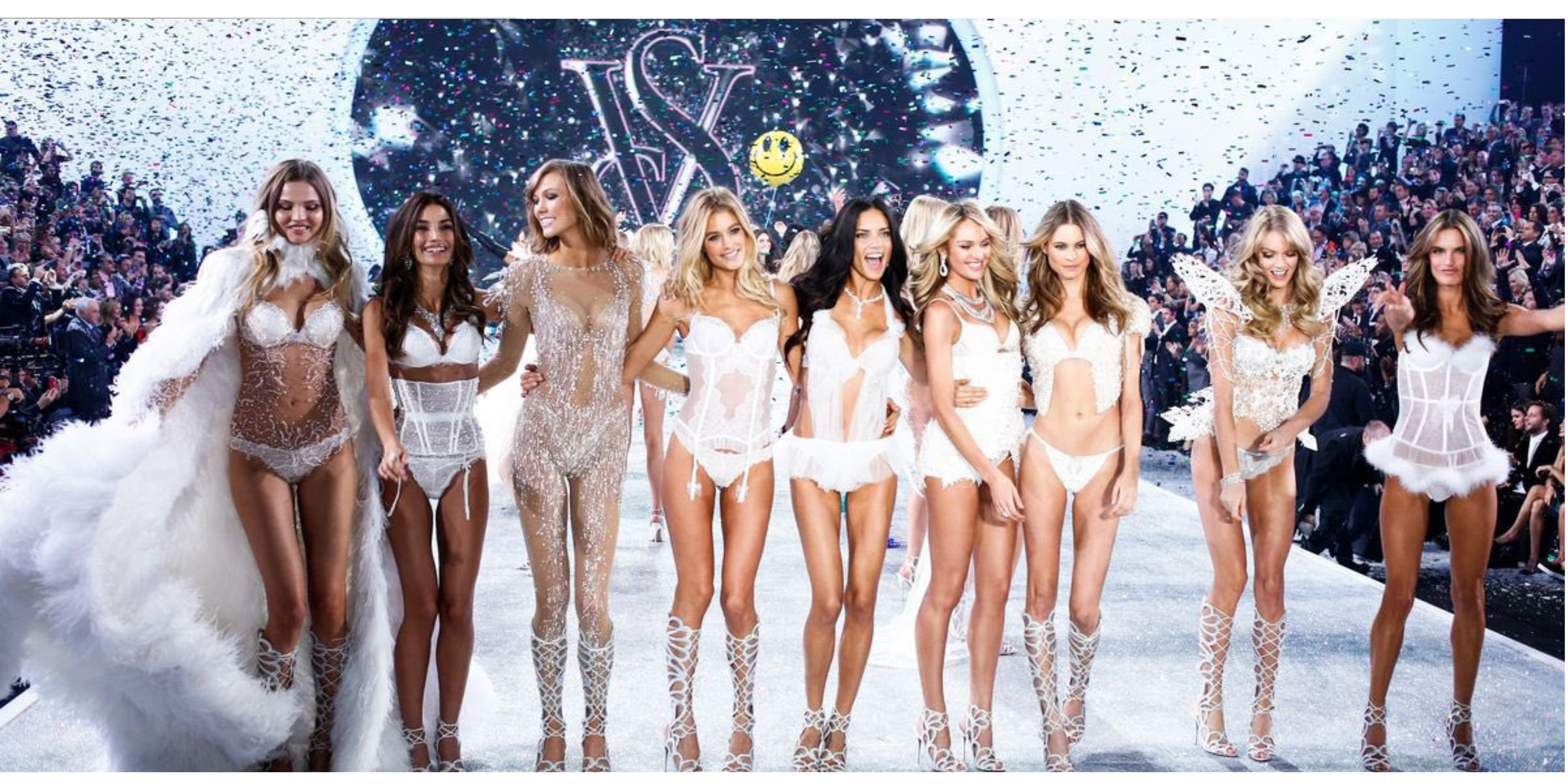 The lingerie landscape pivoted from the ultra-sexy look the brand was known for, to a more inclusive one, but they remained in that space with products that were more focused on the male gaze than what women actually wanted to wear. Resistant to diversity, the models were all ultra-slim, mostly Caucasian and marketed as sexy and seductive goddesses rather than empowered and real women.
Supermodel and Victoria's Secret angel Karlie Kloss even cut ties with the brand, due to them not aligning with her feminist values. "The reason I decided to stop working with Victoria's Secret was I didn't feel it was an image that was truly reflective of who I am and the kind of message I want to send to young women around the world about what it means to be beautiful," Kloss said.
Stuck in an outdated marketing message that did not resonate with the contemporary consumer, sales reflected the misalignment. In Q4 of 2016, an important time of the year for the retailer who focuses heavily on Christmas campaigns and gifting initiatives, Victoria's Secret had a sold out rate of 71%. Q4 in 2020, their sold out rate had declined to 21%.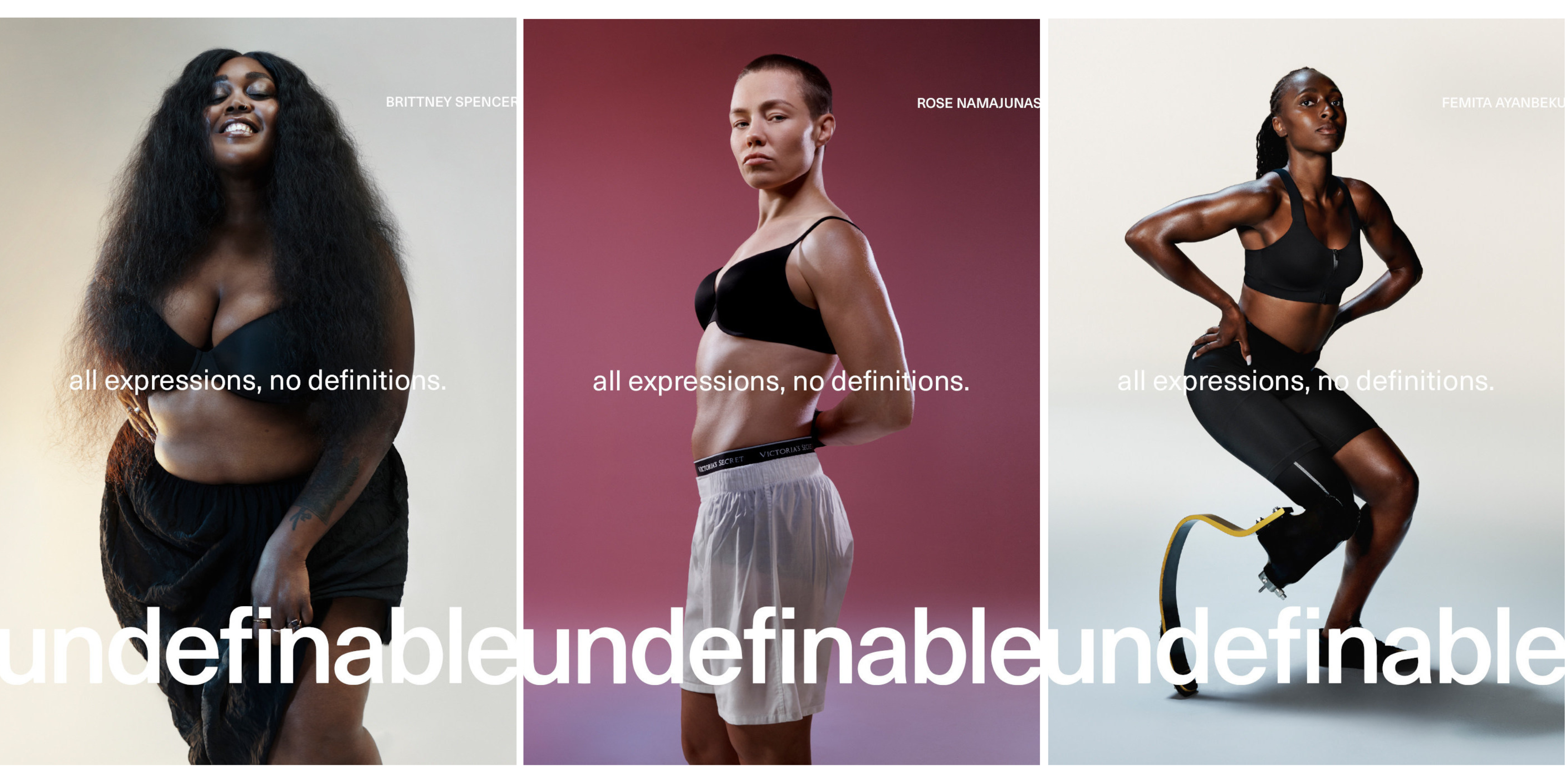 In an effort to flip their message and branding, Victoria's Secret is now undergoing a total marketing transformation. Their latest campaign, named 'Undefinable', is a complete 180 from the blonde bombshells and all-pink era of the brand. Represented by a truly diverse cast, including MMA fighter Rose Namajunas, paralympic athlete Femita Ayanbeku, and country singer-songwriter Brittany Spencer, the marketing push shatters all stereotypes of what a Victoria's Secret angel is supposed to look like. It's a powerful rebuke of all previous marketing messages from the brand and really shows the new era of the brand - one that is inclusive, diverse and women-empowered.
Competitors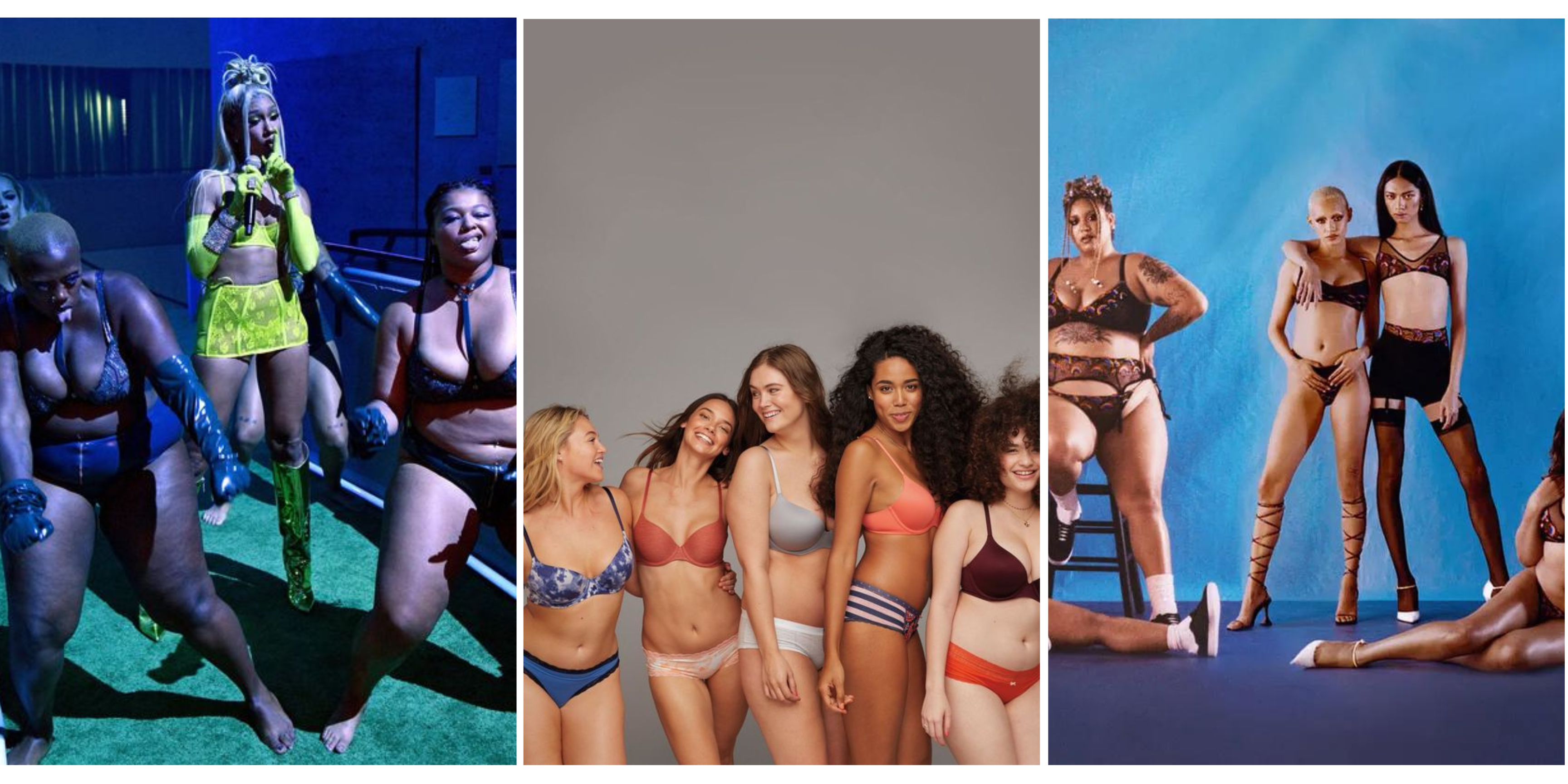 As Victoria's Secret failed to align with what the contemporary consumer wanted, other brands were able to do just that and grabbed market share. Aerie, the intimate apparel and lifestyle brand owned by American Eagle Outfitters, has challenged everything that VS and their angels stood for by pushing marketing campaigns with taglines like #AerieReal and 'We Are REAL'. The brand was one of the first ones to show unretouched bodies and faces in ads, which meant that stretch marks and acne were not being hidden but rather celebrated. Showing relatable models who look like real everyday women was everything that Victoria's Secret wasn't, and rather than celebrating a fantasy, Aerie is all about authenticity and unfiltered beauty. Their focus is to cater to and empower women, rather than appealing to men by selling women's products. For today's consumer who values body positivity and inclusivity, Aerie's strategy strikes a chord. It encourages women to love their bodies and invest in apparel that does the same. Over the past 30 days, Aerie had a sold out rate of 39%.
Another lingerie brand that celebrates diversity is Savage X Fenty. Inclusivity is at the heart of the brand, and they have included plus-size models in multiple skin tones since the brand's inception. Founded in 2018, the brand has mainly focused on selling DTC through their e-commerce platform and has done many marketing activities like pop-up shops, all with diversity and inclusivity as a focal point. The inclusivity not only shines through in their marketing messages, but also in the brand's assortment mix. StyleSage's sizing analysis shows that they offer bras up to size 46DDD, with 48 different styles to choose from in that size.
Savage X Fenty's runway shows, featuring models of all ages, sizes, skin colors and ethnicities, have become a beloved annual occurrence that celebrates confidence, fearlessness and diversity - everything that was lacking from Victoria's Secret's shows.
Both aforementioned brands have successfully tapped into marketing and advertising that celebrates inclusion in multiple ways, and this is what the modern shopper is looking for right now. When people recognize themselves in marketing messages, they're more likely to purchase from the brand behind it. According to a study from Maryville University, up to 83% of people pointed to better representing modern society as the reason marketing campaigns were impactful in a positive way.
Sizing Analysis
Until recently, Victoria's Secret has remained reluctant to showcase anyone who wasn't thin and able-bodied in any sorts of promotional messaging, feeding into the narrative of a very narrow view of beauty. In stores, the sizing was equally limited, and the brand made it clear -  if you weren't thin, Victoria's Secret wasn't for you. As part of their rebranding and push for diversity, they've grown to be more size inclusive in both marketing and in-store offerings. While it took them several decades to showcase different body types, Victoria's Secret finally welcomed their first plus-size model in 2019. Long overdue, their in-store offerings also reflect this change. StyleSage's size analysis shows that current size offerings go up to size 4XL in sleepwear and bras up to size 46H.
While an improvement from prior size offerings, it's important to note that the larger the sizing gets, the narrower the offering becomes. In their largest cup size, only one bra is offered. Compared to its rivals Aerie and Savage X Fenty, who offer a wide number of styles across all sizes, Victoria's Secret still comes up short.
Assortment Mix
Victoria's Secret's original assortment mix was heavily dominated by push-up bras and heavily padded styles. Collections named 'Dream Angel' and 'Very Sexy' offered lingerie and underwear that leaned solely towards sex appeal and seduction rather than comfort and functionality. Other best selling styles included 'bombshell bikinis', often adding as much as 2 cup sizes to the wearer, and seductive pajamas and robes. In a landscape where the modern consumer is looking for comfort, strength and ease, the brand was forced to pivot their assortment mix. Rather than offering only 'bombshell styles', the brand has expanded their bra assortment to a more diverse range, and moved on from almost only lace underwear. Compared to Q1 of 2019, the year when Victoria's Secret canceled their fashion show and started their rebranding, StyleSage data shows a significant increase of styles that prioritize comfort within their assortment  - average product counts of wireless bras are up 153%, and seamless apparel is up 66%.
A second pivot point for the brand has been to right-size their swim assortment and make intimates and sleepwear a true focal point. In 2019, they tapped back into swimwear again after a three-year-long hiatus from the category. Upon its return, swimwear made up a sizable 39% of their total assortment, and sleepwear and intimates only 52%. In 2022, the sleep and intimates category has now taken over a fair share of the assortment from the swim category. Their current offering consist of 71% intimates and sleepwear, and swimwear has decreased to 28%.
Pricing and Discounting Strategy
In 2019, Victoria's Secret closed down 59 stores, and recorded revenue of $6.81 billion, a 7% decline over the previous year. These negative results led to a significant increase in promotions and discounting, which, along with the impacts of COVID, continued to be a major factor well into 2022. Over the last 30 days, Victoria's Secret's intimates, sleepwear and swim assortment had an average discount of 52%, while American Eagle's Aerie averaged 40%. Relying on a lot of discounting to sell items can be problematic, and frequent promotions can negatively impact profit margins. In order to repair its brand image, reducing promotions to align more with the brand's competitors could be a wise choice.
In terms of pricing, the brand's updated strategy speaks of a shift; they have raised their prices quite significantly since 2019. Average original prices across all categories is now $48, which is a 55% increase.
While it remains clear that Victoria's Secret has lost some of its luster, the data shows us that they are starting to rebound - mainly due to more inclusive marketing and an updated, more contemporary selection of merchandise. But considering the extent to which consumer preferences have changed, the road to rebound is going to be a difficult and unpredictable one indeed.

Want more insight on how to build a competitive retail assortment? Learn more here.