You couldn't go long last week without hearing the ping of a new promotional offer landing in your inbox. Thanks to Prime Day, the third week of July sure felt a lot like Black Friday. And while one could have easily written off the influx of offers as just a big push to clear out summer merchandise, the truth is retailers opted jump on the promotional bandwagon and gain a little mid-summer momentum of their own. In fact, Adobe Analytics reported that retailers with revenues exceeding $1 billion, saw a 64% increase in online sales on day one of Prime Day.
To understand what that means, let's take a look at both the discounting and promotional strategies retailers utilized during Prime week. First up are the promotional offers that were featured on retailers' home pages and in their emails to shoppers.
Prime Week Promotions
You saw varying tactics, but for the most part, retailers emphasized additional discounts last week. Some of the language hinted at a faux July holiday, a la Macy's and H&M's "Black Friday in July." Retailers like Target chose to overlay their "doorbuster deals" on the same days as Amazon, while H&M offered up 20% off for the day - and only that day - before Prime kicked off. Kohl's took a multi-layered (and arguably) confusing approach with three different offers to incentivize shoppers.
Below you can scroll to see a selection of emails that were sent out during the dates of July 14-16 (the Prime Day took place over July 15-16).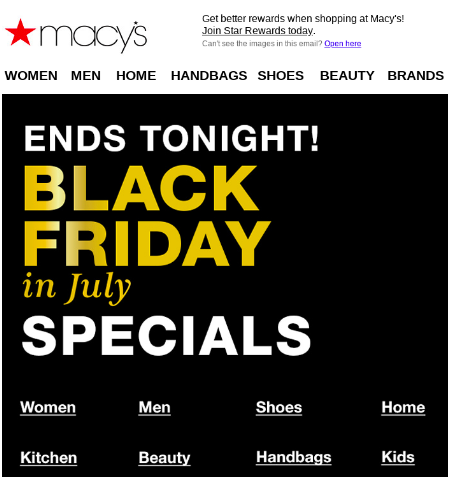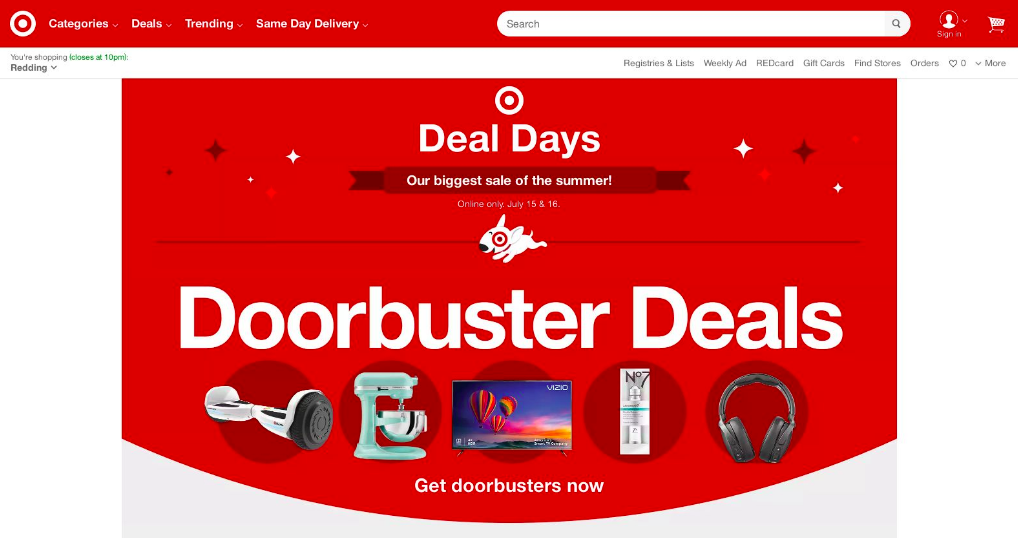 Item-Level Discounts
It's fair to say discounts are high - regardless of Prime Day - we're sitting in the middle of summer when retailers are beginning to aggressively rid themselves of summer merchandise. Nonetheless, it's worth taking a closer look at the day-by-day discount movements for several retailers during the week of Prime frenzy.
First, we looked at eight days of data (from July 12-20), to see whether the proportion of items on discount increased, and if so, when and by whom. (This a handy little metric we call discount penetration.) Our coverage included the apparel and footwear departments.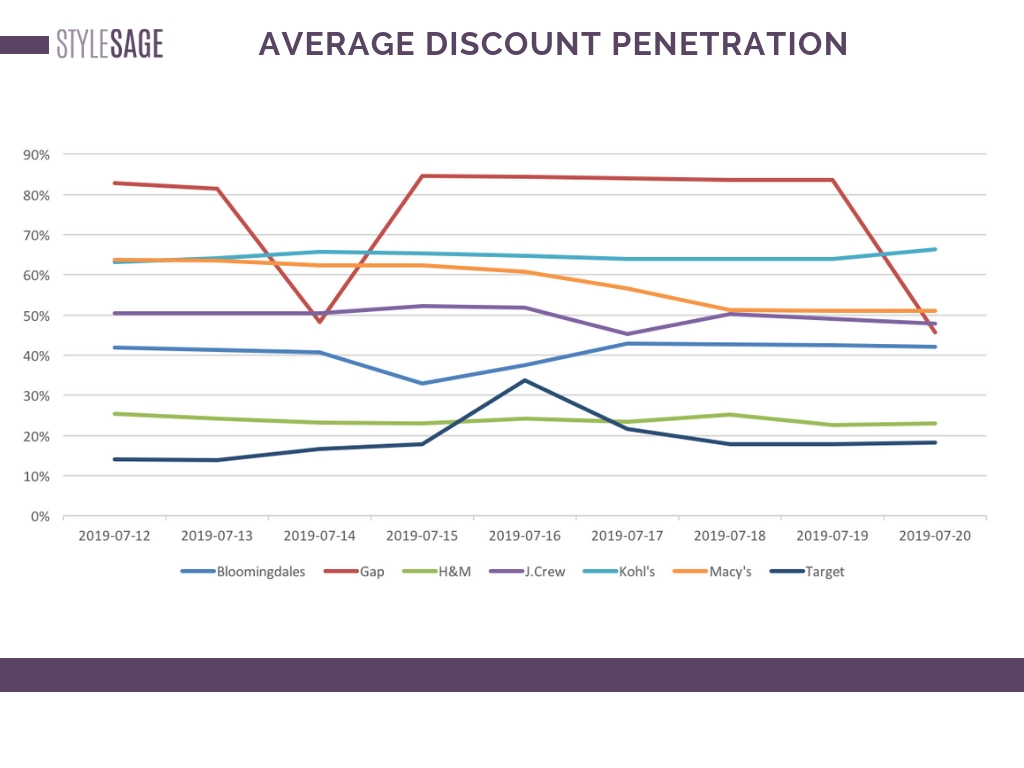 The first theme we see here is that generally, the amount of products on sale was already high in the weekend before Prime Day, and in some cases, quite high. Gap's dropped the day before Prime started, and returned to the same levels during and after the event concluded. The only other retailer of our sample where we saw discount penetration increase during the event was at Target, where there was an increase from 17% on the 14th to 34% on the 16th.
Next we took at look at how high the discounts were, testing the hypothesis that discount amounts would increase during the Prime Event. What do you say, do you think we were correct or not?
What's interesting here is that overall item-level discounts didn't change markedly during Prime Week. The only retailer who followed the trend of increasing discounts was Target, whose average discount increased from 5% on the 14th to 11% on the 16th, when they specifically pushed select apparel discounts. Interestingly, Bloomingdales' discount amounts actually dropped three percentage points during Prime Day.
Zooming Out: Compared To Last Year
The question you might be thinking now is, "how does this stack up to last year at the same time?" The previous charts make a strong case that retailers held their own ground on strategic discounting, rather than employing reflexive and blanket markdowns. This would also inform us as whether retailers are better managing their inventories going into the fall season.
The story that emerges is a hopeful one, as we compared prime weeks 2018 versus 2019. Five out of the seven retailers saw lower discount penetration this year, compared to 2018. Only J.Crew and Target had higher proportions of their assortments on discount.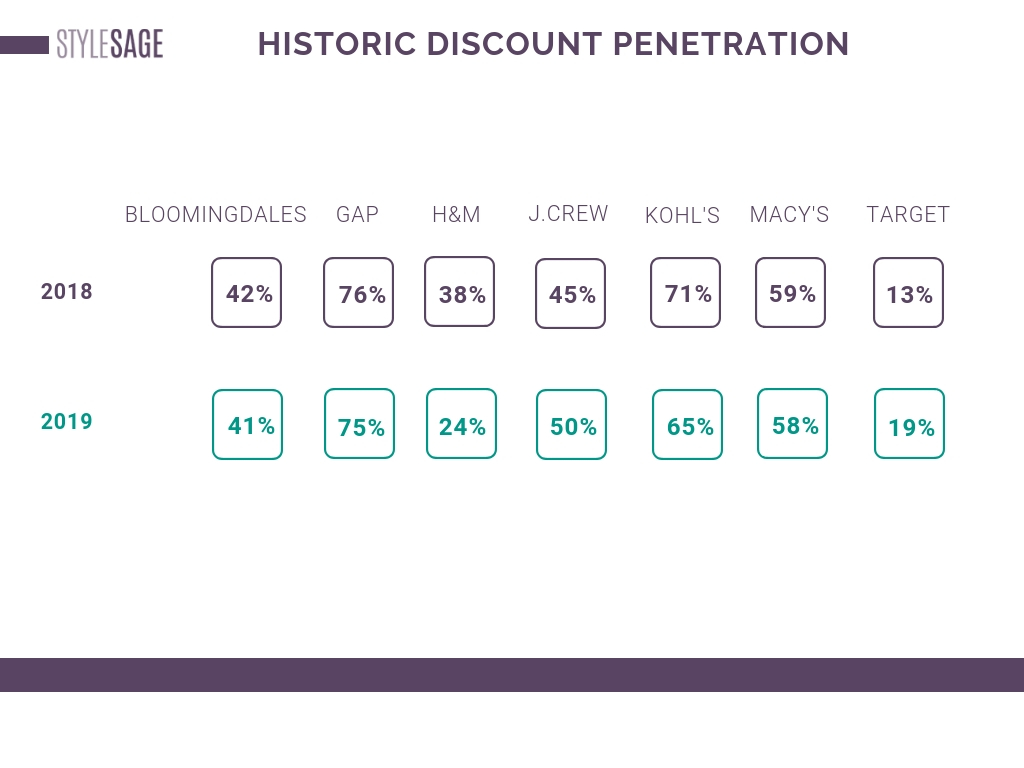 This could be some of the good news that retail needs, as there are some concerns that the next round of retailers' earnings calls, starting in August, will be disappointing.
Have any questions about how we collect this data? Check out our product pages here.