We know our reputation as fashion gurus precedes us 👠, but did you realize that we launched home analysis a few months back? For many of our clients, home is just as important a category as apparel is, and having a solid and relevant interiors offering makes both their digital and physical footprints an even more compelling one-stop shop.
With the Furniture and Homeware market in the US slated to reach nearly $100 billion in revenues by 2022, both the opportunity and the competition are heating up. So how can brands optimize their market and product strategies to maximize their outcomes? Today we've got three insights on the home business to help you get your assortment just right, as Goldilocks would say.
Home Versus Apparel Discounting
If you think about real estate, it's good to know which products are most productive, specifically what's the sales turnover and likelihood of discounting. So we wanted to look, across a variety of retailers and price points, at how home stacks up to apparel in discounting. Is it more or less likely to see its prices marked down?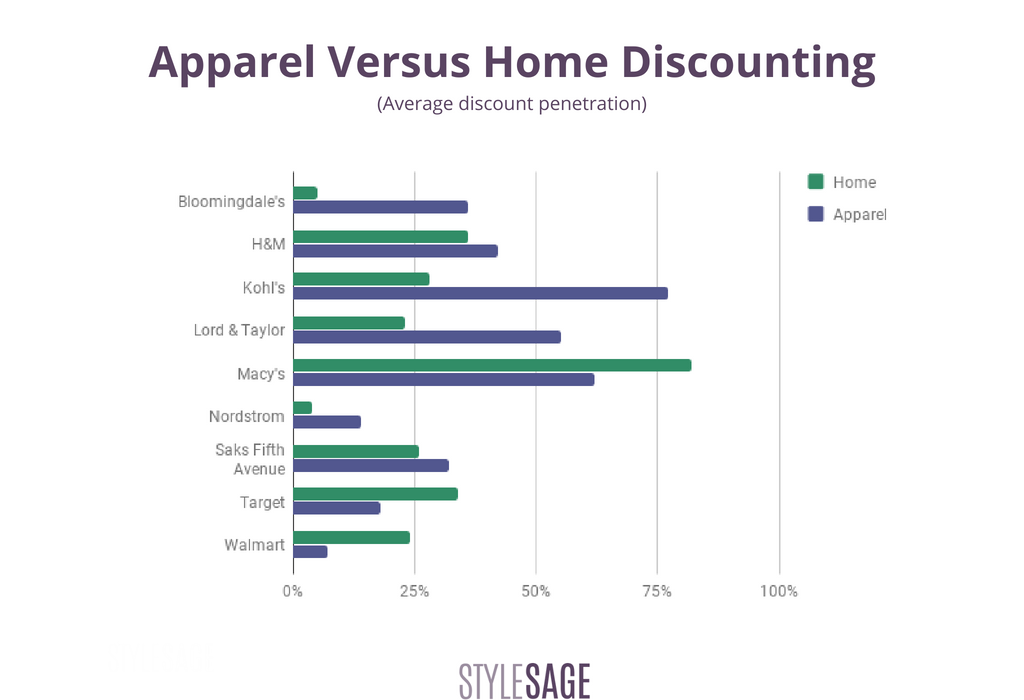 For six of the nine retailers in our analysis set, likelihood of discounting was markedly higher for apparel versus home. Of course, the underlying characteristics of home make it an altogether different beast. Many home products aren't purchased with the same frequency as apparel, and some home items, especially those in the furniture and appliances category, simply carry higher price tags. But still, even looking at smaller ticket items like plates, decor, and textiles, the relative higher resistance to discounting in home is noteworthy.
The Highest Discounts Go To...
Perhaps a dubious honor, but honing into the home category-level discounting, there are a few trends that stood out. First of all, anything in the home textiles area was subject to higher average discounts, with bath and bedroom textiles taking some of the highest category discounts, at 15% and 17%, respectively. What was next highest in discounting included accent furniture: chairs, coffee tables, and ottomans. Below you can see how the different home categories cover the spectrum of discounting.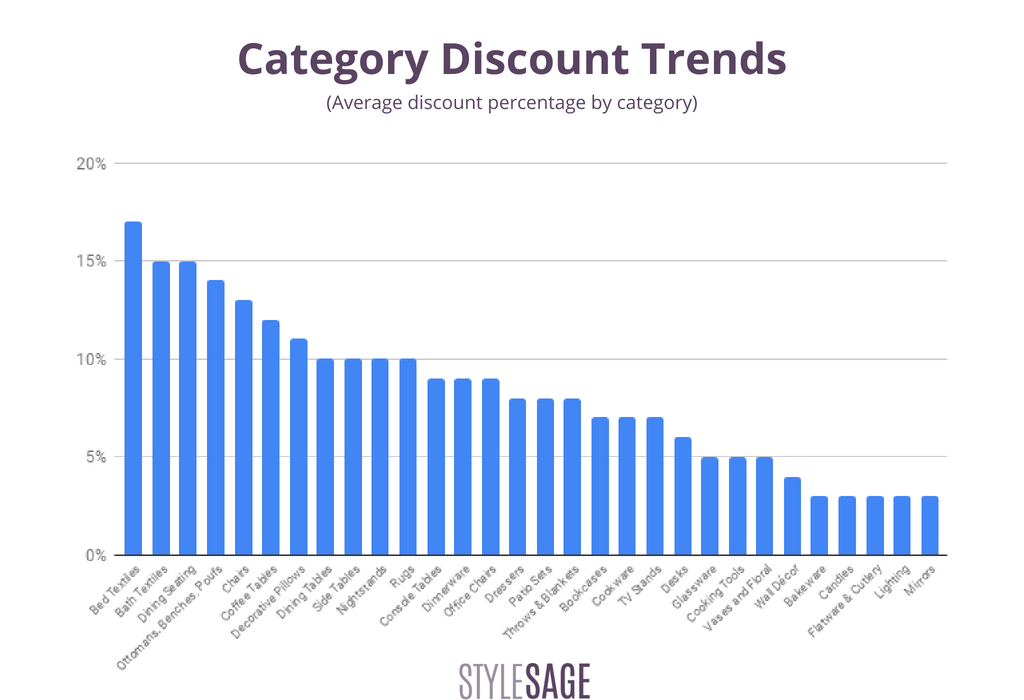 How Do Private Labels Perform?
Private labels are an oft-used strategy by retailers to increase loyalty and drive traffic. And, as we all know, one of the best at the private label game is Target. Whether it's exclusive one-time designer collabs or ongoing collections, they've got a brand for each of their key customer demographics. For home, two of their featured private label brands include mid-century modern inspired Project 62, and Hearth and Hand With Magnolia, created by the HGTV stars of Fixer Upper, Chip and Joanna Gaines.



The question is, how do these private labels perform? Well, for one, Target averages about 34% of its total home assortment on sale, whereas for Project 62 and Hearth and Home, it's 33% and nearly zero, respectively. So you can see, right off the bat, that Project 62 and Hearth and Home tell slightly different stories. Both have dedicated on-site real estate, but Hearth and Home is performing better in discounting terms. (As a newer brand launch, Hearth and Home also gets a preferential amount of dedicated physical store real estate.) As far as what's selling out, Target's home section overall averages 12% sold out in the last 30 days, while Project 62 and Hearth and Home have recorded 15% and 12% sold out, respectively. The extra discounting likely plays a role in helping push Project 62's sell-through number upwards.
Does this mean that Project 62 is a lesser performer? No, in fact, it's worth pointing out that much of Project 62's assortment covers the larger-ticket categories of furniture and lighting, so the frequency of purchase and the resulting considerations as a consumer vary significantly. And on the other hand, much of Hearth and Home's offering is focused on smaller items like decor and tableware. The average prices for each brand make that quite clear, indeed.
With that, we conclude our quick overview of three key data points for home and interiors. This is a preview of the larger home report we'll be launching in a few weeks, so stay tuned in here for the full report.