Two times a year we get to feast our eyes on what is quickly becoming our favorite fashion city. No, it's not New York, and Paris, you're lovely, but no, you're not it either. Copenhagen, you may be small but you pack a few short days with quite the fashion punch. Indeed, there are quite a few reasons why Copenhagen Fashion Week (CPFW) is picking up steam while other cities question their relevance. First, it's a focused and compact week with a manageable number of shows where each designer gets to shine, and second, Copenhagen is a city bursting with that rare mix of design, creativity, and increasingly important social consciousness. But there are other reasons why Copenhagen is the fashion week of the future. Let's explore those a bit more.
It shows us fashion should be fun
The spirit of CPFW came shining through when it started pouring rain at the end of Ganni's outdoor show and the models started playing in the mud. A reaction that best sums up the way many Copenhagen designers approach their craft, which namely is, "It's fashion but let's also have some fun." This spirit can be further seen in the whimsy of the designs on display this past week, from the polka dot ensembles featured in Stine Goya's lineup, to the hot pink frocks from Rotate that reminded us of a 1980's prom. It's refreshing to see this spirit in an industry that hasn't always been known for its sense of humor and in times that beg for some levity.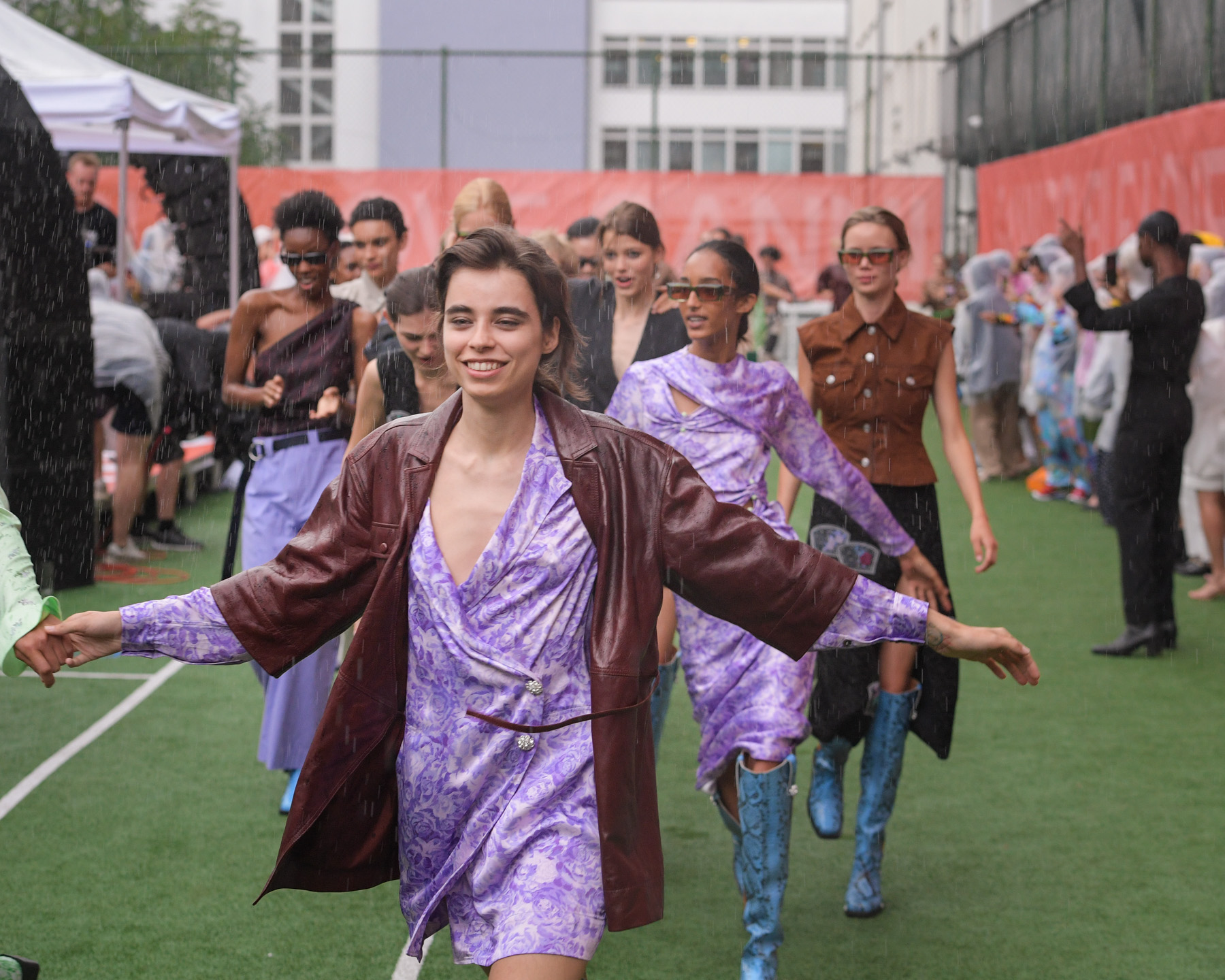 From left to right: Stine Goya, Ganni, Rotate, Ganni, Baum und Pferdgarten, By Malene Birger
The designers keep it real (yet elevated)
It seems as though Copenhagen's designers just get that 90% of the time the consumer just wants good, but not boring, basics. On the theme of elevated basics, CPFW certainly delivered. The perfect oversized blazer? Check. A dress with special detailing? Check. Functional statement outerwear? You've got it.
You could see the elevation of basics in Cecilie Bahnsen's cotton candy dress, Designer Remix's purple blazer dress, and Mark Kenly Domino Tan's suiting separates. All pieces that you could very plausibly see yourself wearing - and feeling comfortable doing so.
Another way many of the Copenhagen designers keep it real? Price point. Whereas most runways are populated with pieces that only a small percentage of people could afford - Copenhagen designers including Ganni, Rotate, and Stine Goya keep many of their pieces well under the $500 price point.

From left to right: Saks Pott, Cecilie Bahnsen, Mark Kenly Domino Tan, Designers Remix, Elaine Hersby
It takes its cues from the street
It seems like the runway is the last place to reckon with the fact that the consumer is now in charge. There's been a fight for size and racial inclusivity on the runway, an assortment of items that wouldn't survive intact after being outside more than ten minutes, and as mentioned previously, price points that many could only dream of affording.
The rising influence of street style and the declining relevance of the runway is in no small part because of this disconnect. Which is precisely why it was so refreshing to see that the street style of Copenhagen synched right up with the stuff featured on the runway. It was clear that designers took their inspiration from every woman - unfussy, unexpected, and wearing what makes her feel good.
What kind of items featured on the streets? Loads of oversized blazers, low-to-the ground footwear, pajamas (!), and colorful dresses.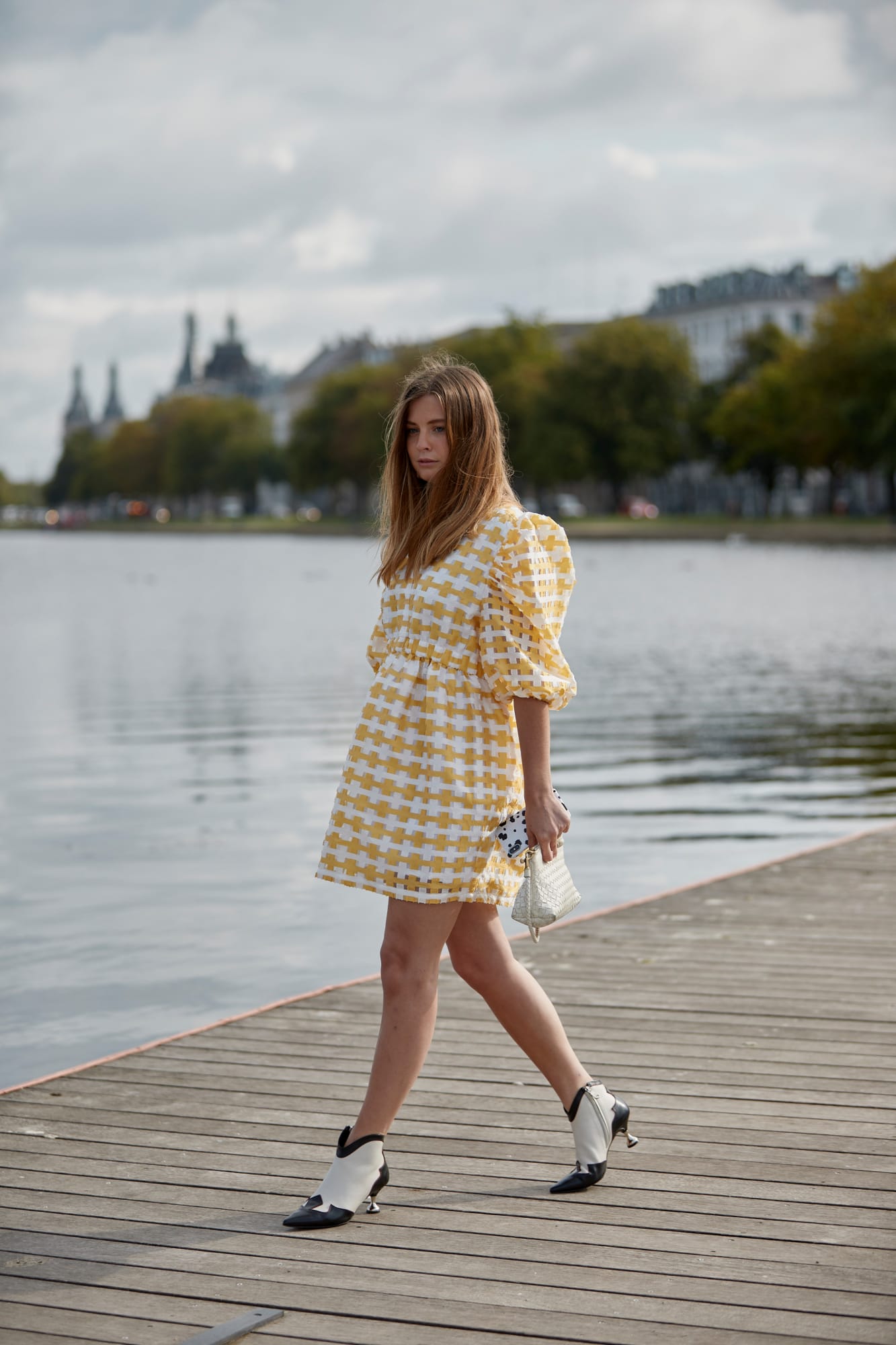 Why is Copenhagen the future of fashion? It reminds us that fashion can and should include everyone. It's so much more interesting that way.
Like this kind of content? Stay up to date on all our latest runway features here.