How are major beauty retailers positioning beauty's top categories through product, pricing, and discounting strategies?
The retail landscape is evolving, and beauty consumers are changing how, what, and when they buy, and consumers are more willing than ever to purchase products directly from DTC companies. Approximately 70% see profit through their own channels and 30% through retailers. Both are moving toward the middle and striving for omni-channel. This shift puts pressure on specialty beauty retailers to expand their core businesses. As a result, Sephora and Ulta are focusing more on their in-store presence and meeting customers where they want to be. Case in point? Sephora has partnered with Kohl's and Ulta with Target.
Sephora's and Ulta's current strategies signify a changing landscape. Both retailers looked to disrupt the traditional department store experience. However, department stores are now recognizing their mistakes and adapting accordingly. Even drugstores, like CVS, have made changes to establish themselves as beauty destinations.
Using market intelligence, we explore the retailers at the top of the specialty beauty retail chain – Ulta and Sephora.
Makeup is the name of the game at Ulta and Sephora.
Using StyleSage's Assortment tool, we can drill down on Ulta and Sephora's assortment architecture, revealing the retailers' high-priority categories. Both retailers favor makeup, with the category making up 62% and 66% of Ulta and Sephora's assortment, respectively. Skincare and haircare follow.
StyleSage: Assortment Architecture


When it comes to staying competitive, Ulta prioritizes one thing: having a more extensive assortment of products that cater to every beauty customer imaginable. According to StyleSage, Ulta has approximately 10K more products than Sephora. The ever-evolving door of new products, trends, and brands gives customers incentives to shop.
Since last year, Sephora has fully invested in celebrity and influencer brands, clearing shelf space for Scarlett Johansson's The Outset, Rosie Huntington-Whiteley's Rose Inc, GXVE by Gwen Stefani, Addison Rae's Item Beauty, Hyram Yarbro's Selfless by Hyram, and JLo Beauty. According to Ipsos, online conversations about celebrity cosmetics brands have increased by 22% on social media platforms, blogs, and forums over the last 12 months, but not everyone is excited about new skincare and makeup options; negative sentiment has risen significantly as celebrities – and their brands – receive criticism online.
This week, Glossier has found its first-ever retail partnership with Sephora, offering something new for the retailer, which has been steadfast in its commitment to celebrity and influencer brands. According to Sephora's executive vice president and global chief merchandising officer, Artemis Patrick, Glossier is among the top-searched brands on Sephora.com that is not currently stocked at the LVMH-owned retailer, with searches spiking up to 200% within the past year.
Inflation hits Sephora, while Ulta's price architecture remains relatively flat.
A key differentiator between the retailers is their approach to pricing. Sephora increased the average price point at the height of the pandemic, while Ulta pricing has remained stable despite economic turmoil.
StyleSage: Historic Pricing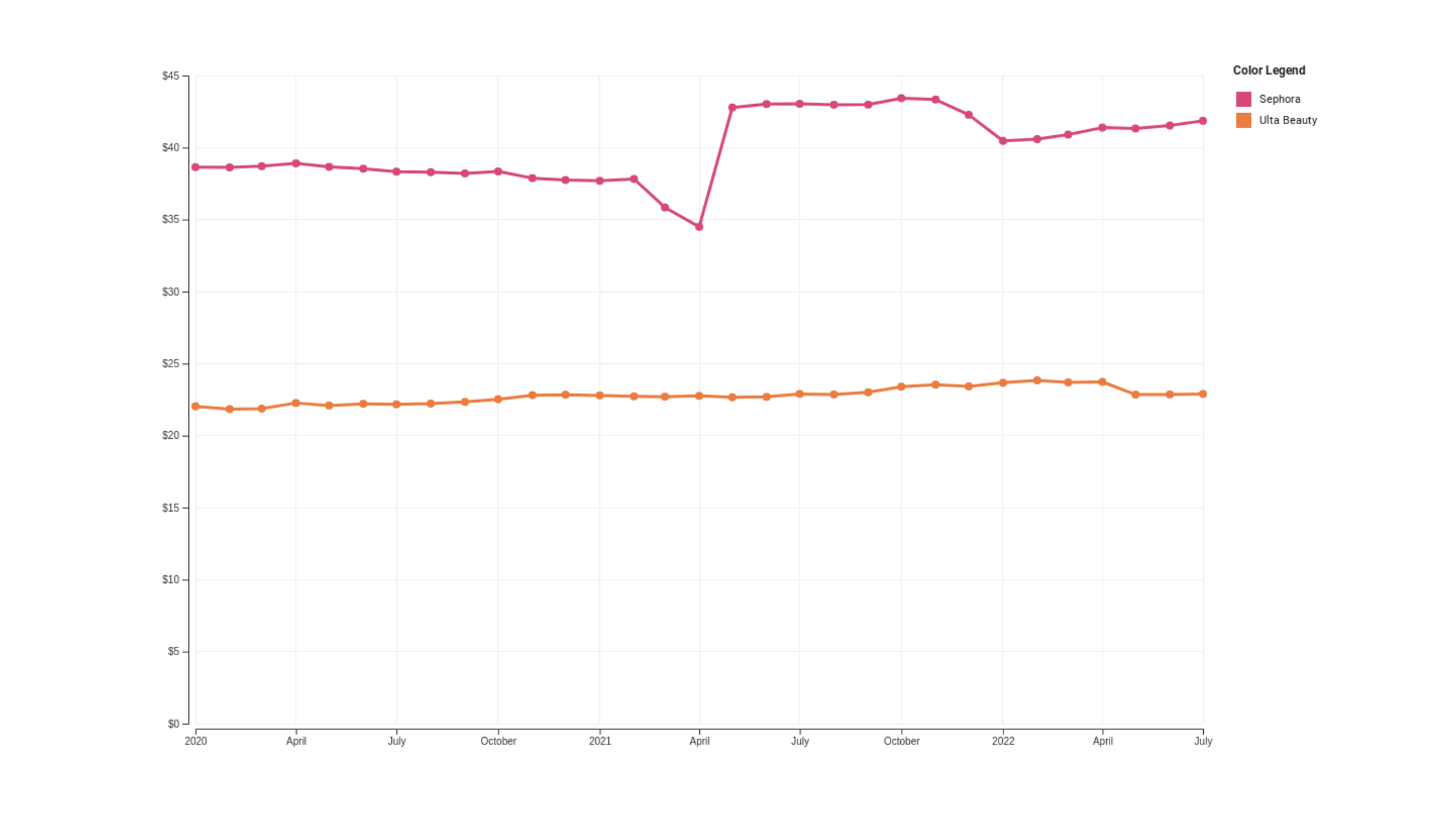 Although Ulta and Sephora offer many of the same brands and products – Sephora's offering is priced significantly higher than Ulta's. On average, makeup at Sephora is 65% more expensive, the category with the lowest percent change. Skincare and haircare are 100% and 104% more expensive, respectively. Interestingly, rising prices are driven by fragrance and skincare, while makeup prices have remained flat since pre-pandemic.
StyleSage: Price Architecture


The different pricing structures are even more visible when comparing one of the most competitive categories to emerge from our post-pandemic routine: makeup. On average, lip products at Ulta are $15, while at Sephora, customers can expect to pay an average of $27, a difference of 80%.
StyleSage: Price Architecture


Opposing discount strategies position Ulta as the accessible option.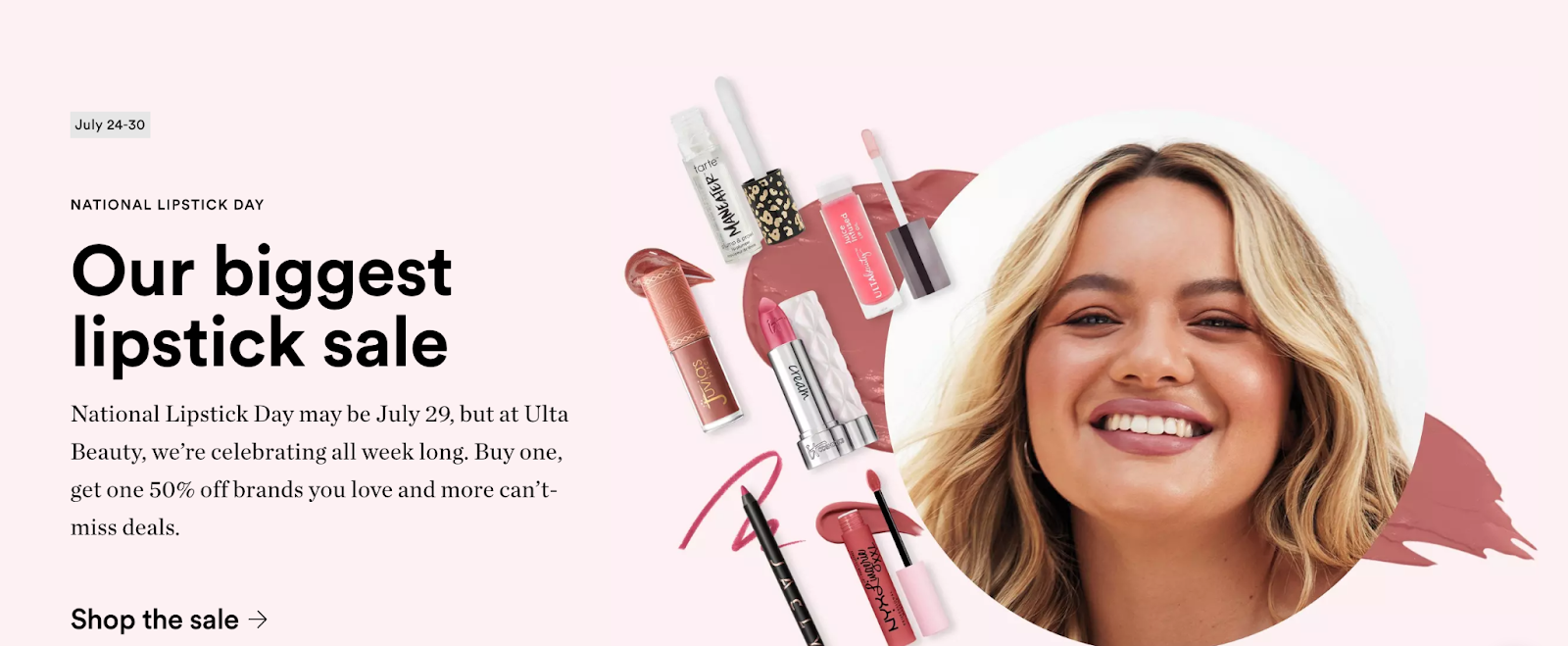 Sephora has traditionally taken a softer approach to promotions, only discounting during critical sales periods, while Ulta carries more frequent and aggressive markdowns. While compared to discount levels seen in apparel, these are significantly lower, Ulta doesn't shy away from laser-focused and specific events, like their lip event running currently.
StyleSage: Historic Discounting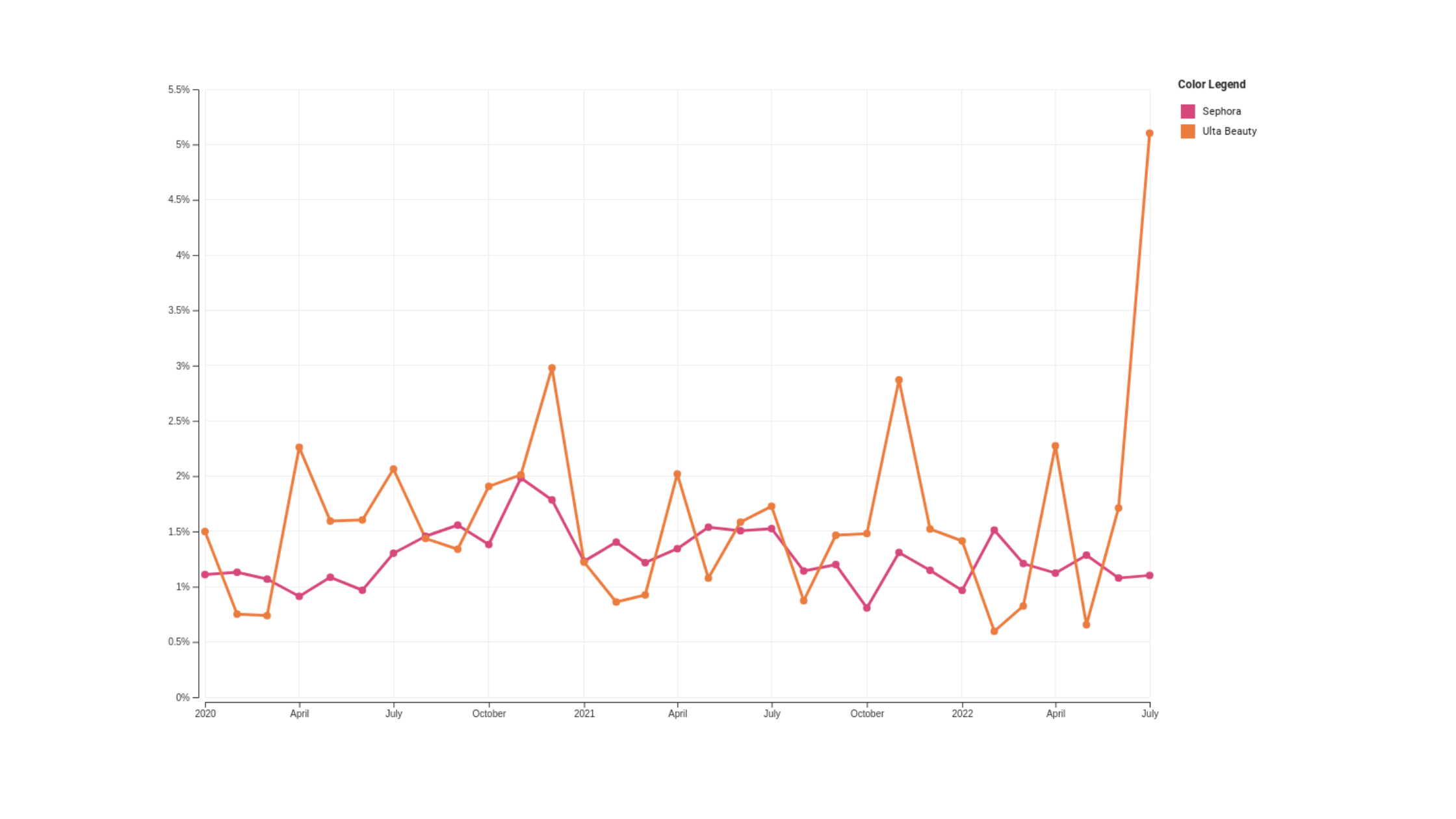 The Takeaways:
Beauty retailers and brands must adjust their strategies to win in a crucial category in the face of intensifying competition and shifting consumer behaviors. When it comes to accessible pricing, extensive assortments, and frequent promotions, Ulta comes out on top.
Sephora's decision to go into Kohl's seemed strategic; however, Sephora's high price point misaligns with Kohl's price-savvy consumer. Target, known for introducing innovative, indie beauty brands, better matches Ulta's philosophy and consumer mindset. For now, both retailers are testing new concepts, and it will be a waiting game to see if the Kohl's partnership will become just another "Sephora in J.C. Penney."
According to Piper Sandler's 43rd semi-annual "Taking Stock With Teens" survey, Ulta is the most preferred beauty retail destination, comprising 48% of mindshare, up 2% from 2021. Sephora remained in second place and dropped 400 basis points year-over-year. An indication that Ulta's current strategy is paying off.
---
Want to discover how we pulled this report? Get in touch here.