Image courtesy of Drapers
Unisex fashion: a topic not immune to controversy as it sits at the center of a conversation that is at times political and religious. That being said, it's just fashion, right? Have there been any significant changes in how retailers are treating the traditional lines of male and female clothing? To understand where we are right now, it's important to map out the origins of unisex fashion and those who have influenced the blurring of the gender line.
Corsets to Trousers
Turns out unisex fashion isn't even close to a newish retail concept. The word "unisex" was first used in 1968 by Life Magazine to describe "clothing designed to be suitable for both sexes in order to make men and women look similar," but the notion of throwing aside the traditional confines of gender-based fashion roles harkens back to the 1800s. This was when women started to rebel against the garments that physically restricted the types of activities in which they could engage; certainly, the change and choices in how women could dress went hand-in-hand with the progression of the women's rights movement, as women set aside uncomfortable corsets and dresses for the rights to vote and their place in the workforce.
While the conversation on unisex fashion often centers on how much women's fashion has changed to be more masculine, has men's fashion also become more feminine? That, professor and author Jo Paoletti, would argue is not necessarily the case. Any search for the word "boyfriend" on retailer's sites will pull up items in the women's section including blazers, jeans, and sweaters, but reversing that search, you're unlikely to see "girlfriend blazers" or "girlfriend jeans" in the men's section. Paoletti notes, "attempts to feminize men's appearance have turned out to be particularly short-lived." There have, however, been male celebrities who have pushed the envelope on gender roles in clothing, from David Bowie to A$AP Rocky, but inverse gender blurring has been slow to gain mainstream traction. Undoubtedly, taking apart that would entail a conversation that spans cultural norms, religion, and politics.
The Point-of-View from the Runway
All that being said, modern day designers have repeatedly brought unisex fashion to the forefront by either outright swapping of gender roles or by heavily borrowing either "masculine" or "feminine" elements for their collections. Gucci's Alessandro Michele has dressed his male models in traditionally feminine profiles and materials that have included pussy bow blouses and lace, and he has generally shown his collection on androgynous looking models that prove the point that fashion can go whichever way it wants (and be extremely commercially successful while doing so.)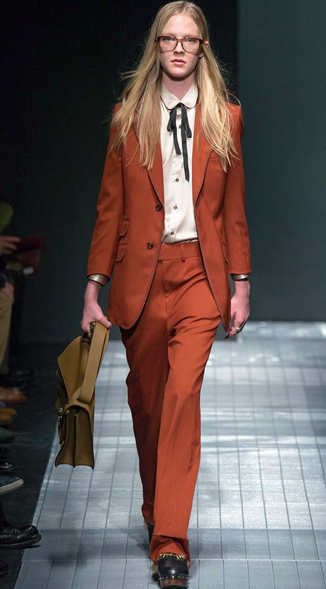 Images courtesy of Jeremy Scott, Gucci, JW Anderson
JW Anderson, Burberry, and Celine, amongst others, have also made unisex fashion a case in point through their respective fashion lenses and have played their part in pushing the boundaries of what was previously considered male versus female fashion.
What about Mainstream Retail?
All fine and good if you're a designer label helmed by a creative visionary and selling to a select few by way of a grand artistic vision, but is unisex fashion showing any signs of becoming a more mainstream phenomenon? Excellent question, and it turns out that unisex is still a very uncommon online merchandising strategy. Go to any retailer's site and you will still be navigating between men's and women's styles from the outset. Our data counts only a handful of SKUs that are considered unisex in categorization.
Nonetheless, there's been a few recent examples of mainstream retailers offering up their versions of unisex fashion. John Lewis, whose decision in 2017 to get rid of the girl's and boy's labeling on its private label kidswear collection, garnered a lot of heated discussion. In 2017, H&M released its unisex Denim United line, a capsule collection with pieces meant for all gender identities. Zara has also done the same, using male and female models to showcase the same pieces and also offering up its own unisex collection in 2016 called "Ungendered."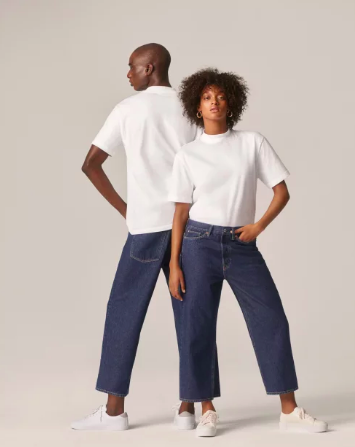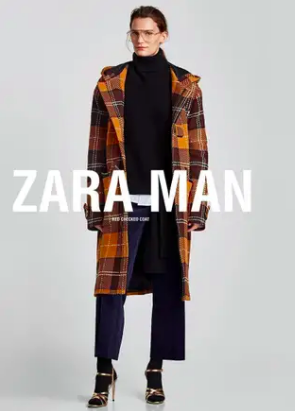 Images courtesy of H&M, Zara
Nonetheless, discussions around these types of unisex collections have repeatedly focused on the notion that most of the unisex offerings mean more "masculine" versions of women's pieces, but not the other way around.
While retail won't move to a wholly non-binary merchandising approach any time soon, it is worth noting that more inclusive sizing across the gender spectrum will enable everyone to find the styles they're most comfortable in.
One retailer who deserves special mention for making progress in the unisex fashion realm is Wildfang. Based out of Portland, Oregon and founded by former Nike execs, it takes items that have been traditionally considered men's and given them the tomboyish makeover for women. What's more, they've begun sizing their garments up to 2XL so that no one is excluded.
It's certain that this space will continue to evolve, not without some much needed healthy discussions, and we applaud retailers for creating outside the gender lines as they consider what the future of fashion looks like.