Image courtesy of Gucci
Paris is still going strong, and while we're excited to see what Celine's new Artistic Director Hedi Slimane shows, honestly, we're ready to call it a wrap over here. However, we didn't think it right to let such an occasion as Fashion Month pass without giving out a few awards of our own. In no particular order, here are our winners from London, Milan, and Paris.
Most Likely To Be Seen IRL
Celebrating her 10th year, and firmly putting into their place any of the remaining naysayers who didn't believe she has real fashion chops, Victoria Beckham opted to show her anniversary collection in London, where everything VB really started.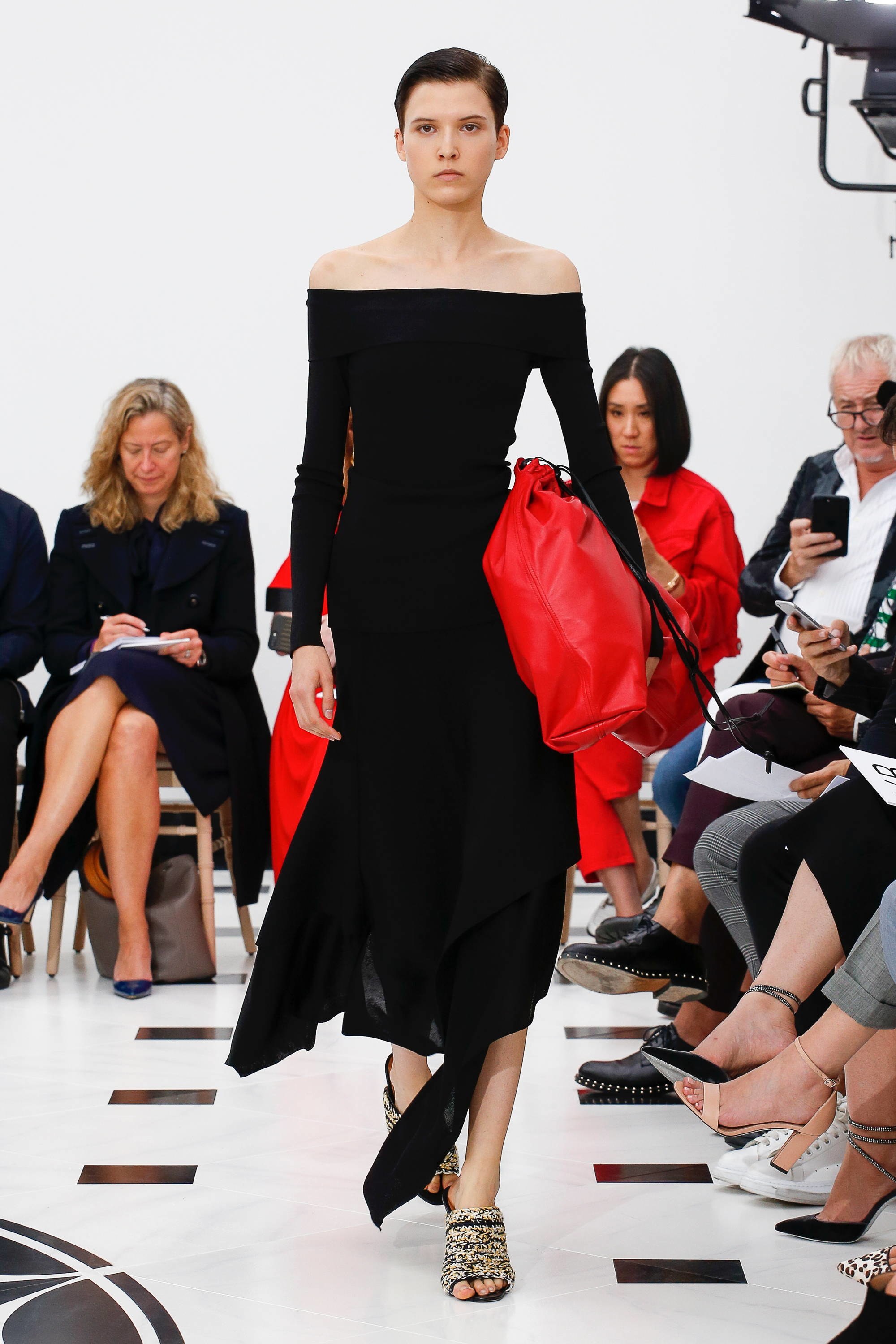 Images courtesy of Vogue Runway
Building off her vision of clothes for women whose lives balance work, play, and family, her collections always have a sense of composure, ease, and polish to them. This collection was no different, and we could all see ourselves in the pantsuits, lace-trimmed camisoles, and metallic booties that were present throughout her collection. While we look to the runway for inspiration, there's a particular pleasure when designers bring it back to earth in a most beautiful and simple way. It's not an easy feat, and we give kudos to Ms. Beckham for giving us ten years of real fashion.
Biggest Head Scratcher
We've got nothing against Disney's beloved big-eared character, but we were a bit surprised to see it on Gucci's runway in the form of a hard-shelled handbag. (We couldn't decide whether we'd use it to transport our bowling ball or crayon collection.) On the other hand, perhaps we shouldn't be surprised, as Gucci's Alessandro Michele has an affinity for marrying the weird and other-wordly with modern-day culture. (New York Yankees slippers ring a bell?) Will we see Mickey bags popping up all over Instagram in the near future? It's Gucci, and it's completely kitschy, so despite some misgivings, we'd bet at least one ear on it.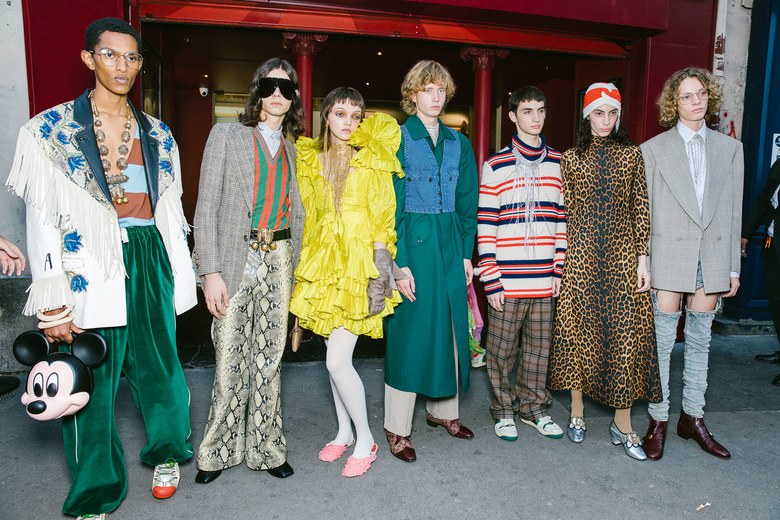 Images courtesy of Getty Images
Speaking of other modern-day cultural icons, we were, however, completely smitten with his Dolly Parton tributes in the form of a sweatshirt and sleeveless denim jacket. Time to blast Jolene and take that road trip to Dollywood.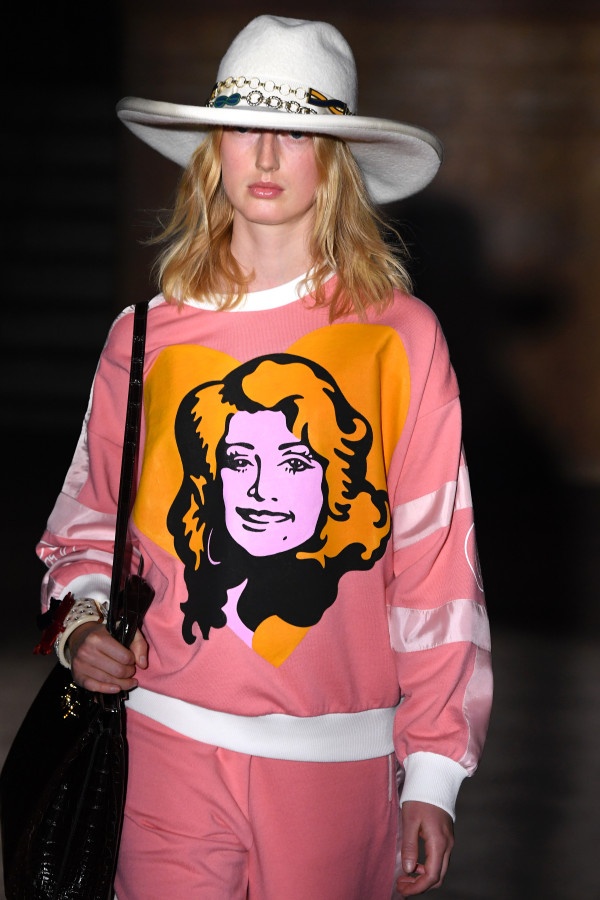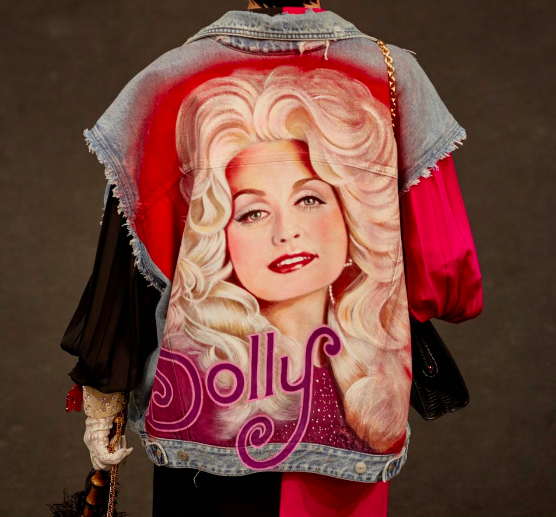 Images courtesy of Getty Images
Most Likely to Inspire Our Next Holiday
Dolce and Gabbana know just how to put the fun in fashion. With one of the most extensive collections in terms of looks shown, it also inspired a bit of time travel and wanderlust in us. It was one part dancing all night at the Tropicana, another part Frida Kahlo circa 1940. With unabashed use of adornment, print, color, and volume, it was "all smiles" in Milan as the duo showed their latest collection. They also won big props for using a variety of models across the age, race, and shape spectrum - the perfect flower crown completing this fashion moment.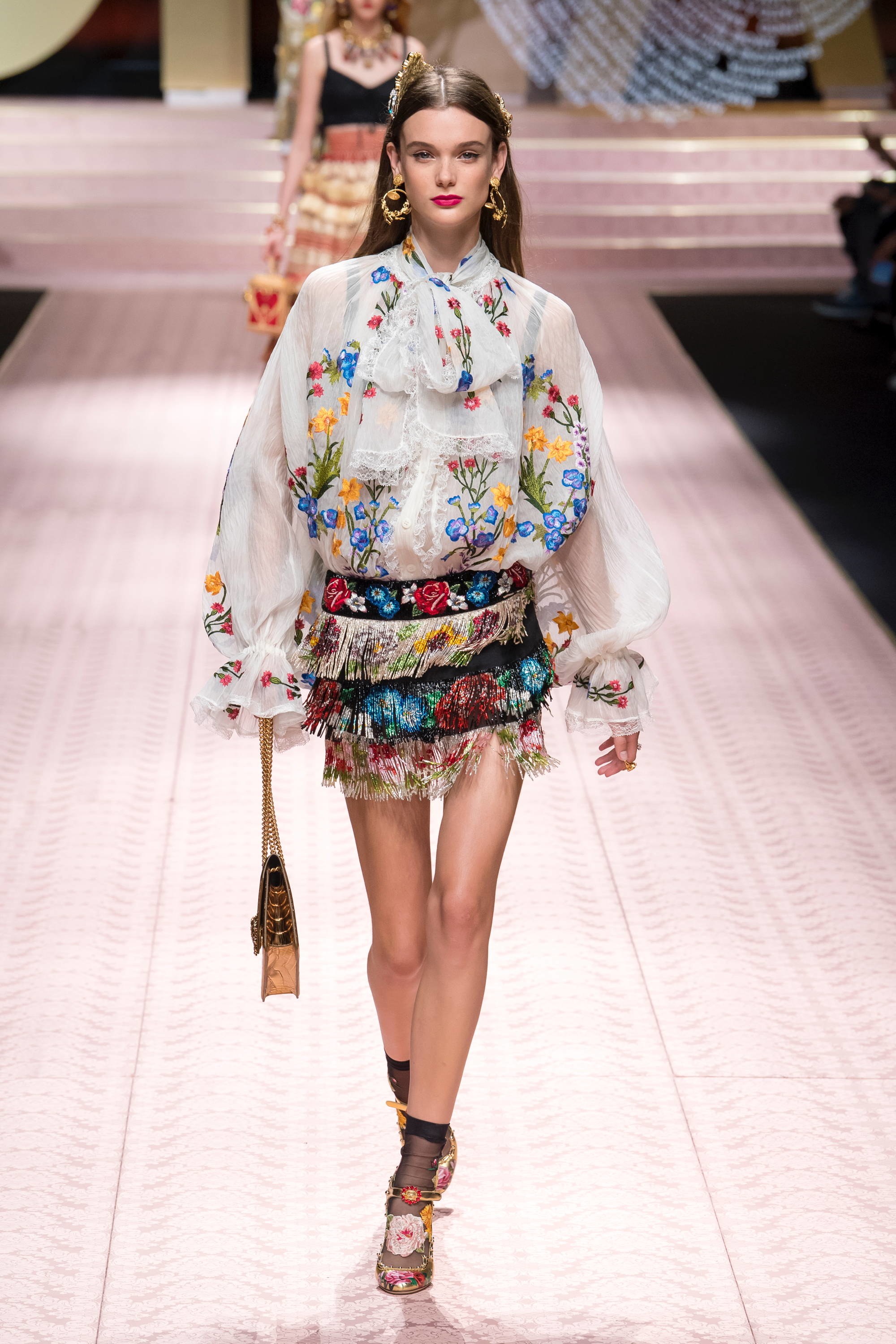 Images courtesy of Vogue Runway
Runner-up in the category of inspiring us to take a holiday was Jacquemus. Showing earlier this week in Paris, his flowy slip dresses, strappy sandals, and revealing swimwear brought his "French Riviera" vision to life. And we are also certain that giant raffia bag is going to be an runaway Instagram star.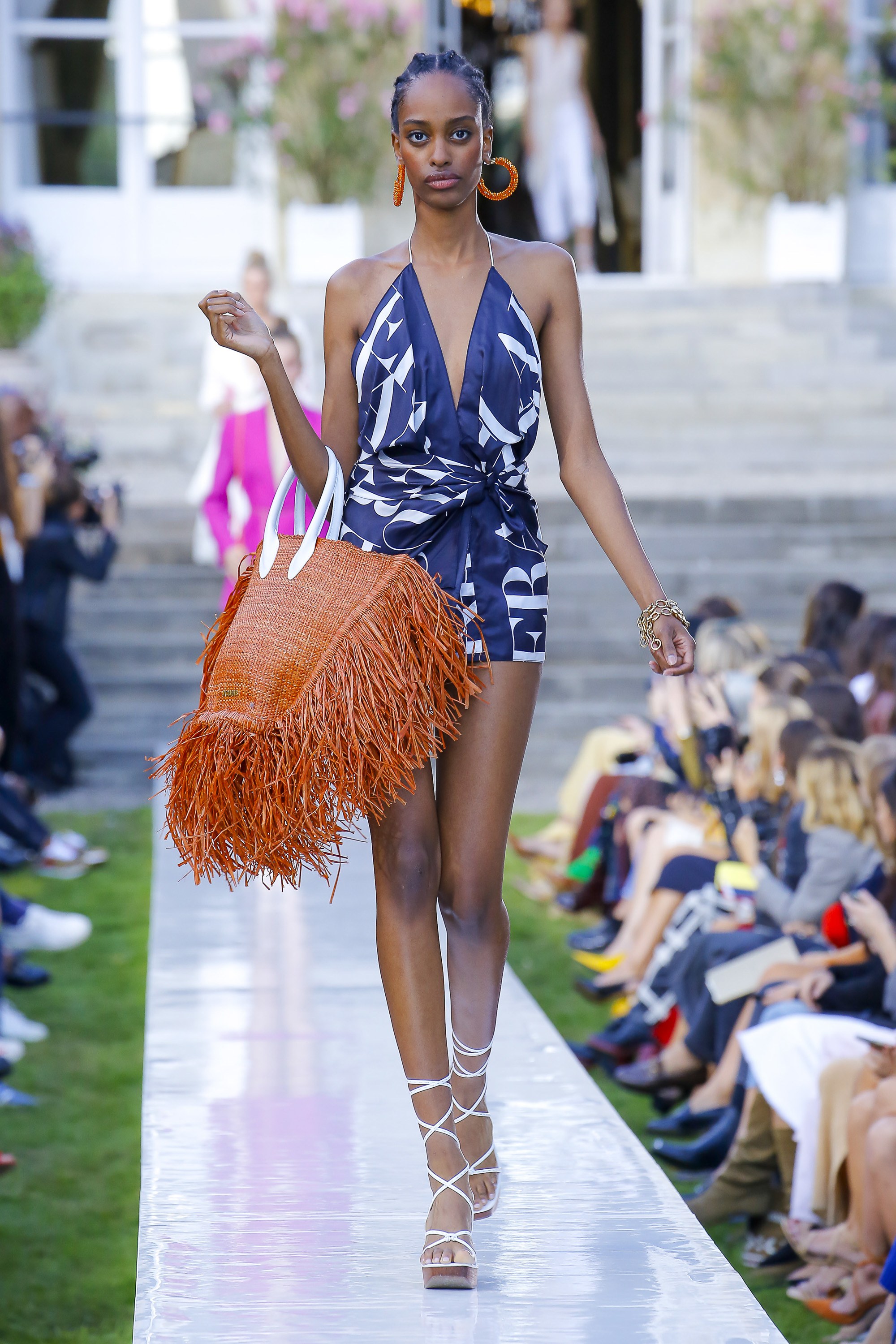 Images courtesy of Vogue Runway
Most Likely To Be In Your Grandma's Closet
The belt bag, bum bag, waist bag, fanny pack. Call it whatever you like, but it's a bag, on a belt, that is worn traditionally around your wait (and yes, near your bum) or swung over your shoulder, like the enlightened fashionista that you are. Nonetheless, we'd venture a guess that your cruise-loving grandma probably has a few versions of her own stashed in her closet. (But is hers Gucci or LV? Probably not.) This isn't the first season we're seeing it all over the runway, but for Spring/Summer 2019, Ferragamo, Fendi, and Cavalli were the ones putting a fresh spin on the oft-maligned bag style. (Props to Fendi for giving us a version that can hold a cell phone AND a Palm Pilot!)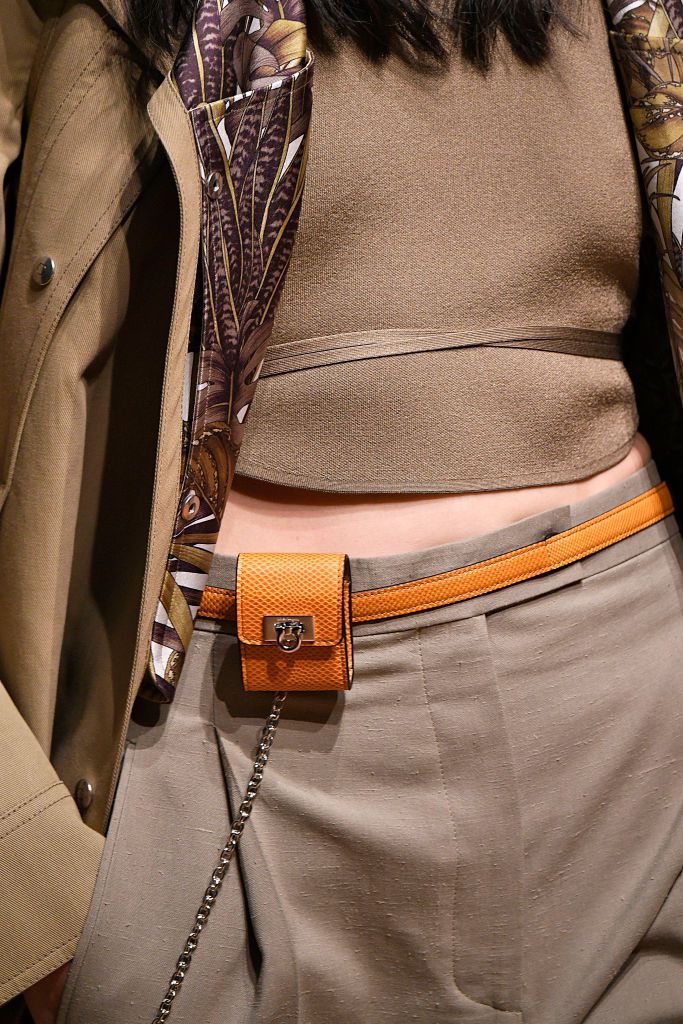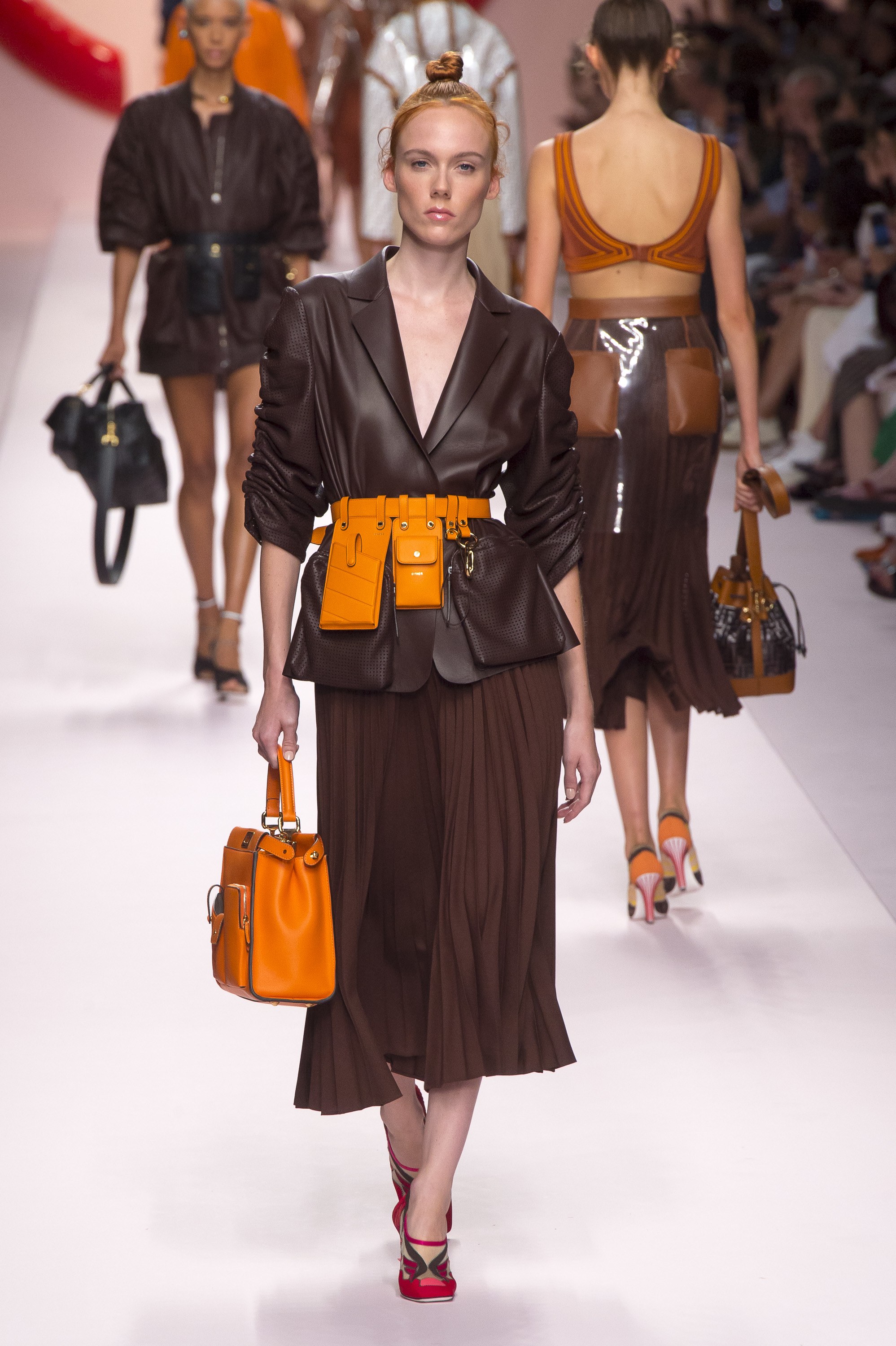 Images courtesy of Vogue Runway
Did you see our full analysis of NYFW? If not, get your copy of our editorial here.