Remember the days when you had to know the exact name of a product, or at least the brand, in order to hunt it down? With visual search, the path between seeing a product, deciding to make it yours, and having it delivered to your doorstep is increasingly shortened. Visual search is pretty straightforward from the consumer utilization point of view, yet there's heavy lifting of computer vision and data science behind it. (We'll talk more about that next week.)
In broad strokes, where consumer search in the realm of e-commerce used to be text based, "distressed white jeans," visual search removes the need to know that exact nomenclature in order to get a match or similar product - instead it's based off an image of one's choosing. In the way that you see an object and are able to identify it from certain visual cues, so can the machines who take that picture, process it, and spit out similar items. Retailers, including Asos, H&M, and Home Depot, have been quick to jump on the possibilities of this technology, because it not only enables them to offer up competitive products (even if the customer is using a different brand's image), it also gets the consumer to their desired product more efficiently. Below are some examples of how these companies have developed in-app visual search functionality.

Images: Asos, H&M, Home Depot
Did you know that as a brand or merchant, you have the same visual search tools available to you? That's right! This week we launched our Product Similarity feature and it flips the script so that you can understand, in the competitive e-commerce landscape, which similar products are in a consumer's consideration set. You pick an image from an e-commerce site and in turn, we give you like products that take into account color, length, fit, and key design embellishments. It looks a little like this.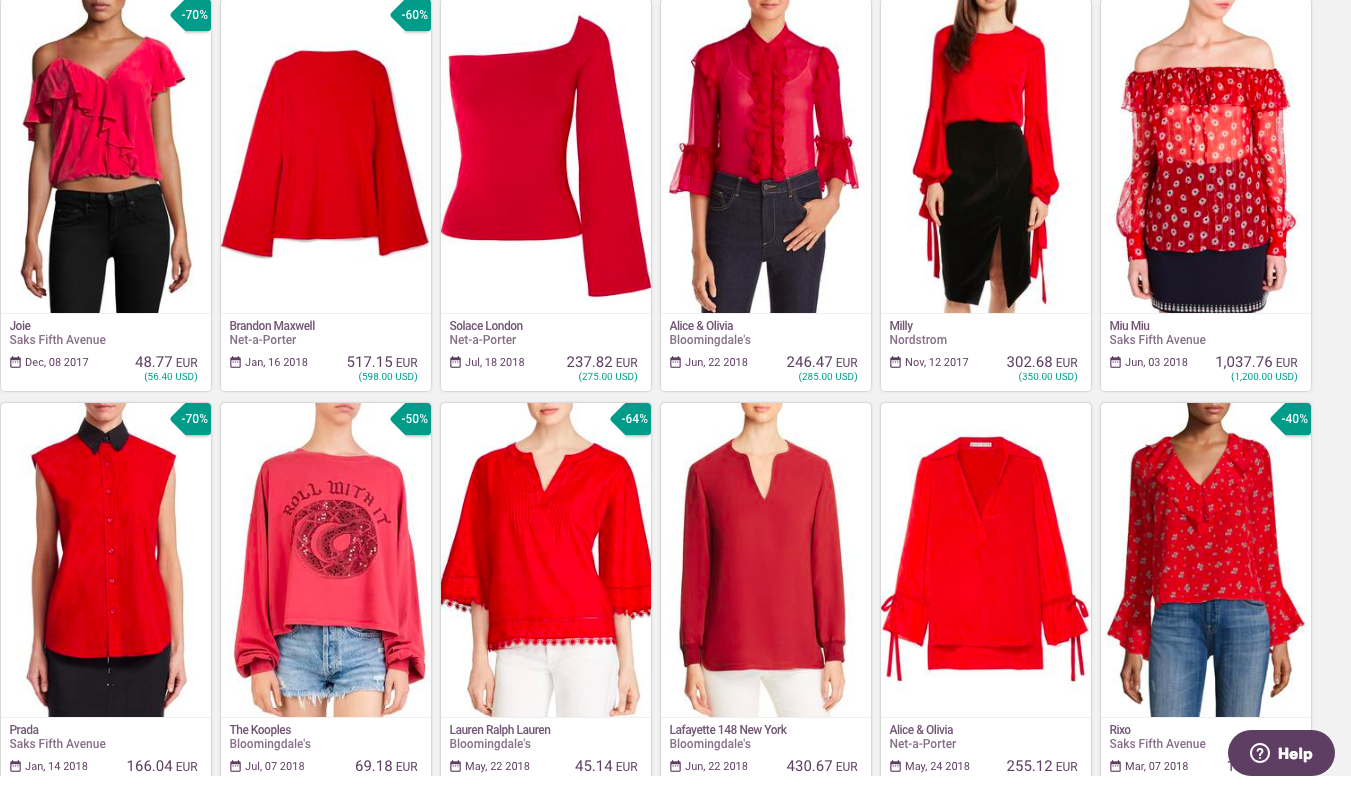 Don't know about you, but we always learn better with examples, so today we're showing you three different ways visual "search-andising," as we're calling it, can make you more competitive and relevant to today's consumer.
What are the specific design elements that stand out?
Think about the last piece of clothing you were searching for. Let's say it was a black cocktail dress for a summer wedding. What was the most important element of it for you? Perhaps it was simply the color, or maybe the length, or even its material, but regardless, while you were searching for options, certain elements of the dresses you found would immediately qualify or disqualify it from further consideration. If we reverse this scenario, for you as the merchant, you need to consider each design element of a particular item and how they each add up to its whole. Ultimately, if you separate out things like material, a ruffle embellishment, or a specific neckline, you understand not only what makes an item visually unique, but also where opportunities exist to potentially price at a premium.
Do we have the value proposition right?
So now that you are thinking of the sum of a design's parts, it's time to consider how those relate back to the price point. And in particular, knowing where your offering sits in the competitive mix, is critical to converting those shoppers to buyers. You see, the ultimate idea is to know, for each similar item, how you stack up in pricing and discounting to your competition. One of the niftiest things about our Product Similarity feature is that it allows you to see for each like item, what its pricing and discounting metrics are - and you can even see the length of time that product has been in the market. (Which tells you whether you got your product up there within a timeframe that maximizes full-price sell-through.)
Are we offering a style in enough variations?
Let's say you have a winning design on your hands and you've now pinpointed what its key design elements are. And indeed, you see that there are a handful of similar items up for grabs on Competitor X's and Y's sites. Do you have it available in the right color, print, and size variations? Drill down and see if you might be missing out on an opportunity to increase basket size for a consumer who really (really) likes what you've got to offer. (And of course, don't forget to check those color and print variations to understand whether there might be any pricing or discounting movements in play.)
So there you've got it - visual "search-andising." Not only is it pretty darned fun - it's a heavy hitter when it comes to getting your assortment and pricing pitch perfect.