Today I'm thinking about my next trip. In full disclosure, that's most days, but today in particular it's top of mind, because I'm sitting in Away's luggage shop, opened last September and tucked into the border of Soho, Noho, and the West Village in NYC. Surrounded by a rainbow of luggage, one can't help but think about that next passport stamp, and sitting across from me (as we continue our series on the digital to brick-and-mortar evolution), is Paco Underhill. We're tackling a shared favorite topic, travel, and DTC travel brand Away seemed the perfect destination to exchange stories from the road.

Photo credit: Away
What you likely know about Away is that it was founded in 2015 by Jen Rubio and Stephanie Korey, both alums of Warby Parker. It's a company inspired by the headaches of travel, (or as Paco likes to put it, "the abuse that is institutionalized within the structure of modern-day travel") and powered by the identification of an underserved niche market, specifically in affordable travel bags that could take some of the hassle out of and put more joy into the act of traveling. (Think premium and durable construction, built-in charging ports, and a choice of luggage colors aside from black.) Fast-forwarding to 2018, the brand has a growing product line, four stores, a blog, a print periodical, and a podcast - and is very much in the process of building out the modern travel and lifestyle brand.
With this rapid and remarkable growth, it can be easy to forget just how young this and other DTC brands are. At two-years-old, Away has indisputably achieved incredible success. Nonetheless, with a few of these digitally-native store tours under our belts (not to mention several decades of work in the trenches of store design), Paco and I are starting to see some common elements. So much so, that it inspires us to think of what these new brands might learn from those who came before them.
Put it this way - there's so much that they are doing right - with some tweaks, they can achieve the best of all retail worlds, past, present, and future.
Teach Me Something
"It's okay to be a rookie. There's a younger generation of travelers who are making travel choices that are quite different than the generation before," Paco says as we look around the store. We're discussing the idea of this store's target audience - is he or she a road warrior with more miles than time to use them, the NYU grad whose first job has them taking their inaugural business trip to Atlanta next week, or someone inbetween? Taking in not only the shop environment, but also the very location where it's been planted, our instincts tell us this brand was created for those in the earlier days of getting their sea travel legs. What cues are we talking about? To start, the proximity to a major university, the cluster of neighboring DTC and emerging brands Away calls neighbors, and the democratic cost of their products, all resoundingly lead us to that conclusion. (To be fair, we're two pretty seasoned travelers - Paco regularly logs more days away on speaking tours and consulting gigs than home, and me, well, my Kayak and Hopper app compulsions regularly send me places as far-flung as Arequipa or Hilo.)
So let's suppose you're a less experienced traveler - what in this shop environment teaches you about the art of packing? Or about how to avoid the myriad of pitfalls modern day travel (always, always) entails? That's when I start to wonder, how could a shop environment like this one bestow a kind of knowledge on its consumer that could not only minimize the annoyances of travel but could also, say, empower the traveler to take on a new destination solo? Looking at the selection of travel guides scattered throughout the shop, I see a few clues, but I think that there's a way in which a trusted brand, such as this one, could physically impart its tips for maximizing the experience. And while Away is certainly starting to build their brand as a virtual lifestyle destination with their travel blog and magazine Here, I want this store experience to heighten and spark my sense of adventure and escape.
For today's brands, in both digital and physical store efforts, it's about passing down the knowledge and growing the sense of shared experience, while, of course, enabling that experience on one's own terms. It's less prescriptive and more about how to maximize the best parts of your journey.
You're Part of Our Club
Walking into the shop, my eyes light up when I see the quote, "I haven't been everywhere, but it's on my list." As we build on the idea of creating a community of the curious and intrepid, as they're doing here, there's this thought I have about travelers being part of a not-so-secret club. If I pass you in the airport and spot your Away bag, what does your passport look like? What other things might we have in common?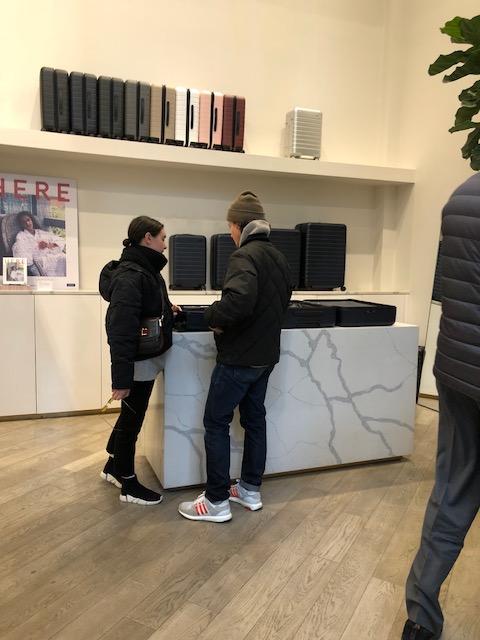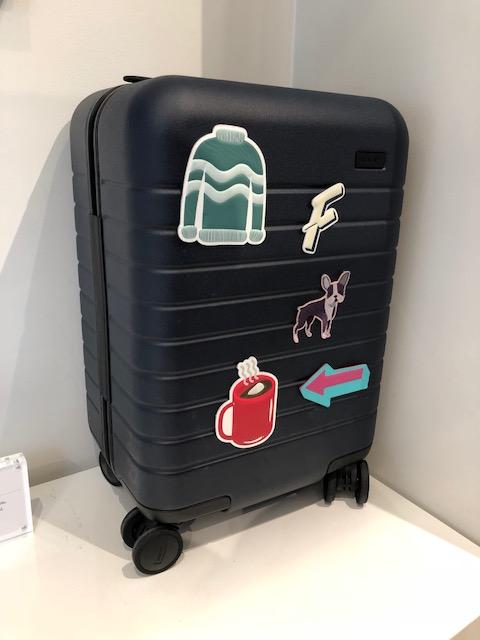 The notion of retail as a club is far from a new one, what with loyalty programs and memberships, most of which are designed to collect data around your behaviors. And while there are obvious benefits of membership to all parties, as the consumer, I don't walk around saying, "Oh, you're a member of Amazon Prime? Me too!" But with lifestyle brands, whether they center on beauty, apparel, or yes, travel, there's magnificent community-building opportunities here. Not only can you facilitate the sharing of personal experiences amongst peers (with your brand as the commonality), there's also the identification of partnerships that will enable your brand to extend into the furthest reaches of a person's life.
So if your brand's the club, their membership your product or service, and their personal experiences the passport, what can you learn and create from this?
It's Okay To Be Irreverent
For all the memories of travel that made the Instagram cut, there are those that are stored only in my memory. Those include the times when I severely misjudged the proper local dress code, botched a well-intended translation, or white-knuckled a cab ride through an unknown city. In truth, the sum of these mis-adventures may be even greater than the photo memories I share with the outside world. The point is that travel is inherently full of missteps, and that's the beauty of it. In the context of the store, Paco notes that, "This is a place that is crying out for attitude. I want to see clothes or underwear hanging out of the side of those suitcases in the window." It might sound silly, but it's these visual indicators that help me connect and identify with this brand as a person who has experienced the same. Remember that club we spoke about before? Let's talk about the time it happened to you and how ridiculous and funny it was.
Certainly we understand that the execution of this "irreverance" isn't necessarily straight-forward. Balancing niche and inclusivity is no small marketing feat, and certainly we never want to risk the alienation of customers. Paco notes that, 'Here there's a predictability. In that predictability, that sparseness, there is a certain style." Yet in the simplification and steam-lining of assortments, it's important to not overlook the opportunity to inject both personality and the personalized element into the mix.
Think about it like this - it's like being willing to give the outside world a small glimpse into the contents of that over-stuffed suitcase you're toting around.
A few lessons on new-school retail from old-school never hurt, right? We can't wait to see the places Away and its other DTC counterparts will go.