"More than three in five consumers said environmental impact is an important factor in making purchasing decisions." Yet despite this intent, the fashion industry still has so far to go, in order to transform into an entity that's better for our planet. In the same McKinsey report, it's noted that 25 percent of garments remain unsold, and less than 1 percent of products are recycled into new garments.
With many fashion retailers focused on survival during the past year of the pandemic, have we gained or lost ground in the sustainability movement? Let's take a look at a few data points from e-commerce assortments that can shed light on one dimension of sustainability, and that is the availability of sustainable (or sustainably-labeled) goods.
For our following analyses, we look at products that are marketed as having some element of sustainability, whether that's organic or recycled materials or having fair trade origins, to name a few common ways of labeling.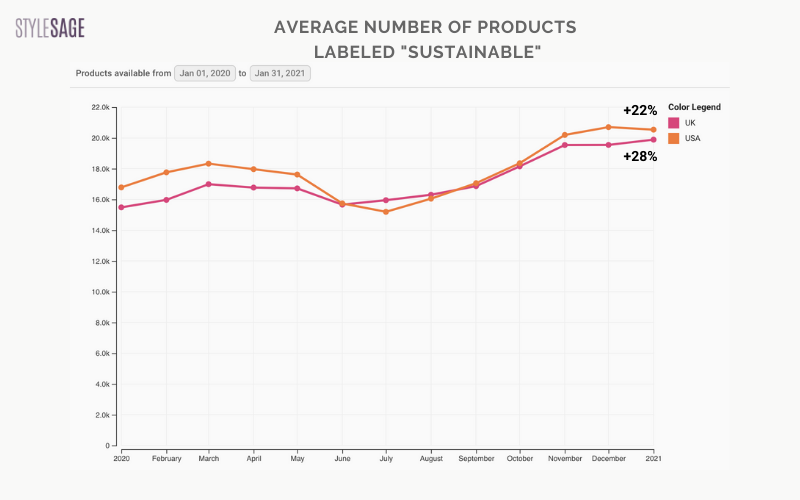 We took a look at whether the number of sustainably labeled products has increased or decreased from one year ago. Two markets are included in this sample, the UK and US, to understand the trends. Interestingly, both the US and the UK markets saw the number of products labeled as sustainable increase by more than 20 percent. The increase was even more marked in the UK, where the sustainable product count increased by 28 percent.
As well, we wanted to take a look at which categories have seen the greatest increases (or decreases) in sustainable products.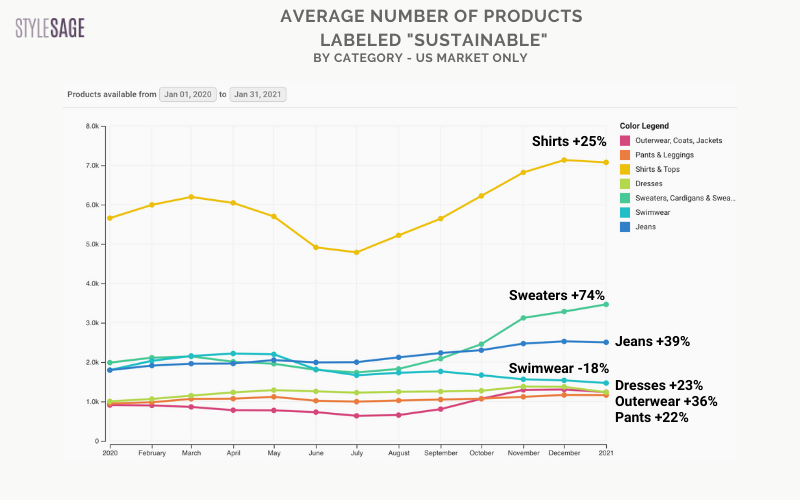 Following the overall trend of increasing product counts, many categories saw double digit growth. Sweater and sweatshirts saw the greatest increases from one year ago, at 74 percent. Jeans and outerwear rounded out the top three group of biggest gainers in terms of sustainable product count. Which category saw shrinking sustainable product counts? In our sample that was swimwear, which saw sustainable products shrink by 18 percent from one year ago.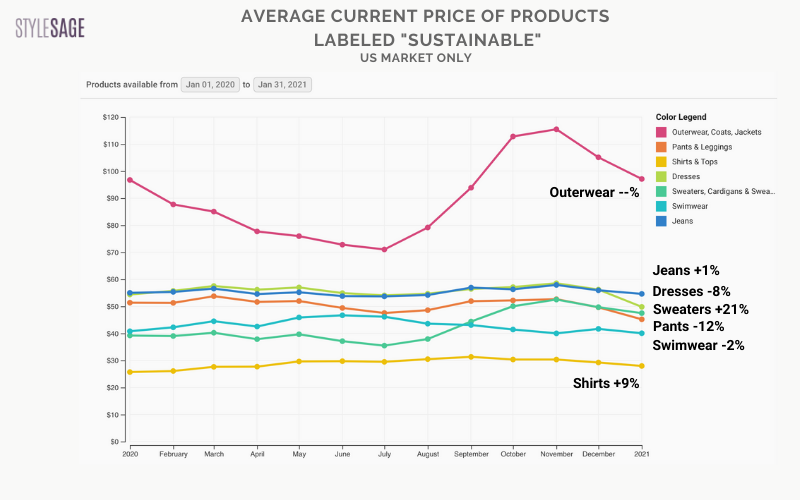 Last up in our data queue, we've got some data on average pricing. The question is, "Did sustainable products see prices decrease, increase, or hold steady over the course of the past year?" Well, the answer is, "It depends on the category." We saw prices increase YOY in sweaters/sweatshirts, shirts, and jeans. It stayed flat in outerwear. And we saw prices decrease for the pants, dresses, and swimwear categories. Notably, these categories where we saw YOY downward price movement were also the same categories which were struck by significantly reduced pandemic demand.
So what's next in fashion sustainability initiatives? Everything, really. With the explosion in demand for e-commerce, there's the question of how to offset and minimize the impact of all the shipping and packaging. And then there's how retailers and brands can be better partners to their supply chain partners around the world. And there's all of the new science-driven processes ranging from cleaner dying to new lab-cultivated and recycled materials. All of these initiatives, combined with data points demonstrating that actions>words, are where (pandemic or not) we are headed as an industry.