If this is giving you flashbacks to high school, well, that's the point. Do you remember what the cool kids on the football team and cheerleading squad were wearing? Oh, I sure do. Whether your cultural frame of reference is Clueless, Spice Girls, TLC, or Fresh Prince, there's a special place in our collective cultural memory for the brands that saw (many of) us through our most awkward adolescent moments. And just like some of your fellow classmates have fared the passing of time better than others, so have the following brands worn their age with varying degrees of grace.
Let's take a peek at fashion's yearbook past and see what they're up to these days.
Juicy Couture

Founded in 1997 by Pamela Skaist-Levy and Gela Nash-Taylor, two friends from Los Angeles, this brand rose to fame in the early 2000's with its (in)famous velour and terry cloth sweatsuits. By cleverly giving their product away to celebrities - which was a more novel concept at the time - soon every A-list celebrity, including J.Lo, Britney, and Paris, had a giant Juicy logo stamped across their rears. The brand quickly grew its sales, and when Skaist-Levy and Nash-Taylor sold their brand to Fifth and Pacific (formerly Liz Claiborne) in 2003, they did so for a tidy $53.1M. Under the Fifth and Pacific umbrella, the brand continued to grow, as the duo started opening stores and launched fragrance, completing their LA-cool lifestyle brand.
And for several years, things were on track. By 2007, Business of Fashion reported that their sales were nearly $500M, yet the co-founders felt that they weren't 'being allowed to evolve, design-wise.' Indeed, the candy-colored tracksuit had, several years prior, fallen from its cool status to the literal butt of the joke. So in 2010, Gash and Skaist-Levy departed the brand they had established, in order to work on their own new label. But back at Juicy, sales started to decline significantly, and Fifth and Pacific ultimately sold Juicy to Authentic Brands Group in 2013. The plan was to retrench - close all its US store locations, focus on international markets, and launch its partnership with Kohl's. While consumers had initially plunked down a few hundred dollars to get their hands on one of the famed tracksuits - it was now being priced for the Kohl's value shopper - at well under $50.
So while you might say Juicy fell out of the cool girl clique, along comes social media to throw a wrench in things. That's right, the brand is making a re-emergence amongst influencers (at a premium price point), and on the heels of a buzzy collaboration with Vetements last year and a new creative director, the brand is writing a new chapter in their yearbook: Fame 2.0.
Guess

If we go back a little further in the yearbook, you will likely recall a little logo - the inverted red triangle and question mark - adoring the back pockets of those in the fashion know. One of the hottest jean brands of the 80's and 90's - and arguably one of the first to be tagged 'designer' - its trademark was curve-hugging stonewashed denim and ankle zips. Founded by brothers Paul, Maurice, Georges, and Armand Marciano in 1981, they opened their first Guess store in swanky Beverly Hills and also sold through Bloomingdales and thus began their rapid ascension to fashion fame. One of the most important ingredients in their secret sauce, however, was their famous black and white advertisements, featuring models like Anna Nicole Smith, Claudia Schiffer, and Laetitia Casta. Yeah, these were not jeans for the average working Joe.
While the brand was dripping in both money...and sex appeal for a while, this being fashion, there's always a point at which your good looks fade (at least in the market's eyes). Indeed, there were early indicators that the four brothers did not share the same vision for the business, with Georges departing in 1996 (and later suing over trademark infringement) and Armand soon thereafter. And after their IPO in 1996, internal misalignment was even more apparent, with disagreements on the types of wholesale relationships they wanted and a general lack of long-term strategic vision and execution. Still, Maurice and Paul shrugged off the naysayers, and with much success no less, as they pursued lucrative licensing deals and opened more branded stores. (Forbes cites that when the brand's valuation was at its highest in 2007, the two brothers were collectively worth $2.7B.) But the cracks continued to show, and eventually Maurice departed as co-CEO in 2007, as well as Carlos Alberini in 2010, who had helped to minimize the internal family drama and keep the brand on track, and the brand continued to lose market share with Paul alone at the helm.
So where is Guess today? After several years of declines in same-store sales, things are actually looking up - Guess reported improving sales trends in August - largely due to an increase in sales in less saturated markets in Europe and Asia. And while its new spokesmodel Camila Cabello is taking us to Havana - the market is hoping the brand can regain its original footing in the domestic market and continue to gain traction abroad.
Tommy Hilfiger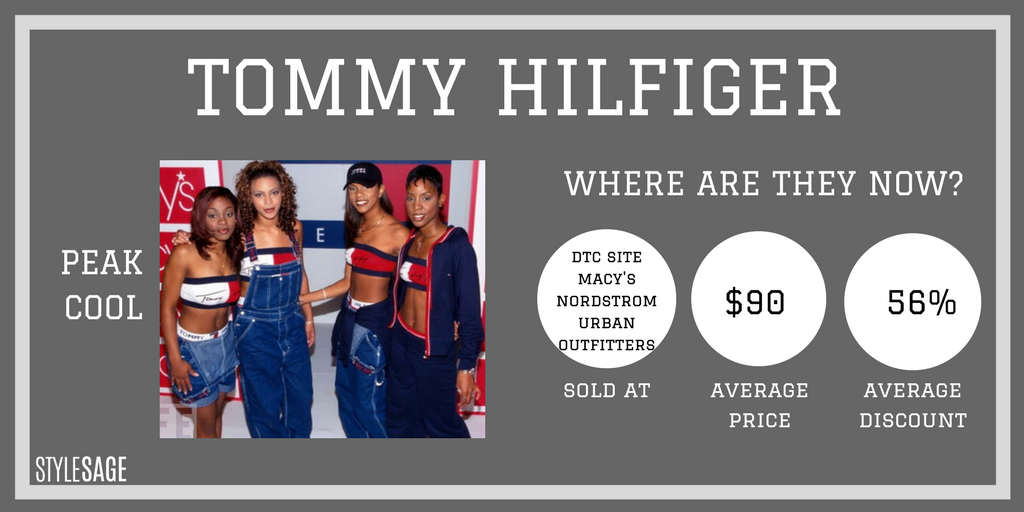 We thought it fitting to close out the fashion yearbook talking about one of the most interesting second comings in fashion. One of the most globally recognized brands in the fashion world - with its trademark red, white, and blue colors - it's been a rocky road over the past decade. But yet, on the heels of another fashion month, Tommy is very much 'getting his cool back.' Is it the Gigi factor or is because there's been some deep soul-searching and business restructuring going on behind the scenes?
First, let's rewind to the early days of Tommy. Mr. Hilfiger is now fashion royalty, but his beginnings were much humbler. From a family of nine children, Hilfiger caught the entrepreneurial bug early and opened a store in his hometown. When that didn't work out, he started a proper career in designing apparel when he received the opportunity to design a brand from scratch with the backing of an entrepreneur. They went big - both in their promotion (a huge billboard in Times Square) and in the clothing itself (oversized versions of preppy classics). While those in the fashion 'elite' weren't so keen on the brand and its overt strategies, it started to sell...a lot. And it got a special boost from the hip-hop community (Snoop Dogg, SNL, 1994, check it out.) And that's where those who study the Tommy brand as a business school case would say things started to fragment. On the one hand, this community's stamp of approval was critical to driving mainstream sales, while others argued that it factored in diminishing the brand value because it was somehow viewed as being counterculture. (I'd like to insert here that this is not how brands should think in today's digital age, using wildly successful streetwear brands Kith and Supreme as prime examples.) But when rumors emerged in the early 2000s that Hilfiger himself wasn't keen on his brand being seen as streetwear, he lost even more credibility and market share. If the negative PR wasn't enough - the designs themselves had become stale and weren't considered cool by anyone, anywhere. So in 2000, after seeing sales reach $2B, things started to come apart at the seams. Too many products, too many promotions, and a mess of distribution reduced the brand's sales to $500M by the end of 2005.
So in 2006, a buyout from Apax Partners took place, taking the company private, and the brand started to refocus. They cut back on the assortment, axed the heavy promotions, and cut operational costs in a big way. And one of the most critical moves they took? An exclusive distribution agreement with Macy's, who had always been one of the brand's most important wholesale partners. So with a new, razor-sharp focus, the business started to turn around, and by 2009, Apax was ready to exit. What happened next was one of fashion's biggest acquisitions to-date - PVH's purchase of Tommy for $3.1B. Under PVH, many synergies have been realized, and the brand has moved from turnaround to new heights of success.
Their recent marketing strategies have been no small part of the brand's transformation; Tommy was one of the first to adopt the 'see now, buy now' runway format, make his shows interactive events, and sign on one of the most followed social media influencers/models to co-design a collection (hello, Gigi). With a clear eye on how digital technology enables his brand to reach consumers, there's no doubt in our minds that Tommy's best days lie ahead.
So what's the moral of this yearbook story? Just like your popularity did in high school, the fashion industry cycles - and it does so more rapidly than it ever has before. These brands have been able to re-stake some claim to the market because they focused, were disciplined in their turnaround, and were honest that they weren't what they once were...and more importantly, their target consumer wasn't either. No matter what part of the retail cycle your brand finds itself in, don't lose sight of where you came from but also where you want to be in the future.