Seasonality is the name of the game in the fashion industry, and retailers' margins can live and die by the performance of particular categories during their respective seasons. This is no more apparent when we're talking about winter specialty goods - which include products like winter coats, boots, and sweaters. They're a key part of holiday shopping data, so as we head into the season, how are winter specialty goods performing? Let's take a peek.
Outerwear
As cold and inclement weather have already gripped parts of Europe and the US, it leaves many of us scrambling to dig out our winter coats. While there are certain trends in this category - it tends to be dominated by key styles including wool, puffer, and parka styles. So have there been any notable shifts in winter coat assortments from last year?


If we can read between the lines here, some of the outerwear geared towards more extreme weather conditions seems to be taking precedence in retailers' assortments in 2019. Specifically, rain coats, puffers, and parkas have seen their share of assortment increase this year, while wool and leather are down slightly from 2018.
What's more, the cold snap seems to be benefiting retailers, such that they don't need to discount as much of their coat assortment as last year. This year, discount penetration clocks in at 32% vs 39% at the same time last year.


By category, 2019 sees better performance across most outerwear categories in terms of discounting. Only fur styles show both a higher likelihood of and actual discount levels in 2019. It's also worth noting that leather jackets, while they're less likely to be discounted, face a higher average discount this year. This improvement in 2019 is likely driven by cooler weather and better inventory management by retailers.
Boots
While there are styles of boots worn year round, they are particularly important during the fall and winter seasons. Every year, there are particular styles of boots that are trending more than others, and this year is no exception.


At a glance, these two stacked bars may look similar, but there were some notable shifts YOY. Booties and ankle boots lost five percentage points of assortment share this year, share which was picked up by knee-high and snow boot styles. That being said, you can still see that booties dominate the assortment - comprising nearly 75% of styles.
Next up, we examined which styles are being discounted. But first it's worth noting that discount penetration (20% in 2018 vs 21% in 2019) and average discount (6% both years)- on the whole - are similar YOY. The differences show up when you break it down by category. Let's take a closer look.


In 2019, both knee-high as well as over-the-knee boots are less likely than last year to be discounted, and their average discounts are also lower. For the other categories, 2019 saw higher likelihood and average discount levels.
The verdict - boots are performing well this year - and 2019 is the year of the fuller-coverage style.
Sweaters
Last but not least in our winter specialty analysis are sweaters.


What we see here is that YOY, sweatshirts and hoodies comprise a larger share of assortment, from 29% in 2018 to 37% in 2019. Other sweater styles, including cardigans, turtlenecks, and ponchos, have seen their share decrease this year.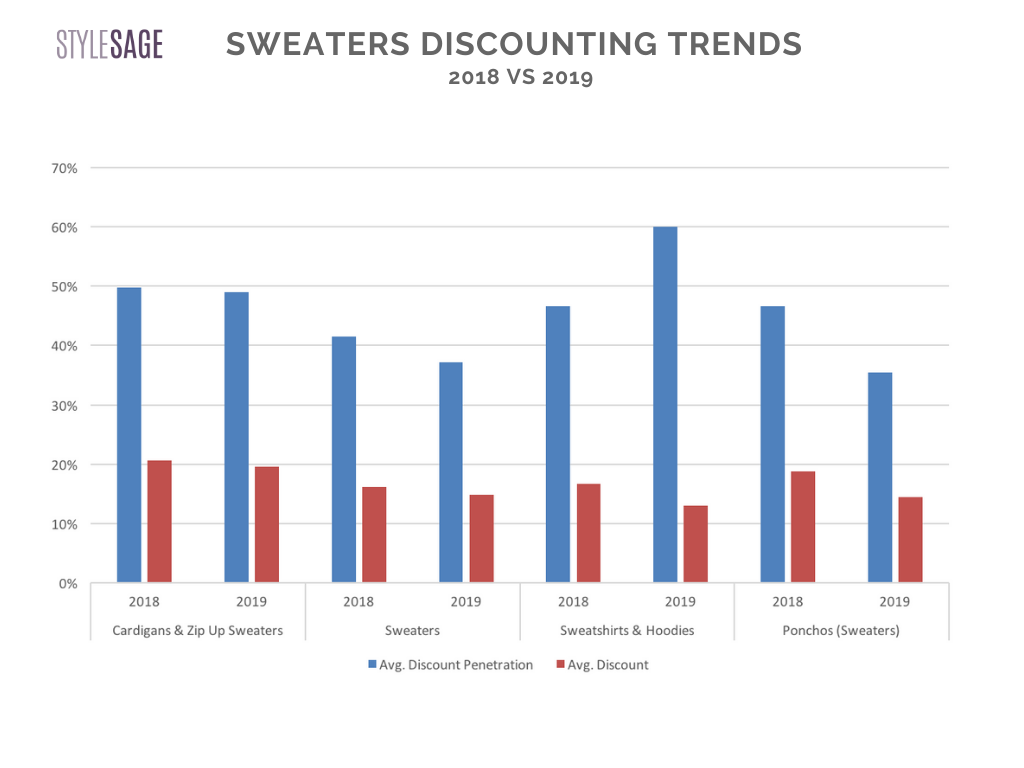 What's interesting to note is that, this year, discount penetration is five percentage points higher than last year for the entire sweaters assortment (44% in 2018 vs 49% in 2019). In particular, the sweatshirts and hoodies category shows weakness this year as 60% of this assortment is on sale (vs 47% last year). We'd argue that retailers may have over-assorted in sweatshirts and hoodies and are now having to correct for that misstep.
As it stands now, the cooler temps in November have largely meant positive news for retailers. Let's hope retailers continue to have a direct line to Mother Nature over the next critical weeks of the holiday season!