As the definition of "ownership" drastically changes, there's fewer industries more impacted than apparel. Between dedicated clothing rental companies like Rent The Runway or retailers launching their own rental services alongside their primary retail businesses, there are a plethora of choices - aside from direct ownership - at the consumers' fingertips.
Let's take a step back to understand why rental is becoming an attractive secondary market for fashion retailers. First off, rental is a way to acquire new or inactive shoppers. Christine Hunsicker, chief executive officer of CaaStle, a company that provides the backend services needed for rental businesses, estimated that half of their clients' business is from new or inactive customers. Hunsicker's next point sheds light into another reason why apparel rental is attractive to retailers, and that is its ability to generate healthy profit margins - she estimates CaaStle's rental client margins at 25% - with recurring revenue a major plus for retailers' bottom lines. What's more, many retailers with rental businesses are seeing their customers trying more trend-forward items - essentially using the service to take fashion risks they wouldn't necessarily consider if they had to purchase something outright. So when you combine these economics with the shifting tides carrying the sometimes confusing consumer sentiments of: an incessant desire for product newness, consciousness about the impact of fast fashion consumption, and, sometimes, the limited financial resources to pursue full ownership, rental emerges as an interesting channel to engage with consumers.
Even though rental may be a part of your current or future strategy, your traditional retail sales will likely comprise the majority of your business going forward. Which brings us to the point of today's piece - why focusing on the items in your assortment that consumers view as staples - and those you view as core - has never been more important. As mentioned earlier, a lot of rental is geared towards items that are either very trendy or are occasion-based - whether that's for work, a special event, or a holiday, but there remains staples like jeans, suit jackets, outerwear, and classic dresses and tops that will be still be purchased.
It's important to pay attention to these core categories, not only to avoid the potential risk of cannibalization, but also to reinforce your credibility as a destination for both the trends and the basics. The first step is clarity in identifying what those items are for your business. What sells well year-over-year? Which items do you replicate - perhaps in new colorways - each year? Let's take a look at a few examples of core products in retailers' collections to start.
Zara's turn-up sleeve blazer for women (pictured above) has long been a classic item in its typically trend-focused assortment. Going back over three years, we can see Zara's strategy on this item has actually been to drop its entry price point $10. This pricing strategy has likely been a response to downward price pressures and additional competition in the market. Nonetheless, it's an item that Zara re-releases each season in both staple colors like black and white, as well as trending colorways.

Let's look at one more example - Equipment's Slim Signature silk shirt at Bloomingdales. What's interesting to note here is that over the course of tracking its price history - the shirt has actually gone up in price $16 over a four year timeframe. One reason they may be able to increase price is because of the premium nature of both the brand and the fabrication.
Now that we've laid out some clear examples of staple items - the next is introducing the notion of "good, better, best" options in your assortment. A tiered product-pricing strategy enables you to charge different price points for items in the same family because there are clear differentiators between each tier. There's a lot of different levers you can pull to achieve each tier which could include material, color, print, embellishment, or limited availability. Whichever you choose, communicating these differences both visually and descriptively is critical. Let's take a look at three different product tiers.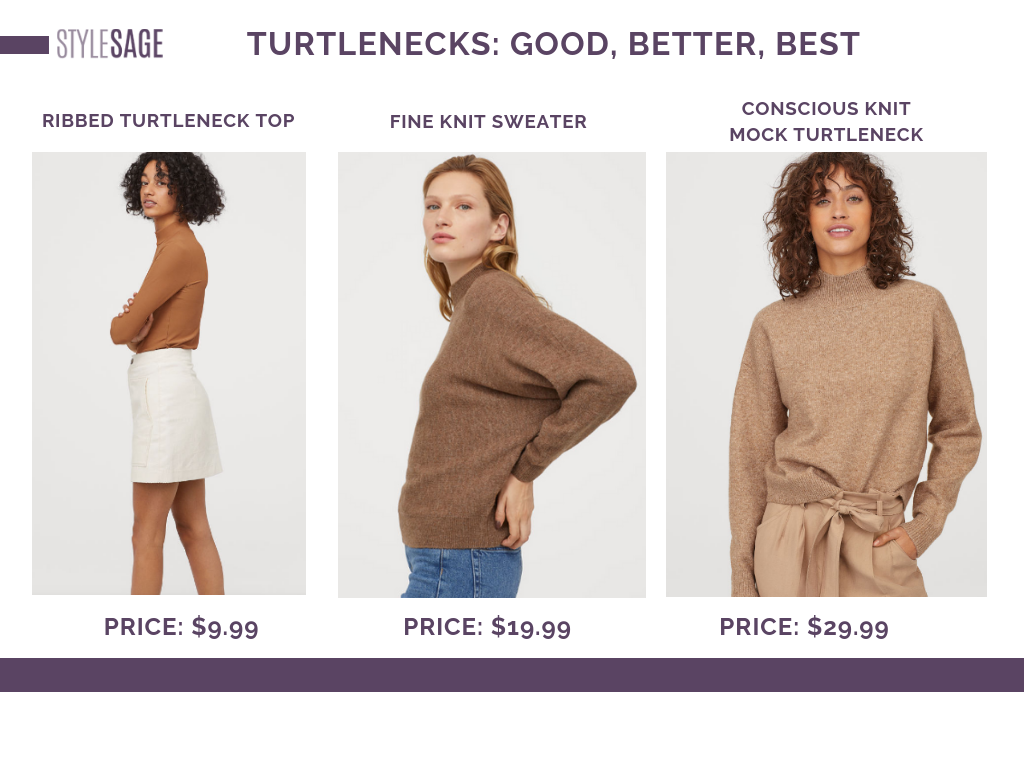 Here you can see three products that at a glance look similar, but yet they each have important differences. The first - the "good" - is an entry-level product whose price point and material establish the category. In the middle you can see a heavier material and the description "fine knit," which both signal "better." Lastly, the sweater priced at $29.99 - "best" - is the most premium of the lot - in large part signaled by the label "conscious" and geared towards shoppers looking for a more sustainable option. The lesson here - both the description and imagery make it clear what the differences are and also give the shopper a choice that works best for them. Another way to reinforce your tiered product strategy is to give the customer a voice by way of product reviews.
Core products may not always be in the spotlight, but they sure do the heavy lifting in your inventory. And just because they're core doesn't mean you can't have some fun and experiment with them.
Whether or not your plans take you into the rental market, take this opportunity to give your core collection the love and attention it deserves.