Images courtesy of Zara
Last week fast fashion retailer Zara unveiled its latest category - intimates. A compact collection of products, the initial assortment includes bras, bralettes, panties, camisoles, socks, robes, pajamas, bodysuits, and even accessories like headbands and eye masks.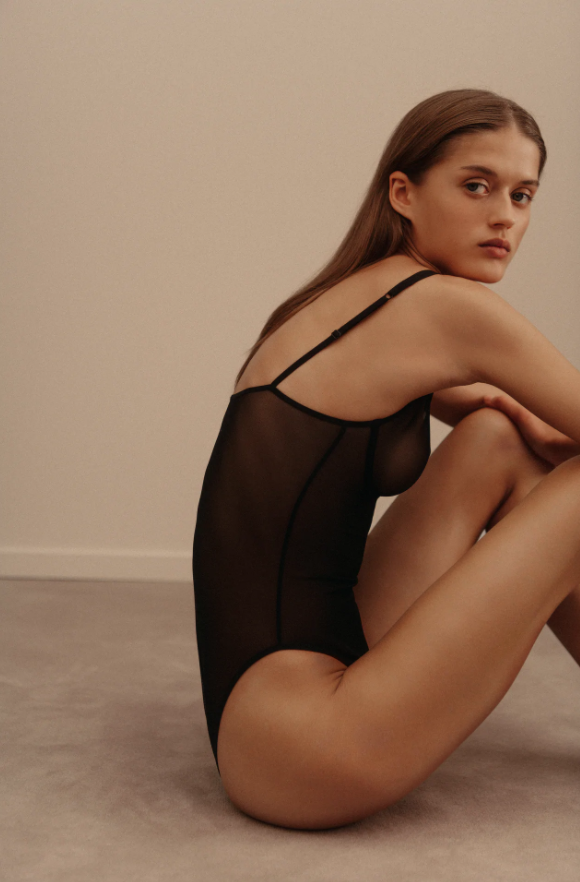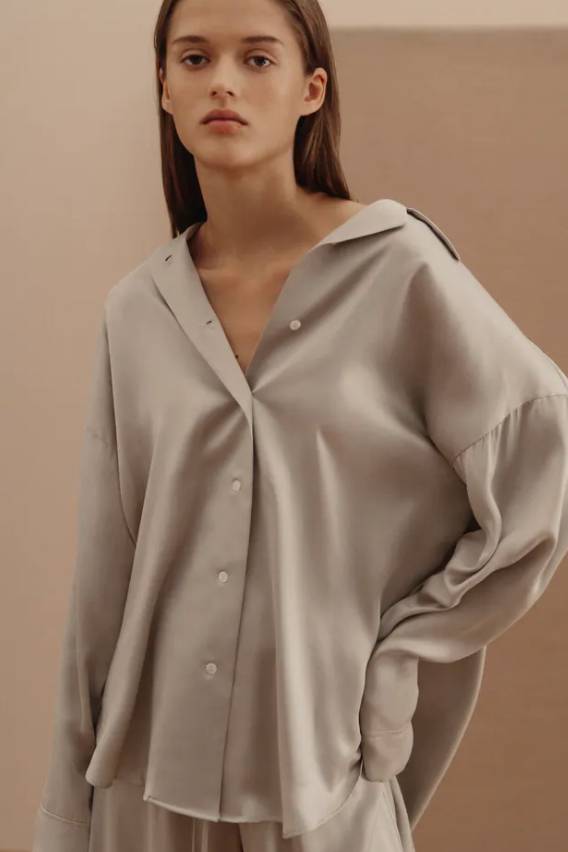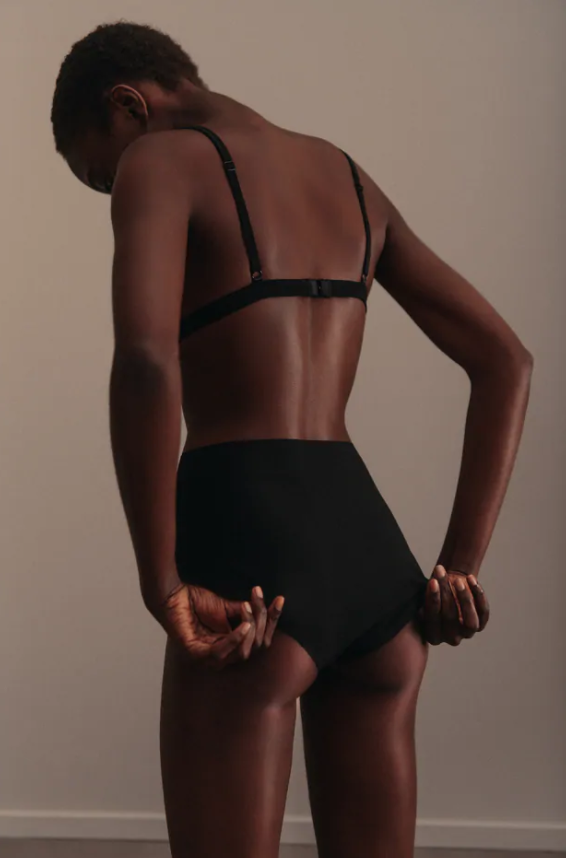 From an aesthetic point of view, it's definitely on the dressier side of sleepwear and loungewear, with an emphasis on materials like lace, satin effect, and tulle. In a year where new apparel category launches are notable, and particularly for a retailer who knows and interprets trends better than most, we wanted to dig deeper into the consumer and business trends shaping the intimates business.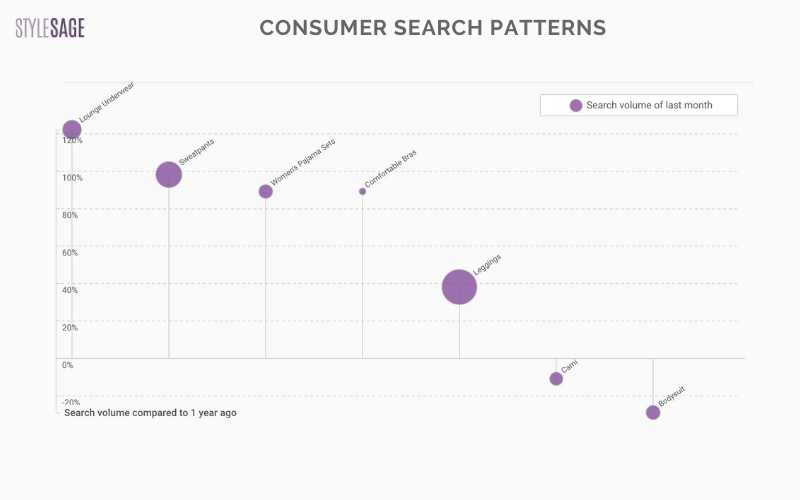 Using our Trend Radar tool, we are able to understand what consumers are searching for online in its various nuances, whether that's specific brands, styles, or descriptors.The Trend Radar highlighted interesting trends including that "lounge underwear" has increased in global searches by 122% from one year ago. "Sweatpants," "women's pajama sets," and "comfortable bras" all saw around 90% increases in searches from one year ago, too.
On the other hand, "bodysuit" and "cami" saw double digit declines in searches from one year ago.
Altogether, these insights would suggest that casual lounge and intimates are still relevant, while the more dressy and formal kind of intimates will continue to see declines for the short-term.
As we turn our attention to what's happening in specialty retailers' online intimates assortments, we see more market trends coming to the surface. (We included retailers that cater to the millennial shopper to provide the closest benchmark to Zara.)
First of all, we see that the average number of bras in retailers' assortments has been on a decline since February, and has only started to pick back up since June. Despite the recent upswing, the product counts are well below where they were one year ago. Retailers have likely pulled back on major inventory levels for bras considering the overarching apparel and stay-at-home trends.

Interestingly, we also saw similar data trends in sleepwear. We think that trend might, however, be more due to folks opting for more multi-purpose sweats and leggings, over more formal sleep and pajama sets.
Current prices have been surprisingly stable for many of the categories that comprise intimates, with a few categories like camisoles and bras even seeing small current price increases from one year ago. (Keep in mind that current prices would include the price after an item-level markdown.)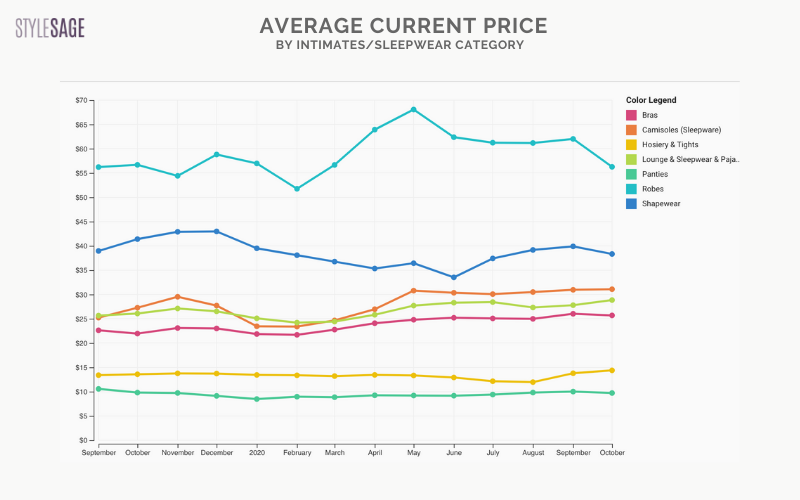 Where we have see more fluctuation is in robes and shapewear. Shapewear was trending down from the beginning of 2020, but shows recent improvement in pricing. (While shapewear might have had some difficulties this year, it's far from dead. Just ask Kim Kardashian about her best-selling line of shapewear, Skims.)
Robe prices, on the other hand, signal seasonal trends. From February to May, average prices increased, but since its May peak, prices have trended downwards. However, it should be said that the category's current average price is the same as it was one year ago.
How did Zara position its pricing for key categories? Here we bring it back to several of its key competitors, including Aerie, Victoria's Secret, Asos, H&M, and Gap.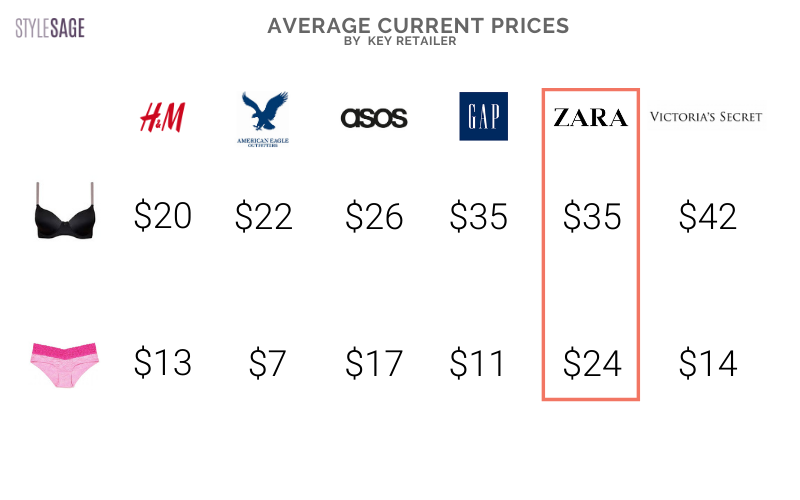 In this sample group, Zara is toward the higher end of the spectrum, the highest for average price of panties, while second highest for bras. The pricing would then seem to make sense, given the more "luxe" materials and finishes of the Zara collection.
what do you think? Does Zara's latest collection make sense? Do you think it will stand out in a season where spending on apparel is drastically down? Tell us what you think here!